Electric violins are becoming increasingly popular among young people wanting to learn and play a musical instrument.
While the violin is one of the most popular instrument to learn, young people, particularly teenagers, may seen as too traditional or a bit stuffy.
An electric violin, however, offers people the chance to play violin but with an extra edge. The electronic output of sound allows for a classic genre of music to mix with modern styles of music and is a great way to introduce more children to violin playing.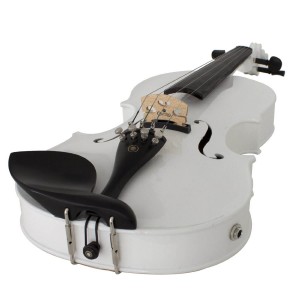 Another benefit of electric violins is that you can easily control the sound output of the instrument.
If you are a violinist who plays the acoustic violin but you need a way to practice without making a lot of noise, consider purchasing an electric violin for your practice sessions.
On the flip side, you can easily rock out with an electric violin by hooking it up to an amp and letting it rip.
Electric and electric-acoustic violins are great if you are playing with other musicians and you need a fast way to balance levels and you don't already have a picup or mic for your acoustic instrument.
This article takes a look at 15 of the best entry-level and intermediate electric violins on the market. We based our evaluations on cost, ease of use, sound quality, and durability.
1. Crescent Full Size 4/4 Electric Violin Starter Kit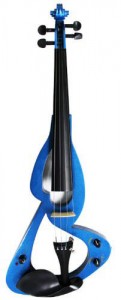 This Crescent electric violin is a great starter violin for those who are showing an interest in learning to play.
This model comes with a bow, padded case, cables, headphones and rosin and is available in a number of colours, including pink, red, white, and a cool electric blue. Also included in the package is the Crescent Digital E-Tuner.
The bow is made from brazil wood and moderately high quality, unbleached horsehair, making it strong and durable.
This violin is great value for its price. If you are just starting out, or you need something to muck around on, the Crescent EV is a great choice.
It is not a professional violin, however. You may want to make some basic upgrades to this model to make it more playable.
For instance, the bridge that comes standard with the violin is very flat. You can purchase a new bridge and have it fitted for the instrument for a relatively low cost.
However, if you are interested in personalizing your violin, you are probably already beyond this instrument. Check out some of the models we feature below.
One benefit of this violin is that if you just buy this electric violin on a whim and never get the chance to learn how to play, you will not lose sleep over the amount of money you have paid for it.
2. ViolinSmart EV20 Electric Violin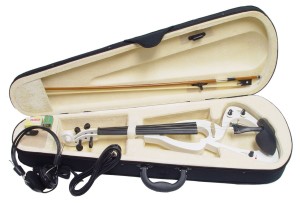 ViolinSmart offers a complete package to beginners for a low cost. With this great value electronic violin set you can be up and running within minutes.
This cool looking violin will definitely impresses the kids and could even make you look like a rock star.
This is a full size violin set that features a black chin rest, pegs, and tailpiece. It also comes with quality horsehair bow and a padded bag to store and carry your violin.
Note that the ViolinSmart Full Size Violin Set does not come with a shoulder rest, which must be purchased separately. Also, you will have to make notches in the bridge for the strings.
The 9-volt battery amplifier allows for a decent sound, and while it is not the best in the business, it will certainly do the trick when your children are first starting out.
With a few upgrades, like new D'Addario strings, you can get a great sound from this violin while still maintaining a reasonable price.
The ViolinSmart EV20 is easily attached to headphones, if parents want a breather. Or you can hook it up to an amplifier if you are feeling brave and ready to rock out!
This model is also available in other colours like red, white, and blue. It is certainly a very cool piece of kit that will impress all of your children's friends.
3. ADM 4/4 Full Size Electric/Silent Violin Outfit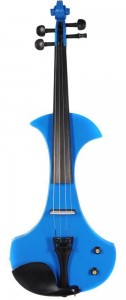 ADM is a relatively new brand on the market, offering electric and acoustic violins of all shapes, sizes, and colours to suit all budgets and tastes.
They have done a good job with this electric violin as it has lots of great features that do not cost the earth.
Aesthetically, the violin looks very nice, with a futuristic design and a striking blue colour. It is also available in black.
The design adds an element of fun to the violin but the most important thing is, of course, the sound.
An alloy tailpiece with 4 integrated fine tuners allows for great flexibility. The body of the instrument is made out of plywood with a high gloss spray finish but it features an authentic ebony fingerboard.
With a 9-volt battery, you can belt out a really good tune from this instrument. This electric violin is definitely one for all of the family to enjoy.
If you are interested in a more traditional-looking design, this instrument is available in a hollowed out violin shape with the same technical specs.
4. Merano 4/4 Full Size Ebony Fitted Electric Silent Violin

Merano have entered the electric violin market with a bang and this model is one of the best from their wide range of electric, electric-acoustic, and acoustic instruments.
This instrument is available in several minimalist and futuristic shapes and sizes, and comes in a variety of colours.
The main frame is made from hand carved maple wood and fittings and pegs are made out of quality ebony wood. All of the Merano models come with a comfortable chin rest.
The bow is made from brazil wood for strength, horse hair to give an excellent tone, and is fully mounted with a parisian pearl eye and slide.
This violin is suitable for beginners but it is high enough in quality that it is equally suitable for those wanting to pass through the early grades of playing.
A 9V amplifier, cables and stereo headphones are also included, so you are all ready to go as soon as you unpack your violin. It also comes with an extra set of strings, in case you get a little carried away.
5. Cecilio 4/4 CEVN Solid Wood Maple Metallic Electric/Silent Violin with Ebony Fittings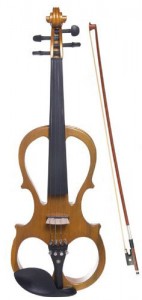 This violin certainly looks the part but is it simply style over substance?
We think not, as this electric violin creates some of the best sounds that you will get from a violin at this price.
The mother of pearl inlay adds a special touch to the already impressive hand carved maple body and ebony fittings.  The Brazil wood bow with Mongolian horsehair is equally as impressive.
The set comes with everything you will need on your musical journey: a lightweight case, headphones, cables, rosin, and a 9-volt battery. The instrument also comes with a 1 year warranty against defects.
The Cecilio CEVN comes in 4 distinct styles and is available in 5 different colours per style, so you can certainly make an impression with this instrument.
However, this violin may be out of the price range for rank beginners who do not know if they are willing to put the time and effort into learning a new instrument.
The Cecilio CEVN more suited to those who want an upgrade after learning the basics or an electric violin on top of their acoustic instrument.
6. Kinglos 4/4 Full Size Ebony Fitted Solid Wood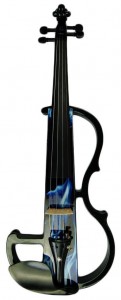 A Kinglos instrument is a very bold violin that looks like it sounds—loud, colourful and dynamic.
This violin may not be to everybody's taste but kids will love the look and, more importantly, it is a great violin for students.
We could not leave this little gem out of our list of best electric violins, as it really is a gem of an instrument, though it does come with a slightly larger price tag than some comparable instruments on this list.
Kinglos, founded in 2009, is a relatively new musical instrument company that combines visual arts and traditional instruments.
Constructed from a solid spruce body, with ebony fittings and tailpiece plus 4 fine tuners, you can definitely pack your own personality into this vibrant instrument.
The impressive pick-up system consists of a DV-9 active pick-up, with tuners of volume and tone, sockets of line out, mic and phone.
Kinglos has several lines of electric, acoustic-electric, and acoustic instruments. Their intermediate electric violin lines are the DSZA series and DSZB series.
Their advanced lines are the SDDS series and DSG series. They have one line of acoustic-electric violins, the YSDS series. Check out their website of beautiful instruments for more details.
This art-instrument fusion is certainly the violin for making a statement while you show off your party piece!
7. Barcus Berry Vibrato-AE Series BAR-AEBK Acoustic-Electric Violin

This stylish acoustic-electric violin is handmade in Romania. It comes in a variety of colours including natural, blue, pink, forest green, red, and black.
Even with all of the available colours, the Barcus Berry Vibrato-AE is hand-made with traditional materials. The body is made of a hand carved spruce top with maple back and sides.
The violin can be played like an acoustic violin, but it comes with a Barcus Berry 1320 piezo violin pick up so that the instrument can be easily amplified and hooked up to effects pedals.
Each instrument comes with full ebony fittings and a fibreglass bow. The fibreglass bow may not be as strong as a brazil wood but it still delivers a warm tone, which is what you want out of a bow regardless of the material it is made out of.
The outfit comes with dark resin and an embroidered soft-shape case with detachable shoulder strap.
This violin delivers a superb acoustic performance but you do get what you pay for with instrument—the Barcus Berry Vibrato-AE is in the higher price range for beginner violins.
In our opinion, if you are serious about playing the electric violin, or you need a flashy acoustic-electric for outdoor gigs, the Barcus Berry Vibrato-AE is worth the investment and will look very good on stage.
8. Phoenix Performer Electric Violin
Another top end violin, the Phoenix Performer produces a quality sound that matches its higher price tag. Both experts and amateurs play on the Phoenix Performer.
We love this slim and elegant design that will make you or your child stand out from the crowd.
This violin comes in five different colours, including black and pink. Also included in the package is a carbon fiber bow.
Monica demonstrates the Phoenix Performer Electric Violin
The Pheonix performer is built with an ebony fingerboard, and either ebony or hardwood pegs. The tailpiece is made out of carbon fiber.
Each Phoenix Performer electric violin is crafted with a custom-made pick up. It has sockets for headphones, microphones or mp3 input, and a line out.
Although the violin is user friendly, it is made with professionals in mind and will deliver top-notch performances at concerts.
The fibreglass case included in the package will protect your prized possession. If you look after your instrument well enough, this durable violin will last for years.
9. Yamaha SV-130 Concert Select Silent Electric


This list certainly would not be complete without mentioning Yamaha, one of the premium brands when it comes to electric instruments.
Yamaha has been helping music fans rock out for decades with high performance instruments that deliver every time.
It goes without saying that the SV-130 model is more expensive than many of the electric and acoustic-electric violins on this list.
The SV-130 is a serious investment, and purchasing one is not a decision that can be made lightly. That said it is a great instrument that can bridge the gap for a beginner player to higher levels of playing.
Yamaha SV130 Silent Violin Review
The sound that come form this violin is unbeatable, warm when required and loud and brash when high-octane music is called for.
Don't worry; you can also play silently when it gets too much for those around you. This violin is compatible with MP3, making it truly modern and easy to use for busy musicians.
The SV-130 is also available in 4 colours, blue, red, black, and brown, making it easy for you to express yourself.
The Yamaha SV-130S is the outfit model of the SV-130, if you want a ready to play kit. It comes with a hard case, a carbon fiber bow, headphones, rosin, shoulder rest, and audio cables.
If you are interested in upper-end electric and silent practice violin models, we encourage you to check out the Yamaha SV-150, SV-200, SV-250, and SV-255 to find an instrument that best suits your needs.
10. Plug 'n Play 4-string Electric Violin Outfit
Sold exclusively through Shar Music, the Plug 'n Play Electric Violin Outfit is a a good-quality electric violin for a reasonable price.
Available in 4 colours (black, blue, red, and white), you will certainly be able to express yourself with this futuristic design.
The makers of this violin have eliminated the need for fine tuners with new and improved pegs, making the strings resonate more and the instrument sound louder.
With the design of the instrument, you can still use your favourite shoulder rest for acoustic violin, which makes transitioning from acoustic to electric and back a breeze.
The Plug 'n Play outfit includes a padded Toshira Case (TC100), quality Brazil wood bow, rosin, 9-volt battery, earbuds, and cables.
With a few simple and inexpensive upgrades, like a new bridge and D'Addario strings, you will be able to do just as its name suggests: Plug 'n Play.
11. Stagg EVN 4/4 Silent Violin Set with Case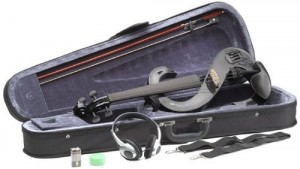 With its minimalistic S shape, and eight awesome colours—black, metallic black, metallic blue/turquoise, metallic red, pink, honey yellow, blue, red, natural brown, and white—you can certainly make a splash with the Stagg electric violin.
This instrument is made out of a solid piece of quality maple wood. It comes with a bow, rosin, and headphones, as well as a soft shell case with straps.
The Stagg EVN features 4 fine tuners, and EQ and volume controls on the body. It has a standard 6.3 mm output jack as well as a 3.5 mm headphone jack.
Unfortunately, this model only comes with a soft case so you will either have to upgrade to a hard shell case or be very careful when you transport your instrument. Not like you shouldn't be careful anyway!
12. Stingray SV Series 4/4 Electric Violin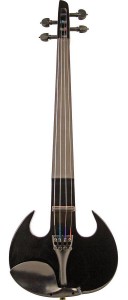 Are you ready to rock? Then there is no better mid-level or entry-level violin than the Stingray SV Series Electric Violin.
This axe design, a throwback to classic guitars like the Gibson SG, is perfect for those who want to venture into rock music.
The Stingray SV electric violin was made famous by the famous Emmy-winning violinist and composer Mark Wood.
The Stingray SV is available in galaxy black or candy apple red. Its body is made of poplar wood with ebony fingerboard, chinrest, and pegs.
You can customize this instrument further because it is available in either 4 or 5 strings.
Unfortunately, this violin does no come in a kit, so you will have to buy your bow, rosin, and case separately.
Though, if you're ready to rock, the Stingray SV electric violin can take you to the next level without breaking the bank.
13. Aurora 4 or 5 String Electric Violin
As we start to venture into more expensive territory, you are also given more options to customize your new instrument. Such is the case with Aurora Electric Violin.
With built-in LED lights, the Aurora can literally become any colour you want, with lights that shine through your instrument. Without the lights on, the Aurora looks like ice.
Hand made in Brazil by luthier Mauricio Brazolin, Aurora products are available only through the Electric Violin Shop.
While the Aurora looks flashy, it also boasts a very impressive warm sound.  You can also boost the bass or treble with a tone knob.
As the heading suggests, the Aurora is available in 4 or 5 strings and comes with a dart shaped case.
14. Ted Brewer Vivo Air
The next level in futuristic violins is the Ted Brewer Vivo Air, which is a transparent violin.
Don't expect a natural sound, however. While some of the main components of the Aurora listed above are made out of wood, the Ted Brewer Vivo Air is made completely out of acrylic.
While some features like the charge pick up, and custom amplifier make strides to improve the tone quality of this instrument, we still find it lacking in depth. Unfortunately, it also does not come in a kit, so everything has to be bought separately.
The Vivo Air is an interesting novelty instrument, but if you're willing to pay that much for an electric violin, you'd be better off in the long run with some other models on this list.
15. NS Design NXT Electric Violin

The final violin on our top-15 electric violin list is certainly not for the faint of heart! The NS Design is for serious violinists, and comes with a serious price tag.
That said, by including this violin on the list, we're giving you a small taste of the excellent electric violins.
The NS Design NXT violin is extremely customizable; you can choose a 4-string or 5-string model, standard fingerboard or fretted, and sunburst or black in colour.
This instrument is also lightweight, compact, and durable. It has an unsurpassed response, dynamic range, and clarity, making it one of the best electric violins on the market.
The NXT comes with a custom shoulder and chin rests, specially made NS Electric Strings, and a hard shell chase.
If you aren't scared off by the price tag, and you know that you are serious about playing the electric violin, we cannot recommend the NS Design NXT Electric violin more.
Conclusion
Electric violins will not be suited to everybody, but the majority of the instruments we have featured on this list are reasonably priced.
The long and short of it is that you must be willing to make a small investment if you or your children want to try something different.
The electric violin is a fun way to get children interested in classical instruments and the sounds they can produce with added effect and loop pedals will certainly capture anyone's attention.
Do not be put off by the thought of endless hours of loud, clunky music as the models above can be played in silence. And when you're feeling ready to party—plug your violin into an amp and let 'er rip!