Buying your first cello can certainly be a nerve-wracking experience. Cellos, even beginner models, can be quite expensive, so it is important to know what you are looking for before you make a purchase you might later regret.
That is why we published this list of the top ten student cello brands based on quality and affordability, to help guide you as you search for the best beginner cello for you or your child.
Stentor
As one of the more popular brands of violin family instruments, many teachers respect Stentor cellos as good beginner instruments.
Though many of their instruments are made in China, they are checked for quality and distributed out of the United Kingdom.
Stentor cellos are made out of solid tone woods, such as solid ebony fingerboard and pegs, solid maple back and sides, and a hand-carved solid spruce front. All of the fittings are also ebony, and they are made with traditional inlaid purfling to prevent the wood from splitting over time.
Student cello models from Stentor come with a brazilwood bow with quality horsehair and an ebony frog.
Cello outfits also come with a lightweight hard case and carrying straps.
Though it may stretch your budget, Stentor's upper-end student models like the Elysia and Arcadia will ultimately give you more for your money. These models will be able to carry you or your child through their levels to their next instrument, while still maintaining a good resale value.
Primavera
Primavera cellos, while less expensive than Stentor models, also sacrifice some quality.
That said these cellos are still great for those who are just beginning their studies on the cello. You wouldn't want to invest too much money into an instrument without knowing whether or not you are interested in pursuing it to higher levels.
Primavera cellos are made traditionally out of hand-carved maple and spruce with ebony pegs and fingerboard.
In an outfit, Primavera cellos come with a wood bow, presumably brazilwood, and a soft case.
You can improve the tone of this instrument considerably by swapping out the standard strings for a higher-quality brand like Pirastro, Thomastik-Infeld, or even D'Addario.
Primavera cellos are available from 1/8 size all the way up to full size.
Though there are certainly better instruments featured on this list, we give Primavera 3 stars for affordability over quality.
Cecilio
For a student brand, Cecilio cellos certainly fit the bill and are a celebrated brand by teachers and students alike.
Cecilio CCO-500 Ebony Fitted Flamed Solid Wood Cello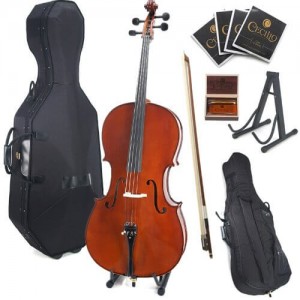 Handcrafted from solid tone woods, with a solid spruce top as well as maple neck, back, and sides. Their higher-grade models boast beautiful flamed maple, which certainly makes a statement.
Cecilio cellos are also made with the highest quality ebony fingerboard, pegs, and fittings. It is a guaranteed long-lasting instrument, and features inlaid purfling to protect the wood against splitting.
The quality brazilwood bow has an ebony frog with inlaid mother of pearl. It is fitted with authentic Mongolian horsehair.
Certain Cecilio outfits come with two cases, one soft for storage at home, and a harder case for when you want to travel. These outfits not only come with two cases, but a stand for the cello, and an extra set of strings, both of which certainly come in handy!
If you take this instrument to a luthier, he or she will likely shave down the nut (the top of the fingerboard where the strings fit), adjust the sound post, and replace the strings with a better quality set. Making these small adjustments can make a Cecilio beginner/intermediate cello sound much more intermediate than beginner.
Cremona
Cellos made by Cremona are usually mid-quality but offer excellent versatility at an affordable price.
Cremona SC-200 Premier Student Cello Outfit
Student models are made in China, but set up in Cremona's California workshop, and are said to be crafted with high quality spruce, ebony, and flamed maple.
You have to be careful, though, that you do not purchase a lower-quality Cremona instrument being advertised as an intermediate model. Their lower-quality instruments will often not have ebony fingerboards, but dyed hardwood. This is simply not good enough!
Ebony is used in traditional cello construction because it is very hard and durable, and thus can withstand the repeated pressure of your fingers. Make sure that whatever cello you purchase has a high-quality ebony fingerboard.
Cremona outfits come with a standard, but durable, brazilwood bow and lightweight case.
Merano
Though they certainly won't break the bank like Cremona cellos, Merano cellos lack a lot of depth that characterizes a lot of the other beginner and intermediate instruments featured on this list.
Most Merano cello models are available from 1/16 to 4/4 size, so they can assist a young child from their earliest stages of learning.
Merano 4/4 Size Cello with Hard Case
Merano cellos are made with a spruce top, with a maple back, neck, and sides. Be careful, though, Merano's Basic Cello CL100-MP model does not come with an ebony fingerboard and peg. Instead they say it comes with "ebonized" fingerboard and pegs (i.e. painted hardwood), which is simply not good enough—especially for a full-sized cello. This is why we recommend starting with (at least) their MC400 model, which comes with genuine ebony.
Like most cello outfits, Merano cellos come with a brazilwood bow, rosin, and a carrying case.
If you can't afford any better, certainly check out Merano; but don't expect any miracles without putting some more money into the instrument with a good set of strings and a finer bow!
Yamaha
For a student instrument, Yamaha has built up a reputation for quality and longevity that is unmatched across the spectrum of instrument families.
The same holds true for their stringed instruments. The Yamaha VC5S comes in 1/4, 1/2, 3/4, and 4/4 sizes and boast a rich and vibrant sound.
Made with high quality woods: spruce top, maple back, neck, and sides, and an ebony fingerboard.
All of their cellos are handcrafted based on the Stradivarius cello mode, a time-tested and traditional way of making cellos.
The Yamaha VC7SG, their top quality cello, is set up with excellent-sounding D'Addario Helicore strings and 4 Wittner fine tuners, perfect for advancing students.
Also included in the Yamaha outfit: a brazilwood bow, soft case, and rosin.
If you are interested in a practice model in addition to your acoustic cello—and this can be especially useful if you or your child has to practice in environments where you can't make a lot of noise—consider Yamaha's SILENT electric Cello. SILENT cellos come in three models and are extremely expressive for electric instruments.
Yamaha SVC-110SK Silent Electric Cello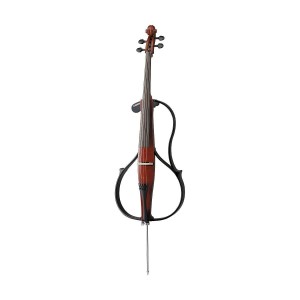 Knilling
Established in 1922, Knilling has been making top quality student models for almost 100 years. In fact, they are the oldest violin-family company in North America.
In their cellos, Knilling offers excellent quality and versatility for just a slightly higher price tag.
Knilling School Model Cello Outfit

Made out of superior tone woods, like an even-grained spruce top and a flamed maple back, Knilling instruments also have a high resale value.
These cellos come with an ebony fingerboard, and high-quality Perfection planetary geared pegs and a synthetic tailpiece with 4 fine tuners, for easy tuning. Each cello is outfitted with D'Addario Prelude strings.
Each Knilling cello is also hand-fitted with a maple bridge in their shop in the US. Their cellos are available from 1/2 to 4/4 size.
In an outfit, Knilling cellos come with a brazilwood bow with an ebony frog and genuine white horsehair, as well as a soft case and rosin.
Scott Cao
Available from 1/4 to full-sized, Scott Cao cellos are an excellent investment for rank beginners to intermediate students alike.
Though all of their instruments boast excellent workmanship, we recommend the cellos featured in their China Workshop line, especially the 850 cello line.
Though it is still technically a student model, the 850 does not sound like one. They feature choice woods and are made in the traditional way.
Though you will have to purchase a bow, case, and accessories separately, it is worth the slight inconvenience to get your hands on one of these complex-sounding instruments.
Franz Hoffman
Shar is the predominant seller of the final two cello brands featured on this list, Franz Hoffman and Carlo Lamberti. Shar Music is a US-based business devoted to students studying a stringed instrument.
Franz Hoffman cellos are both durable and high quality, as well as affordable.
Their Amadeus Laminate is the only cello made out of compressed wood, the rest are all handcrafted from the finest maple, spruce, and ebony.
If you are willing to pay a bit more, we highly recommend their Franz Hoffman Concerto cello, which comes fitted with Jargar A and D strings, and Prim G and C strings in 4/4 size. The only downside, however, is that it is not available in an outfit, making it a bit more inconvenient if this is your first cello.
Carlo Lamberti
Trending quickly into intermediate territory, Carlo Lamberti cellos are excellent instruments and deserve the top spot on our list.
With a full and rich sound, these cellos are made with the serious student in mind by using the best materials and highest craftsmanship for your dollar.
There is not much more we can say about this instrument except, "Try it yourself!" If you're not satisfied, you can return it for a full refund within 30 days of purchase.
Carlo Lamberti and Franz Hoffman instruments also come with a 1-year warranty for manufacturer or material defects, making these instruments sure bets.