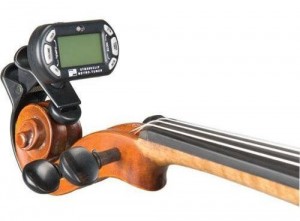 Tuning the violin is often one of the first things we are taught as beginner students. For good reason, too!
If you do not tune your violin, you will not learn proper intonation. This will make it difficult for other people to play with you…not to mention listen to you!
Violins strings are tuned from top to bottom: E, A, D, G. You can change the pitch of the strings by tightening and loosening pegs and fine tuners (if you have fine tuners).
The Astring is typically tuned to modern standard concert pitch, which is 440Hz. The A may be sharper or flatter depending on the type of ensemble: many professional orchestras such as the New York Philharmonic will tune to 442Hz, and continental European orchestras will often tune even higher to 443Hz.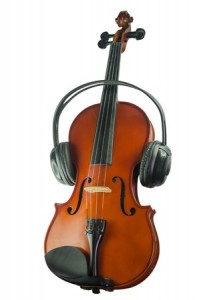 On the flip side, you will find that Early Music musicians will often tune their A as low as 415Hz. This is almost a semitone lower than modern tuning!
Variations in tuning are due to a historical lack of standardization in tuning until the 20th century.
Many systems of tuning were used simultaneously around the Western world until an international committee reached a consensus.
Still, many variations in tuning exist, as you saw above. This is why you need to choose a tuner that is well suited for your needs. You never know when you may experiment with different concert pitches.
Though there is an important disclaimer here; merely owning any number of these tools will not make you play more accurately. How you use these tuners is more important than which ones you own.
Hopefully this list will help you understand the tools that are out there and inform your choices so that you can find the tuner or metronome that is right for your needs!
Violin Tuners
The four styles of tuners described below are indispensible resources for violinists. Most musicians have at least one tuner.
We cannot always tune to a piano, so many of these tuners are great in a pinch as they are practical, portable, and easy to use.
Tuning Forks
This is the original violin tuner! Although not used as frequently nowadays because it is more difficult to use than an electronic tuner, this tuner has the bonus of being relatively cheap, durable, and doesn't need batteries.
To use, strike the tuning fork on a hard surface like your kneecap—never on your instrument or another instrument!
The fork will vibrate to a specific frequency, in this case 440Hz. If you gently touch the end of the vibrating tuning fork to your violin and the A string vibrates sympathetically then your violin is in tune. If not, then you will have to adjust the strings again.
With this method, unless you have a separate tuning fork for each string, you will have to tune your E, D, and G strings relative to the A string.
This is a skill that takes practice and a developed ear, so some of the electronic tuners may be more appropriate for beginners.
Classic Electronic Tuners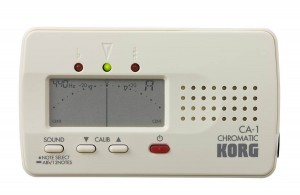 These tuners, like the Korg CA-1 Chromatic Tuner, detect a wide range of pitches. This means, unlike a tuning fork, you can tune each string individually.
Many different types of instrumentalists will use these tuners because they are not instrument-specific and very easy to use.
These tuners feature an LCD display that shows the audible pitch by letter along with a needle that swings forward for sharper pitches and backwards for flatter pitches.
This technology is flexible enough that you can accurately tune your instrument sharper or flatter than a 440Hz concert pitch.
Some of these tuners can also produce pitches. This can be very useful in your intonation practice as you can compare what you are playing with these drones.
Clip-on Tuners
This style of tuner has become more popular in recent years, especially for violinists who play gigs where it is often too loud to tune.
These types of tuners are similar to those used by electric guitarists. Guitarists often use these tuners when their guitars are not plugged into an amp because the tuner works by picking up the vibrations of the instrument.
Intelli IMT500 Clip-on Chromatic Digital Tuner for Strings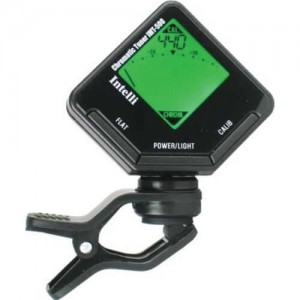 All instruments vibrate differently at different pitches, much like a tuning fork (the frequency, or amount of vibrations per second, is how different pitches are produced).
By clipping this style of tuner onto the scroll of your violin, it can pick up on the vibrations of your instrument.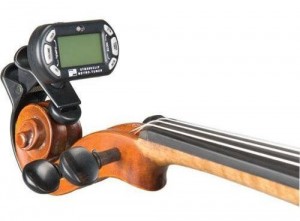 With an LCD display like the standard electronic tuners, these tuners will indicate whether you need to change the tension of your strings.
An example of a tuner that only picks up on vibrations is the Intelli Chromatic Tuner.
However, many clip-on tuners, like the SHAR 3-in-1 Clip Metro-Tuner, have a built-in microphone. This means that they can be used much in the same way as a regular electronic tuner.
Hybrid Metronome-Tuners
Hybrid Metronome-Tuners are very useful because they can reduce the amount of things you have to store and carry around.
However, they are often slightly more expensive, so weigh your options carefully! As the name suggests, these tuners are typical LCD-style tuners combined with a metronome.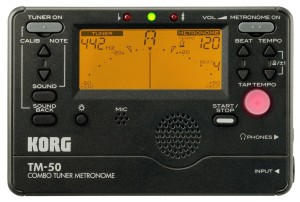 We already listed one hybrid metronome, the SHAR 3-in-1 Clip Metro-Tune, but another popular non-clip version is the Korg TM50BK Instrument Tuner and Metronome.
These tuners are a little more sophisticated in that they can also function as a metronome. There is often a way to switch between the metronome feature and the tuner.
The Korg model is capable of using both the tuner and metronome simultaneously, which can be very useful to practice intonation, rhythm, and tempo at once.