If you have played the drums long enough in your lifetime, you understand how important it is to own a drum set to practice on.
Having your own equipment at your disposal gives you the best chance to practice early and often to become a great musician.
There are so many choices to sort through, which can make the process overwhelming.
But, setting-up a kit can be one of the most frustrating things as a drummer, especially when it is an electronic set.
That is why today's focus will be on a Alesis DM6 review to give you an idea if this set is for you.
Alesis DM6 Review
The Alesis DM6 is a great kit, which has USB capabilities, making it one of the best options around.
First, you have to understand that this Alesis DM6 review is one that many people have looked in to because this brand is not a new fish in the drumming pond.
Alesis has been around for over 20 years and they have focused on electronic drums in that time.
For the DM6 model, there are over 100 sounds for the drummer to get creative with on heavy-duty pads and a sturdy rack system.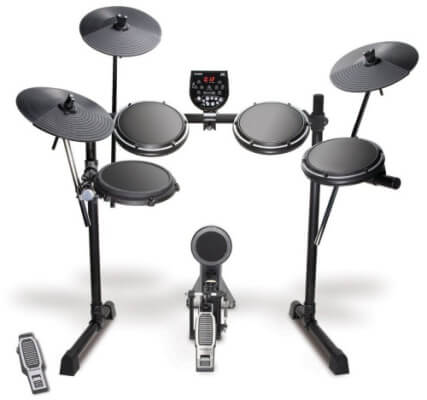 The pads used for the Alesis DM6 are life-like as if you were playing a traditional trap.
Any feedback is very muted with these pads because of the natural surfaces made from solid rubber.
Furthermore, the feeling of the snare drum can be dialed down or brought up.
Depending on if you want to do a rim shot, a click off the edge of the drum, or a hit it at the center, the Alesis DM6 can make this happen with ease.
This kit includes a bass drum, snare, 3 tom drums, a hi-hat, ride, and crash. The drums can be adapted to your height and style.
With the Alesis technology, you can modify how hard you want to hit the drum for it to make a song.
Maybe you want to barely hit the drum to make sound project; then, you can configure this to happen.
On the other hand, maybe you want to create some force before a sound is made.
This can be done, too, making this a very personal device at your disposal.
Best Features of The DM6
Practicing Makes Perfect
We all know that practicing is not always the funniest experience to be a part of. Rhythms can get tedious and dull.
Well, do not worry about practicing on the Alesis DM6 because you will not feel like you are practicing at all.
Pick a song you are practicing on your iPhone, mp3 device, etc., and plug it into the drum set.
The song will play through your drum speakers, and you will definitely enjoy drumming a whole lot more.
However, you will need to purchase a 1/8-inch cable to plug your device into this drum set.
If you do not know what song to play along with, there are 40 tracks that this set has configured into the system already for you to jam out to.
Also, you can use the built-in metronome to help keep you on beat.
This is so important since a drummer's number one goal is to keep the rest of the band steady throughout the song.
Lastly, you can connect this kit to the game "Rock Band." How about that for some fun?
Practice along with your favorite songs by playing the beats through a PlayStation or XBOX.
Just connect your gaming unit to a screen, and you will be good to go.
Make sure you have a MIDI cable and adapter to get this working quickly.
Inexpensive Yet Useful
This is not a cheap electronic drum kit by any means, but the Alesis DM6 kit is the most inexpensive model on the market today.
Moreover, it is classified as a professional model, so there are loads of things you can do with it if you are looking to take a step-up in the music world.
Warranty
If you like the best bang for your buck, having a warranty may get you really excited.
The Alesis DM6 has a one-year manufacturer's warranty that protects you if any of the pieces become defective.
This will give you peace of mind as you play away.
Other options are available, as well, if you are looking for added protection.
Things Left Desired
Limited Sounds
100 sounds might seem like a lot for a novice electric drummer, but in the grand scope of things, that is a very small number.
Other top electronic drum kits, made by Roland and Yamaha, have hundreds and hundreds of sounds built into their technology.
As we continue to dive into the Alesis DM6 electronic drum kit review, this brand can get around this by using MIDI sounds, but if you are looking for a plethora of storage sounds, this drum kit is lacking compared to its competitors.
Simple Features
In other Alesis DM6 reviews, it shares the struggles that this brand deals with when it comes to cymbals.
When a drummer hits a cymbal, it does not choke. This means that the sound will ring for longer periods of time than other brands.
Using your hands to mute the sound might be the best way to limit the output of sound.
Additionally, the hi-hat on this model stays open all the time, so the sound comes off more as if you were in a garage band instead of a muted hi-hat, where the cymbals are clasped together, keeping the sound clean and crisp.
Conclusion
Now that the Alesis DM6 review is almost complete, you should know that it is a great model if you are looking for a kit that does not break the bank, but will also live up to lofty expectations.
Feel like a professional as you groove to the beat. Consider a few drum kits before you settle on one.
Do your homework so you can have an enjoyable experience playing the right drum kit for you.
In the end, enjoy the experience and have fun with your new trap set.