Cheap acoustic guitars are flooding the market, and in this article we're going to talk about some of the finest models within the price range of $200.
Since there are so many models for you to choose from, it's important that you know what you are looking for. Some of the models that we're recommending to you are designed for beginners exclusively, whereas others can be used by professional musicians as well.
Here are the best cheap acoustic guitars under $200:
1.

Fender FA-115

The best acoustic guitar under $200

Let's start off with Fender's FA-115 dreadnought acoustic guitar bundle. It goes without saying that Fender is probably the biggest name in the guitar making industry, so our choice of the best acoustic guitar under $200 should be more than obvious.

It packs a top made of laminated spruce, the back and sides were made of laminated basswood, its finger board was made from laminated hardwood, and its neck from Nato material. In essence, there are plenty of tonewoods onboard that bring a wide variety of benefits to the table.

First and foremost, the FA-115 sounds absolutely amazing for a cheap acoustic guitar. It's not overly punchy when it comes to bass, although the mids and the highs are fairly pronounced and present in the tone.

Furthermore, most of the wood pieces used in the manufacturing process of this guitar are laminated, meaning that the FA-115 is made like a brick house.

Of course, its aesthetic side is also exceptional due to the high-gloss Sunburst finish. Even if you're an immediate beginner, you're at least going to look like a pro as you're climbing your way up.

This guitar comes laden with bonus features, so you'll get a gratis guitar strap, three picks, a chromatic tuner, a set of Fender 70L replacement strings, and a gig bag.

The only downfall of this guitar is that it's quite expensive for an entry-level acoustic guitar. However, taking into consideration that it excels in pretty much every field of performance, it's safe to say that it's more than worth the money.
Image credit: Fender

Check Price on Amazon

Exceptional sound quality.
Made from highly sturdy materials.
Very versatile choice of tonewoods.
Comes outfitted with a plethora of gratis goodies.
Looks absolutely fantastic.

Quite expensive, even for a entry-level guitar.
Fender makes some of the best acoustic and electric guitars on the market, and the FA-115 is a great example of how innovative and proficient their engineers are.
In short, you'd have a really hard time finding a more valuable acoustic guitar for the price, so we highly recommend that you give it a shot.
2.

Yamaha FD01S

The best acoustic guitar under $150

If you're looking for a cheap acoustic guitar but feel like Fender's FA-115 is too expensive, we think that you're going to love Yamaha's FD01S acoustic guitar.

Basically, this is not a bundle like our previous pick, rather it's a premium-quality standalone guitar that packs an amazing setup of features.

It packs a body made of premium quality spruce, a rosewood bridge and fingerboard, and Nato back and sides. In terms of build quality, it resembles Fender's FA-115 a lot, as it's incredibly durable.

Most people would think that this is a beginner's guitar mainly because it belongs to the budget price point category. However, the truth is that intermediate-level players, even some seasoned professionals wouldn't mind its lower price as it offers top-grade performance.

It boasts a very vibrant sound and its playability is on a totally different level in comparison to similarly priced models. The fingerboard is very smooth, and the action is pretty great straight out of the box. Of course, setting it up to your preferred position shouldn't take more than a couple of hours if you don't like the initial setup.

Lastly, the Yamaha FD01S looks very traditional with the natural gloss finish. It's not as fancy as our previous pick, though.
Image credit: Yamaha

Check Price on Amazon

Phenomenal sound quality.
Great choice of tonewoods.
Balanced action straight out of the box.
Remarkably durable acoustic guitar.
Tremendous value for the money.

Belongs to the upper bracket of the budget price point category.
Overall, the Yamaha FD01S is a wonderful guitar. It sounds great, it was obviously built to last, and its playability is absolutely remarkable. Though it does cost quite a bit for a budget guitar, we strongly recommend you give it a shot if you're looking for quality.
3.

Rogue RA-090

The best acoustic guitar under $100

Rogue might not be as famous as Yamaha or Fender, but even so they put out great acoustic guitars. We've handpicked their RA-090 dreadnought for our review of the best acoustic guitars under $200 because it offers quite a lot without demanding much in return.

First of all, let's talk about its price. Our first two picks weren't exactly affordable in terms of the budget price range, whereas the Rogue RA-090 dreadnought is. In fact, it only costs half as much as the Fender model, only it doesn't come supplied with all the accessories the former has in the bundle.

Aesthetic wise, the RA-090 looks very plain and straightforward, with a black pick guard and a semi-high gloss finish. It's available in six color variations, including the Mahogany, black, Mahogany Natural, Natural, Sunburst, and Satin Sunburst.

This guitar features a nato neck, both the bridge and the finger board are made of Painted Maple, and it packs nickel hardware. Overall, it's quite sturdy, although not as robust as the FA-115 or FD01S.
Image credit: Rogue

Check Price on Amazon

Pretty good sound for the money.
Decently durable.
Very affordable.
Available in several color finishes.
Huge value for the money.

No bonus features.
The initial action is quite high, so beginners should adjust it a bit lower for a boost in playability.
It's hard to say whether Rogue's RA-090 dreadnought acoustic guitar is perfect for beginners, intermediate-level players, or seasoned veterans. It sounds quite great, it's decently durable, and it rocks premium-quality tonewoods. All things considered, it is only a budget acoustic guitar, and in that regard its value heavily outweighs its price.
4.

Washburn WD7S

If you've heard of Washburn, you're probably all too familiar with the fact that they make some of the best boutique-level guitars available on the market. That being said, they're not as famous in the budget guitar range, which obviously doesn't mean that they're not making entry-level models.

A great example of a premium Washburn guitar that doesn't cost an arm and a leg is the WD7S from the Harvest series.

Now, this guitar is almost expensive, meaning that it's just on the border between the budget and mid-priced categories. The sole reason why this particular model isn't our top pick is because it's a standalone guitar, which is quite limiting for beginner guitarists who usually don't have the accessories which bundles normally contain.

As far as its performance is concerned, the WD7S is absolutely phenomenal. This guitar boasts an incredibly clear, vibrant sound which leans over very slightly to the brighter side.

It does have a faint echo of warmth in its tone due to the Spruce top material which is widely considered as one of the most versatile guitar components. Its sound quality is overall pretty balanced out with mahogany back and sides.

In terms of aesthetics, Washburn's WD7S might be the best looking budget acoustic guitar you'll come across in your search. It rocks a high gloss finish which looks plainly awesome. Furthermore, it really shines both figuratively and literally at live performances.
Image credit: Washburn

Check Price on Amazon

One of the best looking budget guitars on the market.
Remarkable, well balanced sound.
Exceptionally durable build quality.
High gloss finish.
Premium sound performance.

No bonus accessories.
Not exactly ideal for beginner players.
Overall, Washburn's WD7S does an amazing job for the money. Though it might not be the biggest bargain in the budget price section, it holds a tremendous value for the buck due to premium-quality build and exceptional level of performance.
5.

Squier by Fender SA-150

Many prominent guitarists have started their journey with a Squier, which is only one of the many reasons why we've picked it for our best cheap acoustic guitars review.

Not only does it come with all the usual gratis accessories (a guitar strap, some picks, Austin Bazaar's Essentials instructional video, replacement strings and tuner), but it's the go-to guitar for whoever is looking for a quality axe.

Basically, this particular iteration of the ever so famous Squier features a full laminate construction, with the exceptions of Lindenwood top and the mahogany back and sides. Even though it sounds just a bit warmer than the original Fender Squier, it's safe to say that it's equally durable.

The slim neck profile means that it's one of the easiest guitars to play on, which is what makes it so good for beginner and intermediate-level guitar players. Of course, the gratis goodies Fender provides are also a big plus – you won't need to go to the store and spend some additional $50 on the picks, tuner, strap, and such.

One of the first things you'll notice about the Squier is that its tone is very authentic. There's a reason why Fender constantly accentuates their statement that they're 'shaping the sound of musicians', and by simply strumming along a couple of notes you'll understand it completely.

Now, as far as the Squier itself is concerned, there are no actual drawbacks that you should be worried about. However, the gratis gig bag, even though it does completely free of charge, is not as durable as, let's say any stock bag you'd get in any guitar shop. All the other features, though, are perfectly functional.
Image credit: Fender

Check Price on Amazon

Unparalleled sound quality.
Built like a brick house.
Plenty of gratis features.
Superb performance overall.
Great for both beginners and seasoned players.

The gig bag isn't overly durable.
It's pretty rare to find a guitar that doesn't really have any downfalls to it, but the Squier SA-150 by Fender is one of them. This guitar is generally perfect in terms of durability, playability, and sound quality.
However, there are people that just don't like the Fender's 'authentic' sound. It's too strong and very distinctive, and some people won't like the fact that they're served 'their' tone on a platter.
6.

ADM 41-Inch Dreadnought

ADM is certainly an underdog brand in comparison to Fender, Yamaha, and most certainly Washburn, but it's pretty safe to say that they make exceptional beginner guitars. Here we are looking at a wonderful starter package that will get any guitarist in the making up on their feet in no time.

First of all, let's accentuate the fact that the bulk of the value this package holds is not in the complementary features. The guitar itself is pretty solid and well rounded, although it's only average in comparison to our top picks.

It features a Spruce top, and its back and sides are made of high-quality basswood, so the sound is pretty warm. Its tonal qualities are awesome concerning the price, and its playability is beyond decent.

Among the complementary features you'll find a high quality gig bag, a guitar capo, a stand, an electronic tuner, three picks, a removable pick guard, six replacement strings, and a cleaning cloth. So, in plain words, this starter bundle is comprised of everything a beginner guitarist needs.

The only problem with this guitar is intonation. Namely, it holds the tuning perfectly, but not for a long time. You'll need to re-tune it practically every day, which might become a bother to some people.
Image credit: ADM

Check Price on Amazon

Great sound for the price.
Comes outfitted with a wide array of complementary features.
Pretty durable spruce and basswood construction.
Sealed machine heads.
Easy maintenance due to compensated synthetic saddle.

Poor intonation, requires daily re-tuning.
The complementary guitar capo is mediocre at best.
ADM's dreadnought acoustic guitar is certainly one of the best inexpensive acoustic guitars you could find on the market. It comes supplied with all the necessities you could need as a guitarist, and the instrument itself is pretty formidable and well-rounded.
7.

Yamaha JR2

We have another model from Yamaha in our review, only this one is substantially different from our second top pick, the FD01S.

Basically, the JR2 is a junior sized guitar which was purposefully designed for beginners exclusively. It's a smaller version of your average Yamaha guitar, meaning that it brings all the usual benefits onboard, plus it's a bit more playable.

First things first, the JR2 features a very versatile build. It features a spruce top, its neck is made of Nato material, its back and sides are made of Mahogany while the fretboard and the bridge are made of rosewood materials. This is certainly not your average combination of tonewoods, especially since every individual type is tugging the sound in a very specific direction.

However, the most dominant tonewood here is mahogany (since Nato is just a variation of it, otherwise known as Eastern Mahogany), so it's pretty safe to say that JR2's tone is more on the warmer side of the spectrum.

In terms of durability, the JR2 is equally robust as any full-sized guitar. What's more, it's significantly lighter and easier to play.

There are a lot of complementary features contained within the bundle, such as the Austin Bazaar's Guitar Essentials instructional DVD, a digital tuner, a set of replacement strings, a gig bag, a cleaning cloth, and three guitar picks.

The only downside of Yamaha's JR2 is that it's smaller than average. This means that most professionals and intermediate-level players wouldn't exactly be all too happy about using it, but on the brighter side, it was practically tailor made for beginners.
Image credit: Yamaha

Check Price on Amazon

Very affordable.
Loads of beginner complementary features.
Very versatile choice of tonewoods.
Exceptional durability.
Easy to play and maintain.

Smaller than average size.
Specifically built for beginners.
Yamaha JR2 is a perfect guitar for a beginner. It's level of playability is sky high, it sounds great, is durable, and to top it all, it packs all kinds of guitar accessories that beginners need, such as the gig bag, a capo, some replacement strings and such. Though it's incredibly affordable, its performance can easily match that of a mid-priced acoustic guitar.
8.

Winzz 40-Inch Cutaway

Next up is Winzz's 40-inch cutaway acoustic guitar bundle. Now, this guitar might not be the best sounding instrument you'll get your hands on, but it certainly looks cool and sounds awesome. What's more, it's available in three different colors, including black, blue, and red.

Basically, it's both a budget and a beginner guitar, so it shouldn't matter that much if it doesn't sound as great as more expensive models.

This guitar features a full Linden plywood construction, which means that it sports a bit warmer sound in comparison to the models we've reviewed so far. It also rocks an X-bracing structure which further complements the resonance and tonal clarity.

Winzz's guitar is actually very playable due to the fact that lindenwood is incredibly smooth. That's just one of the reasons why we label it as one of the best beginner acoustic guitars.

The second one is the fact that it comes supplied with numerous beginner guitar accessories, including a guitar strap, a gig bag, an electronic tuner, three guitar picks, and a guitar stand.
Image credit: Winzz

Check Price on Amazon

Great level of playability.
High durability.
Comes outfitted with numerous beginner guitar accessories.
Exceptionally great outlook.
Available in three different color variations.

Slightly inferior sound quality.
All things taken into account, Winzz's acoustic guitar bundle offers quite a lot for the price. This guitar is very sturdy and easy to play, and even though there are better sounding instruments for the price, this particular model is great if you're just starting out.
9.

Donner DCG-1

Let's wrap it up with one of the best low-price acoustic guitars on the market – the Donner DCG-1. Essentially, Donner is a brand that makes premium-quality budget guitar gear. They've earned their fame for top grade pedals and similar gadgets, but they also have a couple of high-quality axes in their catalog.

The DCG-1 features mahogany back & sides and a spruce top, so as far as the tonewood combination is concerned, it offers a great compromise between sound and durability. It's also outfitted with various accessories, such as a gig bag, a strap, a capo, a set of replacement strings, a digital tuner, and a footstool.

Overall, it sounds pretty decent, but the biggest benefit it brings to the table is affordability and the bonus features it comes supplied with.
Image credit: Donner

Check Price on Amazon

Solid build.
Sounds pretty nice for the cash.
Comes supplied with a plethora of complementary features.
Good level of playability.

Doesn't really excel in any particular field of performance.
The Donner's DCG-1 is a great beginner's guitar bundle. The instrument is great, to say the least, and the bonus goodies are all of high quality.
Conclusion
Sifting through the cheapest acoustic guitars we've come across so many models that it was hard to pick the best one. However, if you know where to look, the job is substantially easier.
You can always rely on Yamaha, Fender and Washburn, but for the sake of diversity, we've included a couple of models from underdog brands as well. We hope you liked our selection of the best cheap acoustic guitars.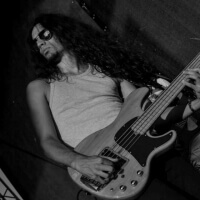 Marko is a writer, bassist, and fan of all things music. His passions include quality music gear, King Crimson, and sifting the web for the latest music updates.