Congratulations on the decision to purchase a digital piano! Adding music to your life is a wonderful choice, whether it's for you or a family member.
Learning music is beneficial for your mind and a real creative outlet, especially as you progress.
If you're new to music, or to the keyboard, keep reading for our guide to how to choose the best beginner keyboard, the best piano brands on the market, and reviews of some top models so you can find the best beginner keyboard for your needs.
Best Digital Piano 2018 Buying Guide: The Basics
Budget
To start, like most people, you're probably considering your budget when you start looking for the best piano keyboard for beginners.
The good news: thanks to technology, it's quite possible to get a good beginner digital piano for less than $500 – oftentimes less than $300, even from top piano keyboard brands.
Although it's possible to find keyboards for less than $100, they are generally considered more portable keyboards and sometimes even "toy" keyboards.
Depending on the age and interest level of the intended player, these very inexpensive keyboards may not be able to grow with the musician.
That said, it's also quite possible to spend $1,000 or more to get the best electric piano from the best digital piano brands.
It is absolutely not necessary to spend that much, especially when you're just starting out.
If your budget allows for it, a high quality keyboard piano over $1,000 will last you for years and will often look similar to an acoustic upright piano in your home.
These "home digital" pianos aren't meant to be portable – they're designed to take the place of an acoustic piano. We'll talk more about this later.
For now, know that wherever your budget may be, there's a high quality keyboard piano that can meet your needs and your budget.
You'll want to get the best digital piano for beginners your budget allows for, so let's discuss what to look for in your search for a best buy piano keyboard.
How Many Keys
It seems like a simple question – how many keys do you want on your keyboard? Although you could say, "however many are supposed to be on it," the answer actually varies.
A standard acoustic piano has 88 black and white keys. Digital pianos may have 88 keys, 76 keys, 61 keys, or even fewer for toy or synthesizer keyboards.
As you may have guessed, although a full-size keyboard with 88 keys will generally cost more than a smaller keyboard, it's easy to find affordable 88-key keyboards from good piano brands.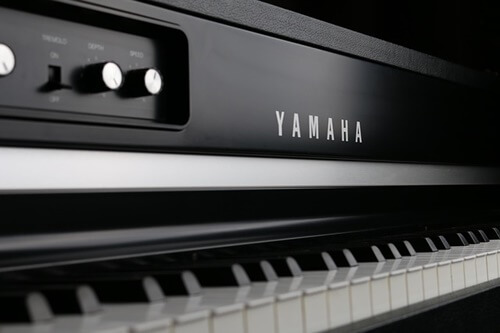 A 61-key keyboard would be best suited for either a musician looking for a lightweight, portable second instrument, or a very early beginner just looking for a basic instrument to get started with.
As the player grows as a musician, they'll encounter songs that require keys a 61-key keyboard just doesn't have.
76-key keyboards are a good middle ground between the 61-key and 88-key keyboards.
They add enough range for just about any song a beginning or intermediate player will be playing, and the quality is often a bit higher.
These keyboards are still often marketed toward musicians needing a portable instrument.
A full 88-key keyboard is a great option for any level of player.
Professionals in need of a portable or second/backup instrument will enjoy the full range having all 88 keys offers, and beginners needn't worry about outgrowing the instrument's range as their ability develops.
Key Size
Along with the number of keys, it's important to consider the key size.
Many 61 or fewer key keyboards have "mini" keys or another type of key that isn't quite as large as a key on a standard acoustic piano.
While this may be okay for a very young student (under age 6 or so) looking to have an instrument just for fun, the best keyboard for kids to learn piano has full-size keys, no matter how many keys it has.
Full-size keys allow the hands to develop the proper strength and fingering positions necessary to grow as a musician.
Smaller keys mean that when a player sits at a standard acoustic piano, the muscle memory would lead to playing wrong notes as they won't be reaching the correct key with their fingers.
Touch Response
Touch response is very important when shopping for the best keyboard for beginners.
A digital keyboard with touch response means that when the player drops into a key with a lot of weight, a louder sound is heard.
If the player drops into the key very lightly, a softer sound is heard.
If you take a look at nearly any piece of music, you'll notice dynamic markings that tell the player how loud or soft to play a note.
A beginning pianist needs to be able to hear those differences when playing in order to learn how to play softly or loudly.
Many of the smaller or "toy" keyboards will not have touch response, and this means every key will sound at the same volume, no matter how hard it is pressed.
A good electric piano for beginners will have touch response to allow the player's hands and ears to develop.
Action
The action on a digital piano describes how the sound is made. Of course, on a traditional acoustic piano, sound is made by pressing a key, which moves a hammer to strike a string.
All of this movement together makes up the action on a piano.
With a digital piano, the action can be as simple as each key being connected to a sensor that plays the sound when the key is pressed.
Or the action can be more involved – even to the point where a real hammer action is included inside the piano.
Why would the type of action matter on a digital piano?
The answer lies in how the keys move. A digital piano that uses only sensors may have keys that are very lightweight, which won't allow the player to develop finger strength.
The keys may not be able to bounce back to their original position as quickly as they don't have a counter weight.
This also ties into whether the keys are weighted or not as an actual hammer action will, by design, have weighted keys.
Weighted Keys
A high quality keyboard piano will have some type of weighted keys. This means there's not only a sensor but also a weight in the action.
It requires weight in the hand of the player to press the key down, and students will develop finger strength and flexibility by playing weighted keys.
All acoustic pianos have a "weighted" action as the weights hold the keys in place when they are not being played, but many digital pianos do not.
Especially among cheaper or less expensive models, it may be difficult to find a keyboard with weighted keys.
It is possible to select an electronic piano without weighted keys that has a touch response, so keep in mind they are two different aspects of the instrument.
Touch response is whether they key SOUNDS loud or soft when played. A weighted action determines whether the key FEELS heavy or light when played.
Both touch response and weighted actions are important factors to consider.
Lighter weight or more portable keyboards are less likely to have weighted keys because, as the name suggests, the weights in the keys make the keyboards themselves heavier.
Types of Tones
Acoustic pianos have just one tone: acoustic piano. One great feature of digital keyboards is they often have a variety of voices to choose from.
Some of the best piano brands focus more on emulating acoustic pianos and therefore have fewer tones to choose from.
These instruments are often selected in place of an acoustic piano and fall under the home digital piano category.
Many digital pianos offer a wide range of voices from acoustic piano tones to woodwinds and brass instruments, drums, and even vocal samples.
The types and number of tones a particular digital piano has don't necessarily mean whether one is better than the other – it matters more for the player who will be using the instrument.
I've found young children and early beginners especially like to have different tones to play with because they feel like they're playing a different instrument every time.
That said, a more advanced player will likely want to have fewer voices focused solely around the acoustic piano tone.
Effects
Most digital keyboards also have a variety of effects. Effects include not only basic features such as reverb that can help modify the tone of the keyboard, but also whether you have a metronome, a built-in educational program, or the ability to record directly onto the keyboard.
We could spend an entire afternoon reviewing the amount of effects on the market today, but as this is a general guide, that will have to wait.
I will discuss specific effects in the below digital piano reviews to help compare models.
Not every player is interested in effects, but they can make a big difference in cost and playability, depending on the player's goals.
For example, the option to use reverb can help a digital piano in a small space sound much more full.
A built-in metronome can help a student learn a piece at the proper tempo.
Educational software can make a huge difference with a student who doesn't have access to a teacher but wishes to further his or her musical studies.
Built-in Speakers/Headphone Input
Built-in speakers seem like a given, but this isn't always the case. Many synthesizer keyboards do not have built-in speakers, and – on the other side of the spectrum – many portable higher-end digital pianos don't have built-in speakers.
Synthesizers need to use software to create sound, so they'll make sound through a computer program or a keyboard amplifier.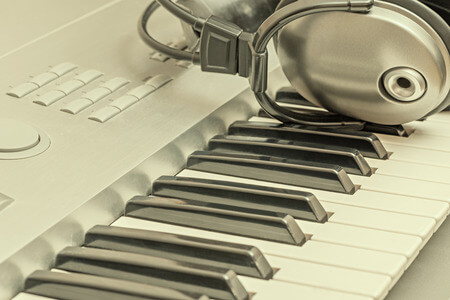 Portable higher-end digital pianos often require a keyboard amplifier as they are to be played in live situations where built-in speakers would not be loud enough.
It's also worth ensuring the digital piano you choose has a headphone input jack.
This way, the player can practice at any time without disturbing anyone else in the household.
Cabinetry
Cabinetry may not be a primary concern for a good beginner keyboard but it's worth reviewing some possible options before deciding on a keyboard for your family.
Cabinetry refers to how the piano looks. Is the piano mostly plastic? What color is it? Is there a screen?
A home digital piano can be made of plastic but the plastic will often be designed to look more like wood and can be offered in a variety of finishes to mimic acoustic pianos.
This includes finishes such as ebony polish, rosewood, or black walnut – each of these finishes has a different sheen and color.
Home digitals may also include some wood veneer or components to truly capture the look of an acoustic piano.
Digital pianos that are designed more as portable instruments or in live settings often do not include much cabinetry.
They can be set on top of a folding or "X" style keyboard stand that will need to be purchased separately.
Portable digital pianos generally have a plastic body that often includes a screen.
The screen shows which voice is being used or, in some cases, even shows notes on a staff as they're being played.
Again, there is no right or wrong choice here, as both options have their benefits.
Instead, it's best to consider how and where the piano will be used, which brings us to the last of the major qualities to look for: portability.
Portability
Portability can be a big deal when looking for the best digital piano.
Everyone looking for a digital piano should consider whether they want the keyboard to stay in one place in their home or be able to come with them on the go.
Many of the best keyboards for beginners are portable, lightweight, and less expensive than a home digital piano.
Portable keyboards generally do not include a built-in stand, so you may end up purchasing a portable stand as well as a travel case if the instrument will be traveling often.
Portable keyboards are less likely to have weighted keys but more likely to have a variety of tones, special effects, and possibly even screens to help learn music or follow along.
Home digital pianos tend to look more like a standard acoustic piano and stay in one place in the home.
They often have a weighted – if not full hammer – action, meaning the keyboard itself is heavier.
The legs and cabinetry are generally part of the home digital piano and are not easily removed.
Home digital pianos look beautiful and help you avoid the maintenance required of an acoustic piano.
They require no tuning and no special considerations for heat, light, or humidity.
But their size and weight make them nearly impossible to carry around, so they would not be a good option for someone looking for a portable instrument.
Summary
When you're looking for a high quality keyboard piano, you want to make sure you're getting the most for your money.
Keeping the above factors in mind will help you get the best instrument for your situation.
As you can see, there's no one correct answer for the best piano for beginners, so it's important you know what your goals are.
Think about whether you want the piano to be more like a replacement for an acoustic instrument, or a fun, portable electronic instrument.
My personal recommendation for how to choose the best electric piano would be to consider, in priority order:
Your budget
Playing level of the student
Portability
Touch response
Weighted keys
Action
Number and size of keys
Types of tones
Built-in Speakers/Headphone Input
Effects
Prioritizing factors in this manner ensures you'll stay within your budget while focusing on what's most important to the student when you choose a best digital keyboard.
However, some musicians may care more about the tones and effects than the weight of the keys, so this priority list does come down to personal preference (which is why considering the playing level of the student is so important).
Keep reading for a roundup of some of the best piano brands along with digital piano reviews!
Best Digital Piano Brands
How do you know how to find the most popular piano brands?
We'll break it down for you in the following reviews as we discuss options for the best digital piano for beginners.
You'll want to look at a brand's reputation to see what other players have said.
Asking friends or neighbors who play can also help guide you toward the top piano keyboard brands.
Personal recommendations are great, but what if you don't know any piano players?
Look for a brand with many positive electric piano reviews online. The more reviews, the more happy players there are.
Also, a larger catalog usually means the brand understands the different needs of musicians at various playing levels.
The top digital keyboard brands today include Yamaha and Casio.
Both have proprietary music education software built in, both have a variety of instruments for all price points, and both offer state-of-the-art technology.
We'll discuss models from Yamaha and Casio for any budget below.
There are many more great digital keyboard brands without quite an extensive catalog. Some brands you may have heard of include Korg, Kawai, and Alesis.
We'll touch upon some digital pianos from each brand and discuss the brands as a whole.
Finally, you'll find some brands marketed as piano brands for kids. These instruments, while inexpensive, may not be able to grow with the student, so it's important to consider musical goals should you choose a brand designed for beginners.
Read on for in-depth reviews of the best keyboard piano brands at all price points.
Yamaha
Yamaha, by far, takes the cake as one of the best digital piano brands on the market.
Yamaha has an extensive catalog of both acoustic and digital instruments, a proprietary educational software suite, and a long history of providing quality instruments to musicians at all levels.
Not only do they offer some of the best piano keyboards, they also cater to beginners.
Here's a guide to Yamaha electronic keyboard reviews for instruments at all levels and price points.
The Yamaha PSR-E253 is a 61-key portable keyboard with full-size keys, 385 voices, a built-in lesson function, and a headphone jack, for under $200.

As Yamaha says, this is a "Real. Fun." Instrument. The keys are not weighted, hence the feather-light 9lb weight, and they are not touch-sensitive, but this is still a best keyboard for kids learning piano and offers many features a toy piano just wouldn't have.
Pros
Very lightweight
Full-size keys
Lots of voices to choose from
Cons
61 keys may not be enough for all players
Not weighted/touch sensitive, so may not be the best for advancing players
Overall the PSR-E253 is a best electric piano for kids and early beginners.
It won't be able to grow with the musician like a full-size keyboard would, but for under $200, with the Yamaha name, it's a great place to start your musical journey.
The Yamaha YPG-235 is a 76 full-size key keyboard with Yamaha's Graded Soft Touch response action, USB connectivity, over 400 voices, a variety of effects, the Yamaha Music Education Suite, and inputs for headphones and a sustain pedal – all for under $500.

At this price point, the YPG-235 is a best keyboard for kids – it's the perfect combination of function and affordability for all beginning players.
Pros
Portable and lightweight
Touch response full size keys
Lots of voices and effects
Cons
Action is not weighted
76 keys may not be enough for advancing players
May not feel enough like a "real piano" for advancing players
The YPG-235 is a high quality keyboard piano at a very affordable price, offering features you'd want in a best beginner keyboard regardless of budget.
It may not be the best electronic piano for an advancing player, but it certainly is one of the best piano keyboards for beginners.
The Yamaha DGX-660 is just over the transition line from portable digital keyboard to home digital piano, and it's definitely a best digital piano for the home.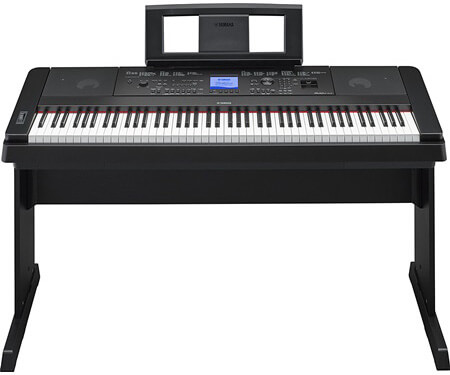 This home digital offers 88 full-size, graded hammer action, touch response keys, over 400 voices, a wide variety of effects, recording and lesson capabilities, and a pedal unit, all for under $1,000.
Pros
Price – full home digital for under $1,000
88 full-size touch response keys
Graded hammer action
Pedal and headphone inputs
Variety of voices and effects to appeal to all players
Cons
Price – this home digital may be out of budget for those looking for a best keyboard for kids
No fancy cabinetry – still clearly a digital piano
The DGX-660 is an affordable home digital that still retains some of the traditional digital keyboard features and is a best brand of keyboard piano for beginners.
This is an instrument a student of any age can grow with and continue to play, regardless of the level of musicianship.
Finally, we have the Yamaha Arius YDP-143, which is a best keyboard for kids and adults alike.
The Arius line encompasses a range of affordable home digital pianos with standard piano cabinetry, weighted full-size keys, pedal and headphone inputs, 192-note polyphony, and a variety of voices and digital effects, all for less than $1,500.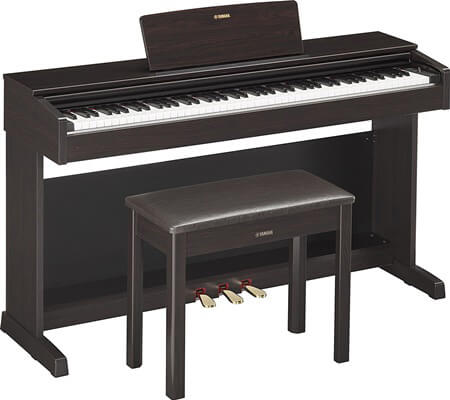 For comparison, a standard new acoustic piano without the effects or recording capabilities would cost close to, or well over, $5,000, making this an excellent budget-friendly choice for a home instrument.
Pros
Price – the value for the features is fantastic
88 full-size touch response keys
Graded hammer action
Pedal and headphone inputs with pedal assembly
Tone sampled from live Yamaha grand piano
Cons
Limited number of voices (10) as this piano is designed to take the place of an acoustic instrument
Limited number of effects for the same reason
Not portable
Although some heavier pianos can be used both at home and as portable digital keyboards, the Arius line is designed with cabinetry in mind to stay in one place at home and take the place of an acoustic piano.
This means that, although it's a digital keyboard piano, it won't be the best keyboard for a musician looking to have a multipurpose instrument.
That said, it is a best keyboard for beginners and advanced musicians alike who want some of Yamaha's branded digital features in an affordable, attractive, and easy to play home digital piano.
The 88 full-size keys ensure the player will not outgrow the instrument, and although the number of voices is limited, each voice has been sampled from an acoustic instrument and replicated with state-of-the-art technology to ensure a full, rich acoustic sound regardless of the song.
Casio
Casio is another one of the best digital piano brands on the market.
Although in the past they focused mainly on portable, lightweight, effects-heavy keyboards, they've recently stepped up their offerings and now offer a huge variety of digital keyboards at all price points.
From a basic best electric piano for kids to a beautiful home digital piano, keep reading for our Casio piano keyboard reviews.
The CTK-2400 is, like the Yamaha PSR-E253, a 61-key portable keyboard, best for beginners or kids.
The keys are full size, which will help muscle memory, but they are not touch-responsive.

It has a built-in music learning system, which is great for beginners, and also a built-in microphone for recording.
With 400 voices and a USB out, there are plenty of effects here to keep a young beginner happy at a very affordable price.
Pros
Price point – under $100 is a steal!
Full-size keys
Built-in learning system
Built-in microphone
Cons
Only 61 keys
No touch response
Not weighted
No pedal jack
If you're looking for an inexpensive instrument for a beginning student who may not stick with piano, or you have young children who care more about making fun sounds than how the keys feel, this is a great option.
The CTK-2400 will not be able to accommodate advancing players, but it's an affordable option for anyone new to music.
The Casio WK-245 is, much like the Yamaha YPG-235, a 76-key keyboard with full-size touch-sensitive keys.
Also like the YPG-235, it includes 600 voices, an onboard learning system, and 180 accompaniment rhythms.

It also has memory for recording up to 5 songs and a USB connector to work with your computer.
Pros
Full-size touch-sensitive keys
Large variety of voices
USB connectivity
Portability
Headphone and pedal jacks
Cons
76 keys may not quite be enough for the advanced musician
Action is not weighted
May feel too much like a "keyboard" for advanced players
Overall, the Casio WK-245 is an excellent keyboard for kids or beginners up to intermediate level players looking for a quality instrument at a very affordable price that can grow with the musician.
The Casio Privia PX-160 is a full-size 88-key hammer-response action keyboard.
The PX-160 is definitely a big step above the WK-245 in terms of features and bang for your buck.
For under $500, you're getting all 88 keys with textured tops, an upgraded 8w x 8w dual speaker system, pedal and headphone jacks, and USB connectivity.
This instrument provides tons of value at a reasonable price even for beginning students.
There's an optional stand designed for use with the PX-160 so it can function more as a home digital, but for the advanced performing musician, it can still be used on stage as a portable digital piano.
Pros
88 full-size hammer-response textured keys
Superior speaker system
Headphone and pedal input jacks
USB connectivity
Portable
Value for the price
Cons
Sensitivity for repeating keys may lag
Limited amount of voices and effects
The Casio PX-160 is an excellent choice for the advancing musician or even a beginner looking to start with a piano they can grow with.
It's a big piano on a budget and would definitely be considered a best buy for the price point and features.
Casio Privia PX-860 Digital Home Piano
As the name suggests, the Casio PX-860 is a step up from a full-size keyboard to a home digital.
With classic acoustic piano cabinetry, a full pedal assembly, voices sampled from an acoustic 9' concert grand piano, 18 instrument tones, and USB connectivity, this is another great option for a best digital piano for the home.
Although the price point may put this piano out of reach for some players, it's an excellent choice for a lifelong musician looking for an instrument that will last.
Pros
88 full-size weighted hammer action keys
High-quality tones
Full pedal assembly
USB connectivity
Cons
Price point – barely under $1,000 may price it out of some budgets
Fuctions and voices can be difficult to navigate from limited buttons
The PX-860 Privia is a more wallet-friendly alternative to the Yamaha YDP-143 for those in the market for the best home digital piano.
With similar functionality and beautiful tones sampled from live instruments, it's a best keyboard piano for kids and professionals alike.
Korg
Korg is a well-known musical instrument brand. Although they historically focus more on synthesizers, Korg also offers a variety of digital pianos and keyboards.
The Korg B1 is a full-size 88 weighted key keyboard designed as a compact home digital.

Available with a three-pedal assembly and cabinetry, this sleek piano is a very affordable home digital at under $600.
Speakers are built in and there are 8 acoustically sampled voices to choose from.
Pros
88 Full-size weighted keys
Budget-friendly home digital
Luxurious sounds
Cons
Limited number of tones may not be as engaging for young students
No built-in educational software
Only one 1/8" output jack for headphones
The Korg B1 is an economical option from a well-respected musical name for a home digital piano for players of all levels.
The Korg SV-1 is actually more costly than the B1 home digital above, but they offer very different features.
While the B1 is designed as a sleek home digital, the SV-1 is designed with the gigging professional in mind.

This keyboard is portable – although heavy at 55lbs – and offers 36 built-in sounds, a variety of effects, headphone and pedal input jacks, and a balanced line out.
Pros
Large variety of meticulously-sourced voices
High-quality effects
Weighted full-size keys
Portable (though heavy)
Cons
No cabinetry – not designed to be a home digital keyboard
Expensive for a portable keyboard
No built-in speakers
The SV-1 is truly designed for the professional musician looking for an instrument to take to rehearsals and the stage with a variety of sounds and effects.
It could absolutely be used as a home digital keyboard, but a stand and pedal assembly would need to be purchased separately.
For the beginning musician, this keyboard is likely priced out of budget, but it's a great value for a professional.
Kawai
Kawai is another well-known brand that, unlike Korg, has historically has focused more on acoustic instruments.
They've entered the digital piano brand game with a catalog of professional-level keyboards and home digitals.
The ES100 is an 88-key weighted portable keyboard with a sleek case and built-in lessons.

Pros
Portable and lightweight at 33lbs
88 full-size keys
Onboard lessons
Cons
High price point
No cabinetry nor pedals included
The ES100 is over $500 for a portable digital piano, which may price it out of some budgets.
However, for a gigging musician, it's a great option at a reasonable weight for carting to rehearsals, the stage, and more.
Alesis
Alesis currently offers a variety of budget-friendly digital pianos with built-in lessons, headphone inputs, and different numbers of keys.
Their 61-key Melody beginner keyboard is a great digital keyboard for kids and other beginners, and it's wallet-friendly at under $100.
They also offer a full 88-key keyboard for just over $200 – the Recital.
Alesis Melody 61

Alesis Recital

Although the Alesis line doesn't include as many top-of-the-line instruments as Yamaha or Casio, it's worth considering for those who are new to piano.
RockJam
Finally, as mentioned before, we're at the RockJam brand keyboards.
RockJam takes the 61-key keyboard a step further and offers even a 54-key keyboard, with 54 full-size keys in a compact portable keyboard.
RockJam 54-Key Portable Electronic Keyboard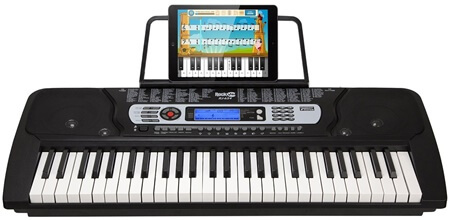 The RockJam line includes built-in speakers, onboard lessons, and headphone jacks.
These instruments are geared toward beginners – especially kids – who are new to learning piano.
Although they are not my personal top choices for keyboards, they are an economical choice and packed with features for those just beginning to learn music.
Conclusion
Whew! You've made it this far – now you know what to look for when choosing the best digital piano from the best digital piano brands.
While many factors go into creating a quality instrument, you're now armed with the information you need to make the best choice for your family.
Remember to start with your budget, then review the following features:
Playing level of the student
Portability
Touch response
Weighted keys
Action
Number and size of keys
Types of tones
Built-in Speakers/Headphone Input
Effects
No matter your price point, it's possible to find a quality instrument. Make sure to prioritize the needs of the player in your house.
As you can see from the above digital piano reviews, a higher price may be related more to the features and less to the "style" of the piano – it's possible to find a good home digital for less than a top-level portable keyboard if you know what's important to you.
Thankfully, technology has made it easy for a variety of top piano brands to offer tons of options for new musicians.
A maintenance-free digital piano is an excellent alternative to a standard acoustic piano and they're often packed with great features an acoustic piano just won't have.
Now that you know which brands to look for and what to consider, you'll be on your way to playing in no time!