We are looking at the best portable keyboard pianos you can buy but there are so many options so we want to give you something different. Our top 10 list features some of the best 88-key keyboards, however, we have split it into two halves.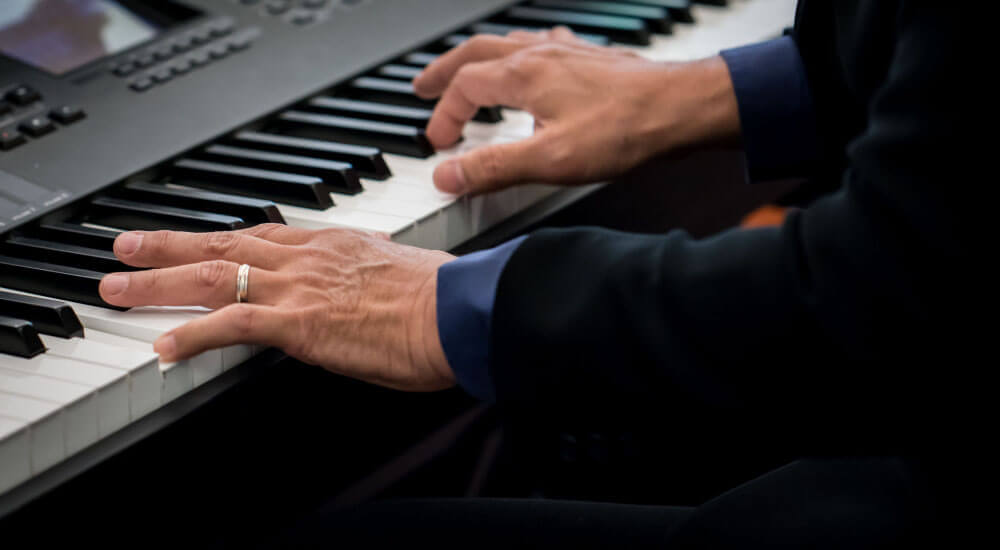 The first five are top rated keyboards that prioritize being portable just as much as sound quality and stay within a low to mid price range.
The last five are still portable, although they prioritize an authentic playing experience more than keeping the size and weight down. They also venture into the higher price range.
Top 10 Best Portable 88-Key Piano Keyboards for 2019
Here are the 10 best portable 88-key keyboards 2019:
Roland GO:PIANO88
Roland GO, as the name suggests, is a digital piano keyboard designed to to be extremely portable. Weighing just around 15 lbs (7kg) with a slimline body it's definitely one of the best lightweight digital keyboards.
The important thing to note straight away is that being so lightweight hasn't affected the quality of onboard sounds. The Roland GO:PIANO88 features sounds from Roland's acclaimed premium pianos range. If you are familiar with Roland then you'll know it's hard to find a more convincing digital piano sound.
This model also comes equipped with some stunning electric pianos, synths, and organs. The built-in 10-watt speakers have more than enough power and maintain clarity even when you really go for it.
As well as impressive sounds, this keyboard has some pretty cool features designed to inspire your creativity. The record function has space for 99 songs, saved as standard MIDI files which you can export via smartphone/tablet and compatible apps. Interactive tutorials are also available via compatible apps.
There's a loop function too so you can actually build songs bit by bit right from the keyboard.
Roland GO:PIANO88 Digital Piano
I like this keyboard for a few reasons, mainly that you have room to grow with it. The recording feature, looper, and interactive tutorials may be things you use less and less as you become a stronger player but the point is they help get you there in a fun way.
Once you outgrow those features you still have a great hammer-action keyboard with premium sounds. Plus, it's so light you really can just pick it up and go!
Kawai ES110
Kawai has a reputation for making beautiful acoustic pianos and that luxury feel is continued in their keyboards. The ES110 has 88 individually weighted hammer-action keys that feel as authentic as you'll get with most keyboards.
The sound engine in this keyboard comes from Kawai's Harmonic Imaging Sound Technology. It's packed with a library of 19 sounds from stunning grand pianos to experimental synths.
The depth of sampling involved in creating acoustic sounds is incredible. This quality of sound along with the realistic touch means even the most advanced players will benefit from it.
This keyboard also has compatible apps for smartphone or tablet with tutorials for learner players.
Kawai ES110 Digital Stage Piano
The ES110 is a lovely keyboard, typical of Kawai, it sounds and feels absolutely fantastic. It weighs 26.5 lbs (12 kg) so it's not the lightest on our list but it's still very portable.
It's got some learner features but it's more about the professional feel and sound than anything else. For complete beginners, there are other great starter keyboards that might feel easier to play at the start. However, if you learn with this kind of authentic feel/touch it will serve you well later on.
Yamaha P-125
The Yamaha P-125 builds on the success of its predecessor; the Yamaha P-115. With graded hammer-action keys and Yamaha's Pure CF Sound Engine, it delivers a truly realistic experience.
The piano sounds are as good as any but the thing that may nudge this keyboard ahead as far as sound quality is the electric pianos.
The built-in speakers use a 2-way system that creates an expansive sound both up and down. This is what Yamaha calls Authentic Sound Projection because it mimics the same projection as an acoustic piano.
An interesting new feature for this model is the Table EQ which allows you to maintain the best acoustics from one surface to another. Yamaha's Smart Pianist App has an abundance of interactive features and tutorials for new players to develop their skills.
Yamaha P-125 Digital Piano
I really like this keyboard because of the electric pianos, the authentic Rhodes tones are so nice.
At the end of the day, we are looking for the best digital keyboard pianos but they all have very good piano sounds. So, my thought here is that if all other things are equal then the P-125 electric pianos might make me lean towards this keyboard.
If you are more interested in interactive features and learning material there are more in-depth options. However, for sound and feel, the P-125 is one of the best portable digital pianos.
Roland FP-10
The Roland FP-10 makes it onto our list because the FP range has been around forever and produces consistently great keyboards. The first thing that stands out about this keyboard is how minimal it is which both looks great and is very practical. The fact it can be so slimline and still have such high-quality graded hammer action keys is a credit to Roland.
The FP-10 features Rolands SuperNATURAL Piano sound engine and surprisingly enough, it sounds super natural. There is a built-in amplifier system that the older FP models didn't have and it really captures the full tonal character of the piano.
It's ready to be used as a MIDI controller via bluetooth and is compatible with multiple apps including Roland's Piano Partner 2.
Roland FP-10 Digital Piano
It's slightly heavier than some similar keyboards but it's more streamlined than most so it's a fair compromise. Roland went all out with the feel on this keyboard, the ivory feel keys are made from a moisture-absorbing material that really will have you fooled.
The SuperNATURAL Piano sound engine is absolutely stunning, coupled with the ivory feel keys you can close your eyes and picture Carnegie Hall. The FP range has a track record that you can't argue with so it's always a contender.
Studiologic Numa Compact 2x
This one is a bit different, let me start by saying it doesn't have fully-weighted keys! Now, if you are still here, let me tell you why it's still one of the best portable 88-key keyboards.
88 semi-weighted keys with aftertouch and switchable curve for soft, medium, or hard touch. It has three independent sound engines for Piano, Synth, and organ – all of which are gorgeous.
This keyboard weighs 15.6 lbs (7kg) and I honestly don't think I've seen any other keyboard so light with such high-quality sound in all voices.
It can deal with up to six effects at one time, two each on upper and lower sections plus reverb and string resonance. The two separate effects engines are FX1 – drive, chorus, phaser, and flanger then FX2 – rotary, tremolo, pan tremolo, and delay. There are nine faders that can be used with the organ voices and to control effects.
Studiologic Numa Compact 2x Digital Piano
I didn't even cover every single thing this keyboard does and it's already a lot. The thing is, it's not quite the same as the other keyboards on the list, no interactive apps, no tutorials, but it's just so nice to play!
If you are willing to sacrifice fully weighted keys you should try this one out. It's perfect for home practice, studio use, or stage.
Nord Piano 4
So, this is obviously the fourth version of the Nord Piano range which has been hugely successful with working musicians.
The Nord sound engine has incredible detail in the most subtle nuances of every voice. The flagship piano is a beautiful example of how articulate a digital piano should be in all ranges.
The weight of the keys comes from Nords Virtual Hammer Action technology rather than a mechanical hammer action. Nord says this makes for more fluid playing while still providing a realistic feel.
The biggest upgrade from the previous model is the seamless transitions and advanced layer/split features. Changing from one voice to another mid-song is a common struggle for keyboard players. The new seamless transitions feature lets you switch program without any noticeable change. The new layer/split features make for much smoother transitions between split sections too.
Nord keyboards are known to be pretty expensive but so many great players use them so perhaps they are reassuringly expensive. They have an incredible sound engine and it would be hard for anyone to find genuine fault in that area.
My one issue with the Nord Piano is the Virtual Hammer Action keys, when you are in used to it you can be amazingly expressive but it doesn't feel as natural as it should at the start. The keys feel slightly too heavy with a dull action but it's personal preference. Great keyboard if you have the budget.
Korg SV-1
This is probably the best looking keyboard on the list, if you didn't know better you'd swear it came from the 1970's.
The onboard voices include acoustic pianos, electric pianos, organs, strings, and synths. The voices are typical of Korgs EDS (Enhanced Definition Synthesis) keyboards, they are fantastic, especially the pianos, electric pianos, and organs.
However, what I think makes them sound even better is the weight of the keys. The SV-1 features the RH3 Real Hammer Action system that makes it feel a real vintage instrument. If a keyboard feels good to play that's when you'll get the best out of the sounds and Korg got it just right here.
The front panel on the SV-1 is very retro and looks great but it's built to be very user-friendly so it's relatively simple to use from the start.
Korg includes some editing software with the keyboard that lets you edit parameters that can't be accessed on the keyboard itself too.
Korg SV-1 Stage Vintage Piano
I think people buy this as much for its looks as its sound which sounds wrong but it's really not. If you primarily play music of an era that matches the styling of the SV-1 I'd tell you to go buy it.
How you feel when you play is the most important thing and this keyboard certainly bring the funk out in players.
Overall it's not the best all-around 88-key keyboard on our list but if you love the vintage vibe you will love the SV-1.
Roland RD-2000
The Roland RD range is another one that's been around forever it seems. They have always been good keyboards for practice or performance but this particular model is definitely geared towards live use.
There are two separate sound engines for acoustic and electric voices, the SuperNatural Piano engine and the V-Piano engine. To be honest, this would have been a great keyboard with just one sound engine like past models but the dedication to getting the best possible tone from acoustic and electric pianos really shows.
One of the coolest features for live performance is that the RD-2000 will actually work as a USB/MIDI interface. So, it will fully integrate with your laptop/DAW setup on stage letting you route synths from your laptop through the RD-2000's processor with zero latency.
It also comes with eight control knobs and nine sliders which are all LED lit for easy use on a dark stage. You can control and tweak multiple parameters of your tone/effects in real-time.
Roland RD-2000 Stage Piano
I have a soft spot for the Roland RD range having owned several of them and they have never let me down. I also tend to go for keyboards that feel authentic over keyboards with lots of lights and knobs etc. However, this is the best of both world, Roland keyboards, especially at this level, always feel great.
Music and performing are constantly changing, this is a killer keyboard for a modern performer.
Yamaha CP88
This is an interesting one, we've had vintage/traditional and modern, the CP88 might be the best combination of both.
Starting with traditional, it features the Natural Wood Graded Hammer Action system for supreme expression. Now, this is where old and new meet in Yamaha's Virtual Circuitry Modelling technology. It very accurately re-creates the sound and behavior of vintage effects which absolutely transforms your sound.
It's packed with 57 voices in total, a mix of acoustic pianos, electric pianos, and synths. There is a 3-band EQ along with 23 insert effects, 2 delay effects, and reverb. This is another keyboard aimed at the performers.
Yamaha CP88 Digital Stage Piano
This is a difficult choice, it's another great 88-key keyboard with fantastic sounds and it feels very realistic.
The question is why should you choose this over other keyboards and I think it comes down to the modeling technology. The amount and type of effects you can create with the CP88 is just different from any other similar keyboard.
Like any "different" sound, it will either be the reason you buy it or the reason you don't but it's a very well thought out machine.
Kawai MP11
This is the heaviest and bulkiest keyboard on our list but it still squeezes into the portable category. So, as with all Kawai digital piano keyboards, this feels and sounds luxurious.
The wooden hammer action keys have a genuine pivoting mechanism to truly re-create the weight of a real piano. They also have a key-off feature that simulates key release noise that can be fine-tuned in the Virtual Technician app.
The sound engine features samples of the flagship Shigeru Kawai SK-EX Concert and mid-sized SK-5 Studio grand pianos. It also features a host of effects from a 4-band EQ, switchable amp types, to mic type, and reverb.
Kawai has gone all out to create a grand piano experience in a portable keyboard, that about sums it up.
Kawai MP11 Professional Stage Piano
This is probably the most realistic piano experience on the entire list when you combine the sound and feel. The extra size could put you off but it's not so awkward that you can't get it to gigs or rehearsals.
The electric pianos are lovely and the acoustic pianos are just out of this world impeccable. If you have the budget and want the purest piano experience just buy this, that's it.
Conclusion
There are 10 absolutely great keyboards here, in truth, I'd like to own them all. Sadly, that's not a realistic option so try to prioritize what you need most.
Portable – How far/often do you need to travel with it? This will help you decide how important the weight is.
Realistic feel – Often when this gets better, the weight gets higher so keep that in mind.
Just piano or more? – All of these keyboards have great piano sounds and but some have higher quality electric pianos, organs, and synths. How important is that to you?
Price – Well, this one is obvious, if it's not in your budget then take it off the list.