The viola is a beautiful, sorrowful instrument—that is, if you buy a good quality instrument. Otherwise, you won't have a lot of beauty, but a whole lot of headaches.
Therefore it's important to start out right when you start playing the viola. This means buying a good-quality beginner instrument.
Good quality doesn't always mean high price, however! This is why we published this list of the top seven beginner viola brands. Our list is based on quality and affordability, and is intended to help you as you search for the best student viola brand.
A note of caution: try to play the instrument before you make a purchase. If you are unable to play the instrument, make sure there is a sound return policy, so you don't end up with something you weren't expecting.
Stentor
As one of the best-known brands of violas on the market, Stentor has made a name for itself due to their relative high quality and great affordability.
Distributed in the United Kingdom, these violas are made in workshops in China. Each instrument is checked for quality before it is shipped to a store or your home.
Stentor has a wide range of violas available for purchase. Not only do they come in multiple sizes, including variations on a "full size" instrument (a misnomer because viola sizes are not as standardized as cellos or violins), with 16" and 15.5" outfits.
These viola outfits come with a padded rectangle case, wood and horsehair bow (usually brazilwood), and rosin.
Like their other instruments, Stentor violas are made in the traditional way out of solid tone woods. This includes a solid ebony fingerboard, pegs, and fittings with maple sides and back, and a spruce top.
Steontor violas also have inlaid purfling to prevent the softer spruce wood top from splitting.
Many people rely on Stentor instruments to get their child to an intermediate level; there is good reason for this trend—quality for affordability.
Mendini
Mendini is another brand of stringed instrument makers that is well known for producing reliable student violas.
These violas are factory-made; but despite this fact, Mendini violas do not suffer too much in quality.
Extremely affordable, these violas make a great beginner instrument. When you are unsure of your or your child's commitment to learning the instrument, it is not always wise to buy an extremely expensive instrument; especially when you will likely have to upgrade from other beginner models in a few years anyway.
What you need is a solid instrument that will get you to a high enough level to purchase an intermediate model. The Mendini viola certainly fits this bill.
Made out of traditional tonewoods, Mendini violas come with a lightweight hard dart case, rosin, and a brazilwood bow with Mongolian horsehair.
Mendini violas also come in several funky colours that can help entice your child to practice. While some of the sound is sacrificed with the paint (the layer of paint is thicker than traditional varnish), you can make up for this with the fun you have while playing.
Primavera
For a bit more than the Mendini models listed above, you can get a Primavera intermediate viola outfit.
Primavera violas are made our of high quality solid tonewoods, including hand carved maple and spruce with inlaid purfling. The fingerboard and pegs are made out of carved ebony, as well as the fittings.
The primavera intermediate outfit comes with a "student proof" (ie. very strong) composite bow with an ebony frog and Mongolian horsehair.
Primavera has made several decisions to cut cost as well as to improve the musical experience. For example, they use a metal alloy tailpiece instead with four fine tuners, instead of a solid wood tailpiece. They also use a Styrofoam shaped case instead of a pillowy case. While slightly lower in quality, this case still does the trick, and will protect your viola well from the elements.
Primavera beginner viola outfits come in many sizes, so you can find the proper fit for you or your child.
While not the absolutely highest quality beginner instrument on the market, Primavera certainly makes up for that fact with affordability. Primavera violas are excellent value for money, and have adequate resale value—something you should always consider when you are purchasing a beginner instrument.
Cecilio
Cecilio is another big-name brand in the beginner viola trade. For good reason, too, they produce quality instruments at a fraction of the cost of other beginner outfits.
Cecilio violas are made out of hand carved solid tonewoods in the traditional fashion: spruce top, flamed maple sides and back, and inlaid purfling.
The only thing this viola is missing is an ebony fingerboard. Ebony is traditionally used for fingerboards in violin family instrument construction because it is a naturally hard wood. Thus, it can stand up to the repeated pressure of your fingers against the fingerboard as you practice your scales, and perform your concertos.
For this reason, we can only—unfortunately—give Cecilio violas a 3 star rating. If these instruments had an ebony fingerboard with that price tag, they would certainly be rated top on our list.
That said, these are still solid beginner instruments, and can help you or your child advance far enough to be able to justify an instrument with a higher price tag.
These viola outfits are also very generous. Most Cecilio outfits come with a quality brazilwood bow with unbleached Mongolian horsehair. They also come with boxwood pegs, chinrest, and tailpiece (with four fine tuners).
The Cecilio viola outfits also come with a lightweight hard case, two bridges, as well as an extra set of strings.
Most importantly, however, these violas come with a one-year warranty.
Cremona
For a beginner outfit, Cremona violas are great quality for a decent price tag. Made out of select tone woods, such as hand-carved maple, spruce, and ebony, these violas stand up well on their own, but are even better with a few small improvements.
Though they come with Prelude strings, swapping them out for a higher-quality brand like Thomastik-Infeld's Dominants or Pirastro's Evah Piraszzis (even a lower-quality string set like Warchal's Brilliants) can make a world of difference.
Cremona violins, though made overseas in a factory, are set up to MENC standards (National Standards for Music Education as prescribed by the Music Educators National Conference in 1994) in their Cremona workshop in the state of California.
The MENC standard ensures that they are playable when they arrive, and can be easily integrated into your child's school orchestra or ensemble. In light of this, it's no wonder that students and teachers alike favour Cremona above other student viola outfits.
Cremona viola outfits come with an upgraded A. Breton VP-61 alloy tailpiece with 4 built-in tuners for easy tuning, along with a Kaufman chinrest, J. LaSalle octagonal Brazilwood bow with an ebony frog and Mongolian horsehair, an ultra light oblong case, and rosin.
You should consider Cremona violins if you want a high-quality beginner model with relatively good resale value, as they are made from good craftsmanship that has been passed down from the European master luthiers.
Merano
Though not as high in quality as many of the brands featured on this list, Merano violas are great student models to find out if you or your child is willing to put the time an effort into mastering the instrument.
Like Cecilio listed above, Merano viola fingerboards are made out of hardwood instead of ebony, meaning you will most certainly have to upgrade to a better model and when you do, it won't have a huge resale value.
But if you can't afford a higher quality model at this moment, you at lease won't struggle with Merano violas like you will with other instruments.
Merano MA100-15 15-Inch Student Viola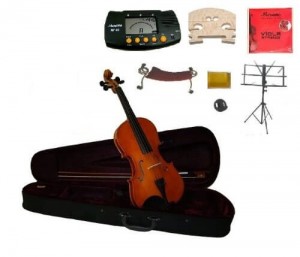 The reason why Merano made this list is because their violas come with a generous student outfit, which includes an extra set of strings, an extra bridge, a shoulder rest, rosin, case, music stand, and electronic tuner. Buying a Merano viola outfit is one way to be up and playing in no time.
Yamaha
Yamaha is certainly well known in the musical world for producing top-quality instruments at an affordable price. Their violin family instruments are no different.
While more expensive than many of the models featured in the above list, Yamaha violins are hand made in Chinese workshops out of the highest quality woods for this price range. For this reason, Yamaha rounds out our list as one of the top brands of violas.
The Yamaha AVA5 Student Viola comes in assorted sizes, and includes a case, Brazilwood bow, and rosin. It is hand made out of solid spruce, maple, and ebony and fitted with a Wittner tailpiece with four fine tuners for easy tuning.
Yamaha violas also come with quality D'Addario Prelude strings, though upgrading your strings to Dominants or Evah Pirazzis can drastically improve the tone of your instrument.
If you are in the market for a practice instrument because you have noise restrictions where you practice, consider the Yamaha SVV200 Silent Viola. As an electric instrument, you can easily plug it into headphones to practice without bothering your parents or your neighbours.