In recent years, Yamaha has been making tremendous advances to the digital pianos.
They have been focusing on the production of best Yamaha digital pianos that costs relatively low – we will see much of this in the Yamaha digital piano reviews.
The Yamaha digital pianos come with a range of features and functions that fit different players.
You can easily find a good Yamaha digital piano that will significantly substitute the acoustic piano, and despite whether your primary focus is the sound touch or even appearance you will get from them.
Read on this post, to get the basic understanding of Yamaha digital pianos to help you shop in confidence.
5 Reasons Why To Choose A Yamaha Digital Piano
If you are not sure why you should purchase a Yamaha digital piano, here are a few advantages that you can consider:
1.

Cost
The digital piano costs far less than an acoustic piano.
They are also cheap to maintain and repair where things like dust is a non-issue.
2.

Portability
Yamaha digital pianos are light and usually compact making them easy to move around.
Even with the console models, they weigh far less than their acoustic counterpart.
You can easily break down most models especially for storage or packing them in your car when you hit the road to performance.
3.

Volume & Versatility
You can easily control your digital piano volume; whether you want to have a loud sound or practice in silence.
There are features like headphones capability and external amplifier capabilities that you can use to ensure you are getting the best experience.
With the extensive sound built into the digital piano, you can also find other sounds like drums, woodwinds, percussion brass and other sounds that will significantly contribute to your performance.
4.

Connectivity
Many Yamaha digital pianos have connecting capabilities that will support the connection of computers and other recording equipment to the instrument.
They might have USB ports that can be used to connect USB devices to export your recordings or import music that are downloaded from the internet.
5.

Learning Tools
Most digital pianos will come with features that will assist you in the piano learning.
With most Yamaha entry and intermediary digital pianos, you will find some with built-in lessons, chord and note display, exercises and access to online resources.
You can also see some with the duo playing mode and headphones where students and their teachers can efficiently work together in silence.
How To Get The Right Model For You
When reaching the right digital piano model, you must always consider the following:
Your Experience
For an absolute beginner, a low-cost model with learning tools will still be sufficient for you until you are ready to go for a more advanced piano.
On the other hand, if you are experienced (intermediate or expert) investing for a more advanced digital piano would be a good idea.
With this, you might need a digital piano with things like velocity sensitivity, touch response, and other things.
Portability & Storability
If you want a digital piano that you can use in gigs or travel with more often, you must check on weight and size of the instrument you chose.
You need a good electronic keyboard that won't take too much space especially if you have limited space.
Dimensions
Different age will go for different piano size.
If you are looking for a digital piano for your kid, you must check if the height is appropriate.
To cope with this, you should go for an electric piano with an adjustable stand to fit your kid.
Digital Piano Feature
Before we dive into Yamaha digital piano reviews, there are a couple of critical areas that we should look to help you in your choosing.
Sound Quality
The sound of a digital piano will depend mostly on the sample sound that is used to create it.
The technology used in capturing and producing the samples will also play a huge role in how the digital piano will emulate those instrument.
In general, with a high-end digital piano that has a high memory, it will help your digital piano to produce a sound that is more authentic and close to that of an acoustic instrument.
If you are used to judging the quality, always make sure that you pay particular attention to the decay and sustain of the notes as well as the realism of the sound.
You should also know that the quality of the speakers and the amplifier will also affect the overall sound.
Key Action & Touch Response
One of the most significant differences between the acoustic and the digital pianos is their keys.
An acoustic piano always has a resistance that will result from the mechanism inside it (strings and the hammers).
If you are used to playing an acoustic piano, there will always be a difference when you compare it to a digital piano.
However, you can have a good experience especially if you are not at liberty to buy a traditional piano.
There is also the weighted and semi-weighted actions that give you more experience of the traditional piano.
Some digital pianos will include harmer actions that will enhance even more response during the playing.
Note: not all digital pianos have this effect, but if this is your concern, you should go for a fully weighted to get the best key beds.
This will give you a better experience of an acoustic piano.
Another important factor that you should consider is the velocity sensitivity.
An excellent digital piano is sensitive to different velocity whereby, the harder you press, the louder the volume of each note.
You can control how much volume to be produced when you strike the keys or even find the volume control knob to regulate how much sound you produce in during playing.
Polyphony
This is referred to the number of the notes or tones that can be produced by the piano.
For entry, you can find a 32 polyphony, but if you need a more reliable one, go for a 64 or above to create complex sounds.
You can find 128 and 264 note polyphony in high-end digital pianos.
Number Of Tones
While this might seem like a big deal, some electronic pianos today often includes hundreds of sound from different instruments.
This effects can sometimes be hard to choose from and sometimes can turn into destruction.
Even so, they can be used to enhance sounds and increase the fun factor in the instrument.
Speakers & Amplifications
If you are looking for a digital piano for home use, you should always go for a digital piano that has an inbuilt amplifier and a speaker to produce adequate sound.
On the other hand, if you are looking for a digital piano for concert performance or in the recording studio, you should go for one that has an output option to connect to external amplifiers.
You can also consider other features like headphone jacks USB and so on if they fit your requirements.
Learning Tools
There are quite some digital pianos that have many learning tools that can benefit both beginners and experienced.
Some of the top-rated Yamaha digital pianos come with display features that show the playing chords and lighting schemes, which can help in pitching out harmonies and melodies.
You can also find features to improve your rhythm ability with a built-in metronome.
Types Of Digital Pianos
As mentioned earlier, digital pianos are made with an aim to resemble the acoustic.
However, you should always remember that not all digital pianos are the same.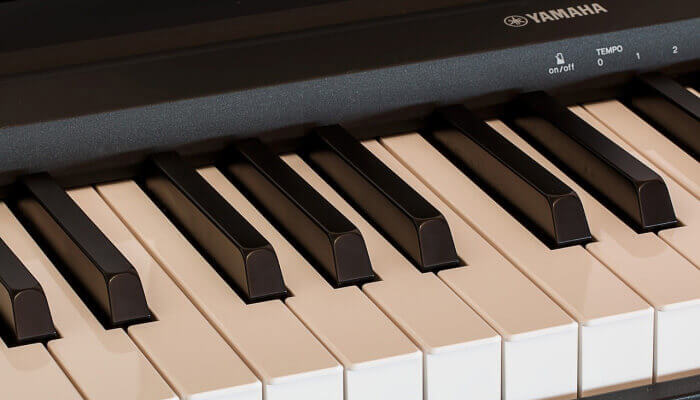 There are several types of pianos, and each has its pros and cons.
Here are the different types and their main features and usage.
Portable Digital Pianos
These are also known as digital slab pianos. They are the most portable types of digital pianos.
Their design is their most significant advantage, and they come with no stand making them perfect fit to move around and store when not in use.
The portable digital pianos usually have 88 hammer action keys just like acoustic pianos.
They have a superior sound due to high-quality samples and also comes with a more extensive dynamic range and high polyphony number.
They are price considerate although you might need to consider an additional cost for a stand.
Console Digital Pianos
This is the second most popular digital piano that you can get out there.
It comes closer to the acoustic piano in main aspect like keyboard feel, sound and look.
With that, you will also find 3 pedal and furniture style cabinets making them to look even more acoustic.
The main difference between their counterparts is that they are portable and price considerate.
They are smaller and weighs less (70-150 lbs.)
Therefore if you have limited space and you need the look of the acoustic, they are quite an excellent choice to consider.
Some of their most significant advantages are their elegant look as they offer the beautiful look of furniture to your room.
Compared to portable digital pianos, consoles are quite expensive where they can go up to 3000$ depending on how close you want to get to the acoustic piano.
Upright Digital Piano
This is generally a subtype of the console piano that looks and feels almost like the acoustic piano.
Its design resembles closely to that of an acoustic piano, and on top of that, it comes with a sophisticated hammer key action and multi-speaker system.
As you have guessed, it's costly but entirely worth the money as it is the most realistic.
Digital Grand Piano
This is for anyone whose quality is their primary focus.
They are more expensive than even new acoustic pianos where they can range from $1500 to $7000.
They feature sophisticated multi-speakers that give extreme detailed and vibrant sound and a hammer key action that resembles that of a real grand piano.
Stage Pianos
These are pianos designed for stage performances.
They are made to be compact, so you can easily carry them around to gigs and shows or use them in studios.
The pianos come with a stand that you can quickly disconnect, pack and carry around.
They don't have inbuilt speakers, so you must have an external amplifier or a PA system.
Top 5 Yamaha Digital Piano Reviews
The P-115 is an improvement of its predecessor the P-105 model – one of the leading portable digital pianos on the market.
Yamaha has improved this model to be able even to fit most of the player's needs and be able to compete with other major brands.
The P-115 is the middle model in the Yamaha Portable P line and comes with features like sound boost controls, intelligent Acoustic controls and also increase in polyphony.
It is equipped with 88 fully weighted keys a 14 W sound system and 14 instrument sound.
The Yamaha P-115 is truly one of the best digital pianos in the under 1000 dollar price range right now.
Yamaha YDP-V240 is an innovative digital piano with plenty of features that you will fall in love with.
Firstly, the digital piano comes with a beautiful big LCD screen that you can easily see when choosing programs and arranger settings hence enhancing your playing experience.
The YDP-V240 comes with a well thought out control panel design that is user-friendly.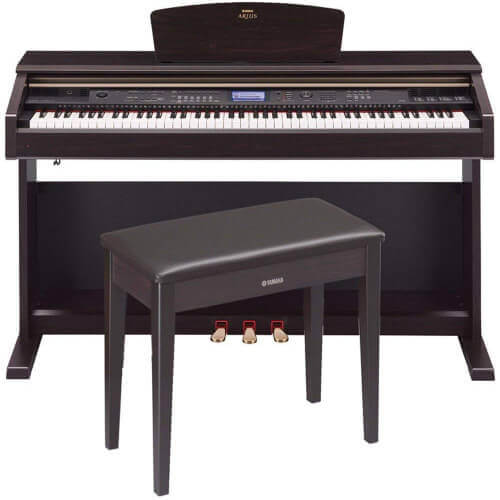 It has the Yamaha graduated keyboards, which gives a natural feel making the transition from acoustic to the digital very easy.
The digital piano comes with advanced memory stereo sampling technology that allows it to keep up with your keystroke to produce excellent sound.
Yamaha YDP-V240 is a perfect fit for music composers and players because it is easy to focus when playing and also comes with lots of fun features to play with.
This is one of the oldest models on the list, and with a reason.
It contains the Yamaha century-long beautiful wood cabinetry and excellent piano craftsmanship.
It comes with an attractive design of a dark wood finish and gold fittings and features three pedal units that are also in gleaming gold.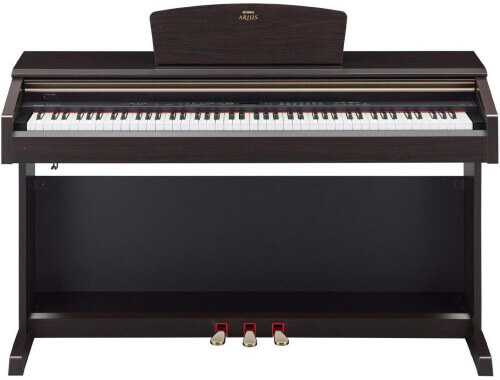 As other best digital pianos, the YDP-181 comes with a GHS key action and AWM stereo sampling.
It has a 128 polyphony and 14 voice package.
Users can easily choose the touch sensitivity from hard, medium or soft.
Therefore, if you are not much into acoustic, you will still be represented.
Anyone in need of a digital piano that will bring the look and the feel of an acoustic piano, the YPD-181 is the answer.
It will bring the beauty and the value to your home and so it makes to the list of one of the best Yamaha digital pianos for the money.
This is the closest you can get to an authentic piano sound.
It is easy to carry it to the stage, and it's the best Yamaha electric piano made for stage performances.

The digital piano comes with a graded hammer key action and comes with the resistance commonly found in the upright piano.
The CP300 comes with the Yamaha top line grand piano sound engine that creates the best playing experience.
It gives the experienced players the best they can get especially if they are looking for a stage digital piano.
The YDP-S51 is one of the most beautiful Yamaha digital pianos that you can easily find in the market.
It comes along with great features that makes it stand out from other models.
This particular ARIUS model comes with a cover lid that is designed to fit nicely to the keys.
It comes with a beautiful black wood design that is easy and sleek on the eyes.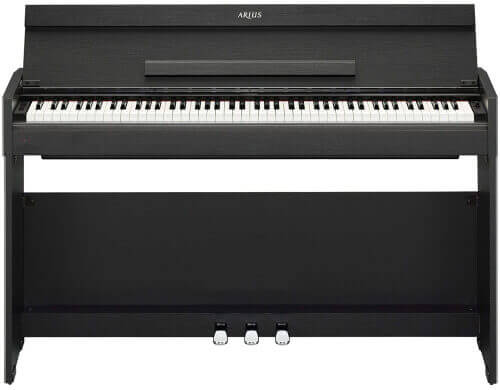 The electric piano comes with a set of sounds and a two-track recording feature that you can record and share your playing with friends and family.
There is an also metronome on the board that allows you to practice at any tempo that you would like.
With the digital piano, you get a duo headphone connection that can be an excellent feature for a student to practice with their teachers in silence.
Final Word
Getting a digital piano that fits your needs can be challenging.
With the big range of options that you can easily choose from and no significant difference in them, finding the best Yamaha 88 key digital piano will require much research.
This, however, shouldn't discourage you from buying.
In our Yamaha digital piano reviews, you can easily find your match whether you are a beginner or experienced.
Either way with the Yamaha electric piano review and buying guide, I am sure that you have a good understanding of what to look for and what to buy.
Always remember, the higher the price of a digital piano, the closer you get to an acoustic piano in Yamaha.