When your skills are increasing with the cello you have to have an instrument that can help you to grow. An intermediate cello like the Cecilio CCO-500 can help the student to further hone their skills.
This Cecilio CCO-500 review will help to unveil whether this is a quality instrument that can help the student to grow their skills.
We already know that it is offered at a very nice price point. Choosing an intermediate cello can actually be more difficult than choosing a beginner's cello.
By the time the student has reached the intermediate level they have already learned a lot about cellos and probably have a pretty good idea of what they want their next cello to be like.
Unfortunately, the cost of some of the high end cello's can be quite prohibitive so there is something to be said for the balance between quality and cost. The Cecilio CCO-500 is nicely priced making it an affordable option for most.
This cello is marketed to both the beginning student and intermediate student. It is an instrument that the beginner can grow with a that the intermediate can be challenged with.
It is meant to be a nice student instrument for a full range of skill levels. This review will take a look at whether it could be used by a full range of students with different skill levels.
The Cecilio CCO-500 may just be the ideal cello if it can cut the mustard on the other much needed qualities.
We know that the price is right, now let's see what it has to offer in way of construction, look, sound and user ratings.
Flamed Maple
One of the first things that you will notice about this cello is the flamed maple back, neck and sides. The top is made of dense spruce and it is all finished in a fine golden brown luster.
It has hand carved inlaid purfling which is always a good sign that attention has been paid to detail. When you look at it what you see is a really good looking cello that looks a lot more expensive than it is.
The finish on the entire body has a lovely sheen to it and really enhances the grain of the woods. It offers durable grade 1 ebony fingerboard, pegs and tailpiece which is usually unheard of at this price point.
Normally at this price point you will find composite tailpieces or grade 2 or even 3 ebony which looks fine but is not quite as durable. The upgraded ebony makes a difference over time, it wears slower and is more resilient against cracks.
Oddly enough the tailpiece is ebony but it is not dyed so it does not have that really dark black that most people associate with the color of ebony (natural undyed ebony is a dark wood but not black). The tailpiece almost looks like rosewood but you can tell from the tight grain that it is in fact ebony.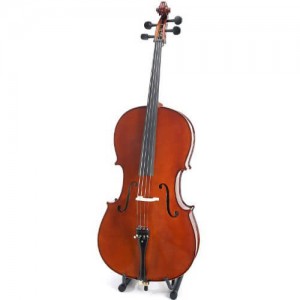 Click Here for Pricing, Pictures and Reviews on Amazon
The Cecilio CCO-500 has nickel plated tuners that have pearl inlay which is also a nice touch on a cello at this price point. These little details all add up to create a fine cello that has a really lovely presentation.
It feels solid although it is rather lightweight. The outfit comes complete with two cases, a Mongolian horse hair bow that is brazil wood, a cello stand, an extra set of cello strings and rosin.
The two cases are made up of one that is a soft case and the other that is a hard case. The soft case can be carried backpack style for ease of transport and the hard case also has the ability to be carried backpack style. Both cases have adjustable straps.
The hard case come with compartments for bows, an external pocket for music sheets and extra compartments for accessories. The soft shell case also has ample storage space for accessories and a bow.
The cello stand is carbon fiber and is padded where it comes into contact with the cello to help protect the cello from scratches.  The extra set of strings is always nice to have on hand.  Read more about the strings below.
The Cecilio CCO-500 is a good right out of the box Cello but there are somethings that you may want to change if you are an intermediate player to perfect this cello for your skill level.
Potential Upgrades
There have been some users that have decided to upgrade their strings. It is a personal decision that each player should decide for themselves.
You should wait for at least two weeks of playing until the neck starts to bend which usually takes 2 weeks before you make any decisions about whether you want to upgrade your strings.
In many cases if enough time is allotted the strings improve. It does take a break in period so some users may have jumped the gun by taking the cello as soon as it arrives to have the strings upgraded.
The bow is midgrade which is fine when you consider what you are paying for the outfit, you can always upgrade the bow for a small additional cost.
If you are a beginner the bow would be fine as is. If you are intermediate student than you likely will want to upgrade to a higher quality bow.
The fact is no matter how much you pay (unless of course it is a completely exorbitant amount) you are always going to want to make changes.
There is also something that can be improved upon on every instrument, if it was not the case, there would not be so many instruments being made.
Each instrument brings some good and some not so great to the table which is true of the Cecilio CCO-500. You have to balance out the good with the bad.
If this was being offered at 3-4 times the amount that it is than that would make this not the best cello but being offered at this price point you have to be willing to give and take a little bit.
Strings are not cost prohibitive, many users feel that it is the cost of playing and it is something that they would normally have to replace with time anyway so they just go ahead and put on the strings that they want.  It is not really a big deal.
The Good Points
There are some clear benefits to making this purchase. The price is right. The quality is good and it sounds good right out of the case. It is highly rated by users that have purchased it.
Even some of the users that made the choice to make some minor adjustments with their local luthier admit that this is a good instrument that was worth the investment.
Even if you choose to make several different changes like upgraded strings and removing the fine tuner (which some users have opted to do) and replacing it, it would still cost far less than many other cellos' at this price point.
This cello is a great example of fine craftsmanship that has remained affordable. A lot of people feel that if they are not paying a great deal of money than there is no way that you can get a decent cello, that is not true and this cello is proof of that.
Overall
It is recommended by most people that have purchased it. Teachers are happy to recommend it and students are happy to play it.
Those users that are not happy (there may be two or three out of hundreds) are not really being fair because you cannot expect thousands of dollars' worth of quality in a cello that you are paying less than a thousand dollars for. It just does not work that way.
Ultimately this cello is offered at a low price point and is absolutely one of the best options in its price point. Could you make some upgrades to improve it?
Sure you could. At this price point you could probably afford to add several different upgrades and still manage nicely in the cost department.
As is right out of the box even before the two week break in period you have a fine cello that has a mellow tone.
Overall the body is well made and finely detailed. It is a great value and a good investment. When you are considering which cello to purchase budget is always a consideration, saving money when you can be important.
It would be nice if everyone could just blindly pick the cello of their dreams without having to worry about cost but usually you do have to consider the cost.
If you can get a good quality cello that offers a nice outfit for a lot less than what you would pay for (in some cases) a cello of lesser quality, you would be crazy not to jump on the offer.
The Cecilio CCO-500 is not just a great value at the price point that it is being offered at but it would be a great value at double the cost.