About 250 years ago, classical music dominated the European art and entertainment scene. String ensembles played in crowded party halls, and symphonies were commissioned by people of power.
Musicians were employed as full-time organists, orchestra directors, and composers, and the skill of playing a stringed instrument was highly respected.
Esteemed artists such as W.A. Mozart had careers as performers and writers in their childhood, while famed musicians like Ludwig van Beethoven buried themselves in the technical and meticulous craft of perfect musical design.
Classical music served as both a popular cultural phenomenon and a medium through which creators could channel their inner genius. It was loved by non-artists and the most reputed citizens alike.
The violin, accordingly, was often called for, and skill with the instrument was financed graciously. Players fashioned their skills to survive in the wilderness of urban life, and to impress the noblest of the noble. Entertainment was needed everywhere, and the violin was a frequent source of it.
Such composers as Mozart, Beethoven, and Tchaikovsky were especially fond of the instrument, writing scores that contained a relentless amount of notes for its voice, and repeatedly using it as the lead voice in symphonic settings.
J.S. Bach wrote many partitas and solos for the violin, and Antonio Vivaldi showcased the speed capabilities of the instrument.
Mozart used it to write pop tunes, and Beethoven's passion was delivered in musical form through the brash, heavy tones of high strings.
Richard Wagner used it to accentuate shocking moments in his operas, and Gustav Mahler expanded on these ideas.
Igor Stravinsky and Dmitri Shostakovich, two early-20th century composers, were known for their violin usage as a way to dramatize their symphonies, dealing piercing, near-frightening strikes and calm, lonely tones with them.
Philip Glass, a key component of minimalism, used the instruments to create a mesmerizing atmosphere of repetition and sifting progression.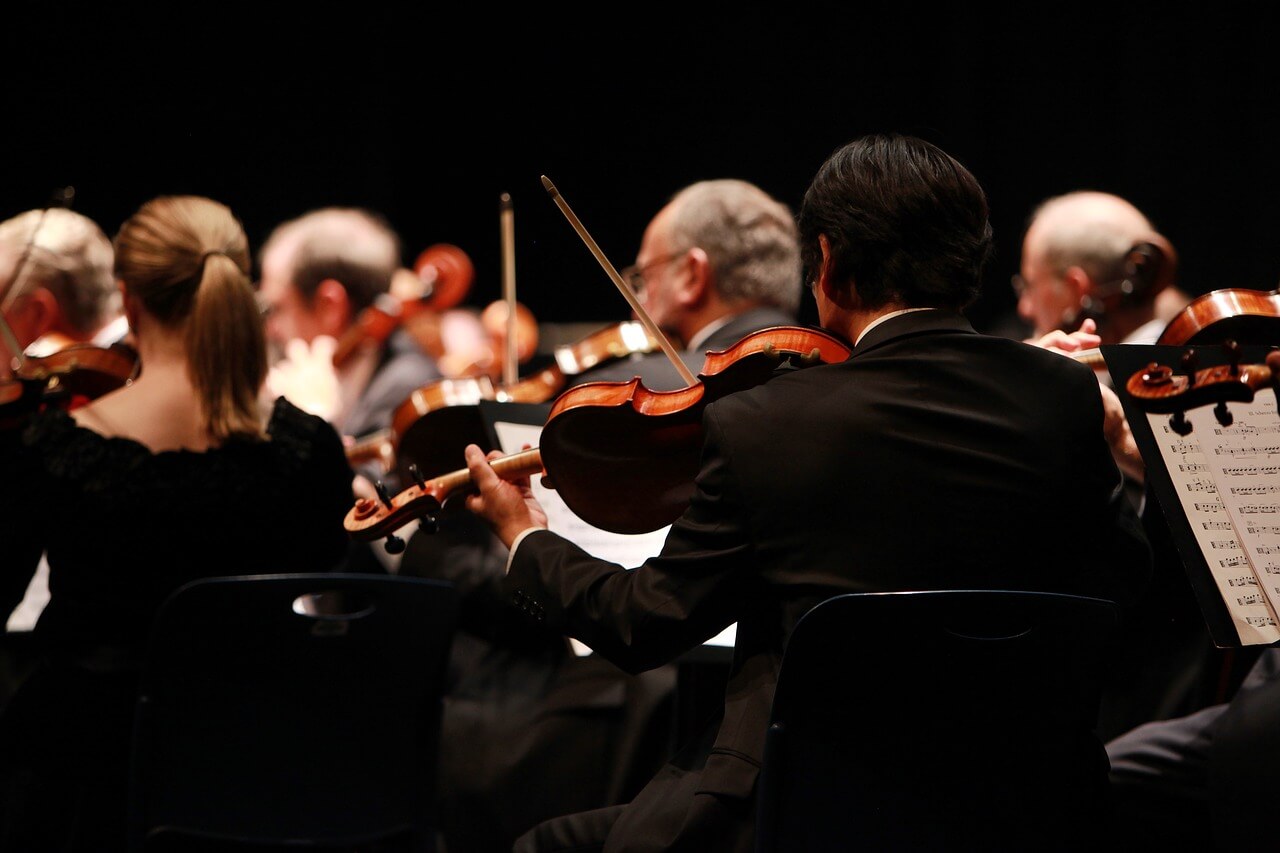 The 20th century, however, witnessed a decline in the instrument's use. Rock, jazz, and other genres that used the beat and attractive melodies to draw audiences to the dance floor began to dominate entertainment, and young audiences turned off from traditional European orchestral works.
Western art music was soon widely recognized as an art form for people with higher musical education, and ceased to be as appreciated as broadly as it once was.
Still, though, the violin was used in some jazz and pop recordings. It became associated with love songs of the '50s, and is still accepted in dramatic romantic contexts.
Modern artists such as D'Angelo, Daft Punk, and Björk feature string ensembles in their recordings, and movie scores continuously call for the instruments.
Because of modern innovations, the use of string instruments in "sub-entertainment" is far from dead, and much can still be done with it.
With new ways of incorporating strings into modern sound came new practices for violinists and makers themselves.
Specifically, the electric violin has become widely used, as culture has shifted to allow the instrument a neat place among other electronic equipment.
Videos containing music made with the newer instrument go viral, and young people admire the instrument. To own one is to impress guests and to have a reliable source of contemporary fun.
CEVN-2BK Violin Review
The CEVN-2BK is an archetypal instrument of modern innovation and artistic craftiness. Its metallic black color is reminiscent of a sports car, while its uniquely-shaped body is as interesting as the patterns seen in calculus books.
Unlike most acoustic violins, whose fronts consist of spruce wood, the CEVN-2BK's body is wholly maple, procuring a thick and lustrous quality that matches the organic nature of any contemporary instrument.
This composition acts as a medium for complete, rounded sound, and makes for full, generous sonic quality.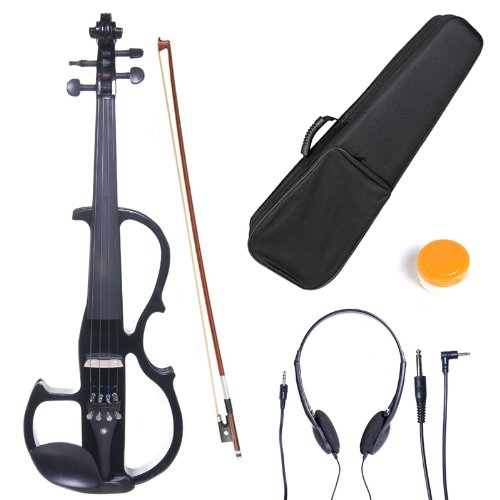 An electric violin differs from a normal one in that its body is not full; that is, some sections where there would normally be wood are carved out, forming open space between parts of the instrument.
The CEVN-2BK shape is made so that little resonance happens within the body, allowing for a muted sound in practice, and making warmups in the green room personal and practically inaudible.
The violin is equipped with a back pickup, out of which a cord can run into amplification. Volume and tone can be controlled from there, and batteries can be replaced. Also, headphones can run from the output, making independent practice all the more easy.
The violin's ebony fingerboard, chin rest, tuning pegs, and tailpiece perfectly match its black body, and the maple wood makes it fit well into the nature of the rest of its makeup.
Though it is electric, its real wood makes it look, feel, and sound authentically acoustic, providing users and audience members with a combination of traditional musicality and modern art.
A spot of mother-of-pearl marks the tailpiece, distinguishing the object and providing a contrast from the black that shades most of it.
Holding the strings up is a classic-beige bridge, underneath which rests a black pickup. The pickup channels the violin's vibrations to the output; its position is ideal, as it is in contact with primary sources of full, clear sound.
Because of its wooden quality and well-sorted circuitry, the violin produces sound that is as rich as a standard violin of its price and as stylistic as the freshest equipment of today.
Unfiltered by abnormal effects, it can sing crisply and prettily in outdoor concert settings as well as in radiant church environments. With its equalizer knobs, tone can be edited so that piercing or excessive boominess are not issues.
Audiences will be as wowed in hearing the CEVN-2BK as they would in hearing any retail string instrument.
When linked to effects pedals, a new array of sonic options greets players; delay can be used to create an '80s or spacey vibe, while loop pedals can make for sweet one-man-band shows.
Flange effects form interesting background noise during poignant moments of a piece, and soft overdrive can convey bluesy, laid-back emotions.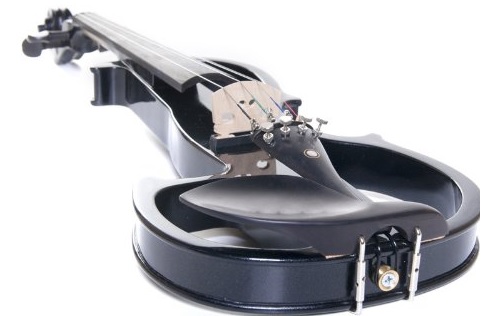 Even full-on distortion might prove useful – its wailing nature shines in pseudo-guitar solo moments. With the electric violin's capabilities, new-found artistic methods are seemingly limitless, and no audio engineer will be left unsatisfied.
Cecilio offers the CEVN-2BK with a full outfit of vital equipment, including rosin, a matching-black violin case, a bow with real horsehair, a pair of headphones, and an auxiliary-to-quarter-inch cable.
The first mentioned are typical in string-instrument packages, and should be had by any violinist, acoustic- or electric-owning. The headphones and cable, though, are unique to this set, albeit just as necessary.
The headphones make for easy independent practice, while the aux-to-quarter-inch cable is the key to plugging in to standard guitar amplification.
Cecilio's outfit eliminates the hassle of finding and purchasing essentials separately, and allows eager users to jump quickly into action.
This black electric violin is perfect for beginning users and for experienced musicians looking to try something new.
It can impress unsuspecting passersby, and can be used to amplify sound throughout a terrace or along a dock by a bay.
The violin stands for artistic cleverness and technological intuitiveness – any user can be seen as bearing the same qualities.