Oh "snap"! Don't you hate to hear that pop of a string breaking in the middle of performing? It can hurt too, if it pops backwards and smacks your face!
Now you have to change your string, and do it quickly so you can get it tuned and return to playing. Yikes!
You're usually going to have to leave the stage if you're in the middle of performing, get an extra string from your case back stage, remove the broken string and put on the new one, get it tuned,  and then return back to stage as quietly as possible to find your place in the music and resume playing.
Even if you don't have to change a string in the middle of a big moment of performing, you will at one time or another need to put on a new string.
Changing strings is pretty easy if you know what you're doing. The first few times though are tricky and the whole process really should be learned and practiced with the help of a teacher or a luthier.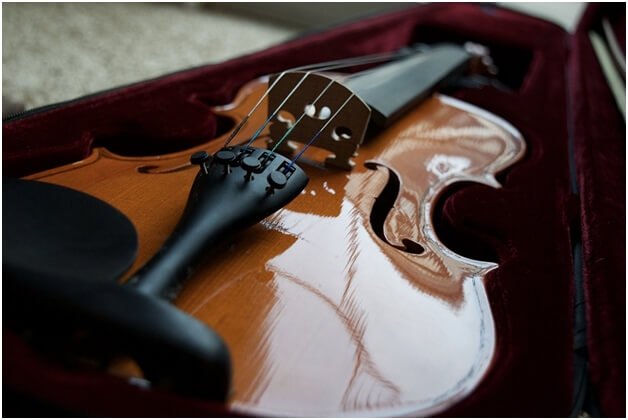 Once a student has reached a certain level of confidence and skill on their violin, they will be able to change their own strings, instead of having to get their teacher or a luthier to do it for them.
It takes a couple of times to get the strings wound up the right way, but once you get it, you'll be able to change a string in no time.
Let's look at the steps involved in putting a new string on your violin.
Buy Good Strings
There is a difference in strings. Cheap strings break more often and do not have as good a sound quality as good strings that are more expensive.
Beginners that are especially playing on very small violins don't need to worry about the quality as much because the sound of smaller instruments is already not as good as 3/4 to 4/4 size instruments.
The most expensive strings are "gut" strings. In olden days, gut strings were literally made out of cat intestines, but today sheep and goat intestines are used instead.
Synthetic strings are much cheaper, but do not last as long and tend to have a "tinny" sound quality as compared to the richer deeper tones of gut strings.
Ball – End and Loop – End Strings
Strings come with 2 different types of ends that attach to your violin from where you will tune your string.
Some violins have fine-tuners on the tail piece, which allows for the strings to be tuned by turning the fine tuner to the left or the right.
If you tune your violin using a fine tuner, you will need to order strings with the right type of end for your fine tuner. Most strings have a ball or loop end and either can be used for both types of tuning.
Most E strings are tuned using a fine tuner, so you will want to get a new E string with the correct type of end for your particular fine tuner.
The other kind of string is a loop end string and is tuned by using the tuning pegs that nestle into the pegbox at the end of the neck of the violin. Each peg is associated with a different string.
Putting on Your Strings
First, take one new string out of the wrapper. Let's start with your A string.
Hold your violin upright in your lap with the (chin rest) end resting on your lap. Holding the top of the violin with your left hand, use your right hand to untwist the A peg by turning it towards you.
Loosen the peg all the way until you can pull the end of the A string out of the hole in the peg.
Gently remove the other end from the tail piece and set aside.
If your string is not broken or unraveled, set it aside for emergencies in case your new one ends up breaking by some weird chance. It's happened!
It's also handy to have a stretched out used string available if you're in the middle of performing and need a quick string change over due to a break.
Pick up your new A string and find the end that has either the ball or the loop on it.
If you're using a fine tuner to tune your strings, you'll need to attach the loop or ball end of the string to the fine tuner which is very easy; just slip the loop over the little piece of metal sticking up and you're good.
If you'll be using your pegs to tune, you'll need to slide the string through the tailpiece starting with the end that is just string and not the ball or the loop. Pull the string all the way up through the tail piece and through the loop, or you're using that type of string, or until the ball end is snugly tucked under the tail piece.
Second, stretch the string up to the A peg and thread the end of the string through the hole in the peg until there is a little bit coming out of the other side; enough that you can grab hold of with some small tweezers.
Now, using your tweezers, pull the string through enough so that you can start wrapping the string around the peg as you start to tighten it. Turn the peg away from you to tighten the string.
While you are turning the peg, make sure that the string is in the correct groove at the end of the neck. There is a little groove there for each of your 4 strings.
Keep turning the peg until your string is stretched enough to be tuned to an A. It is great to have a tuner handy if you don't have a piano, so you'll be able to get your A string tuned correctly.
Be sure to push your peg into the peg hole gently as you're turning to help it stick.
It's important to wind the string carefully around the end of the peg next to the hole, so that the pieces of string don't wrap around each other in the peg box, but lie evenly next to each other. If the string is wound so that the pieces overlap each other, your peg won't stick and the wear and tear will weaken your string.
The new string will come out of tune almost as soon as you get it right, so keep plucking gently with your finger and adjusting the peg for several minutes until the string stretches out and settles into the right place.
Before changing the rest of your strings, take your bow and play on your A string for about 5 minutes to continue the stretching out process and help warm up the string.
Third, take your new D string out and unwrap it so it's ready to string through your tailpiece and peg.
Be aware that while you are changing your D string, your new A string will probably slip back out of tune, so keep an eye out on it and gently tune it back up to the right spot anytime it slips.
Repeat the same steps that you took to change your A string for your D string.
You'll need to keep your A in tune so you can tune your D string to it, unless you are using a tuner for each string.
Next you will change your G string, the same way as you did the A and D strings. Now you have to keep both the A and D in tune, while setting up your G string.
Last, you will change your E string.
As most E strings are tuned using the fine tuner, just slip the loop at the end of the string down over the edge of the fine tuner and pull the string towards the other end of the violin where the pegbox is. Keep a little tension on the string while you thread the other end through the peg hole.
Once you have the end through the hole, start turning the peg away from you just as you did for the other 3 strings. Keep turning until the string is tight enough and is in tune with your A string, or the E on your tuner.
Now go back and double check your other 3 strings to make sure they are staying in tune.
Take your bow and start playing your new open strings with long bow strokes. Being gentle on new strings helps them to last longer. Play for several minutes and adjust your tuning as needed.
Be patient and allow your new strings several days to completely warm up and stretched enough to stay in tune for long periods of time.
You don't want to put on new strings right before a performance as this would risk intonation issues while you're playing.
Give yourself at least 2 weeks on any new string(s) before having to perform with them.
Having good strings on your violin will make your playing more enjoyable and now you know how to change your strings so that you can help hopefully prevent any type of situation where you strings break due to age and use.
One final note:
Beginning students playing on small violins don't have to worry about changing their strings but about one time each year.
For more advanced students, strings should be changed about every 6 months and for professionals, they should be replaced every 3-5 months.