The Cremona SV-130 review will help you to get the information that you need about this violin to make a great selection for your next (or first) violin. The Cremona SV-130 violin is offered by Saga. 
Saga is a well-known creator of quality instruments that are meant for the entry level market. Saga has been provided great instrument choices for both the student and the professional for over 35 years.
This pioneering music company offers the Cremona SV-130 at an easily affordable price point, more importantly these instruments are made to exceed your expectations.
The Cremona SV-130 is an excellent choice for any student because it is made to ensure ease of operation even for the most inexperienced novice.
Saga understands how important reliability, durability and sound is when you first get started with the violin so they built an entry level instrument that can stand up to the rigors of a new student.
Sourcing the right violin is a vital step in any budding musicians career. The right violin can help in the learning process and actually encourage a student to keep moving forward in the learning process.
You want to choose an instrument that possesses a good tone to enhance practice and play time so that the student is rewarded instantly with a great sound.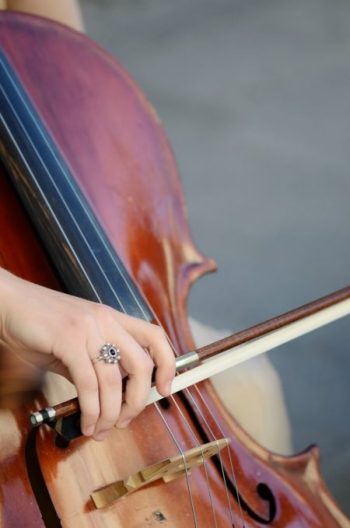 Saga took the so called bull by the horns by creating an instrument that is balanced between an affordable price point, high quality materials and a great sound. This violin will inspire play and practice sessions and keep the new student interested in learning new scores.
You should also know that this has been one of Saga's bestselling student models for the last decade.
We looked at the qualities that make the Cremona SV-130 from Saga an excellent choice and here is what we were able to determine.
The Wood Selection
Saga choose quality tone wood to craft the SV-130. The wood that is used to create this style violin is very similar to the wood that is used in their "Premier" series.
It offers a crack resistant spruce top that is carved from one piece of spruce. The bottom of the violin is crafted from well-aged maple as are the sides.
The wood selection in any violin is very important because the wood controls the tone of the violin and of course is a key player in the durability of the violin.
Spruce is often used as the top of the violin because of its excellent sound quality. Maple is often used for the bottom of a violin because of its hard durability.
The pegs, fingerboard and chin rest are all crafted from ebony. Ebony is used for its strength. The fittings on a violin take a lot of abuse, using a dense wood like ebony ensures that the violin fittings like the fingerboard that is constantly under assault will be able to hold up.
Saga also pays a great deal of attention to the aesthetics of the woodgrain. The SV-130 not only has an excellent tone but it is also a beautiful violin.
The Construction
Using the right woods are a fine way to ensure playability but it is not the only indicator of how well you will be able to play an instrument the luthier plays a large role in how playable a violin truly is.
Saga takes the time to ensure that the bridge is just the right height so that the strings are the right height. It is a science to be able to size the bridge and the strings to an exacting height to get the right tone from a violin.
The standards that are set for this student violin are very strict. The high standards that Saga constructs the SV-130 under are one of the reasons that this model is so highly favored by students and teachers alike. Each instrument is hand carved and graduated one at a time to ensure traditional measurements and fine tuning.
It is not only the bridge that has to be considered when constructing a violin that will have a great tone and ease of playability. The curve of the fingerboard also has to be considered as well as the scoop of the fingerboard.
Any luthier will tell you that it is many components of the violin that have to come together in perfect harmony to create a violin that offers a great sound.
The SV-130 crafted by Saga is a unit that has the perfect construction balance from the height of the strings to the curve of the fingerboard, it is all there.

Click Here for Pricing, Pictures and Reviews on Amazon
Quality of Fittings
There are certain things that can be skimped on when it comes to a violin but the fittings are not one of those things. The fingerboard, chinrest, tuning pegs and tailpiece all play a role in how well your violin will hold up.
For the SV-130 all the fittings but the tailpiece are made from 100% ebony. Why is this important? Some luthiers will use white woods for their fittings on their entry level models and paint them black to look ebony like. You may wonder why a luthier would paint white wood black to make it look like ebony.
Ebony is the long accepted best choice for fittings and most luthiers know that, they know that anyone that has any experience with a violin or that has ever seen a violin has certain expectations.
One of those expectations is that the fittings will be black because they are ebony. Ebony is a traditional choice because it is a far superior wood for durability.
Ebony is a very hard wood, it is durable and of course more expensive than white woods. Some luthiers will cut costs by using less expensive woods and make them look like the more expensive ebony by painting them.
If you are not aware of the importance of the fittings and the need for durability, then you may be fooled into choosing a model that has black painted fittings instead of a model that is fashioned with real ebony fittings.
The tailpiece is the only exception to the all ebony fittings however it is a durable A. Breton alloy tailpiece that includes 4 built in tuners for ease of tuning.
A quality violin that offers superior durability and playability should have ebony fittings because they hold up to wear and tear.  You can check the box on durability for the SV-130 because all of the fittings (except the tailpiece) are crafted from genuine ebony and are not the cheap painted variety that some companies offer.
Affordability
Saga is well-known for providing excellent budget friendly options and the Cremona SV-130 does not disappoint when it comes to affordability. This is a budget friendly student violin.
There are a couple of different reasons you want to be budget conscious when you are choosing a student violin but none more important than the obvious.
While some students go on to excel at the violin, some do not. Investing a big chunk of money into a student violin does not necessarily mean that play will be encouraged.
Starting off with an affordable option like the SV-130 is a great way to see if playing the violin is something that will be pursued.
Upgrading down the road is a much better choice than investing a lot of money right out of the gate.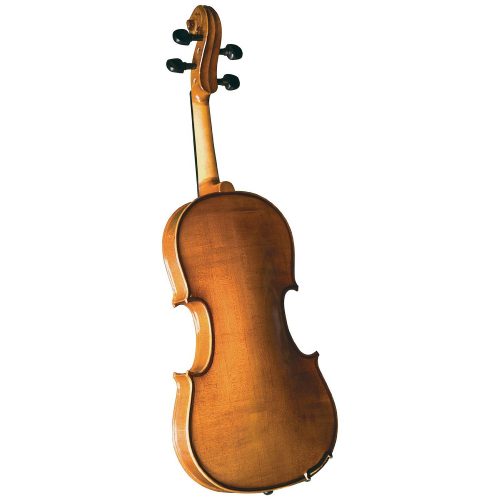 Click Here for Pricing, Pictures and Reviews on Amazon
What's Included?
Each outfit includes an A Brenton brazil wood bow with an ebony frog. The bow offers unbleached horse hair. You also get a foam case to provide protection and ease of transport.  If there is one area where the SV-130 disappoints it is in the outfit.
They could have added a few more "added value" items like an extra bridge or an extra set of strings but then again when you consider how low the cost is to purchase the outfit and given the high quality of the instrument really it is no wonder why they did not "throw in" a few more extras.
Overall
If you need a student violin the Cremona SV-130 is a really good option. It meets all the criteria for what makes a violin a good choice. It actually goes above and beyond what an entry level violin should be.
Many people are more than comfortable using this at the intermediate level which of course is also a nice way to save some money if you do not have to upgrade right away.
Overall this violin comes highly recommended by users and is well worth the very small investment. Keep in mind that the bridge is not installed before shipping so that maybe something you might have to add to your expense if you are not comfortable installing the bridge on your own.
Many violins are not shipping with their bridges installed to prevent damage to the instrument. Any time a violin is not going to be used for a while the bridge should be removed to protect the instrument from warping and other damage.