If you're considering purchasing a piano and learning to play music, you probably have a lot of questions right now. A piano can be a major purchase. How do you choose the right piano for you and your family? How do you decide what your budget is? How do you find a teacher? Lessons are an ongoing expense – are they worth it?
First: breathe! This is a very exciting time, and there's no need to rush to make a decision. Now, let's break down the piano purchasing process step by step.
Types of Pianos
Pianos come in all shapes and sizes, at all price points, for all levels of musicians. The two main categories to consider are acoustic and digital.
What's better for your family? Here are a few key differences:
Acoustic Pianos
Often more expensive
Need regular tuning (2-3 times upon delivery; at least every 6 months thereafter)
Must be kept away from sun and large temperature fluctuations (heating/cooling units)
Often larger in size
Heavy – may require special movers to deliver and even to move within your home
Full, natural sound
Responsive to touch and dynamics
Digital Pianos
Often less expensive
Require no tuning – just plug and play
Can be used safely in humid, dry, warm, or cold settings
Easier to move, and often portable
Digitally-reproduced tones, often with a variety of voices
Some models responsive to touch and dynamics, but not all
Ability to integrate with technology for recording and learning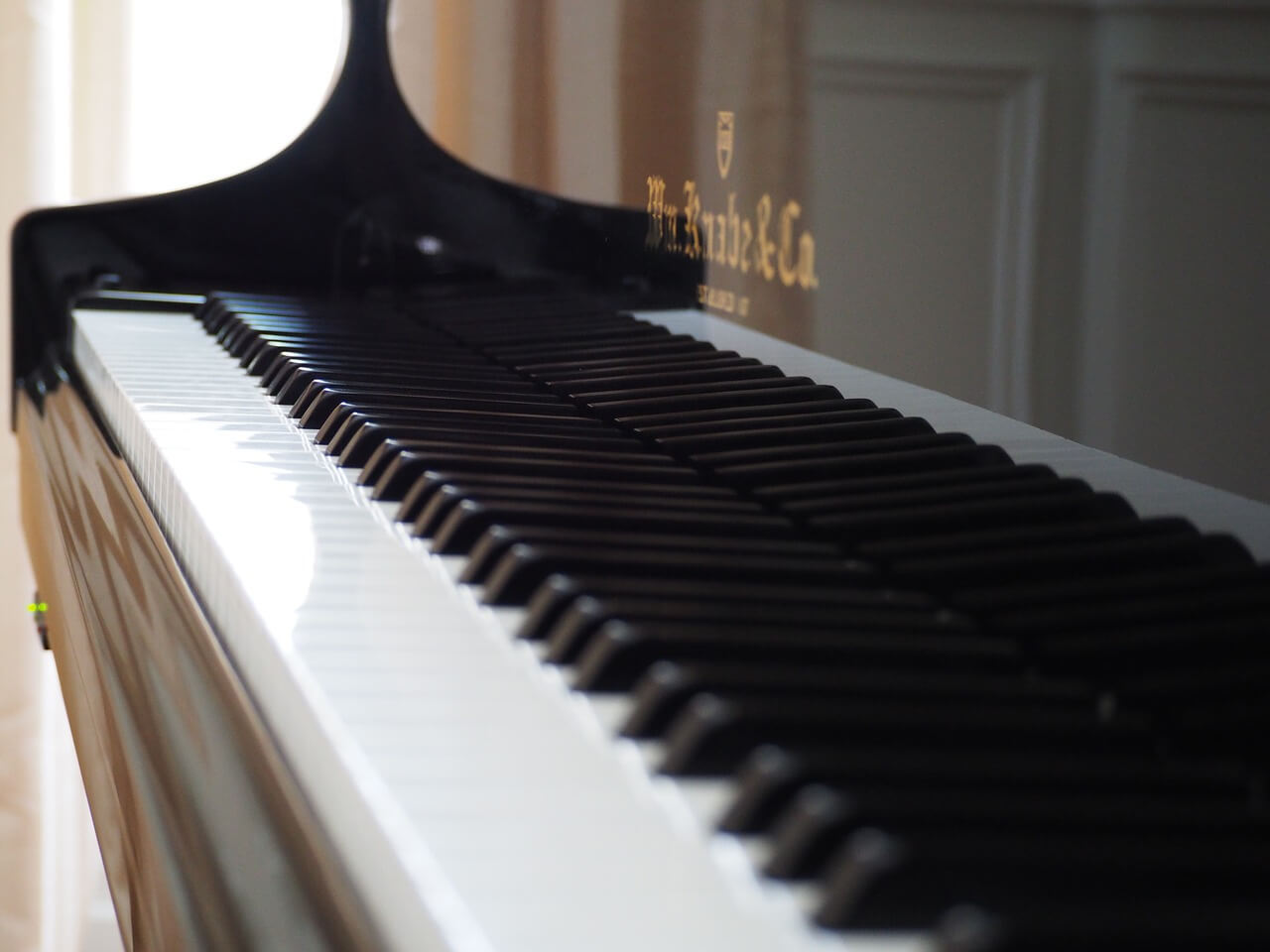 Within those two major categories, you'll find a variety of piano types. Acoustic pianos have a simpler variety: spinet (or console piano), upright, and grand.
A spinet or console piano is the smallest type of acoustic piano, often under 36" high, so the strings are shorter and the sound is less full.
Upright pianos are often found in schools and rehearsal studios and can vary in height. Grand pianos can range from a baby grand (5' in length and under) up to a 9' concert grand. These are going to be more expensive and also may take up more room than you have to spare!
With digital pianos, there's considerably more variety. Some very inexpensive portable digital keyboards are very light with no touch response, fewer keys (61 or 76 keys are common), and no ability to connect pedals or USB/MIDI cables.
There are also full-size portable digital pianos with weighted, touch-response keys, voices sampled from 9' concert grand pianos, and ports for headphones, pedals, USB cables, and speakers. These will cost more but feel better to play, and are often used by professional musicians for live performances.
Finally, we have the home digital: this type of digital piano replaces the acoustic piano in the home. Home digitals are not designed to be portable and instead come with classic cabinetry associated with acoustic pianos. You'll often find home digitals in ebony polish or dark rosewood finishes, and they'll have three built-in pedals like an acoustic piano.
They have a headphone port, which is great for practicing, and the keys are often weighted – or in some top-of-the-line models, an actual acoustic piano action is built in and plays to the sensors.
There's no right answer for which type of piano is right for you. If you're looking for a maintenance-free, budget-friendly instrument that will last for years, a home digital may be the way to go. If you're always on the go, or you enjoy performing with others, a full-size portable digital is probably your best bet.
If you're just beginning to learn piano and aren't sure whether you or your family will stick with it, you can start with a basic portable model and upgrade at a later time.
Of course, nothing can compare to the true acoustic sounds of a 9' concert grand piano, but not everyone has the room in their home or their budget to purchase such a large instrument!
There are many high-quality options at nearly every price point, so choose the piano that best suits your needs within your budget. There's no need to purchase a more expensive piano than you can afford.
Piano Lessons
If you don't already know how to play, you'll want to find a good teacher once you have your piano – otherwise it will just sit there, unplayed, and you don't want your beautiful new instrument to be a place where you store photographs and flowers!
You'll want to consider a few important criteria when you begin looking for teachers:
Style of music you want to play
Your current musical abilities
Location of teacher/school (if you will be traveling to in-person lessons)
Whether online lessons are an option for you
Personality blends
Teacher's experience/reviews from students
Age of student(s) taking lessons
Some teachers focus primarily on one or two musical styles, often for advanced students. If you love jazz music and find a great teacher who only plays polka, you may be in for disappointment. Many teachers are well-versed in a variety of genres, but you may want to ask, just to be sure.
Also, if you have any previous musical experience, whether on piano or a different instrument, keep that in mind. Starting from scratch can take some patience and you want a teacher who understands!
With today's technology, students can learn in person or online, which is great, especially in areas without many music teachers.
Not all students learn well online, so consider the personality of the student before you decide which option is right for you.
I find very young students (under age 8) to have a bit more difficulty beginning lessons online as they learn better when a teacher can show them in-person how to hold their hands and play the keys, but everyone is different.
A teacher's personality may be the biggest thing to consider. The most wonderful teacher won't produce wonderful students if their personalities don't blend.
That doesn't mean there's anything wrong with the teacher or the student – it just means they aren't a match. Try not to let that discourage you, if you find a teacher who isn't working out.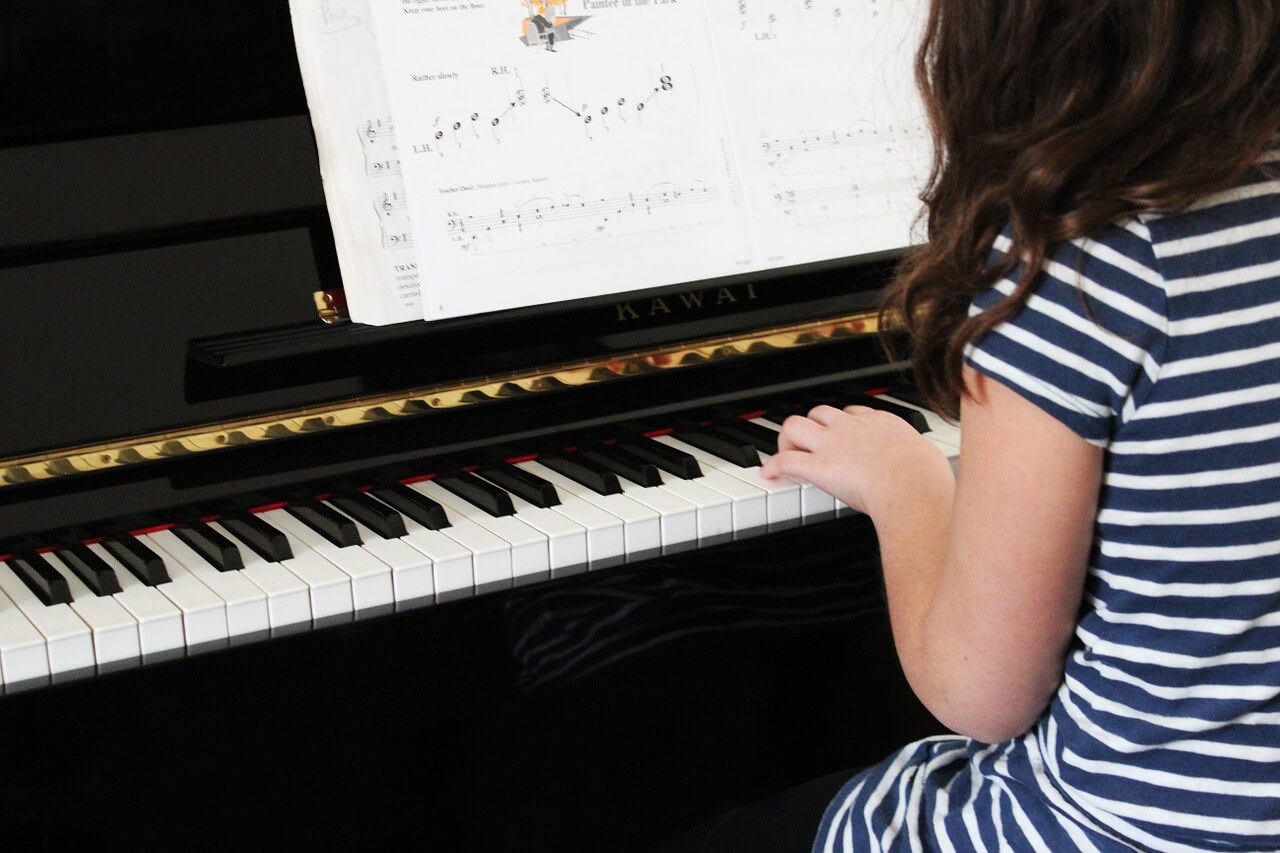 Try another teacher before giving up: there are so many approaches to learning music, someone will be able to explain it in a way that makes sense.
Reading reviews from current and previous students helps a lot, as does scheduling a pre-lesson meeting with a potential teacher.
If a student is uncomfortable with a teacher, they will have a much more challenging time learning music, which is unfortunate for all involved.
Finally, consider the age of the student(s) interested in taking lessons. Some teachers only accept students above a certain age, and not all teachers are equipped to work with younger students. Some teachers focus exclusively on children and don't have a program to teach adults.
Some teachers, of course, teach all ages, but it's important to let the prospective teacher know the ages of the students before beginning lessons.
This, of course, brings us to the main question:
Why Learn Music?
Science has proven over and over again how important music education is to our brain development. Music involves both halves of the brain – typically considered the "logical" side and the "artistic" side – at once. This helps strengthen neural pathways, communication between both hemispheres of the brain, and can improve performance in other academic areas.
Studies have shown strong links between music education and improved scores in math, which is wonderful, but music is also great to learn without the additional educational benefits.
Music can be an art form, a form of expression (either individual or cultural), a form of protest, a way to connect across geographic or language barriers, and a way to break down barriers. Music invokes feelings and emotions that words alone often can't.
Music brings back memories – think of your favorite song from high school. I bet you can recall a favorite high school memory along with that song. And that's just from listening!
Learning to play music is such a fantastic journey. Practice and patience turn into pride as you learn to play pieces you're familiar with.
Playing music with other people brings such feelings of connection and camaraderie. Music is truly a lifelong passion – long after one's knees are too sore to run or climb mountains, it's still possible to play an instrument or sing.
Conclusion
Reading music is like knowing how to read another language and it's so much fun to pick up a piece of music for a song you like and have the skill to sit down and play it.
Who knows – you could be the next great hit songwriter, but because you haven't learned to play music yet, you don't know! It's worth giving it a shot!
I hope this short article has helped walk you through some of the basics of choosing a piano, a teacher, and the benefits of both. There's so much information to absorb when it comes to learning music, but it's important not to get overwhelmed.
Learning music is a lifelong journey and there will always be more to learn as you advance. Start with where you are now – including your budget, time for practice, and any prior experience – and enjoy your piano journey.