The main purpose of a DI – direct input, direct interface, direct induction, or, most commonly, direct box – is to convert unbalanced or high impedance signals into balanced, low impedance ones.
In other words, it is to reduce or eliminate undesirable noise that might result from a long ¼" cable (guitar cable), an electric bass, an acoustic-electric guitar, or an electronic instrument, such as a drum machine or MIDI keyboard.
A direct box can be used as an extension that does not cause – that removes, even – buzz or hum, allowing for liberal stage movement or distanced seating position.
This, of course, could prove especially useful for a keyboardist who is placed far from a mixing board, or for a guitarist who likes to move more than 20 feet past his amplifier.
The equipment is also useful in recording environments where the dry sound of a bass is sought for in place of the "impure" effects of an amp; it will feed any sensitive interface clean vibrations.
With major advances in audio production and increased competition in the volume war, and with the pristine conditions observed in Radiohead and Daft Punk tracks, a clean tone is essential for the satisfaction of today's rampant critics.
Low-level, unbalanced signals – from some electric guitars, cable types, or audio players – are filled with noise that is considerably prone to post-mix audibility.
The same amount of interference is in these as is in other unbalanced ones, while the main sound is less audible.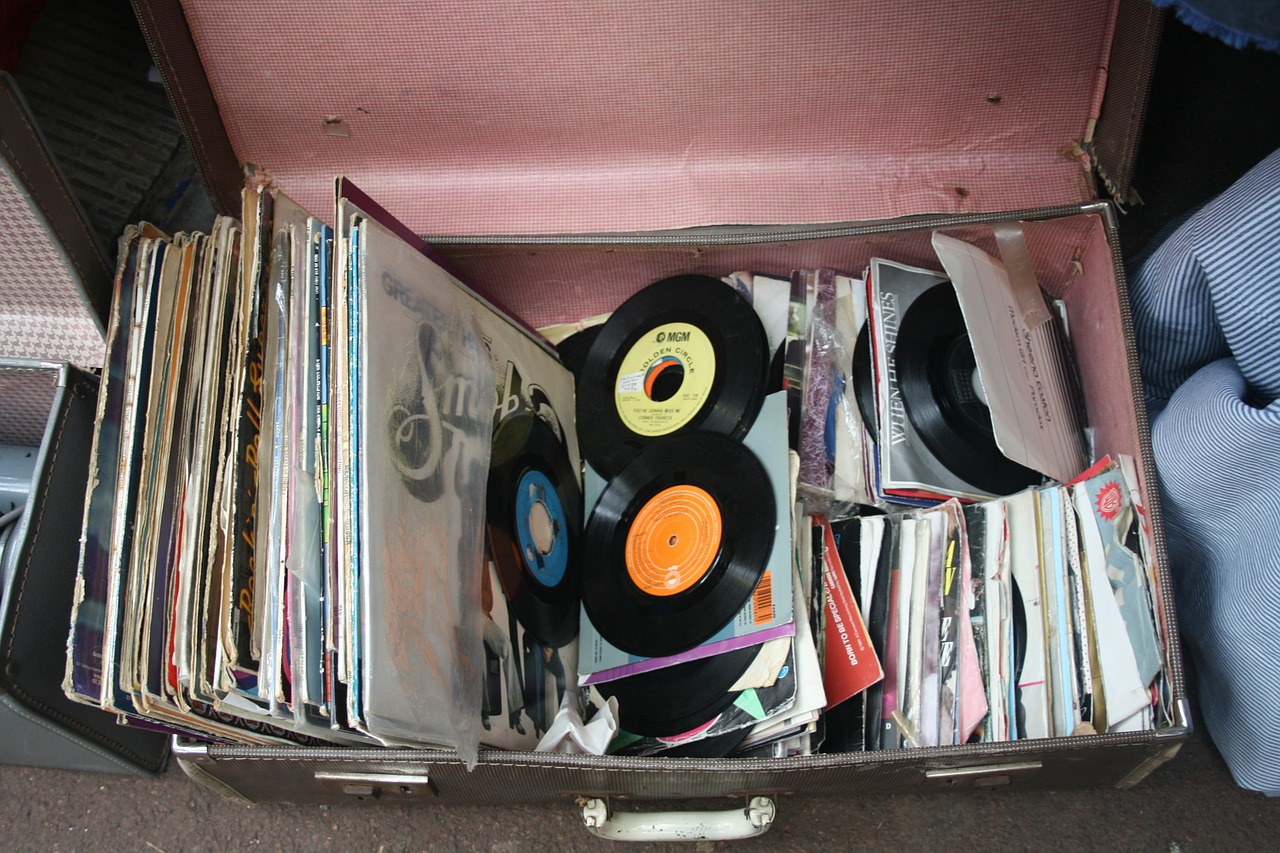 When these signals' output volume is increased (through, say, a mixing board), both the buzz and the primary audio levels rise – the buzz level and the main audio level rise in proportion to each other, making the new buzz level increase as much as the primary audio level does.
A direct box prevents this, allowing for desirable sound to grow in loudness without bad noise doing the same.
Features vary between direct boxes, and different companies offer a wide range of special capabilities, components, and types.
This list presents a combination of inexpensive, limited hardware and high-end, versatile boxes, by several brands.
It will describe the perks of each, and will explain the words involved and how the devices function.
Audio equipment terminology can be fairly technical, but this should not daunt readers, as each questionable phrase will be simplified as seems fit.
Radial Pro DI
The Radial Pro DI is "a high-quality, passive mono direct box that's perfect for use with acoustic guitars, bass guitars, electric pianos, and synthesizers".
Its passive nature allows it to function without batteries or a power supply, instead using a transformer to match signal impedance – that is, to allow the signal sent by your instrument through a cable that is incompatible with a mixing board's inputs to travel through the direct box into a cable (e.g., an XLR cable) that is suitable for the inputs.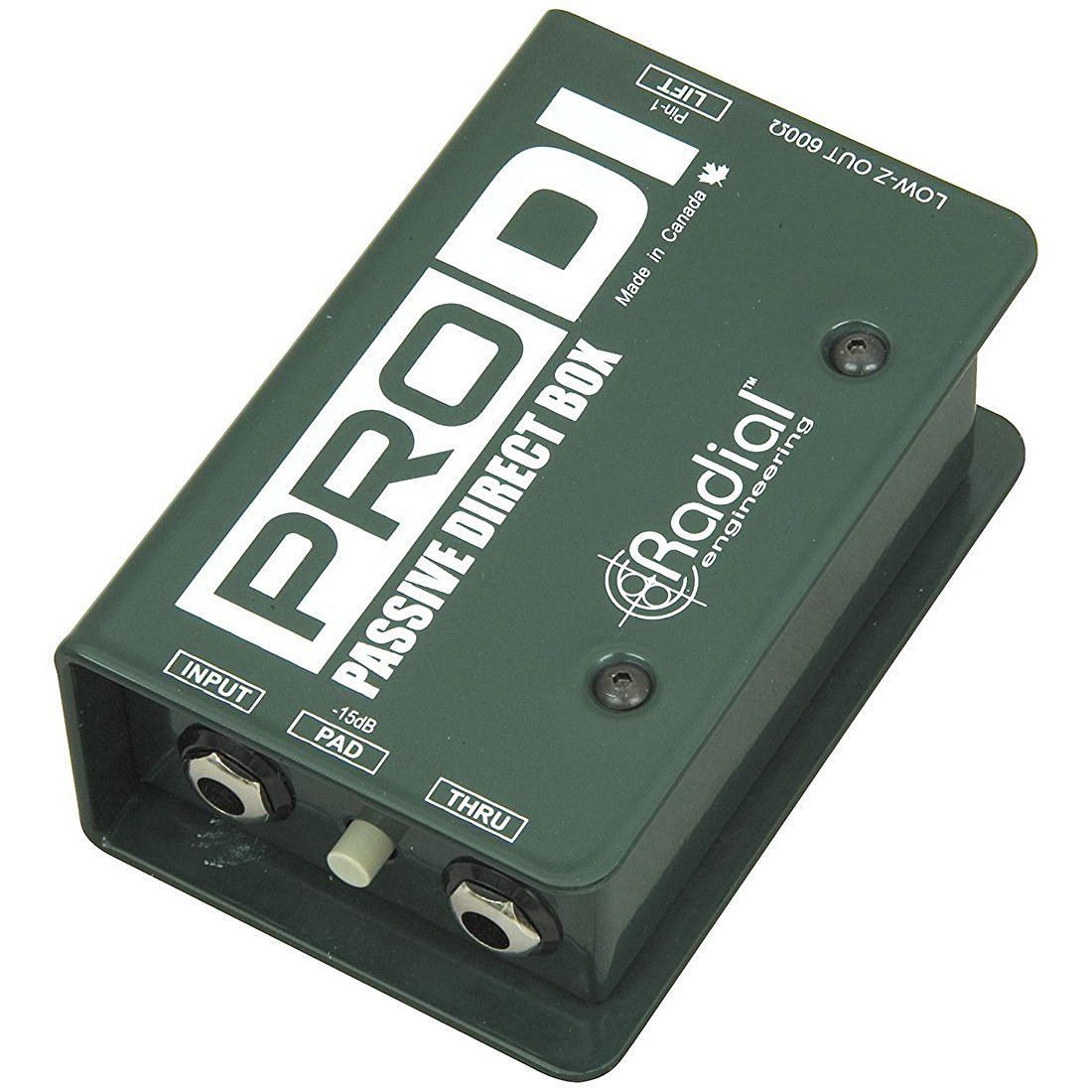 Click Here for Pricing, Pictures and Reviews on Amazon
A mono direct box, the Pro DI works best with instruments that emit mono signals, such as electric basses, drum pads, acoustic guitars, and electric keyboards.
Its ground lift switch gets rid of the hum caused by a ground loop – an unwanted electric current path in a circuit resulting in stray signals or interference – while its -15 dB pad stops most audio-peak distortion.
A "'book cover'" design shapes the Radial Pro DI box's protective figure; protruding edges shield cable inputs, blocking the wild motions of a wailing guitarist's feet, or defending against drops against a hard surface.
Also, a rubber pad at the box's bottom prevents unwarranted movement and dually provides resistance to electric shock.
Radial's Pro DI box is a must-have for any instrumentalist in search of a solution to his buzz problem.
LivewireSPDI Passive Direct Box
Livewire's SPDI Passive Direct Box is, like the Pro DI, a passive direct box – that is, it does not require batteries or a power supply for operation.
It also has a "book-case" design, and bears a ¼" (standard guitar cable) input and an XLR (typical microphone cable) output.
Its black color allows it to blend well with a stage floor, and to be subtly sleek in the industrial setting of a tinted studio.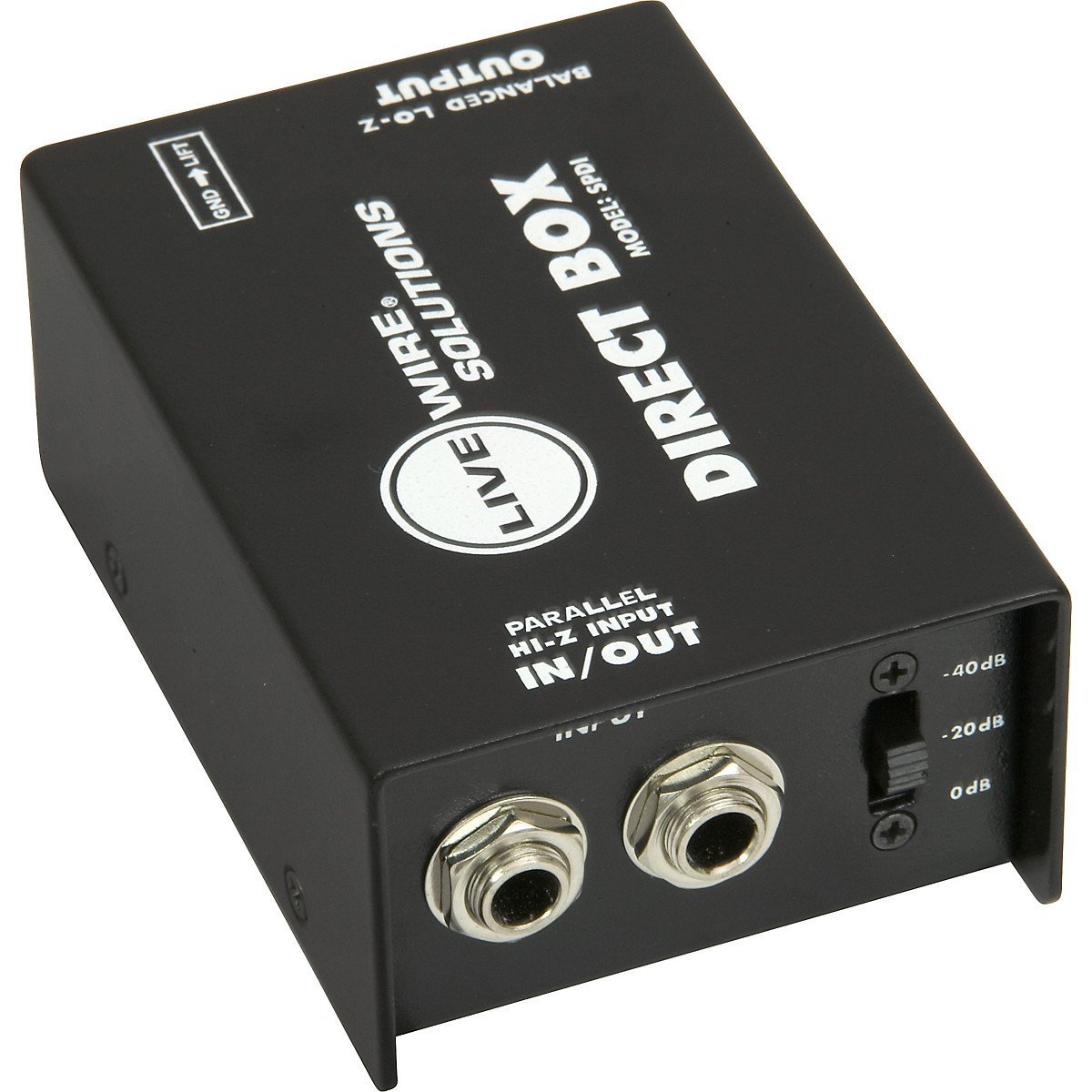 Click Here for Pricing, Pictures and Reviews on Amazon
In addition to the features it shares with its Radial counterpart, the Livewire direct box has an attenuator – an object that reduces the intensity of, in this case, a sound signal – that allows users to select a decibel decrease of zero, 20, or 40.
This allows for greater variety than the Pro DI does, and lets louder signals function properly in a given sound setup.
Overall this product is good, but the device's plastic material is said to fall short of durability for live purposes.
If you are wanting a cheap solution to your noise issues, purchasing this tool is the way to go, especially if you are planning on using it in a concert setting.
As was said, though, extensive live use is not ideal for it, as it is more damage-prone than its full-metal competitors.
WhirlwindIMP 2 Standard Direct Box
"Economical" and cool, the IMP 2 Standard Direct Box is a small, simple version of a great stage component.
It contains the standards: an unbalanced ¼" input, an output for a balanced XLR cable, and a ground lift switch for elimination of noise due to a ground loop.
Despite that the device has no other features – not even a switch to limit levels – it makes for an impressive and handsome addition to any live or studio system.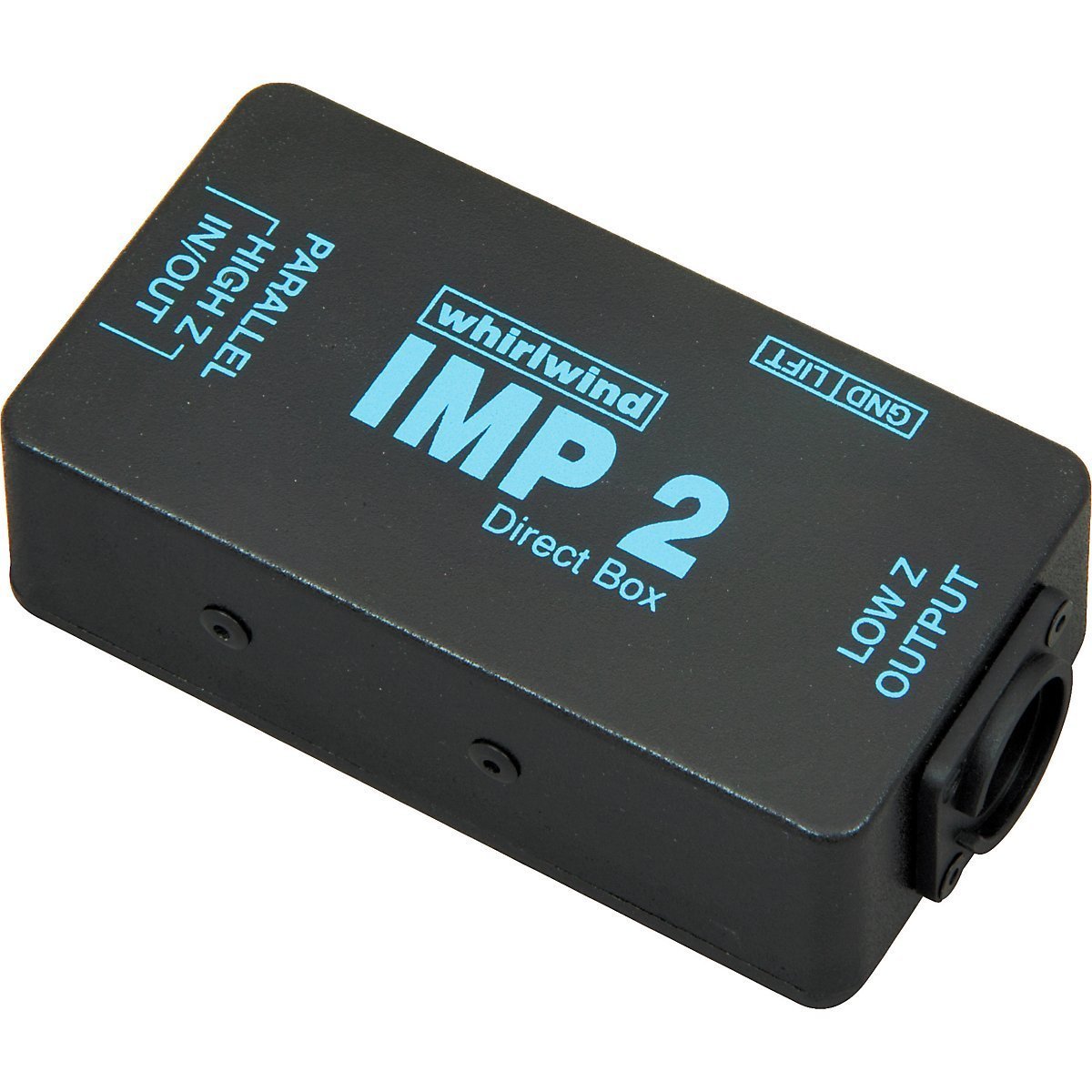 Click Here for Pricing, Pictures and Reviews on Amazon
Its black body is contrasted by "sky" or "maya" blue letters, and its hand-size, rectangular-prismatic shape enables it to spark an attentive mind's curiosity.
The tool is an excellent conversation starter, and techies are sure to acknowledge your care for detail upon recognizing the box.
The IMP 2's size is a means of high portability, and is perfect for being held in the smaller pockets of a backpack or the compartments of a violin case.
Its simplicity can ease the stress often caused by stage and studio organization.
The lack of an attenuator, though, can be detrimental to players who use instruments with high-level output.
Passive direct boxes work best with active instruments – those that have integrated preamplifiers and/or are battery-powered – which often produce a hotter signal than passive instruments do.
In many cases, the decibel reduction in many direct boxes is necessary in order to prevent unwanted distortion. Without this option available, the IMP 2 falls short in one respect.
If, though, you are okay with cancelling some volume with a knob on your instrument itself, this should pose no problem
The IMP 2's limitations can pose as problematic, but, with the right instruments, should not be greatly negative.
The direct box's characteristic design, portability, and simplicity give it a bonus above items of its kind have portrayed the product as excellent.
Behringer Ultra-G GI100
The Ultra-H GI100 has the body of something that might come from Robot Wars. This is good – barricades support the four corners of the box, raising the GI100 an inch or two off the ground, and shielding it from any force directed horizontally.
As an active direct box – one that requires a battery or power supply in order to function – it contains a 9V-battery cartridge.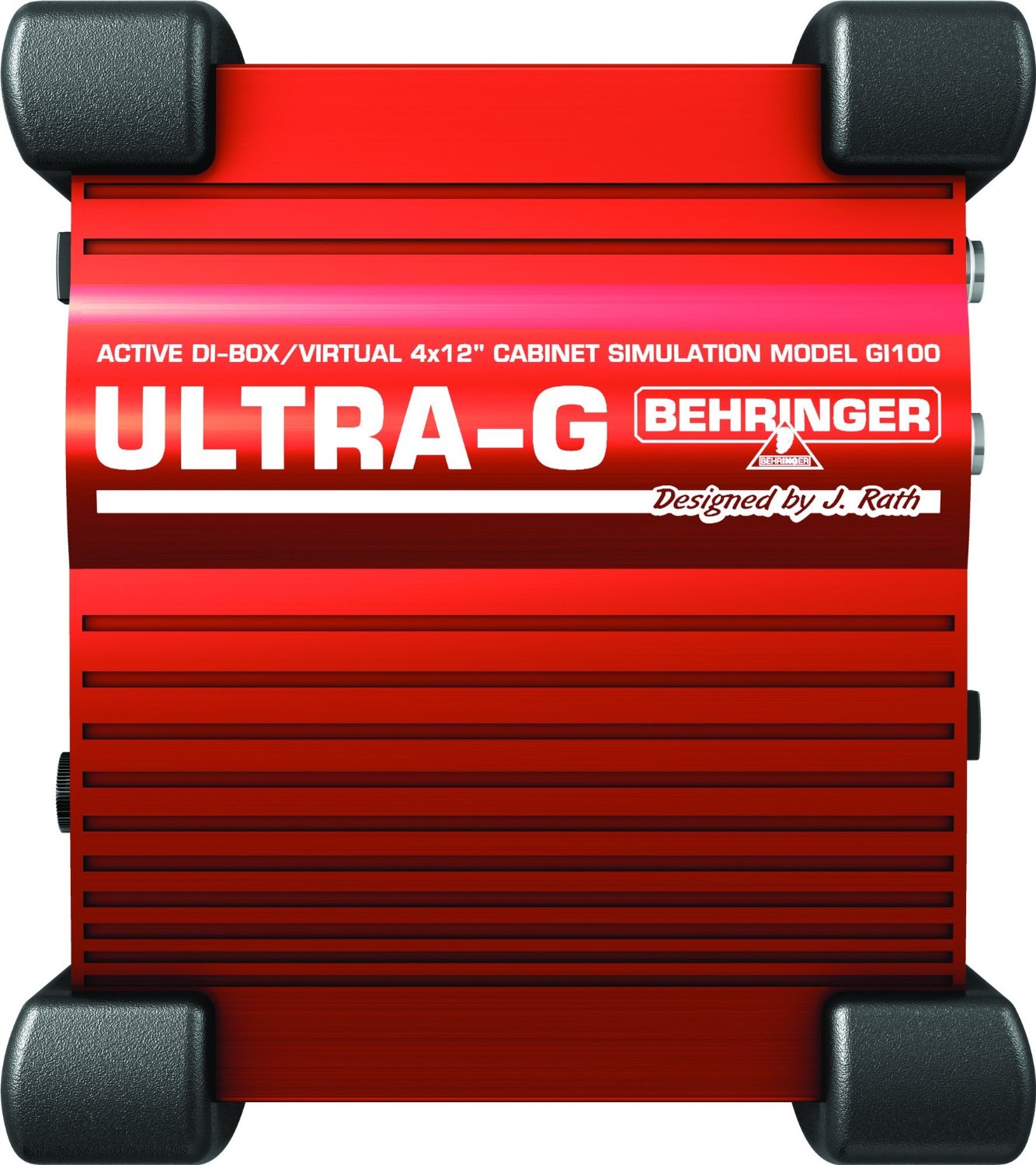 Click Here for Pricing, Pictures and Reviews on Amazon
An active direct box contains a pre-amplifier, which provides gain in order to boost the signal that passes through it.
This makes it ideal for passive instruments – Fender Stratocasters, Gibson Les Paul Classics, and the like – as it bolsters volume in a way that cannot be done by instruments that lack built-in pre-amplification.
Phantom power or a working battery are always required for the utility's operation.
The Ultra-G GI100 has two outputs – one for sending unrefined signal into a cabinet or amplifier, and another for balanced (formerly unbalanced) signal to a mixing board.
This enables a music maker to send her sound to two outputs at once, coming in handy when she wishes to record both through microphones from an amplifier and directly from her instrument to an audio interface.
This particular direct box is also equipped with a clipping light, which alerts observers when the volume of incoming signal is too high, bestowing awareness of peaking even when distortion is inaudible.
This can give help much, as a performer who does not hear peaks in his sound might, to his own dismay, discover the need to re-record a track long after his equipment has been dismantled.
If the clipping light does turn on, the GI100's attenuators can reduce a signal's volume by up to 40 decibels.
The prize feature of the GI100 is its 4×12" cab simulator. This, when on, grants extra gain to a current, providing a loud, punchy tone to a signal that the box has already promised to remove buzz from.
Players who wish to beef up their sound while sending it directly into an audio interface are bound to be pleased by this attribute.
Radial JDX 48
Another active direct box, the JDX 48 is the highest quality of all the boxes here listed.
With the ability to be powered by either a 9-volt power supply or by the phantom power of an audio interface or mixing board (which travels through the direct box's output cable into the direct box itself), this DI is easy to manage, as it removes issues of lost charging parts.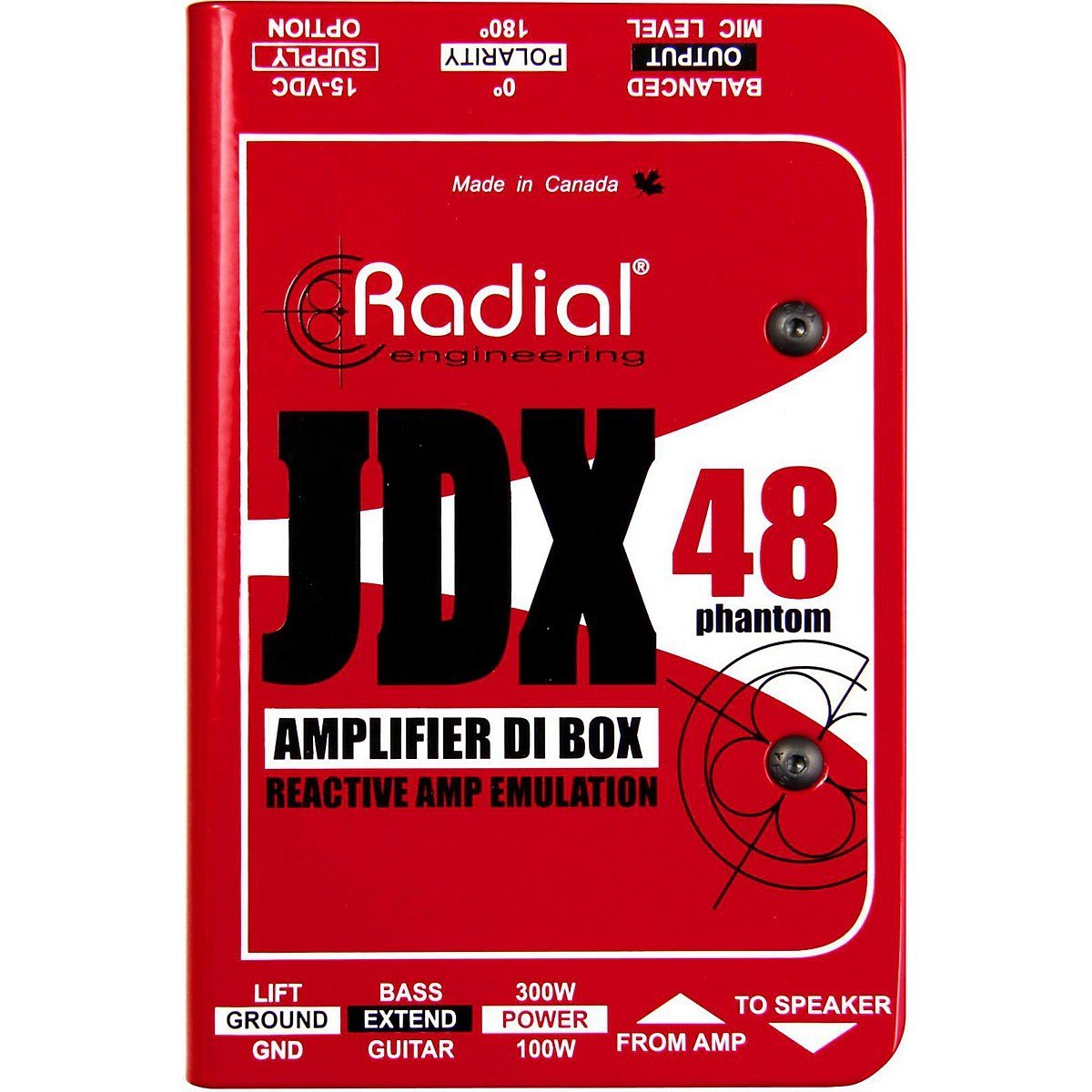 Click Here for Pricing, Pictures and Reviews on Amazon
While an instrument can be plugged directly into it, the JDX 48 indicates that an amplifier head signal be channeled through its ¼" input.
In addition to a mic level (XLR) output, it bears a ¼" output, designed to, first, send a signal to a speaker and to, second, receive the speaker's signal, deriving the signal that leads through the mic level output and XLR cable to the mixing board from the settings of both the amp head and the speaker.
Basically, the direct box sends the sound of your amplifier into the mixing board without use of a microphone.
Your amplifier signal can flow through a balanced, low-impedance cable (that is, through a cable that allows for buzz-free sound) without help from a microphone.
Because of this, engineers can set up, say, a guitar or bass rig without concern for mike position and displacement or bumps. The benefits thereof are countless.
For when a user also wants to mike his amplifier, the box's phasing option offers support.
This delays the signal that goes out of the direct box so that it and the one that comes from the microphone – which is naturally delayed due to the time it takes for sound to travel from a speaker to the mike – reach the mixing board simultaneously, minimizing phasing issues.
The JDX 48 has the standard ground lift option, a less-common 300-watt-amp simulator, and a low frequency extender, which gives access to a greater bass range.
A direct box is an excellent tool for a player who needs an extension from her guitar to a mixing board, or for one who wants the undefiled sound of his guitar to be heard.
Products vary in size, versatility, and price, and, as is the case for most goods, the more one pays, the more applicability he can expect.
A high amount of money is a safe investment for a direct box, as it will save much time and effort, and prevent much disturbance, both on- and off-stage, in the long run.