It is becoming increasingly more obvious that children are experiencing extreme anxiety and stress, as the demands upon them increase. With improved diagnosis of mental health issues in children, children are now getting the support they need early on, rather than live their life with an undiagnosed issue.
New forms of therapy are being developed all of the time, with music therapy a recognised support for children with specific educational or developmental needs.
Routine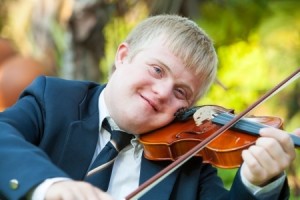 Attending long violin lessons or structured practices at home can become tiresome for children with special needs but the structure and practice required will offer children a stable routine.
If children are struggling to concentrate and attention span is limited, they can still enjoy short burst of violin learning that can gradually be extended as the child becomes more familiar with this his/her instrument.
The ability for children to focus their attention on playing the violin is shown to have an impact on their overall brain development. Studies have shown that "music practice influenced thickness in the part of the cortex that relates to "executive functioning, including working memory, attentional control, as well as organization and planning for the future," Science Daily.
When children lack the ability to play attention and organise their lives, they can become chaotic and unsure of how to deal with new emotions and feelings.
Expression
Music allows for a great freedom of expression, something that is important for children in a world where they are under so much pressure to conform. Peer pressure, parental pressure and demanding school curriculums can make some children feel claustrophobic, with no way to put their own stamp on their identity.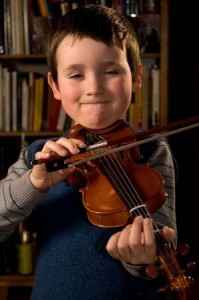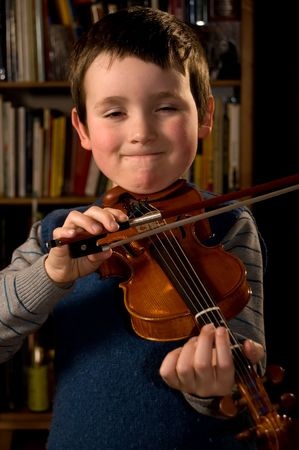 The ability to take time put, just for themselves to enjoy something with no pressure attached should be encouraged, with the violin being an excellent option.
Sure, playing the violin can be intense and will take lots of practice but the young person is in control of his/her learning and will soon develop a great sense of worth.
Once violin lessons have developed and the child can play music, they will be able to play music that expresses how they are feeling and allows everything to come out rather than keeping it bottled in.
If your child is prone to angry outbursts, letting off steam with the fiddle is a great way to release tension without hitting out.
Similarly, if a child is prone to internalising feelings and keeping things to themselves, listening to them play music may give a parent insight into how they are feeling. Aside all of the therapeutic implications of playing the violin, it is worth mentioning noting that music is lots of fun, something that you will no doubt want your child to have plenty of.
Significant research is taking place into the effects of music therapy on more in-depth disorders such as autism and Aspergers, with evidence showing that children with these conditions benefit from music. With limited communication skills, playing music is a way for parents and educators to tap into the child's mind, as they express their emotions in new ways.
The multi sensory aspect of listening and playing to music sees children stimulated in many ways and gives parents options when dying to communicate with their children.
In Control
At various times throughout our lives it is easy to feel like we lose control and our life is in the hands of others. Children are at particular risk of feeling alienated, with so many people having an influence on their lives that they do not know who they really are or what they really want.
Playing violin allows children to take ownership of their learning and, after some support from parents and tutors, will gradually begin to organise practices and rehearsals themselves. Add to this the fact that playing the violin requires good maths skills and memory skills, it has shown that playing musical instruments improves overall cognitive development.
With improved cognitive development , children are able to adapt to new situations more quickly and may not feel as out of depth and anxious in new situations. All of these benefits of playing the violin make it more likely for children to gain more confidence throughout life and, if they do ever feel a little down, they may feel more comfortable turning to people for support before their problems spiral out of control.
Rather than simply turn to medication, if your child is diagnosed with a psychological condition, it is definitely worth exploring music lessons. The violin is a wonderful instrument to play and children will gain a great sense of achievement once they learn how to play it and enjoy the music they produce.
Longterm, your child may take up violin at a professional level but initially playing music should be all about pleasure, pleasure that could lead to holistic healing for many mental health conditions.