Tuning the violin is a specialized skill that is learned in several stages and doesn't typically start until a student has been playing for at least a year.
Keeping the strings of the instrument in tune is important because good intonation depends on the strings starting out in tune and being able to stay in tune for the duration of playing time.
Unlike a piano that has to be tuned only once or twice a year in most cases, violins and other stringed instruments must be tuned each time they are played, even if that's more than one time in a day.
If you've ever attended a Symphony concert, you'll notice that the orchestra will tune at the beginning of the concert, again with any soloist that comes on state to play, and again usually right after intermission when the musicians have had a little break.
We'll look at why tuning so often is necessary later, but for now let's take a look at how you tune your violin strings and explore some different methods of tuning.
First – What are we tuning?
The Violin has 4 strings starting with the bottom to the top: G, D, A and E. Each string is a perfect 5th from the string above it.
Strings are tuned by tightening or loosening them with either the fine tuner located in the tail piece, (figure 1) or the string peg, which is located in the peg box, (figure 2).
Most beginner instruments will have fine tuners for all strings, but more advanced violins will have a fine tuner for the E string only.
Fine tuners are a bit easier to tune with for most students until they get the hang of adjusting the pegs for proper pitch.
The first string that violinists always tune is the A string. The next string is the D string, then the G, and finally the E string.
It is best to tune your violin with your bow going across the strings, rather than plucking the strings. Plucking doesn't give you a true pitch and although you will get close, you won't be as perfectly in tune as you should be.
Make sure you make slow even bow strokes on each string while you are tuning. Uneven strokes can distort the sound and effect the intonation. Also, play softly rather than loudly and you will be able to hear the tones better.
If you are using the fine tuners, each string can be adjusted by turning the tuner clockwise (right) to make the string go higher, or counterclockwise (left) to make the string go lower. Never put pressure on the fine tuners when turning them.
If the fine tuner won't move, you may have to adjust the peg to release some of the tension on the string, so the fine tuner can release and work again. Check out this great video example of how to tune your violin using your fine tuners.
If you are tuning with your pegs, turning each peg away from you will raise the note or make it higher, and turning the peg towards you, will lower the note.
If pegs fit properly and aren't slipping or getting stuck, they will easily adjust with just a little pressure and being held in between your thumb and forefinger.
Here is another video sample of how to tune using your pegs instead of your fine tuners.
Tools for Tuning
If you noticed in both of the videos above, one person tuned using a digital tuner and tuned each string individually to the corresponding note on the digital tuner.
The second person used a digital tuner to get just the A string in tune, and then tuned the rest of the strings to each other.
Digital tuners are exceptional tools that even the most advanced players will use to at least get a good A to tune the rest of their strings to. They come in a variety of formats and can be used with all types instruments, not just the violin.
They usually come with a built in metronome as well, and offer a variety of beats and rhythm sequences that a player can set up and play to.
They give a visual display of whether your string is too high or too low, which makes for much easier tuning for students that are still developing their ear training skills.
Organic tuning, or tuning the violin to itself is the most common way of tuning once a player has reached an intermediate level of skill.
It is important to have good ear training before trying to tune without the help of your violin teacher.
The listening skills are more advanced when tuning this way too, because you are listening to 2 notes at a time once the A string is tuned.
The easiest way to tune with your pegs is to turn the peg towards you if you have to adjust it first, as that will loosen the string and you can move easily up to the right position.
Don't turn your peg away from you first as this will make the string higher and tighten it, and this could risk a break.
Make sure you push the peg back in as you move it back up to the correct position.
The Tuning Fork is another tool used by string players to get their A in tune. Tuning forks need to be an A 4/40 for violinists, and this is important to know because they actually do come with different tones.
To use a tuning fork, simply bounce it lightly on your knee and then either hold it up to your ear to hear the A, or put the round end on the body of the violin to hear the A sound out loud.
They are convenient tools to keep in your violin case if you happened to leave your digital tuner/metronome out from your practice session.
Here is a great instructional video on how to tune your violin using a tuning fork.
Common Challenges
After you have mastered the art of tuning  you may still find certain challenges that are ongoing with keeping your violin in tune, that have nothing to do with your level of development in your playing. Let's look at a few.
Peg Problems are a frustrating but common experience for many violinists. Your pegs can slip if they don't fit in the pegbox correctly. They can slip because of climate changes if you travel with your fiddle or expose it to the outdoors for a long period of time.
They can also get stuck and not want to move at all from excess humidity or some other issue. Fortunately there's help!
Peg Drops is a product that is readily available and a few drops carefully applied to the end of your peg will stop it from slipping all the time and your strings will stay in tune.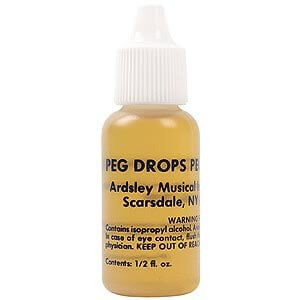 Click Here for Pricing, Pictures and Reviews on Amazon
Peg Compound works for the opposite issue. A small amount of compound applied to the end of your peg will loosen any peg that is sticking.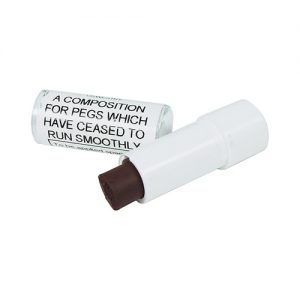 Click Here for Pricing, Pictures and Reviews on Amazon
New Strings are wonderful to have, but you must be prepared to re-tune your violin a lot when you first change your strings. Strings have to be stretched out before the settle into their rightful place. The only way to stretch them out is to play on them.
You may find that you only get through half of a scale before you have to tune your new string again, but be patient and remember that the more you play, the faster your string will become stable enough to hold its tone.
Weather challenges are another factor in how well your strings will stay in tune. The wood on your violin is constantly reacting to the atmosphere around it.
A lot of humidity in the air will cause the wood to swell a bit, and may cause your strings to come out of tune as they adjust to the wood.
In contrast, extremely dry and cold air will cause the wood of your fiddle to contract and this is when a lot of players notice that their pegs slip. It's because the wood has responded to the dry air and cold temps.
A great tool for helping your violin endure dry weather air with little humidity is the dampit for violin. The dampit is a rubber tube with holes in it with a sponge liner on the inside.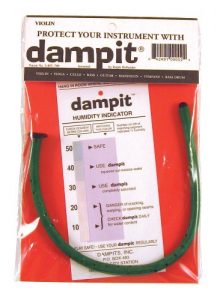 Click Here for Pricing, Pictures and Reviews on Amazon
Basically you soak the dampit in some water, ring out the excess, wipe it off and place it inside the f-hole of your violin. When it dries out you simply repeat the process.
There is a humidity indicator that comes with your dampit that will show you the humidity level of the room you're playing in, or storing your violin in. See how to use one here:
Remember to keep your violin stored in a climate controlled room away from heaters and any direct source of air that can affect the wood of your instrument.
Any changes will have an impact on how well your violin stays in tune, and could damage your strings to the point of breaking.
With some effort and experimentation, anyone can learn to tune their violin very well. Start with using a tuner until you get comfortable with hearing the correct pitches for each string. Then begin tuning the violin to itself once you have your A string set at the correct pitch.
Digital tuners are a great tool to achieve the correct pitch each time and proper care and storage of your violin will help prevent any problems with your violin and strings during extreme weather seasons.
What are some of your favorite tools for getting in tune?