Searching for a dependable cello is never easy because there are many different options, of course not all the options are best.
This Knilling Maestro Cello review will pick apart this cello and help you to make an informed choice when you buy your next cello.
The violin, viola and cello are all similar instruments but they all produce different sounds. The violin and viola are held under the chin to play while the cello is held on the floor between the knees of a seated musician to play.
The violin and the viola produce a higher pitched tone than the cello. The cello emits a deeper tone.
Choosing the right cello can be a challenge understanding what you should be looking for in a cello can help you to choose the right cello.
The Knilling Maestro Cello easily can easily provide you with the properties that a good cello has to offer.
Before we get started with the Knilling Maestro Cello review let's take a quick look at what steps you want to take before you get started looking for a cello.
Making the Choice
There are certain key components that you should look for in a cello to ensure that you choose a cello that will make you happy and that is playable for you. You have to choose the right size to get started.
There are easy to use measuring charts like the one below that can help you to determine what size is right for you.
Age Chart
| Age | Cello Size* |
| --- | --- |
| 3–4 | 1/10 |
| 4–6 | 1/8 |
| 5–7 | 1/4 |
| 7–11 | 1/2 |
| 9–15 | 3/4 |
| 15 and up | 4/4 (Full Size) |
Measurement Chart
| Height | Arm Length | Finger Span | Cello Size* |
| --- | --- | --- | --- |
| 3' | up to 16" | 2.5"-3" | 1/10 |
| 3'-3'6" | 16"–18" | 3" | 1/8 |
| 3'6"–4' | 18"–20" | 3"–4" | 1/4 |
| 4'–4'6" | 20"–22" | 4"–5" | 1/2 |
| 4'6"–5' | 22"–24" | 5"–6" | 3/4 |
| 5' and up | 24" and up | 6" and up | 4/4 |
Once you have your sizing figured out you can then feel confident in choosing the right cello.  Of course the right size is really just the jumping off point. There are other qualities that you have to consider that many people that are new to the cello never really consider.
Beginners often make the mistake of thinking that "cheaper" is better when they first are getting started but that can be a huge mistake.
Going too cheap can result in an instrument that disappoints but more importantly it can wind up discouraging the student from playing.
Going to cheap can result in a cello that is hard to manage. Of course the sound quality maybe tainted which will interfere with learning. Unfortunately, many students wind up feeling that they are not really accomplishing what they hoped too.
The wrong cello can easily discourage a love for playing the cello. As a matter of fact, it is more important in the early stages to have a reliable instrument than possibly at any other time during a student's music career.
Building confidence is very important in the early days of playing and learning, the right cello can help to build confidence.
Settling for a cheap cello just because you are unsure if there is a long future in cello playing can actually be the reason why the future is cut short!
You want to choose a cello that can easily grow with musical ability so that you do not find yourself in the position of shopping for a new cello as skill level increases.
It is far better to choose a cello that is a little above the student's skill level than it is to buy a cello that is only geared toward the beginner or you risk having to upgrade a lot sooner than you plan.
Of course you want to purchase a cello from a well-known name brand. You want to know that you are buying a cello that has the experience behind it. Consider what type of materials are used in the construction of the cello.
The wood's matter! Tone woods are called tone woods because they emulate the tones in a superior manner.
You want to ensure that the cello that you choose is constructed from hardwoods that are traditionally used in the construction of stringed instruments. Settling for subpar materials to save a few dollars typically is not the best value.
It actually will end up costing you a lot more in the end not only in actual cost but in the amount of time that is lost on a bad instrument.
While considering your budget is always an important aspect of any purchase you have to consider the value that is really at stake.
Finding the right balance between budget, quality and playability can be a challenge but luckily the Knilling Maestro Cello can easily balance all three for you.
Cost Effective Yet the Right Quality
While Knilling Maestro Cello may not be the least expensive cello on the market it is still quite affordable and more importantly it offers a great deal of quality for the money which makes it a great value.
This cello from Knilling is well made, durable, reliable and even looks good. The Knilling Maestro Cello is constructed from solid grain spruce in the front, solid grain maple in the rear and ebony fittings.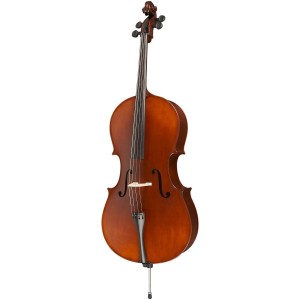 Click Here for Pricing, Pictures and Reviews on Amazon
All of these materials are the signature materials of a high quality cello. The Knilling Maestro Cello has a beautifully flamed maple back that is reminiscent of much more expensive instruments.
The inlaid purfling is another sign of the caliber of this instrument. Many manufacturers' do not take the time to inlay the purfling they simply engrave it in but Knilling took the time to stay true to form and inlay the purfling the way tradition suggests.
It offers solid maple sides and an antique red spirit varnish that is hand rubbed to give it a beautiful amber glow.
The 18-inch end pin is sturdy. The bridge is made in Germany and stamped as such of German maple. The ebony tailpiece, perfection pegs and fingerboard rounds up the high quality materials that are used to construct this beautiful cello.
This cello is constructed in China but is sent to either the US or Germany for final tuning and inspection.
The outfit is offered complete with a J Remy patterned bow and a hard cello case that has wheels for easy transport.
The case can be carried back pack style thanks to the two handles or it can be pulled along with the single strap handle. The case is very versatile as is the instrument that it is made for.
The case is thermoplastic and a great added bonus in this outfit. The strings are metal and are of good enough quality.
Of course strings can always be easily upgraded should you choose to do so.  The Precision Pegs are great for easy tuning purposes.
While this is considered a student cello it by no means is only good for any particular level of student. Beginners, intermediate and even highly skilled students will find something that they love about the Knilling Maestro Cello.
While each string instrument will have some sound differences Knilling ensures that each cello is tuned and tested before it is shipped. This is a helpful gesture on Knillings part.
The Not So Great Qualities
The Knilling Maestro Cello for all intents and purposes is a great instrument. Its solid construction does make it a little on the heavy side which may be difficult for a very young student to navigate even at the smaller sizes.
The strings that the instrument is shipped with are not the top of the line quality that an intermediate student would look for but they are ideal for an entry level or beginning student.
Intermediate students should not be discouraged but instead should consider upgrading the strings before performance.
Overall
The Knilling Maestro Cello is an excellent option for any student. It is clearly well made of superior materials and it offers some great options as part of the outfit.
One of the best reasons to purchase this cello is because it can easily mover from a beginning skill level to an intermediate skill level which ultimately will save the student a great deal of money.
A lot of beginners make the mistake of going really cheap with their first cello only to find that they have to upgrade to a different instrument a short period of time into their lessons.
Purchasing this cello is actually going to be an action in cost savings. It will absolutely see a student from beginning studies through intermediate studies on to the stage.
Knilling offers a great deal of value for the money. Is it a little more than you want to pay for a beginning instrument?
Maybe but you will get your money out of this instrument because it is ideal for a full range of skill levels and will save you money overall!