So you have your instrument and you are taking lessons, but what's next? Practice, of course! The violin is certainly not an instrument that will learn itself.
Here is six pieces of advice to make your time spent practicing the violin as effective as it can possibly be.
Get Advice from Several Sources
First, you're definitely taking steps in the right direction by reading this article. There are many ways to play the violin correctly, and each person learns differently.
It is crucial that you spend time outside of your lessons exploring different "schools" of violin playing. This can be in the form of videos, audio recordings, masterclasses, or lessons with other teachers.
Masterclasses are lessons held in either an informal or formal group setting. They are when a professional teacher instructs a student in front of an audience.
You can often learn very insightful things from these classes, and many times they are free of charge.
Check your local conservatory or university for upcoming masterclasses. Sometimes masterclasses are accessible online.
Here is an example of a violin and viola masterclass with the great violinist Pinchas Zukerman with three young musicians from the Royal Academy of Music:
You can even try several lessons with different teachers if you are not satisfied with your current one.
Many teachers will offer a lower price for the first few lessons or even a complimentary lesson if you're lucky!
You ideally want to feel comfortable and open around your teacher, while still having a professional relationship. Sometimes you have to try several teachers to find the right "fit".
The key is to take the valuable information you learn in lessons and through your own explorations and apply it to your playing.
The ability to evaluate your playing with the same critical eye as a professional violinist will be invaluable for your growth and development.
Stretch and Warm up Before you Play
We often talk about warming up on the instrument itself to get into the mindset of playing, but we often forget to warm up our bodies before we play.
Violinists require dexterity and strength, not unlike athletes. If you are not warmed up properly or if you do not listen to your body, you can hurt yourself playing the violin!
Here are some key things to remember when you practice:
Make sure to stretch out your arms, wrists, and fingers before you pick up your instrument.
Take breaks when you practice; try not to play for longer than 30 minutes at a time if you can help it (multiple, shorter practice sessions are more effective!).
If something hurts when you play, try to discover the source of the pain; make changes to your technique if necessary.
Consult a professional if you have persistent pain and take a break from playing.
Review your Technique Daily
Though they are often the least exciting part of playing the violin, it is important to play scales and studies every day.
Heifetz himself placed the utmost importance on scales because technique forms the fundamental building blocks for any piece you will play on the violin.
Reviewing technique everyday allows for you to improve technique, intonation, and eventually musicality.
To make your practice more interesting, try different bow strokes, keys, and speeds for your scales. Try taking the more difficult parts of a piece to make them into a small study.
Remember — some of the most famous pieces in the violin repertoire are studies themselves:
Experiment to try to Produce a Wide Range of Sounds
Not only is each violin and bow different, but also each violinist is built differently. This means that although your teacher will undoubtedly provide you with useful information about holding your violin, you will have to find what particulars work for you and your set-up.
Always make sure to experiment with a desired sound in mind, and make note of how to get the desired result so that you can replicate it.
Try to find what right-arm levels work best to facilitate string crossings and double stops, or what bow speed produces a certain articulation.
Experiment with how much you move your hips or upper body while you play; some violinists are very rigid like Jascha Heifetz, and some are more fluid like Joshua Bell.
You can even try experimenting with different shoulder rests, or without a shoulder rest.
Practice with a Purpose
The most effective way to practice is to have a goal in mind each time you pick up your instrument. You may be working towards a recital or to play a special piece.
Whatever it is, you should always have a drive to get better. Without motivation to improve your violin playing, you will quickly find yourself without the will to play at all!
Though some may find it daunting, practicing efficiently does not have to be so. Take these few tips to maximize your practice efficiency:
Practice good habits, not mistakes.
Stop and correct yourself if necessary when you are practicing and work out what went wrong and how you can fix your mistake.
Always try to play the piece, study, or scale better than you played it before.
The best good habit you can cultivate is a focused mindset when playing; try not to let your mind wander.
Practice with a Smile
It is easy to get frustrated and discouraged when starting to learn the violin. Don't get too down on yourself!
The violin is quite possibly the hardest instrument to learn and the mere fact that you are trying something new is admirable.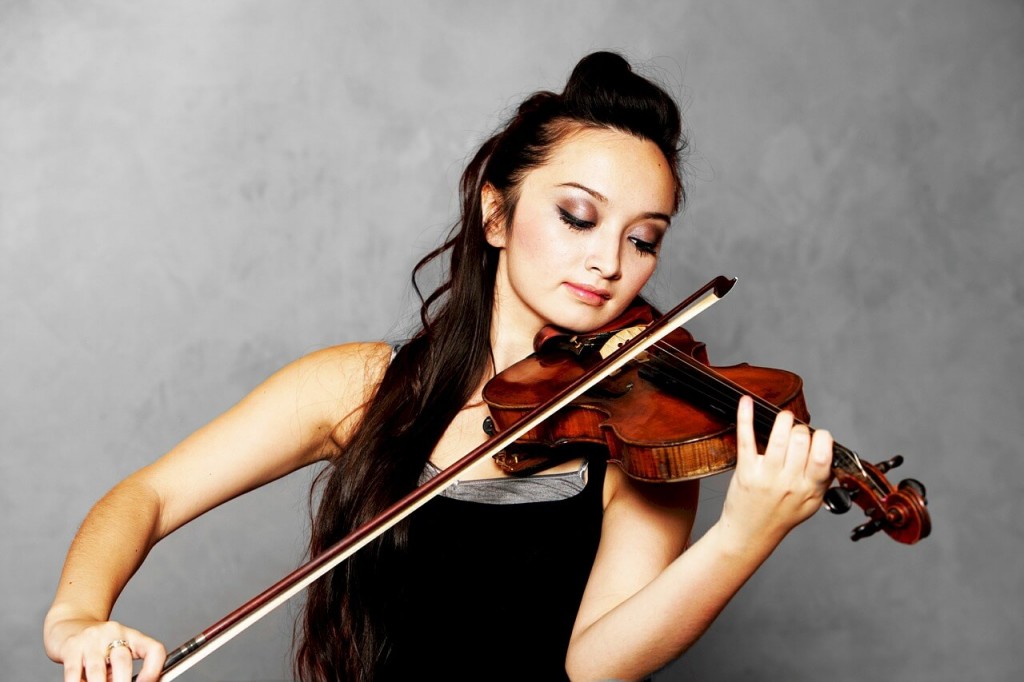 If you do find yourself becoming discouraged, try these three things. Firstly, try to remember what made you pick up the violin in the first place.
Hold onto that joy of playing. Secondly, remember to celebrate your own success and growth. It's okay to make mistakes!
Even the most seasoned professionals make mistakes or play out of tune sometimes, and they have been playing for many years.
Finally, share your music with others: it's the best way to spread joy!