The violin is one of the most delicately constructed musical instruments, with lots of tender loving care put into making them.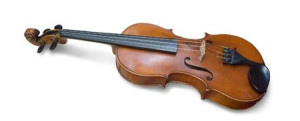 With so many intricate components, violins are handcrafted with love all around the world and, due to the labour intensive work, violins often have steep price tags.
For beginners and amateurs, there are great quality violins on the market at a reasonable price but once you fall in love with the violin you will not be able to help yourself looking at top class violins.
Leading Violin Makers
The leading violin makers are Stradivari and Guarneri, both Italian violin makers that have been making violins since the 16th Century.
Originally made for royalty and those with a lot of disposable income, Antonio Stradivari made approximately 1000 violins, with just 650 said to still be around today.
With so few violins left, they invariably come with a very high price tag, particularly older models that were made when Stradivari was more experienced.
Bartolomeo Guiseppe Guarneri (del Gesú) is said to be the finest luthier of all time. Born into a family of Italian luthiers in the 17th century and went on to become known world wide for his unique skills.
There as few as 200 Guarneri violins still left, meaning that they fetch high prices at auctions and are highly prized possessions of their owners.
For the every day violin player, a Stradivari or Guarneri price tag is way out of their reach but fiddlers all over the world delight in researching about their beloved instruments.
One can dream of owning one of the world's most prized and most expensive violins, after all what is life without a dream?
For serious musicians, a highly sought violin is an important status symbol, with some of the world's top violinists having the opportunity to play violins that coast millions of pounds.
The Most Expensive Violin
Violin lovers will often debate who is the best out of Stradivari and Guarneri, with strong arguments for both cases.
Of course, there has been other excellent violin makers, most notably Amati and Lancaster, but Stradivari and Guaeneri are consistently sharing the accolade of makers of the most expensive violin in the world.
Over the years, auction houses have seen collectors all over the world bid high prices for a prized violin from one of the two Italian greats.
Up until 2013 Stradivari held the record for the most expensive violin, with their 'Lady Blunt' instrument.
The violin is named after its first known owner Lady Anne Blunt, granddaughter of Lord Byron.
Like the Messiah Stradivarius (1716) , The Lady Blunt Stradivarius has survived and are in exceptional condition, given their age, as they have mostly been bought by collectors rather than working musicians.
The Lady Blunt was bought at auction in 2011 by an anonymous bidder for a staggering $15.9 million dollars.
It was auctioned by a Japanese music foundation in a bod to raise money for Tsunami victims, a special touch indeed.
The Lady Blunt was owned by her namesake for many years but it has also been played by French luthier Jean-Baptise Vuillaume and guitarist Richard Bennett, amongst others.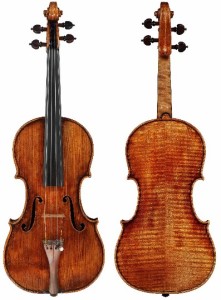 The current world record holder is, however, the Vieuxtemps Guarneri.
This Guarneri del Jesu instrument gained its name after being owned by the Belgian 19th century violinist Henri Vieuxtemps.
The instrument was later used by Yehudi Menuhin, Itzhak Perlman and Pinchas Zukerman.
It was bought anonymously at auction for $16 million dollar and the new owner has since donated the historic instrument to American concert violinist Anne Akiko Meyers, on loan for the rest of her life.
The violin is said to be in perfect condition, with no patching work at all. Meyers uses the violin for tours and performances, alongside her prized Stradivarius violins, and has been quoted as saying
"I had to try it, and instantly fell in love," Meyers says. "It was an incredible chemistry that occurred."
$16 million dollars is a staggering amount of money for a musical instrument but it is quite clear the amount of love felt for the Vieuxtemps in it's 273 year old history. Meyers quoted, after her first play of the instrument.
"I had to try it, and instantly fell in love, It was an incredible chemistry that occurred."

The chemistry is what cannot be denied and, if you ask anybody that plays violin, their instrument is worth so much more than the money that they paid for it.
With the 'Messiah Stradivari ' being estimated to be worth $20 million dollars, it is not clear how long Guarneri will hold the world record.
What is certain is that the violin still instigated passion amongst players and collectors around the world, with some seeing money as no object in their quest to own the perfect violin.