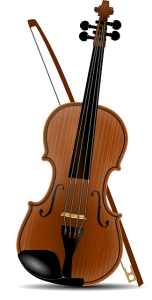 If you were to look at your friends and family members bucket lists, the chances are that learning a musical instrument high on the list.
With an ever changing curriculum in schools and more and more people leading a busy life, music lessons are not a priority for most.
The great news about learning to play a musical instrument is that you are never too old.
Whilst starting at a young age can have it's advantages, you should never let you age be a factor when considering music lessons.
The violin is an instrument that has been treasured by many since the 16th century and is now a popular instrument to learn for people from all walk of life. We look at the main advantages of playing a violin and how it can affect your physical and mental health.
Benefits of playing violin
Pleasure
Albert Einstein often spoke about his love of playing the violin, stating that he was at his most happiest when playing. He quoted:
"If I were not a Physicist, I would probably be a Musician. I often think in music. I live my daydreams in music. I see my life in terms of music. I get most of my joy in life out of music"
It is this sense of freedom and ability to take yourself off to new places with your music, that keeps musicians enthusiastic about playing and learning new music. Think about how you feel after a hard day at work and how wonderful it would feel to do something that is completely for your pleasure.
The rhythm you employ when playing violin is relaxing in itself, with the tension in your body leaving you with every stroke of the bow. Once you have invested in your violin and your lessons, you can enjoy endless hours of enjoyment playing music.
Improved Mental health
Music is a great way to relieve stress, as you may know from all of the times you have blasted The Rolling Stones out of your stereo, when you need to shake off a little nervous energy, or when you have cried into your headphones as you listened to Celine Dion for the millionth time after your break up.
The endorphins released whilst listening to music can make even the dreariest day seem better and this sense of relief is heightened when you are in control of the music you are listening to.
Anxiety, stress and depression are a very real part of everyday life for a lot of people, with therapists, such as Kimmo Lehtonen, using music therapy to alleviate both physical and mental health in those experiencing difficulties.
"Music therapy has many faces," Lehtonen, a clinical music therapist in Finland. "Music has a close relationship with unconscious emotions, which are activated by musical movement. To me, music represents a microcosmos which has a close relationship to our inner feelings. These feelings are so strong, they're meaningful even if patients cannot remember who they are." (www.livescience.com)
Being in touch with your feelings and having an ability to express them in a therapeutic way, can make a huge difference to you mental health and music is a great way to express how you are feeling without words.
Aside from improving mental health, playing violin can also improve your physical health, with studies showing that playing musical instrument can lower heart rates and blood pressures, both symptoms of stressful life.
Studies have shown that playing a musical instrument lowers heart rate and blood pressure
Improved Memory
Both listening to music and playing music has shown to improve your overall cognitive development, with improved memories seen in those that are actively involved in music. Some sources say that playing a musical instrument can improve your IQ by over 7 points. Click here to learn more.
With the need to memorise notes, chords, lyrics etc, there is a definite need for the brain to function in a different way for those who play violin. Research in to Alzheimer's disease, is looking at how playing music in your early years can improve your long term memory and ability to ward off the disease.
Increased Dexterity
Whilst the violin is not a heavy instrument you will soon begin to notice changes within your arm muscles when you begin to play. The positioning of the violin and bow, will gradually lead to an increase in your arm strength.
You will also notice how much more dextrous your fingers and hands feel as your right hand learns to control the bow. After much practice, the strain on your fingers will alleviate and you will find that you are much more flexible than you ever thought you could be.
It is also worth noting that playing violin will improve your posture, as you learn to position to straighten your back and sit tall in order to play.
It Can Boost your Self Esteem
Learning to play any musical instrument is very rewarding and overcoming the complexities of playing violin even more so. Accomplishing something new, like playing a musical instrument, gives a great sense of personal achievement and makes all the hours of practising worth it.
Picture yourself in a room full of friends at a party, where you can get out your violin and impress people with your new 'party trick'. The ability to give joy to others will bring a smile your face just as much as everybody else's and you will no longer be the one saying " I wish I could do that ".
If you are shy or lacking in confidence, the very thought of standing up in front of a crowd to play music for them may seen too much to handle but the confidence that learning to play an instrument is immense.
As your skills develop, you will open up parts of your personality that have been buried away and you will surprise yourself at just how much you can do.
Why is playing violin good for children?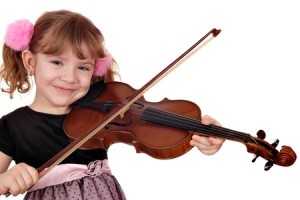 Now that you have come to understand the benefits of playing violin as an adult, you may want to consider the additional benefits playing violin will have for your children.
Just like adults, children are leading their lives with an ever increasing reliance on technology, with iPads, mobile phones and game stations occupying their free time. Introducing musical instruments into a child's life can have many benefits for both the child and his/her family.
Improves Reading and Comprehension Skills
Learning to read and interpret music can help train the auditory abilities necessary for correct word pronunciation. Many children will have learned to read by the time they begin to learn an instrument at a serious level but their comprehension is forever expanding.
As a child develops their musical skills, you will see their ability to read more complex words and interpret more in depth stories increase. For children who may not like reading as much as their peers, music can act as a way in to making them feel excited about reading and books.
As well as improving reading skills, you will find that integrating music can lead to a greater ability to problem solve in general, with attention spans being more favourable in children that play a musical instrument.
Improves Fine Motor Skills
A child's fine motor skills develop rapidly during his/her early years and continue to be enhanced throughout primary years. As well as enabling a greater sense of co-ordination, playing the violin can strengthen a child's fine motor skills, due to the need to grasp the bow and delicately finger the strings.
The action of playing the violin is very repetitious, so previously weak fingers can will increase in dexterity and muscle tone, a strength that will come in handy for a number of tasks that children take up.
Like adults, a child will develop a greater posture and strengthen their arm muscles, having an overall positive impact in their physical health.
Improves Time Management and Organisational skills
Learning to play the violin requires time and dedication, with lost people spending at least 9 hours a week taking lessons and practising. Regular lessons and practise times will allow children to realise the importance of time management, in terms of scheduling in time to play and making sure that they make the best use of their time.
Parents will support with time management for the most part but as the child grows older and their skills increase, they can gradually begin to organise their time independently.
The violin is an expensive and delicate instrument that needs to be looked after with lots of love and care, all of which the child needs to learn. Taking on the responsibility of looking after their violin, a child will subsequently grasp the importance of looking all of their personal belonging and those that are precious to others.
Teaches Perseverance
For many children, toys and games can be disposable, with the next big thing coming along year after year. With musical instruments, the child will often cherish the object as well as the music that they go on to produce.
Children may become frustrated when they first start to learn how to play violin and it may take time to get into a routine but the child will eventually recognise the progress they are making.
Learning to play a musical instrument is all about dedication and perseverance, so a child will recognise that they need to put effort into something if they want to see results, rather than throwing away something that they cannot work out straightaway.
Children love to be challenged and, as they advance through different violin grades, they will be challenged like they have never been before. The sense of achievement and personal pride will have them reaching for the stars rather than settling for being mediocre.
Exposes Children to Different Cultures
Playing the violin naturally exposes children to a wide variety of music, with everything from classical to folk and modern music. Learning songs from different parts of the world will expose children of different cultures, improving their awareness of diversity within the world they live.
Music is a way of expressing who you are, where you come from and your hopes and dreams, all of which can be shared with those that are learning alongside you. As well as learning songs and music from around the world, the chances are that your child will meet many children and adults from the world of music, all from different backgrounds.
The social aspects of learning to play a musical instrument are not to be ignored. Whilst the early days of playing violin may mean hours spent in the garage by oneself, it will eventually lead to becoming part of a team and public performances, all great confidence boosters.
As well as performing for community audiences, a child will delight in entertaining their friends and family. The ability for children and adults to play musical instruments to one and other can be a great expression of their feelings and is a great bonding experience for families.
Putting on a show for the family in your living room will be taken to a whole other level when your child accomplishes playing the violin, making precious memories to treasure forever.
With so many benefits of playing musical instruments, it is easy to see why so many parents invest in music lessons or why an increasing number of adults are looking to develop new skills. Gone are the days where playing the violin was seen as an elite after school activity or for those who are interested in classical music.
There has been a growing trends for popular bands and musicians to use traditional instruments in their performance, with grassroots instruments being used to produce a wide variety of music. Being seen to play an instrument is definitely a cool thing to write on your CV and is sure to impress everybody that you meet in life.