Reading this Yamaha SV-130 review is a quick and easy way to gather all of the information you need about this silent violin to make an informed decision.
The Yamaha SV-130 offers a way for violinists of all skill levels to be able to practice without disturbing the people around them.
The sound that comes from the violin during playing sessions is barely more than a whisper with the headphones engaged but the sound coming from the headphones is crisp and clear and akin to the resonance that you experience in a concert hall.
The "silent violin" allows for long practice sessions where you can easily critique your own sound without having to worry about driving the neighbors nuts. There are really two camps of violinists when it comes to the silent violin.
There are some violinists that are on board with using the silent violin for practice sessions while others are completely opposed.
Some violinists feel that an electric violin is actually a fiddle and not a violin. Other violinists are not quite purists and think that having the ability to practice at will is a nice option.
This silent violin whether you are impressed with the idea of an electric violin or not is considered to be one of the best student violins. You can play silently anywhere.
Of course the ¼ inch jack allows for the violin to be plugged into an exterior amp to be enjoyed by everyone if you choose.
What's The Difference Between and Electric Violin and a Silent Violin?
The electric violin becomes silent when the amp is disconnected from it. The term "electric violin and silent violin" is often interchangeable. In most all cases a silent violin can be plugged into an exterior amp and easily broadcast the sound.
There are some key situations when having access to a silent violin/electric violin is preferable over an acoustic violin.
Playing in outdoor areas
Playing among large noisy crowds
Band playing
When you do not want to disturb others.
Many times playing to an outdoor audience requires that you are able to "amp" up the sound to reach audience members. An electric violin works great in outdoor areas.
When you are outdoors the sound can seem muffled and using an electric violin like the Yamaha SV-130 is a great way to make sure that everyone can hear you play.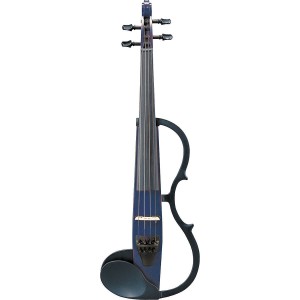 Click Here for Pricing, Pictures and Reviews on Amazon
Of course even indoors if you are playing to a large crowd as part of a band, you can use an electric violin to be sure that you are heard.
Making your electric violin "silent" so that you can practice without disturbing others gives you the opportunity to practice any time of the day or night, it is especially nice if you live in an apartment.
The Yamaha SV-130 may be the solution you have been looking for to practice quietly AND to reach audience members.
What Does the Yamaha SV-130 Have to Offer?
This violin is not typically sold as part of an outfit. In other words, you have to purchase the case, the bow and rosin separately.
It is suggested that you purchase a separate bow for this violin than the one you use on your acoustic violin to prevent undue wear on your bow.
You do not need to purchase a particular bow for this violin but many students and professionals prefer using a carbon fiber bow with their electric violin. It is just a thought, ultimately it is a personal choice.
So what does the Yamaha SV-130 have to offer? This is a full sized silent electric violin. It is a 4/4 size. The Yamaha SV-130 is the first in the Concert Series from Yamaha.
Yamaha SV-130 Concert Electric 4/4 Violin Outfit including a Johnson Artist Carbon Composite Bow & Yamaha Red Gig Bag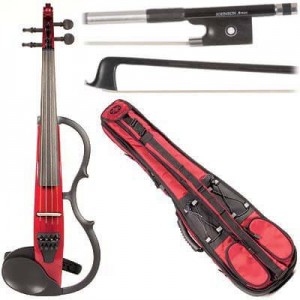 Click Here for Pricing, Pictures and Reviews on Amazon
It offers a master volume control (reverb type), it has an aux out and aux in. It comes complete with headphones. It also offers a Piezo sensor.
It has a built in pre-amp which is nice if you plan on using it in front of an audience so that you do not have to worry about purchasing a separate piece of equipment.
Normally you would plug in an electric violin to a pre-amp before plugging into an amp for greater tonal control but the Yamaha Sv-130 is ready to be plugged into a free standing amp with the tonal control already built in.
The body is made from spruce. The neck is maple. It offers ebony pegs and an ebony fingerboard. It has a maple Aubert bridge and molded plastic tailpiece and molded side body. It is available in several different colors.
It has a custom Shun shoulder rest for added comfort.
You can easily connect an MP3 for practice sessions using the 1/8 jack. Having a way to connect an MP3 player and play along is a great way to get ready for a show or to hone your skills.
What We Loved About This Violin
This violin uses some acoustic components. The strings and the bridge are acoustic style strings and an acoustic style bridge.
Why is this important?
If you need repairs of the strings or the bridge you can take it to any luthier to make the repairs. You do not have to ship the violin off and you do not have to find a specialty shop. This makes the Yamaha SV-130 easy to maintain.
We loved the look of this violin. The one we looked at was a vibrant blue. It offers a sleek shape that is comfortable to hold.  We also loved that is was a "plug and play" option that offered a little more control than other plug and play violins.
It is lightweight which makes it more comfortable to play. There is nothing worse than struggling to lift your instrument or dealing with fatigue if your instrument is too heavy as is the case with other electric violins.
The added weight of the components can be just enough to fatigue your arm but that is not the case with the Yamaha SV-130.
This is a well-made violin that can easily enhance practice and play sessions. It offers a great design that is an excellent option for both intermediate and advanced players.
The Improvements
Yamaha could step up their game by including the bow and offering this violin as part of an outfit. Most people would pay a bit more to get the added value of a bow and a case.
The cost is reasonable but it would be even better if Yamaha could lower the price a bit to make this instrument more accessible to everyone. Of course adding in the case and the bow would justify the cost staying where it is at.
There really is no way to improve on the instrument itself. It has a great design, it is lightweight and offers a great deal of controllability which is imperative when both practicing and playing for an audience.
Yamaha is a well-known name in electric string instruments so it is really no surprise that this model is hard to find anything to complain about.
Overall
An electric/silent violin is an excellent practice tool but on the stage if you are looking for a truer to "violin" sound and not a fiddle sound it can be hard to get from an electric violin.
The Yamaha SV-130 does a really good job of getting as close as possible to the "violin sound" that most musicians are looking for.
Like other silent violins the Yamaha SV-130 is not meant to replace your acoustic violin it is meant to enhance your skill level. If you plan on replacing your acoustic violin, this is not the model to do it with.
Silent violins are typically more ideal for fiddling than to get a classical sound from.
Some instructors actually feel that an electric/silent violin should not be used by a beginner for practice sessions because the tone is not true.
One of the tenets of string instructors is to train their students to use their ear to listen to the sound of the music in the environment in which it is being played.
Playing "silently" does not help the beginning student to hear the nuances and tones of the instrument in different environments.
For the intermediate and advanced players, the ear is already trained so they can get the most benefit from having an instrument that they can play and practice with any time of the day or night.
Of course if volume is the goal and nuance can be a sacrificed a bit than the silent violin is a great option for any player at any skill level.
Overall the silent violin is a good practice tool as long as you have developed your ear and understand that the results can be different from an acoustic violin.
If you are looking for a silent violin that is highly controllable then you would do well with the Yamaha SV-130.
It is a top of the line model that is lightweight, comfortable to play and that offers the bells and whistles that make it a stand out instrument.