Over the past decade, the supply of music applications and software has grown extensively.
Designers are constantly producing and marketing new educational and performance tools at a pace with which the consumer can not keep up.
But like many consumer goods, the vast majority are flawed or inadequate for accomplishing their intended goal.
Few work well, many are expensive, and most have a better competitor available.
And you don't want to waste your time and money buying a bunch of apps that you won't find useful, not to mention using all of your device's storage.
So what apps can a blossoming guitar player trust to assist them in their learning?
Amazing Slow Downer
I've listed this app first as I feel it is the most valuable music educational technology available and the one I continue to use most consistently.
It is an indispensable teaching, learning and rehearsing tool.
The Amazing Slow Downer allows users to slow down the tempo of a recording without changing the pitch, which allows the player to practice a piece of music at a reduced speed commensurate with their present technical ability.
This can be helpful for both learning a challenging musical selection and transcribing a piece by ear.
The Amazing Slow Downer also has a looping feature so that users can isolate a particular section of music for rehearsal or transcription.
I've used this app over and over to teach my students to play full songs, transcribe solos, and even rehearse for my own projects.
The Amazing Slow Downer exists both as a desktop and mobile app so users can decelerate tracks in practice rooms, rehearsal studios, or in-home lessons.
It's even compatible with Spotify Premium for reducing the tempo of streaming audio so that users are not required to purchase individual tracks.
Guitar Toolkit
There exists an endless number of guitar tuner and metronome apps available through any mobile app store.
Some work better than others, but most are only reliable for one function.
Guitar Toolkit not only works well as a tuner and metronome, it has a variety of additional features that are useful for every guitarist.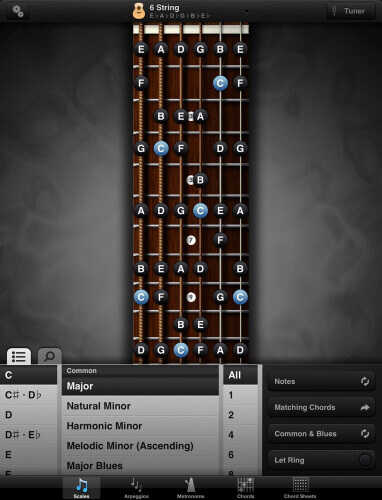 For instance, it includes a feature which displays scales and chords for every possible position, shape, and inversion on the neck, which can be modified to fit any tuning or even incorporate a capo.
The chord function also allows users to create chord charts for songs and even download educational chord studies.
The metronome has various tone settings so the user can find a sound that suits their liking, including a variety of time signatures, rhythmic pulses, and even a customizable drum machine for practicing different grooves.
Guitar Pro
Whether learning or teaching guitar, producing and finding tablature that is accurate and easy to follow can be a formidable obstacle.
Some music notation software (such as Finale) have a guitar tablature function, but few are dedicated to the guitar itself, many are difficult for new users, and most have you paying extra for orchestral features you don't need.
Guitar Pro offers notation software that is specifically dedicated to guitar transcription, allowing users to include features like fingering, chord symbols, harmonics, tapping, and more, while remaining intuitive and user friendly.
Moreover, there is a compatible mobile app so users can take their transcriptions with them wherever they go.
I found this feature particularly useful when I was traveling to in-home lessons.
There is also an extensive library of song and lesson transcriptions available on the internet that can be downloaded, read, and printed through the Guitar Pro app, eliminating some of the need to rely on sloppy, inaccurate internet tabs.
Auralia
Though not exclusively a guitar app, Auralia provides a comprehensive ear training platform for mastering the aural skills required of any musician.
Lessons start as simple as determining whether two tunes are the same or different and progress to advanced modal recognition and jazz harmony transcription.
Course and exercise topics include comparisons, imitation, singing, dictation and recognition exercises in scales, harmony, rhythm, pitch/melody, and more.
Each topic has a progressive set of levels in which users must demonstrate proficiency before proceeding.
Users can also create their own custom quizzes for specific abilities they want to improve.
In addition to the available computer software, Auralia sells individual mobile apps in each topic so users can practice their ear training on the go.
I've even found myself studying my chord recognition in between sets at the gym!
GarageBand
When you come up with a guitar part you like, it is extremely helpful to have a means of recording it for the sake of posterity.
Countless hit songs have been lost to the inability to record or save an idea that springs at an inopportune moment.
Using the voice memo app on your phone might work, but it is difficult to export that recording to other apps and it has no ability to layer multiple parts.
On the flip side, most professional recording software is expensive and difficult to learn.
GarageBand solves that problem, being inexpensive, user-friendly, and mobile compatible.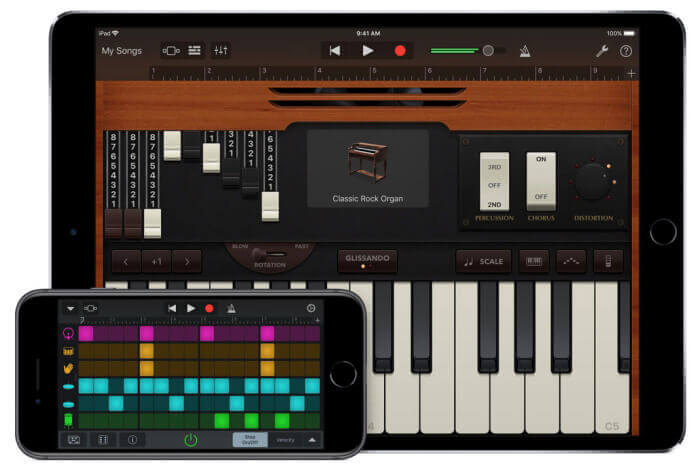 It evens includes a feature that allows users to plug their guitar directly into their phone, laptop or tablet and experiment with a bank of amplifiers and effects pedals.
Vocals or other instruments can be added through your device's external microphone or an auxiliary microphone connected through the audio port.
This can be especially useful for writing new tracks, allowing players to loop a rhythm track and experiment with lead parts or cut and paste sections to experiment with song form.
---
While this is not a comprehensive list of all the apps guitarists might find useful, this should give the curious guitar player a decent place to start when seeking applicable musical technology.
At the very least, you won't end up emptying your bank account and filling up your phone storage with useless apps that don't do what they advertise.
These apps are updated frequently to incorporate the latest available upgrades and accommodate user needs, so don't be surprised if these apps become even more useful in the future.
So enjoy the money and space you'll be saving on your phone and tablet without a bunch of useless apps!
About the Author