If you're interested in learning this brass instrument you first need to know what are the best trombone brands for beginner and intermediate students.
The brass family of instruments is known for their contributions to jazz music and is one of the most fun instruments to play in any band.
This guide is going to highlight some of the best trombones for students, so you don't have to spend hours combing through trombone reviews.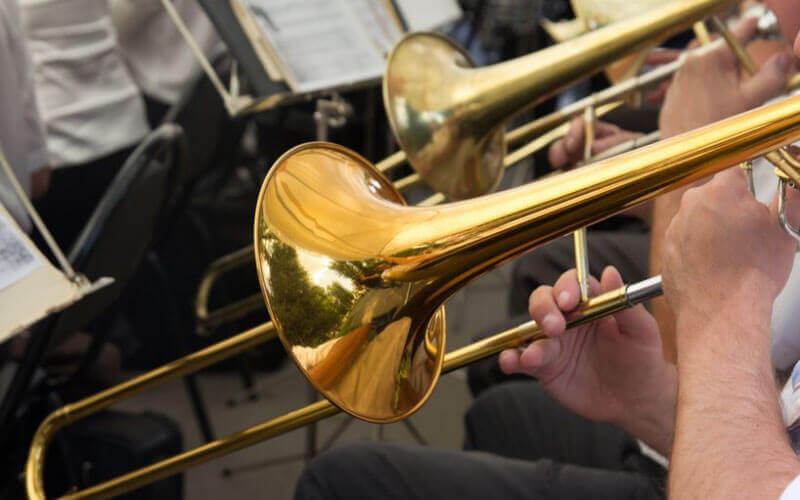 Here's what you'll learn in this guide:
Best Trombone Brands
There are several manufacturers that make excellent trombones including Yamaha, Bach, Conn, and Mendini.
This list is not all inclusive of the best trombone brands in the world, but are a sampling of the best trombones for beginning and intermediate students.
The top 3 trombone brands for beginner or intermediate students are:
Yamaha
Yamaha has become the largest manufacturer of musical instruments in the world and makes trombones and other instruments in a range of styles and price points.
The company was established in 1887 and is one of the most respected brands for musical instruments.
Bach
The Vincent Bach Company was established in 1918 by an Austrian trumpet player named Vinzenz Schrottenbach.
The company is an American manufacturer specializing in brass instruments and is a subsidiary of Conn-Selmer.
Conn-Selmer
Founded by Civil War Prisoner of War Charles Gerard Conn (Indiana) the first instrument manufactured by this company was a cornet in 1875.
After many changes in ownership, the company eventually became Conn-Selmer and is a subsidiary of Steinway Musical Instruments.
Another brand consideration:
Mendini
Mendini trombones are made in China and sold through Amazon and a few other dealers.
Mendini trombones can be a good choice for beginners who don't know if they are going to stick with music for long because of their affordability however this is not the top brand for intermediate or professional trombone players.
Best Beginner Trombone Reviews
If you are looking for the best beginner trombones by the leading brands in the trombone industry, start with these top trombone reviews.
You won't go wrong choosing any of these to learn how to play the trombone.
Keep in mind that if you get serious about the trombone, you will want to upgrade to an intermediate trombone before high school or before beginning competition settings.
Yamaha YSL-354 Tenor Trombone
The Yamaha YSL-354 has a yellow brass bell and a gold lacquer finish.
This trombone is one of the standard trombones made by Yamaha and is considered their student model.
The YSL-354 trombone is a great standard beginner trombone.
Key of B flat (Bb)
8″ Bell
Medium bore (0.5″)
Yellow brass outer slide
Nickel silver inner slide
SL-48S Mouthpiece
Case included
One of the best advantages this trombone has to offer is that it was specifically built by Yamaha for students so that students could sound professional as soon as possible.
These trombones are durable and tested to ensure quality before being shipped to the student trombone player.
The Yamaha YSL-354 also comes in an "s" model that is silver plated rather than gold.
The only disadvantage there is to this trombone is that, at over one thousand dollars, it can be a bit pricey, especially if purchasing for a child.
While the price tag may seem a bit high, you can be sure that Yamaha backs up their instruments and the standard tenor trombone is the most popular trombone sold by Yamaha.
Student trombones like the YSL-345 are perfect for students in grades K-8 or students that are not competing.
Mendini by Cecilio MTB-L Tenor Trombone
If you're looking for the most inexpensive beginner trombone for students, Mendini by Cecilio MTB-L is a good choice.
This model cost less than $200 from most retailers and features a .500″ small bore and an 8″ bell.
The body is made from yellow brass and the manufacturer makes no mention of what the inner or outer hand slides are made from or plated with.
This trombone is a B flat tenor slide which is most common for school bands.
Yellow brass
B flat tenor slide
.500″ bore
8″ bell
Balanced weight distribution
Silver plated 12C mouthpiece
This trombone is sold as a beginners kit on Amazon and through other retailers that comes with a plush-lined hard shell carry case, a pocketbook for trombone, gloves, soft cleaning cloth, and oil for the slide.
Mendini also includes a one year manufacturers warranty against product defects.
This Mendini by Cecilio trombone is also extremely lightweight at only eleven pounds and does not include the F wrap.
This trombone is the #1 best seller in brass trombones on Amazon due to it's affordability however students that progress in their music education will see that this trombone does not have the same tonal quality as beginner or intermediate trombones made from the top manufacturers of brass instruments.
Bach Model TB301 Tenor Trombone
The TB301 tenor trombone is Bach's best selling trombone and is specially designed for students.
This trombone, as well as all Bach instruments are made in the United States using high quality materials.
This trombone is a yellow brass with a clear lacquer coat with a .5″ bore and 8″ bell that provide great sound projection and good control.
The inner hand slide tubes are nickel silver plated in chrome which make for quick and easy sliding and a smooth surface.
Outer handslide tubes yellow brass
Brass outer slide
Connecting ring on bell
Bach 12C Moutherpiece
50882E molded case included
The same craftsmen that build the professional Bach models such as the Stradivarius also build the student models making the expert craftsmanship unrivaled by other competitors.
Bach instruments are known for their clear and resonant sound from their hand hammered bells that are also durable and versatile.
The only disadvantage to the Bach TB301 tenor trombone is that it is slightly heavier than its competitors at sixteen pounds.
Bach instruments are consistently recommended along side Yamaha instruments as perfect for beginner trombone players.
Conn-Selmer Prelude TB711 Tenor Trombone
The Conn-Selmer TB711 is a great student trombone especially designed for the beginner player.
The bore is only .509″ which makes tone production easy and the yellow brass bell is 8″ and designed for projection and clear resonance.
The Conn-Selmer Prelude student tenor trombone has a durable finish and includes a case.
Fixed lead pipe
Yellow Brass lead pipe
Yellow Brass 8″ bell
Nickel silver hand slide
Clear lacquer finish
12C mouthpiece
Plastic case
The biggest advantage to the Prelude by Conn-Selmer TB711 is the affordability factor. This student trombone is unrivaled by the price for value.
While this trombone is affordable and great to learn the basics on, the craftsman that create the Prelude series build off stringent requirement.
These student models also do not come with the F attachment and are therefore extremely lightweight and easy to carry for the beginning marching band student.
Best Intermediate Trombone Reviews
Once you have begun learning to play the trombone, the next step up is the intermediate models.
Most high school students, and especially college trombone players, will need to upgrade to an intermediate trombone.
If you are competing, an intermediate trombone is vital to your performance. The bore horns are medium-large in intermediate trombones which produce better tone and projection of sound.
Intermediate trombones also have an F attachment that provide flexibility in notes.
C.G. Conn Model 52H Trombone
The C.G. Conn Model 52H is a great intermediate trombone and is referred to as a "step-up" from a student or beginner model.
C.G. Conn trombones are known for their innovative brass design and is the largest United States producer of trombones.
C.G. Conn trombones are remarkable for their refusal to "breakup" and their unique tone. This brand is often used in professional symphonies.
The 52H model has a large bore and a 8-5/8″ bell made of rose brass. This intermediate trombone comes with a traditional F wrap.
.547″ Dual bore
8-5/8 rose brass bell
Standard rotor
Clear lacquer finish
C.G. Conn 6-1/2 small shank mouthpiece
7549C Woodshell case
The C.G. Conn 52H greatest advantage is its superior sound quality and F wrap section that provides stability and consistency in sound.
These instruments also use rose brass rather than yellow brass. A silver plate finish is also available.
Although C.G. Conn trombones are most often used and recommended for symphony, these instruments are well suited for any type of music.
The only disadvantage to the C.G. Conn 52H is the price point. Intermediate trombones can be almost double the price of a beginner model and C.G. Conn's are worth the investment if you plan to continue into professional music.
Bach Model TB200B Trombone
The Bach Model TB200B is the step up or intermediate trombone with an F attachment.
The TB200B features a medium bore at .525″ and an 8″ hammered yellow two piece bell.
One unique feature of this trombone is the soldered bell wire around the bell which makes it very responsive with a broad sound range.
This inner handslide is chrome plated nickel silver and provides quick motion and a smooth surface. The lacquer finish is clear and adds warmth to the sound.
.525″ bore
F/B flat key
Standard F wrap attachment
Standard rotor
Yellow brass outer slide
8″ yellow brass bell with soldered bell wire
Bach 6-1/2 AL mouthpiece
4863 woodshell case
The Bach TB200B is a great option for intermediate trombone players who are entering high school or are looking to compete for the first time.
Bach trombones produce a warm sound and the soldered bell wire marks this trombone as having expert craftsmanship.
The F wrap promotes stability and clean attacks while the handslides on Bach's are known to have a smooth surface and quick slide action.
This instrument is known to be durable and suited for all types of music.
The only disadvantage to a Bach trombone is its price tag. These trombones are on the pricey side compared to their competitors.
However Bach specializes in brass instruments and you can rest assured that the quality and sound is unrivaled.
C.G. Conn Model 88HO Trombone
The C.G. Conn Model 88HO is recognized in the trombone family for having a unique tone and being specially designed for symphony performance.
This intermediate trombone features the rose brass that is unique to C.G. Conn trombones.
The trombone is often used professionally and can perform well in extreme dynamics which makes it one of the most popular trombones for professionals in the symphony.
.547″ primary Bore
.562″ bore open wrap F attachment
Chrome plated nickel silver inner handslides
8-1/2″ Brass bell
Standard rotor
Rose brass outer slide
Clear lacquer finish
C.G. Conn 5G mouthpiece
7552C woodshell case
The open F attachment and combined .562″ bore enable this trombone to have clarity that is outstanding and a open feel to the projection that is perfect for symphonic performance or jazz solos.
The rose brass that Conn is known for offers a warm tone.
There are no real disadvantages to the C.G. Conn 88HO trombone. If trombonists are not a fan of the rose brass, silver plated variants are also available for all Conn models.
Yamaha YSL-445G Intermediate Bb Trombone
The Yamaha YSL-445G is the next step up from the standard student YSL-345. This trombone features a medium-large bore horn and offers incredible versatility.
The tone is rich and balanced with a bore and bell size that are the same as professional models.
The response time is quick and accurate with a smooth sliding function that provides consistent playability in nearly all registers.
Key B flat (Bb)
Medium-large bore 0.525″
8.5″ bell diameter
Medium shank
Clear lacquer finish over yellow brass
Chrome plated nickel silver inner slide
Brass outer slide
48 mouthpiece
The YSL-445G durability is a major advantage. The inner slide is proven to hold up with use and maintain a sensitive response.
The outer slide has an accurate diameter all the way through which ensures that the construction is airtight and has amazing resonance to sound.
This model also features inner slide stockings designed specifically for this trombone which offers smooth alignment even in the 6th and 7th positions which can be rather difficult.
Yamaha also offers warranties on all of their instruments and online owner's manuals are available free to download.
Frequently Asked Questions About Trombones
What is a Trombone?
The trombone is a member of the brass family that uses a telescoping slide mechanism to change the pitch of the instrument.
Modern trombone models also have a valve attachment that can be used to lower the instrument's pitch.
What is a Trombone Made of?
Trombones are brass instruments and are made from yellow brass. This type of brass is a composite of seventy percent copper and thirty percent zinc.
What are the Types of Trombones?
Once you have decided to play the trombone, you have to choose the type of trombone you will play. There are eight different types of trombones and five trombone variants.
Cimbasso
The cimbasso is in the trombone family and is pitched in F; however, models are available in E flat, C and sometimes B flat.
This trombone requires rapid technique due to it's valve use.
Cimbassos are most often featured in operas but is not commonly found in schools or jazz bands.
Contrabass Trombone
The contrabass trombone is typically pitched in 12' F and features two valve attachments.
This trombone is commonly used in orchestras with B flat versions also sometimes used.
Contrabrass trombone players usually double as a bass trombonist.
Bass Trombone
Modern bass trombones are in B flat pitch with a weightier tone in low registers. Bass trombones will include one or two valves used to change the key of the trombone.
Bass trombones are standard in symphony orchestras, jazz bands, military bands, brass ensembles, and wind ensembles.
The third trombonist is usually assigned bass trombone which makes this one of the best trombones for beginners to learn.
Tenor Trombone
The tenor trombone is a B flat instrument and is also non-transposing. Tenor trombones usually include a three-foot attachment to lower the pitch to F.
This tubing comes in the traditional closed wrap and also an open wrap. The closed wrap is curved and attaches inside the tuning slide while the open wrap extends past the slide and has only one curve.
Tenor trombones with F attachment are popular among experienced tenor trombonists in orchestras so this trombone would be best for intermediate or advanced trombonists.
The tenor trombone without the F attachment is a great choice for beginners because it is the standard trombone seen in compositions.
Alto Trombone
The alto trombone has an E flat pitch or F pitch and sometimes features rotary valve attachments in D or B flat.
This trombone has recently seen a revival of use in choral and opera and most first chair professional trombonists playing tenor trombone are also expected to play alto trombone when needed.
Mozart, Beethoven, and Brahms have several popular compositions that include the use of Alto trombone.
Soprano Trombone
The soprano trombone carries a B flat pitch an octave over the tenor trombone.
In modern compositions, soprano trombones have been used by jazz band coronet players; however this type of trombone is not one widely used and is not the best trombone for beginner trombone players.
Sopranino and Piccolo Trombones
These types of trombones are extremely rare and are smaller and higher pitched than the soprano trombone.
These trombones are pitched in high E flat one octave above the soprano and has been used in some choir arrangements.
Variants of the trombone include the valve trombone, superbone, tromboon, and the sackbut.
Which Type of Trombone is Best for Beginners?
Tenor trombone is the best trombone for beginners. The tenor trombone is the most commonly used and is also the standard type that students start on in school bands or orchestras.
Most trombone players begin with a straight tenor trombone and eventually progress or step up to a tenor trombone with an F wrap to increase their range.
Bass trombone is a good second choice or best for intermediate trombone players, although this guide only covers tenor trombones.
How Much Does a Trombone Cost?
Trombones cost anywhere from a few hundred to several thousand dollars depending on whether it is a student/beginner, intermediate, or professional grade instrument, the age, and brand.
Other factors such as craftsmanship, materials, and bore size will also make a big difference in price.
Some trombones will also come with accessory kits and other extras that can make the price seem high.
Conclusion
The best beginner trombones can be found from any of the most recognizable brands such as Yamaha, Bach, Conn-Selmer and more.
Student trombone players need to keep quality but also affordability in mind when choosing a brass instrument.
The more expensive instruments tend to have better quality of sound, ease of use and clarity, however the more affordable trombones can be perfect for learning the basics of music on and developing your skills.
Once you master a beginner trombone and step up to the intermediate level you will see the difference quality and materials make in producing the pure, versatile sounds the trombone has come to be famous for.