Video Transcription
Well guys, welcome to Consordini.com. My name is Dmitry. I'm a sound engineer and music making teacher.
In the music production world it's hard to find the person completely unfamiliar with RME brand. Founded in 1996 that hardware Production Company got its reputation for making reliable products and providing essential audio quality.
In 2011 they introduced a real bestseller, interface called Babyface. Babyface Pro was meant to be a modern upgrade for it, it promised to get rid of old-school breakout cable and introduced a bunch of new features we are going to discuss today.
In today's video I'm going to open the package and take a look what we have bundled with the interface itself. I'm going to install the software and take a look at the basic workflows Babyface Pro offers to us.
Later on I will show how to control the interface remotely via your iPad and finally we'll see how to use your edit interface to extend number of the physical channels you have available.
I have a friend his name is Alex, he's a professional guitar player, sound engineer and music composer. And he also works for official distributor of RME in Estonia – Vivix music.
Alex uses baby face pro almost every day, I was so interested that I asked him to loan me the interface to make this review.
What's In the Bundle?
The first thing you deal with when the package is opened is a hard black case, a lot of internet reviews complain about problems with opening the case. For me it wasn't an issue at all.
The next thing I got is a ball proof body of RME itself, USB cable and MIDI breakout cable. I have noticed the unusual design of USB and MIDI cables having additional layer of plastic.
And yes, this is something RME took care about, cables seek steady and nothing can move them out of their slots.
That attracted my attention and affected the overall impression already because I love when the creator of the product cares about such small details.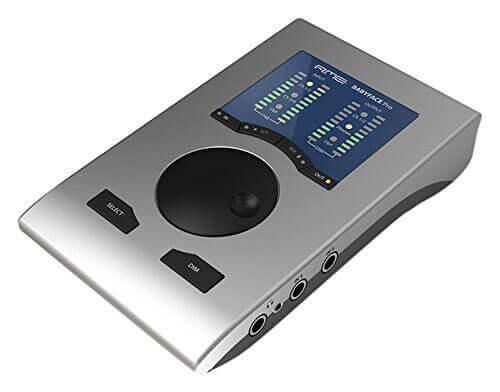 The back of the unit has the XLR inputs and outputs of channels one two. The Babyface Pro has two analog microphone inputs that can operate as line inputs with levels up to plus 90 DBU when set to 0 DB gain and pet active.
The electronic input stage uses a several balanced design which handles unbalanced and balance signals correctly automatically adjusting the level reference. The right side of baby face pro has two multi-purpose instrument line inputs and two headphone outputs.
The output channel three four take two phones outputs via independent driver circuits optimized for high and low impendence headphones.
The left side of baby face pro has an optical input and output which works for aided or SPDF, a power supply connector, a USB socket and a 6 pin MIDI day and connector for included with the breakout cable.
The socket for power connection will be especially important when you use your interface in so-called class compliant mode or standalone mode which is basically two modes when you run your interface without your personal computer.
And finally we have all those fancy control elements we are going to discuss later.
Driver installation wasn't a headache at all, all you need to do is to get the driver and so called total mix FX application basically mixing console for RME devices from the official website.
It's also a good idea to install a firmware upgrade in case you just unpacked the brand new product, alright after the driver was installed things became a little bit more complicated but nothing dramatic.
I have my DAW, Ableton Live in personal case, in any DAW you have something like this a panel where you can specify the order interface used.
I'm on Windows and here I can select my fire face USB driver which is kind of universal driver for all RME interfaces.
They have our inputs and outputs enabled, in Ableton I can quickly access the panel called fire face USB settings. It's also available as separate application in your system. I need it for specifying the buffer size or latency and some other things as well like choosing what my optical output works for, if my EQ will be recorded or just used for monitoring and so on.
The upper section works for your physical inputs, we have four of them for now all of them might be paired into the stereo like so words separated as mono.
In my case I have condenser microphone connected to the input number one. Note that now I'm here and you can choose different output sources, the one I use is headphones converts it into the control-room output.
For now it's one alone here but I can add something else, let me pick AN-12 and create that phone's to control room output, you might need the workflow usually used in recording studio.
The M button decreases the level of monitoring signal it's convenient to listen what you're telling the musician.
You will press talkback button hold it where you're speaking and release it once you're not. Of course you need one of the channels as talkback microphone channel and you have to set up properly here.
More than that you can create different mix for a musician or musicians and for yourself. You might notice that fader positions are changing while I'm selecting this or that monitoring line, control room.
The same works for physical outputs see all the different mixes, this section serves for software outputs. So how it works, I set up Ableton to send click to physical outputs 3-4, now I'm going to enable loopback for monitoring channel phones 2 because that is the channel which is actually sent to you, to the screen capturing software. I use OBS by the way.
Let's enable click. Here I control the loudness of the click, routed to you the screen capturing software; let's play back audio from the system from VLC media player.
So in this section I actually can control different software sources and mix them together in this or that monitoring line, which is awesome.
The same allows me to mix different software sources with different analog or digital input sources. Speaking about effects such older interfaces are so powerful because they allow you to use order effects during recording session or live performance without any latency and without using central processor of your own computer.
Practically it works in that way – enable FX, reverb in my case increase the FX and on the channel, increase FX return you have plenty of presets as well as you can tweak and save your own here.
More than that you we have built-in EQ or low-cut filter and as I mentioned previously in fire face USB panel you can specify if you want to record this or just used for monitoring.
Let me mention possibility to make snapshots which are kind of mixer states, which might be stored in easy manner like this then you can recall them just by switching those snapshots.
To maintain overview within total mix effects channels can be hidden. Under options channel layout a dialect lists all inputs and outputs with their current state after finishing those settings the whole state can be stored as layout preset.
Note that you can link your faders or other parameters by this and now they are linked together, you clear them like this.
We have two different visual representations for our mixer, matrix mode and mixer mode, under the options I can enable MIDI control or OSC control.
Also it's useful to note ARC and key comments. ARC stands for physical buttons and rotary encoder on the interface itself. As you can see you can easily reprogram four buttons you have on your interface, ALT, AD and DIM buttons, you can use and map your computer keyboard keys as well as many other options including footswitch and so on.
Control Workflows
Alright guys now let's take a brief overview on control workflows which are offered by people who created Babyface Pro for us, as you can see we have peak meters for small buttons to big ones and rotary controller on the interface itself.
Those are met automatically the total mix FX application. Let's take a look how to deal with it.
First of all it's obvious that input and output change the focus and assign peak meter to the chosen channel. Once I'm here I can see big meters for inputs number 1 and 2, while I have microphone connected to the input number one only, so 3/4 and optical ones.
The same for output as I have my headphones connected and signal routed only to my headphones. We can see that only 3/4 is showing on our pic meter. So how to control it, let's take mix.
And now by changing the position or controller I can create the sub mix for my headphones. If I have second instrument connected, I press select and switch to input number two, there might be a guitar for example.
If a press output I switch to my main mix which is 3/4 again, controlling the gain for input number one, let's go back to it.
Hold select, now I can change my gain. Pressing select again will bring me to channel number two. The M button will enable lowering the level to preset level which is there by definition.
In case you're interested you can set up your own mappings, preferences that I mentioned before.
Now let me show you how to control your total mix effects remotely via your iPad. I will demonstrate two different applications and show how to connect them and make it possible to do that.
The first application we're interested in is called Total Mix Remote and is available in App Store created officially by RME for total mix effects.
As you can see I have it connected already big meter is alive, we have to go to our total mix effects first on our computer.
Make sure that enable OSC control is active, go to network remote settings tick enable total mix remote server. Here we have our IP address host name and port number which should be 7009.
After all I go to iPad to the parameter section, tap host connection settings, enter my IP address here and activate first host and basically that's it.
Press done and I can control everything including FX and so on, then my total mix remotely by Wi-Fi. Of course your iPad and your host computer have to be on the same Wi-Fi network before.
To connect touch a C you have to get special preset from RME forum, I will provide the links in the description and you need simple application TouchOSC Editor.
Click open, upload your preset in our case total mix phone. Go to sync mode within your culture see in parameters. You have to upload that layout first so you go to layouts you press enter, found your host name tap it and you get your preset or your layout uploaded.
You select it open your total mix FX, go to your options again you make sure that AC control is enabled, go to settings and under OSC you find your host name, select it, make sure all ports correlate with what you have on your screen.
It's possible to control everything via iPad it works vice versa, so it tracks the positions and it also has detailed control of every option including FX and control room which is pretty awesome.
Modes
There are three modes the baby face pro operates, driver based mode we discussed mainly today, standalone mode and so-called class compliant mode to connect your interface to iPad via a camera connection kit and turn it into the digital mixer for live performance and live recordings.
Of course you need special application installed on your iPad. To activate class compliant mode connect power supply and iPad hold down select and the DIM buttons, unless the level meters will confirm the mode is activated.
Well here we have my old Behringer body Ultragain Pro 8, it supports edit format and optical cables are used.
Let me connect them. Here's my audio interface. I will plug microphone cable into the channel number five which is actually channel number one in my ADA.
Now in total mix FX I can see the signal which is the first channel in our ADDA module. I will split the stereo channel into two independent mono ones.
RME also bundles Digi-check, the utility to track and eliminate digital connection problems which is so important once you use four months like ADA the whole bundle of meters and analyzers. They are created to display different types of signal information on your screen.
I found the Babyface Pro extremely convenient for video lesson recordings and live streams imagine connecting the output of your audio interface back to the input with a cable. But you don't need to use cable you look back your signal just by pressing that button.
Conclusion
To make a summary Babyface Pro is definitely a top level audio interface, probably one of the best portable solutions I ever had in my hands.
And it's so reliable, audio quality is great. Also it's so flexible and elegant, but the same fact makes it a little bit too complicated for the total beginner.
Also you are limited with 12 input channels only but the old interface was positioned as a solution for the project studio pro live performance so it does the job well. I definitely suggest to try it yourself it's really worth it.
That's all for now. It was Consordini.com and Dmitry, bye.