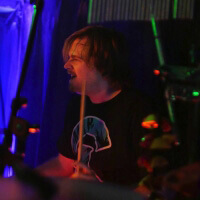 Alex is a multi-instrumentalist, record producer, audio engineer, and filmmaker based in Denver, CO. Over his career, he's worked with hundreds of clients from the US and around the world, including Grammy-award winning artists and producers and major national brands.
Growing up in the music industry
He got introduced to the world of music at quite an early age. His father, the Grammy-nominated producer and songwriter Joe Scott, practically raised Alex in the studio and fostered a love for music that would have a lasting impact on Alex's life and career.
Growing up alongside top-notch musicians of all sorts inspired Alex to try a variety of instruments. At the age of 8, he learned how to play piano and guitar, when he was 11 he started learning bass and by the age of 13, he got his first drum set and recording equipment too. He stuck with the bass and drums and by the age of 21, he was playing those as a full-time career.
As a professional freelance bassist, drummer, and record engineer, he toured with lots of bands working alongside world-famous musicians such as John Popper (Blues Traveler), Thievery Corporation, Ween, DJ Logic, Blood Sweat and Tears, and many others.
A true multi-talent
Even though playing music is his first and foremost passion, he also followed along in his father's footsteps by becoming a record producer himself. Alex runs Hyphonic, a private studio in Arvada, CO specializing in commercial production and remote mixing/mastering. He has 12 albums to his credit as a producer and sound engineer, as well as work in television and online content creation.
Alongside those projects, he also offers online lessons in bass and drums, helping beginners to master the basics of those instruments, as well as develop the love and passion for playing them, that he had from early on.
Combining all of those impressive skills and his expertise in various music equipment, as well as his drive to spread knowledge and his love for music in general, he creates online content for Consordini, delivering in-depth and easily digestible video reviews of various instruments and other equipment.