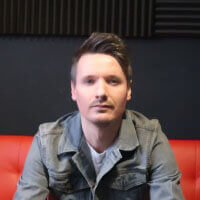 James is a USA-based writer and musician with a passion for audio production. Growing up he was surrounded by talented musicians and different forms of music, which set the path for both his personal and private life. He played several instruments during his childhood, dipping his toes into all sorts of musical genres, but once grown-up he discovered that his true calling is music production, rather than creation.
Strong roots in the music industry
Being in the studio for hours on end has was never an issue for James, and having a degree in Audio Production, as well as years of experience in the wider music industry, he is perfectly equipped to help both the young and inexperienced, as well as strongly established musicians, to get the best out of their skills and to create the music that they envisioned.
His personal musical interests include jazz, funk, hip hop, blues, and rock, but professionally he worked on a lot of different projects and with all sorts of genres, proving that he is a true professional and dedicated to getting the best out of every production he is involved in.
Sharing knowledge as a career
Apart from having strong roots in the music industry, James is also a talented writer and takes great joy in sharing his knowledge through this hobby. All his articles and reviews are always meticulously researched and presented in a way that is easily understood while being packed with useful information. In addition to that, he is also a lover of all things tech, especially the latest keyboards, synths, DAW's, virtual instruments, and effects plugins - so ofcourse he is our go-to guy for these types of reviews.
James is a truly versatile, and reliable artist who over the years has learned how to express himself in a variety of ways. Be it through his work with musicians, or through his writing, it is easy to see the thread that runs through all of his work - the need to help and to share knowledge.