Behringer has been one of the most talked-about synth manufacturers in the industry for the last few years. Much of that talk has been about them producing emulations of much-loved vintage-synths. However, it's a little harsh to consider the latest Behringer lineup as basic emulations. They provide more a more affordable way to get an iconic sound, and they have a lot to offer in their own right.
We are taking an in-depth look at the DeepMind 12, and in our review, we will discover why it was one of the most hotly anticipated synthesizers for some time.
Before the DeepMind 12 arrived, there was a lot of talk about Behringer working on something similar to the famed Roland Juno 106. While it shares some characteristics with the Roland classic, it's far more feature-rich than the Juno ever was.
DeepMind in design
Since Uli Behringer created The Music Group as a parent company for Behringer, there have been moves to improve the brand's reputation amongst the most ardent synth enthusiasts. These changes saw much of the design and architecture of the DeepMind 12 being implemented by Midas in the UK. Midas is firmly at home in the world of high-end audio, but this project was their first synth design, so it was a calculated risk, to say the least.

The DeepMind 12 is a 12-voice analog/digital hybrid polysynth. It's mono-timbral and comes with a 49-note velocity-sensitive keybed with aftertouch. Each of the DeepMind voices has two DCOs and a switchable 12/24dB/oct VCF. They also comprise of three digitally generated contour generators, dual digitally generated LFOs, and a mod matrix. The voices can be stacked in a few different ways, from 12-note polyphony to detuned single note madness. The audio path is rounded up by a master high-pass filter followed by a quartet of digital effects units.
The standard performance controllers are present; there are pitch and modulation wheels, along with octave up/down buttons, and multi-mode, polyphonic portamento. As far as internal memory goes, you get 1024 patch memories, split into eight banks of 128 sounds. The sounds can be allocated to 16 categories, with four being available as user-defined.
The surprising thing about the DeepMind 12's architecture, is the actual size of the unit. As a four-octave synth, it's naturally going to be small, but even the front panel is on the small side. What this means for the user is that there isn't enough room to have full hands-on control. So, rather than having a dedicated knob per parameter, you have some menu-diving to do.
Now, talking about menu-diving, the screen is monochrome and also a touch on the small side. That means the workflow can be a little annoying with certain things, but it's not a deal-breaker. The upside of the synths small stature is that it feels surprisingly well made for a keyboard of this size.
Before we leave the topic of menu-diving, we should cover the five main menus. The first menus deals with connectivity; all things related to the synths 5-pin MIDI, USB, and Wi-Fi connections.
The second menu is where you set your keyboard preferences. This menu includes things like velocity curves, aftertouch settings, and any other keyboard-related parameters.
Next, the third menu is for pedal settings, and the fourth is for panel settings. The pedal menu lets you can select from multiple pedal modes, and sustain options. The panel menu is where you can adjust the settings for your physical knobs and faders to determine how they react when you move them.
The fifth and final menu is the system menu, which is where you can access various tuning options, amongst other global settings. The reason we went through the five menus is to show that despite the menu-diving being a pain at times, you can save some time by adjusting and saving your settings across the board early on.
It's all about the sound
Ok, so with a few slight navigation concerns out of the way, it's time to talk about the sound. On the front panel, you have DCO 1 and DCO 2 with their respective controls. DCO 1 has on/off switches for the saw and pulse waveforms, then two faders to control pitch mod and pulse mod. If that seems a bit basic, that's because it is. There are further parameters for sound-shaping, and they can produce amazing results, but finding them involved the menu-diving we discussed already.
DCO 2 utilizes four faders for pitch mod, tone mod, pitch, and level. What the tone mod fader does is provide another form of waveshaping. It does that through a pulse wave that interrupts each half of the duty cycle. As you increase the value, the pulse wave gets wider, creating some lovely tones.
On the whole, DCO 2 is reasonably flexible, and it can be hard-synced to DCO 1 with interesting results. An additional fader provides the final sound source in the form of a (pink)noise level control. Although the pink noise generator is a nice touch, it isn't as flexible as it could have been. The reason we say that is that the DCO 1 waveforms have no mixer control, they are on or off, all or nothing. So, that means that DCO 2 and the noise generator can only be blended with DCO 1 with limited precision. It does, however, generate some gorgeous sounds, even if it could be flexible.
As an important side note, this is a good time to mention that there is no external signal input. For the most serious sound-designers, this could be a big problem.
Filters and VCAs
Here is where we start to see Behringer pay tribute to the Juno 106. The low-pass filter features frequency and resonance faders, with extra faders for keyboard/contour tracking, and LFO modulation. The layout here is almost identical to that of the Roland Juno 106. As we said earlier, this isn't a straight emulation; there's more to it.
DeepMind 12's low-pass filter comes with an additional two buttons. The first of which switches between a 12dB/oct (2-pole) response and a 24dB/octave (4-pole) response. The second button brings up the filter menu on the screen, where you can edit further parameters, including aftertouch LFO depth and velocity sensitivity. The cutoff frequency range is right around 50 Hz to 20 kHz.
With the visual similarities to the Juno 106, you'd expect to be able to recreate some classic patches. Well, you can, but it's not always as straightforward as you'd want. The self-oscillating filters can function as additional oscillators; however, the filters don't always stay in tune with each other. Any tuning and tracking rate issues can be fixed through running calibration routines, and it makes a huge difference.
The signal path now moves onto the VCA. The exciting thing about the VCA is that it has a pan parameter that lets you spread all 12 voices across the stereo field. The default setting is mono (zero), but adding some width can really fatten up your sound, in particular pads.
The final tip of the hate to the Juno 106 is the global 6dB/octave high-pass filter and the boost button. When engaged, the boost button warms any sound by mimicking the bass response of the Juno series synths.
LFOs, envelopes, and mod matrix
The DeepMind 12 features a pair of identical low-frequency oscillators that offer seven waveforms. Again, the menu-diving issue crops up as that is the only way the waveforms can be selected. Their rate and delay times are controlled via physical faders, but their slew rate is adjusted via the menu. The benefit of being digitally generated LFOs is that it makes things like synchronization to the arpeggiator clock a practical/possible option. The frequency ranges of the LFOs are incredibly wide (0.05 Hz to 1.28 kHz) and track the keyboard with impressive precision. It's possible to use one LFO to generate FM and AM timbres, and another for various modulations. Because the DCOs are analog, you end up with incredibly consistent FM tones across all voices.
Where contours are concerned, you want plenty of snap at one end and a slow, lazy demise at the other. In that regard, this is something that the DeepMind 12 does very well indeed. The control you are given over the curve of each stage is something to behold. For example, the sustain phase offers full control over its start and end level. These amazingly detailed curves let you recreate the characteristics of lots of classic synths. The fact that you can define shapes that are not expected with a 4-stage contour means that you can program organic/orchestral sounds far more convincingly.
The modulation matrix has eight slots where your source choices can modulate your selections from 130 destinations. It also allows you to shorten contours as you play higher up the keyboard to achieve more natural sounds. Another pretty cool thing is that you can create patches with multiple pressure-sensitivity parameters to give you that iconic ARP sound. The mod matrix is pretty smart, easy to use, and possibilities are endless (or at least close to endless).
Arpeggiator and sequencer
The first feature of this section is the chord memory function. Chord memory allows you to play/record a chord and transpose it around the keyboard. You can record different chords for different keys, which is a feature you will either love or hate. Some musos don't like the simplicity of chord features like this, but at the end of the day, it's a useful performance tool, and you don't have to use it. It's also a way to create some killer patches by using a chord to generate a three oscillator patch with multiple voices per pitch.
An internal master clock can drive the arpeggiator as well as any other synchronized functions. You can set the range via the rate fader or tap tempo via the tap/hold button. The synth can also sync to a MIDI clock.
The arpeggiator is more complex than you might expect. It offers the standard modes, up, down, and random, as well as some more exciting options. Additional inverted and alternating modes are available over an impressive six-octave range. There are 64 patterns available, 32 presets, and 32 user programs. As impressive as the arpeggiator is, it does throw up another workflow issue. The patterns can be edited directly from the synth with no need for the editor software, but you can't program notes straight from the keyboard. So, as you can imagine, it becomes a little tedious.
Rounding up this section is the control sequencer. The control sequencer controls parameters from via mod matrix; it doesn't play notes. The setup of the sequencer is very similar to the arpeggiator, besides the addition of a slew generator. The slew generator allows your sequences to develop smoothly instead of jaggedly from one step to the next.
Workflow and performance
There are some workflow issues with the DeepMind 12; we have already made that perfectly clear. It's perhaps the one aspect of the Juno 106 that the DeepMind 12 could have emulated a little better. It does utilize the same kind of clickable master knob that was present on the Juno range, and some multi-button shortcuts for faster navigation. While the screen isn't hugely impressive, and years away from the now common touchscreens, it still does a job. Initially, it seems like the size of the screen might be an issue, but it remains surprisingly uncramped, and clear.
On the right of the front panel, you will find 12 voice LEDs that provide valuable visual feedback. They let you know how many more keys you can press before notes are stolen. It's particularly helpful when playing stacked voices; it's not a gamechanger, but certainly a nice touch.
As we have pointed out the shortcomings in the workflow department, we are happy to say that DeepMind 12 does shine in other vital areas. The most important being the sound, and the massive variety of sounds to be specific. Across the board, the patches are very high-quality. There are no epic fails.
With some exploration, you'll find stunning glassy tones, punchy voices, and luscious pads. The ensemble patches are particularly lovely, and as we mentioned earlier, the orchestral sounds are far more realistic than expected. On top of that, there are impressive electric pianos, clavinets, and organs. Once you explore a bit more now and start to make use of the arpeggiator, control sequencer, and mod matrix, you end up deep in EDM country. Bringing in apt phases of the LFOs, stacking voices, detuning voices, and applying effects can see you go over the top pretty quickly. However, it can also lead to some absolute monster patches. But, when used a little more liberally, you can create some fantastic lead and bass tones. The bass tones cover everything from typical house music to smooth hip hop key bass. Being a 4-octave keyboard means that it's ideal for synth bass and lead solos.
The good news, or bad news, depending on how you take it, is that the DeepMind does have an underlying tonal character. While it mimics very well the classic sounds of a Moog, Oberheim, and of course, Roland Juno, it does have its own flavor. So, even the familiar sounds have something about them that is distinctly Behringer.
One complaint in the sound department that some users may have is that it isn't multi-timbral. The ability to place two patches at either side of a split point would have been nice. In Behringer's defense, it's not a necessary feature on a 4-octave keyboard.
Our last comment on sound isn't related to functions or patches; instead, we are talking about the built-in cooling fans. The DeepMind's cooling fans can be a little noisy, and yes, that's fans plural, not just a single fan. It's somewhat surprising that a synth of this size would even require dual cooling fans, but on consideration, there is a lot of processing going on in a small space.
Effects
Four digital stereo effects slots can be bypassed if you so choose. The reason you might decide to bypass them is to maintain a fully analog signal path (VCO – VCF – VCA – HPF). If we take it back to the start for a second, we will remind you about The Music Group, Behringer's parent company. The Music Group owns multiple other brands, and many of the 33 available effects are said to be inspired by those other brands. Reverbs are inspired by the Lexicon PCM70 and 480L, which isn't unusual for any synth. Staying true to the nature of DeepMind 12, there are effects inspired by Roland and Moog, too. You then have some routing options as you can choose to pass all or some of your signal through these effects slots.
There are 10 effects configurations to choose from, some more adventurous than others. The obvious ones are all in a row or all in parallel. But, going beyond those two, you have things like feedback loops that can be glorious or costly. Obviously, it's just a case of using them at your own discretion. Too much can send you spinning into an endless abyss of sound that you won't recover from, but used tastefully; it can create pure magic.
The effects are one area where the display screen may struggle a little. The alternative is using the software editor, where the effects interface is much clearer. Many of the effects parameters are also destinations in the mod matrix, giving even more possibilities. It comes in very handy for live performance as there are no physical controls for effects, and allocating controls in the matrix is far less intrusive than trying to menu-dive on stage.
Outstanding onboard effects.
Emulates almost any vintage synth very well.
Reasonably priced.
Flexible modulation matrix.
Not as flexible as some other synths for custom sound design.
Noisy cooling fans.
Conclusion
As with many in-depth reviews, we have gone back and forth between negative and positive. Happily, I think we can safely say the lasting opinion is a positive one. You will have noticed that even though we picked out a few potential issues, the one that we brought up most is the menu-diving. We probably said it that many times that you will be thinking, ok, I get it, enough already. But, the reason it's such a prominent issue is that all other issues would seem like nothing if it weren't for the tedious workflow. What we mean by that is that is it had a more intuitive workflow, it would be hard to find any noteworthy complaints.
Let's tick off some boxes then. The build quality is outstanding for a synth of this size in the sub $1000 price range. It feels very nice to play, although being very light, the keybed feels good. Some initial adjustments in settings can make all the difference. The aftertouch is very expressive, and it's nice to have the ability to adjust the pressure-sensitivity.
As we already stated, Behringer's DeepMind 12 generates some remarkable tones. We would suggest for the most serious sound-designers, the sometimes tedious nature of creating custom patches might be an instant dealbreaker. However, it will appeal massively to players who want authentic-sounding presets that cover lots of gig-ready and timeless voices. When you consider that it costs only around a third of some flagship synths, suddenly a little menu-diving doesn't seem so bad.
From the build and feel to the effects, functions, and sound, it ticks far more boxes than it fails. The DeepMind 12 is far more than a good Juno emulation, it's a very convincing hybrid synth, and a step forward for Behringer. It's also an absolute bargain at under $1000.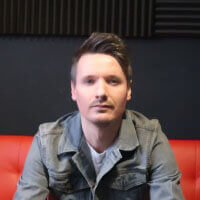 James is a writer and musician with a passion for audio production. He is a lover of all things tech, especially the latest keyboards, synths, DAW's, virtual instruments, and effects plugins. Musical interests include jazz, funk, hip hop, blues, and rock.