Music is a powerful form of art. It can make just about anybody feel happy, sad, or excited. However, being able to play music yourself is even more powerful.
And what better way to start than with an acoustic guitar.
It's a great instrument for beginners, and with a wide variety of fairly easy songs to start with, you'll be having a blast in no time.
But which acoustic guitar should you get? What even is an acoustic guitar? What are the best acoustic guitar brands?
Fret no more, as this acoustic guitar review will help you with choosing the best acoustic guitar for beginners, as well as talk about the essentials you need to understand when it comes to this instrument.
Our Top Picks For The Best Beginner Acoustic Guitars
Choosing An Acoustic Guitar: The 2019 Guide
First of all, you need to understand how an acoustic guitar works. Just the basic stuff of course, enough to know what to look for when buying one for yourself.
1.

Anatomy
An acoustic guitar is made of 3 main parts. The body, the neck, and the headstock.
The body is obviously the largest part of it and the part that sits in your lap when holding it.

The shape of the body may vary slightly, but as a beginner, you don't have to think too much about that.

There are 6 different body types to choose from, and here are the benefits of each one.
Concert/Grand Concert – Smaller, yet with a bright sound, great for smaller musicians
Auditorium/Grand Auditorium – Great balance of comfort, volume, and tone
Dreadnought – A very common body style, boasting a very large soundboard. Delivers powerful sound.
Jumbo – As the name says, this is a bigger body type, as such capable of delivering clear and loud tones.
Travel/Mini-Acoustic – Great for traveling or smaller musicians
Cutaways – This means that the part of the body beneath the neck hosts a cutaway in order to reach the neck more easily
The neck is the part where your left-hand fingers do the work, if you're right handed of course.

The width of the neck is usually around 1.72 inches, slightly wider than an electric guitar.

A smaller neck is better for playing fast and not having to stretch your fingers that much, but it also makes it harder to avoid unintentional string hitting or muting.

So as a beginner it's advised to get a guitar with a slightly wider neck. As the length goes, it isn't a big factor when buying your first guitar.

Do take notice of the number of frets. Usually, it's either 12 or 14, referring to the number of frets clear of the body.

The size of the neck doesn't affect the sound.

The headstock rests at the top of the neck and holds the tuning pegs, where the strings are wound.

The size of the headstock is pretty much standardized.
So, now that you are familiar with the terminology used when describing acoustic guitars, it's time to take a look at different factors that determine the sound and overall feel of a guitar.
2.

Tonewood
This is the most important factor when it comes to sound. Different types of wood produce different tones.
Most musicians and manufacturers agree that the type of wood used for the top of the guitar is most important.
Spruce – Most commonly used, rigid, lightweight, retains sound quality nicely
Mahogany – Provides a strong tone, great for country or blues
Cedar – Slightly warmer sound
Rosewood – High response rate, strong tone
Maple – Lower response rate, higher degree of internal damping
3.

Nylon or steel strings?
When it comes to this choice, you'll have to consider what type of music you want to play the most.
It's not that important, you can still play any style on both the nylon and the steel strings, but there is a difference in the type of tone you'll be getting.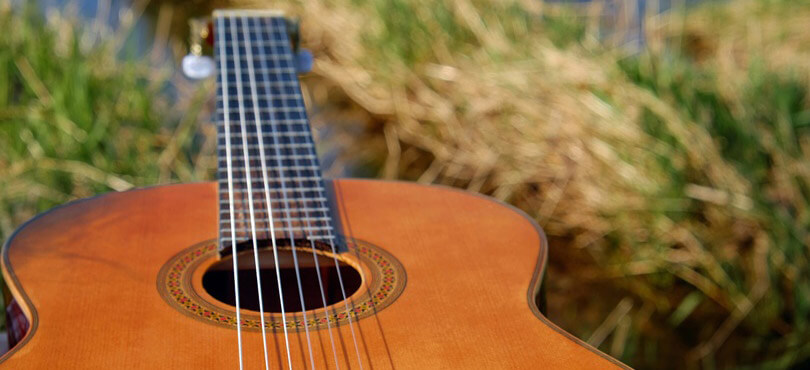 Steel strings are mainly used for playing rock or country, as they are louder and brighter.
Nylon strings, on the other hand, lean to a more soft, mellow tone. Usually used in classical or flamenco music, as they suit those styles better.
Once you choose between these two types of strings, keep in mind that they are not interchangeable on the same guitar, so choose wisely!
4.

Design
If you're planning on getting an acoustic guitar, it may well look good!
After you consider the type of wood, size, and nylon or steel strings, get a guitar that looks good in your opinion.
If you like rock or metal, take the one with those skulls and flames on the top. After all, you gotta have some style when playing!
5.

Price
As a beginner, your first acoustic guitar shouldn't be too expensive.
It's way better to start with something less pricey, and when you get a feel of it and know that you're going to continue playing, look for a better quality one.
Top 10 Acoustic Guitar Brands
Now that you know what kind of an acoustic guitar you need, it's time to choose a brand.
As there are practically hundreds, if not thousands of brands, this may seem like a daunting task.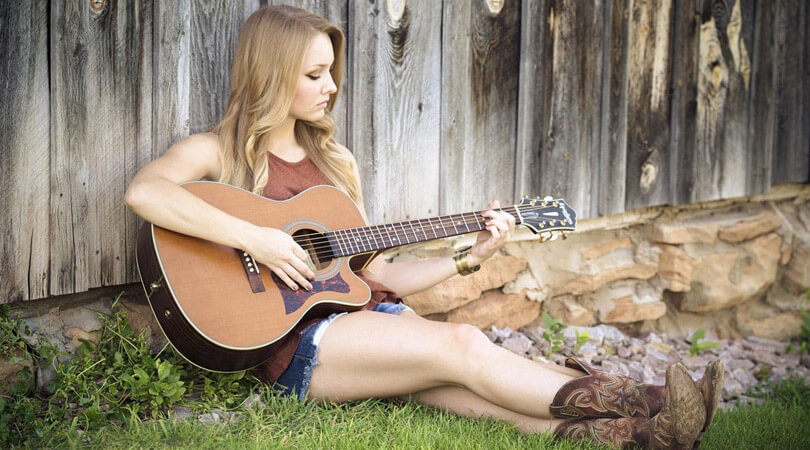 That's why we have compiled a list of our top 10 acoustic guitar brands that we find best for you to consider.
Of course, opinions differ from one musician to the other, but we are confident that this list of good guitar brands will help you in your journey of choosing the best acoustic guitar for the money.
Yamaha
Yamaha is known for making a lot of different musical instruments. From keyboards, drums, to guitars, they are well known for a reason.
With a wide range of products oriented on both the beginners and professionals, they are sure to deliver.
As a brand established in 1897, this Japanese company keeps making some of the best acoustic guitars you can find.
When it comes to acoustic guitars, there's a big chance that some of your friends had this one when they were first starting out.
Oriented towards the absolute beginners, the C40 with its high-quality finish and great sound, a real no brainer.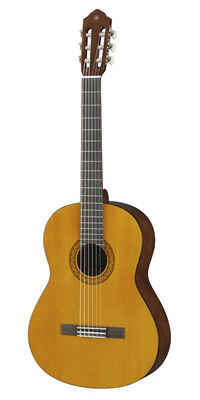 The wide fretboard provides a great environment for those amateur fingers to train. Simple, yet great sounding.
Nylon strings for smooth and mellow tones
Slightly larger fretboard
Rosewood bridge
Mahogany top
Pros
Amazing value
Gorgeous design
Great sound
Cons
Maybe too big for a child or a smaller musician
At a price between $100 and $200, surely a good investment.
The C40 is a great choice, especially considering the fact that it's made by one of the more professional brands out there.
The FG series is one of the oldest and more popular series of acoustic guitars ever. The fact that it was the most sold model in the world when it comes to acoustic guitars, says a lot.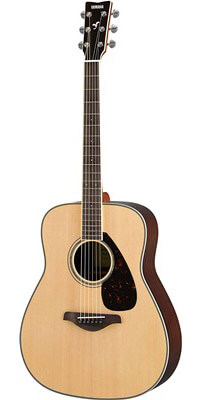 This model rocks a dreadnought shape, and with a rosewood bridge, it delivers a rich and natural sound. The neck is fairly comfortable.
Steel strings
Spruce top
Rosewood bridge
Pros
Wide variety of finish options
Good sustain
Great overall build
Clear sound
Slightly more expensive than the C40, the FG830 is a solid acoustic guitar.
As you progress with your playing and develop a better sense of musicality, you will learn to appreciate this model even more.
Fender
A brand that really doesn't need an introduction. If you've ever been to a concert or seen a music video, chances are you've seen at least one piece of Fender equipment used.
Established 71 years ago, Fender instruments have since become the synonym for quality.
A broad spectrum of instruments as well as equipment made by this company is famous for their slick design as well as superb quality.
Associated artists such as Eric Clapton, Kurt Cobain, Jimi Hendrix and many other chose Fender guitars for a good reason.
Fender FA-100 Dreadnought
Featuring the legendary Dreadnought body shape, the FA-100 is made out of basswood.
We haven't mentioned this type of wood before, as it isn't that common when it comes to acoustic guitars.
However, this wood type allowed the folks at Fender to cut down costs while still maintaining great build and sound quality.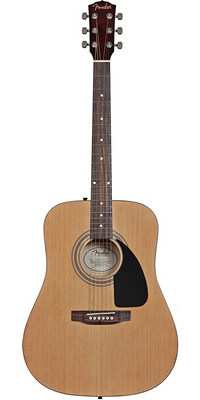 A standard rosewood bridge is just that, standard. But as a beginner, you won't be able to tell the difference anyway.
The overall design is satisfying, and the guitar rests comfortably on the lap when played.
As a characteristic of the dreadnought design, the amount of volume produced by this guitar is more than decent.
The lows can be a bit overwhelming, but not to a point that the sound becomes unclear.
Steel strings
Dreadnought body design
Basswood top
Rosewood bridge
Pros
Expected Fender build quality
Comfortable to play
Mids and highs sound very clear
Cons
Lows can overshadow the mids and highs at higher volumes
A solid guitar, especially considering it costs a bit over $100.
Being at the lower quality end of the Fender product line, the FA-100 is a nice acoustic guitar, not much more than that.
As you've probably guessed by the title, this is a guitar pack. This means that besides the guitar you get a bunch of useful accessories as well. A gig bag, a tuner, strings, picks, a strap, and an instructional DVD.
The DG-8S definitely falls into the category of good looking acoustic guitars. With a solid spruce top and a black pick guard, it's simple yet attractive.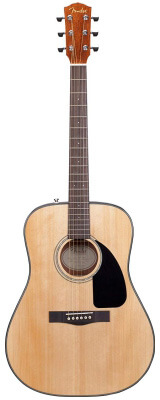 Treble tones are nicely rounded out, as well as the mids. Even when compared to much pricier guitars, the DG-8S holds its grounds.
Great playability and overall balanced feel are ensured.
Steel strings
Dreadnought body design
Spruce top, laminated finish
Rosewood bridge
Included accessories
Pros
Great range of clear tones
Beautiful finish and overall design
Easy to play
Cons
Some resonance lost due to the laminated finish
The combined sound quality and overall clean cut design make the DG-8S a fantastic value. It really is a no-brainer!
Ibanez
Another company coming from Japan. Founded in 1957, Ibanez boasts some of the most famous guitar models, as well as amps and other musical instruments.
It is the first brand to mass produce seven and eight string guitars. But when it comes to acoustic guitars, they make no exceptions.
By balancing high quality and affordability, this company offers great value for a more than reasonable price.
Using mahogany for the complete guitar is a great way to lower the selling price while still retaining excellent build and sound quality. The PC12MH is a great example.

The all mahogany body produces a warmer and heavier tone as opposed to other wood types. Amazing sustain is also a thing worth mentioning.
The open pore natural finish is there to complete the package, as the design of this guitar is absolutely beautiful, best described as vintage looking.
Steel strings
Grand concert body
Mahogany
Rosewood bridge
Cons
Not that versatile when it comes to different genres of music
If you're looking for the perfect combination of design, musicality, and playability, the PC12MH is the guitar for you.
Especially if your style of music falls into the category of blues and roots. For about $150 it's as good as it gets.
Another guitar pack, now coming from Ibanez. With a gig bag, tuner, strap and a couple of picks included, you'll be getting everything you need to start playing.
The IJV50 boasts a dreadnought design, capable of delivering that punchy and strong sound. Fret buzz is not going to be an issue, even when giving it those powerful strums.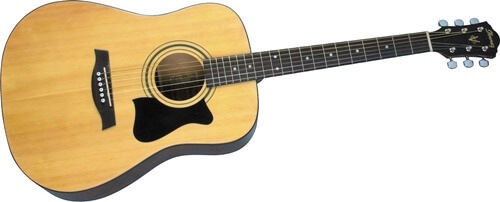 A fully accomplished sound with great resonance, and all that packed in this neatly designed guitar.
The top is made of spruce, with a pickguard in place to protect the finish from any accidental scratches.
Steel strings
Dreadnought design
Spruce top
Rosewood bridge
Pros
Decent neck stability
High-quality build
Great sound
Cons
Nothing worth pointing out
This guitar pack can be found online for just under $130.
With all the included accessories in mind, and, of course, the very well-built guitar itself, this is a great investment to consider.
Seagull
Seagull is a company founded in Canada in 1982. The main idea behind this company was to take the essence of handcrafted guitars and deliver them to needy musicians, but at a reasonable price.
They have been doing exactly that for the past 35 years. All of their instruments, which include acoustic guitars, mandolins, as well as an interesting instrument line they call the M4 (check it out if you don't know what we're talking about!) are precisely and carefully hand- made to ensure maximum quality.
As they don't manufacture electric guitars or other pieces of equipment like the other companies we mentioned, chances are you haven't heard about them.
Nonetheless, you should definitely look them up as they are more than professional.
While being very well suited for a beginner, the Seagull S6 is sincerely much more than that. It's a great choice for all those intermediate guitar players as well.
As we said, the guitar is handmade, as is clearly visible by the level of details that can be seen in each and every piece.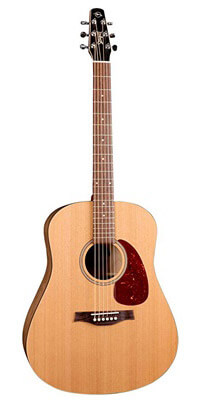 While there isn't anything fancy or extraordinary about this guitar, if we had to describe it with one word, we would say Quality.
Apart from the visuals, the quality can also be very well heard. The top is made of pressure- tested cedar, which, even after a few notes clearly makes a difference.
When compared to the other guitars we mentioned, this one has a slightly wider neck, so keep that in mind. If you have slightly smaller hands, this could be a thing to get used to.
The Seagull S6 also features electronics, so you can plug this guitar into an amp, and let those chords rip!
Steel strings
Dreadnought design
Cedar top
Rosewood bridge
Pros
Superb quality, in both sound and design
Clear tones
Option for plugging into an amp
Cons
Although the top is coated, cedar is prone to scratches
Some people may not like the wider neck profile
Nothing you wouldn't expect from a handmade instrument. The Seagull S6 delivers in all the important fields.
A great guitar for a beginner, as well as for those who have some previous experience playing.
At a price point of just above $400, it may look like a bigger investment. However, one chord strummed, and you'll understand why this guitar had to be mentioned in this review, as probably the best value acoustic guitar.
The Entourage Rustic is often described as a classic acoustic design.
As the name might suggest, this one resembles those old school acoustic guitars you may imagine an oldtimer playing on their porch. Probably better sounding than those though.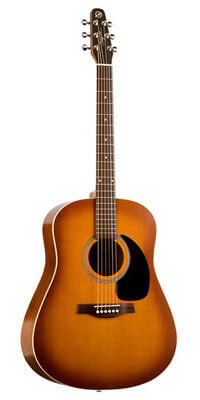 With a solid cedar top, as well as Canadian wild cherry sides, the body feels solid yet not stiff.
Although the cherry sides can feel kind of cheap, with the Entourage Rustic, that is certainly not the case.
If you didn't know what guitar you were hearing, you'd probably guess that it was far more expensive.
The sound is bright and beautiful, and certainly pleasing to hear. It does, however, offer more treble than bass, making chords more vibrant, but the lack of lower end may sometimes come out as a problem.
Steel strings
Dreadnought design
Cedar top
Rosewood bridge
Pros
Pretty much the same as the S6 Original
Certainly another great guitar manufactured by the professionals at Seagull.
If you're looking for the best acoustic guitar for the money, and have a bit more to spend, the Seagull Entourage Rustic is a great choice.
For around $350 you get not only a good entry level acoustic guitar, but a guitar you will gladly pick up and play even after you master the basics.
Alvarez
As one of the leading acoustic guitar brands in the USA, Alvarez has lots to offer.
Nearly 50 years of experience has produced many successful guitar models, synonymous with innovation and quality.
Although probably not that famous and heard of as some of the previous brands we mentioned, these guitars are well known for their unique tone and feel, as well as for the artists using them.
Though it may be one of the cheapest guitars Alvarez has made so far, the AD30 is more than a good entry level acoustic guitar.
It's certainly capable of competing with its more pricey brothers and sisters. This model was built and designed solely for beginners.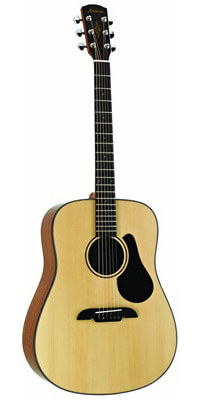 It truly squeezes out the maximum potential of its components. Though it is a full sized dreadnought, the top is cut slightly, to provide both tonal versatility as well as amazing vibrations.
Besides that, the overall design manages to balance the sound between both ends of the spectrum, as the bass and treble stand out equally, for maximum clarity.
Steel strings
Dreadnought design
Spruce top
Bi- level rosewood bridge
Pros
Designed for beginners
Great tone balance
Comfortable to play
Cons
No cons a beginner should worry about
Certainly a piece of work, the Alvarez AD30 could possibly be the best acoustic guitar for beginners.
As it is not designed for a specific genre of music, nor its specs differ much from most other guitars, the AD30 should do the job for most musicians.
Musicians can often find themselves having trouble getting motivated in the beginning. Especially if the guitar they're playing is difficult to play, or doesn't sound very good.
With the Alvarez RD26, those problems are the past. This acoustic guitar is both classic looking as well as very well sounding.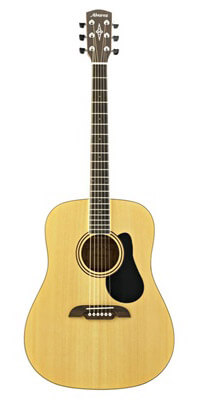 Featuring a rosewood bridge and fingerboards, as well as a Bi-level bridge, clear, crisp and balanced sound is guaranteed.
Steel strings
Dreadnought design
Spruce top
Bi-level rosewood bridge
Pros
Beginner friendly, very playable
Balanced sound
At a great price of less than $200, the Alvarez RD26 is an acoustic guitar that will definitely suit any beginners needs.
Definitely an affordable, reliable, and very well constructed guitar that sounds amazing.
Rogue
Okay, this one's a bit different. Rogue guitars are made in Korea, by a company called Sungbo.
Their guitars can also be found by some other names they use, such as Brownsville, Galveston, and many others.
Rogue certainly isn't a brand name that you will see famous musicians using.
However, due to the fact that they make really decent acoustic guitars and the fact that you are a beginner looking for one, we decided to include them on our list.
Unlike other guitars coming from not very well known brands, the RA-090 is a real gem.
At this moment, this model is one of the least expensive, but at the same time, the best beginner acoustic guitar.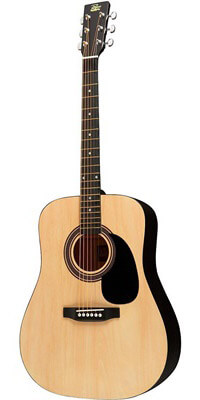 The RA-090 sports a dreadnought design made of whitewood. That type of wood isn't used that often when it comes to guitars, but in this case, you shouldn't really mind that fact.
A classic rosewood bridge is used, a common practice as we've seen so far. As the sound goes, it's more than satisfying, knowing the low price of this guitar.
While it is a bit on the brighter sound, there is more than enough warmth to go around.
Steel strings
Dreadnought design
Whitewood top
Rosewood bridge
Pros
Unbelievably cheap
Capable of producing decent sound
Cons
Quality of the materials is questionable
Not that durable
Probably only for absolute beginners
Definitely, a guitar that will surprise anyone who picks it up. Although the folks at Rogue did everything to lower the cost of the RA-090, they still managed to produce a decent guitar, both when it comes to sound and playability.
At less than $100, this guitar is perfect for those of you that aren't that sure if this instrument is for you, or you have a really tight budget.
Rogue Starter Acoustic Guitar
Fairly similar to its brother, the Rogue Starter is also what you would describe as a budget acoustic guitar.
It is commonly described as a small, yet solid sounding guitar, with good build quality and cool looks.
As its size is ¾ of a standard acoustic guitar, it's a great choice for kids as well as smaller musicians.
The top is mahogany, and the bridge is rosewood. As the build goes, some fret noise may occur, and the resonance isn't that great. But besides that, we couldn't find any other cons.
The sound can be described as having very strong mids, clear trebles, and warm basses.
Steel strings
¾ Dreadnought design
Mahogany top
Rosewood bridge
Pros
The smaller body size makes it great for kids
Sturdier than expected
Fairly comfortable to play
Cons
You probably won't pick this guitar up once you advance and buy a new one
As we said before, Rogue guitars are a great choice for those of you that don't want or can't invest a lot of money in your very first acoustic guitar.
For just over $50, the Rogue Starter acoustic guitar does its job.
Luna
Luna describes their instruments as comfortable, suitable for musicians of all ages, and beautifully crafted to engage minds, spirits, and talents.
Elegantly designed, while delivering great performance, Luna guitars are the go-to choice for many guitarists.
Although not that famous as Fender or Gibson, they definitely deserve to be on our list of top 10 acoustic guitar brands.
Though it may come across as a bit unusual, the Safari Supreme is very well built.
It also features a scaled down body and a dreadnought design. That makes it perfect for travelers as well as musicians with smaller hands. A spruce top delivers great durability as well as clean resonance.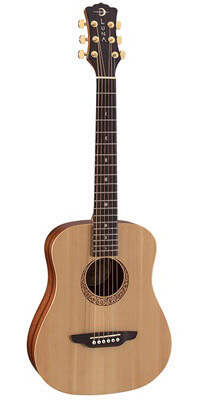 The main problem with smaller guitars is the lack of lows, but the fact that it is a dreadnought design compensates enough, with extra overall volume. Trebles and mids are well defined and crisp.
Steel strings
¾ Dreadnought design
Spruce top
Rosewood bridge
Pros
Compact design
Very comfortable to play
Whether you're looking for a smaller guitar that you can carry around with you with no hassle, or you're just more comfortable with playing a smaller one, the Luna Safari Supreme is a great choice.
For around $200, this acoustic guitar not only sounds great but has a very high quality and polished look.
The Luna Gypsy Series Henna acoustic guitar delivers a powerful sound and is very versatile, which makes it ideal for playing just about any style of music.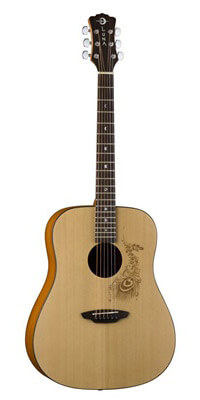 The mahogany body coupled with a spruce top give it a warm sound, with crystal-clear definition.
Steel strings
Dreadnought design
Spruce top
Rosewood bridge
Pros
Rich, deep tone
Suitable for a wide range of genres
Cons
None that we could think of
It's clear that Luna knows their guitars. A rather beautiful mixture of craftsmanship and design, make this guitar a real pleasure to play.
For only around $200, the Luna Gypsy Series Henna is a great investment, as you will enjoy playing it for a long time.
Epiphone
Epiphone has made some of the industries standards when it comes to guitars.
You don't have to think twice about getting yourself an Epiphone guitar, as Paul McCartney himself used one of their models.
With a wide variety of excellent acoustic guitars, settling for Epiphone is always a good choice.
As there is not much needed to improve the already perfect dreadnought design, Epiphone only needed to decide on a good combination of wood type for this model.
A selection of spruce, mahogany, and rosewood makes this guitar not just good looking, but very playable and comfortable to use.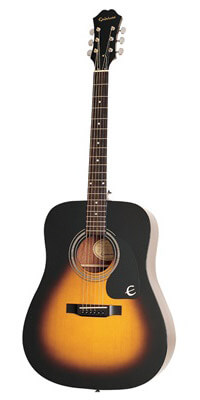 Despite its lower price, the DR-100 provides a pleasingly warm, yet powerful sound. Something not that common for a guitar that's this playable.
Steel strings
Dreadnought design
Spruce top
Rosewood bridge
Pros
Overall great combination of design and sound quality
Very durable
Cons
None that we could think of
Epiphone, as one of the best guitar brands, has once again shown us the level of expertise they are on.
The DR-100 is a perfect example of how you can make a relatively cheap guitar and still have it look good and sound more than decent.
At a price point of just over $100, the DR-100 by Epiphone is a good entry level acoustic guitar that won't disappoint you even after years of playing.
Hitting that sweet spot between affordability and playability, we have the Pro-1 by Epiphone.
Professional players have been consulted by Epiphone in order to make a good entry level guitar, which is a great way to ensure that beginners have the optimal settings when starting to play.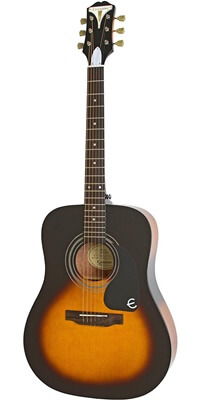 The Pro-1 certainly isn't going to challenge Epiphone's higher end models, but then again, that isn't the point.
Considering the fact that this is a guitar for beginners, the sound quality is very nice.
Steel strings
Dreadnought design
Spruce top
Rosewood bridge
Pros
Very clear tones
Balanced sound
Cons
Not that versatile when it comes to different genres
Yet another great guitar from Epiphone. A super affordable, and very easy to play guitar, guaranteed to give you a great start in guitar playing.
Dean
For 30 years Dean has been making high-quality guitars, both acoustic and electric.
Famous for their use of exotic woods for more than reasonably priced guitars, makes them a perfect brand to include in our list of top acoustic guitar brands.
As a part of Dean's Flight series, the Fly Mah features a ¾ size body, with that classic Dreadnought shape.
Ideal for kids or traveling, this guitar is also very comfortable to play.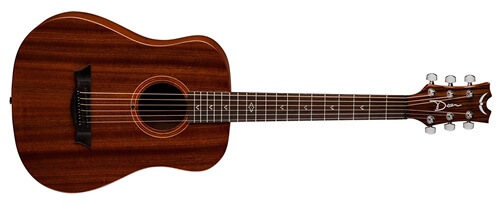 As the sound goes, it may not be that loud considering a smaller body, but it certainly provides crisp and clear tones.
Steel strings
Dreadnought design
Bubinga top
Rosewood bridge
Pros
Compact and easy to travel with
Nice balance of price and sound quality
Cons
May not always be loud enough
The Fly Mah by Dean is a great example of high-quality craftsmanship.
For around $150, this guitar is an excellent choice for any beginner looking for a portable yet great sounding guitar.
Another Dean acoustic guitar worth mentioning is the AXS Dreadnought. This guitar is, to say the least, beautiful.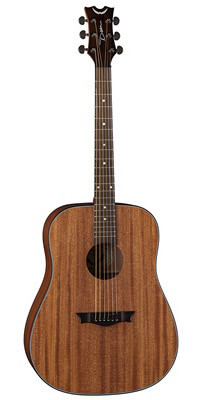 With mahogany as the wood of choice, the AXS Dreadnought delivers very balanced tone, with high levels of playability.
Steel strings
Dreadnought design
Mahogany top
Rosewood bridge
Pros
Very good build quality
Reasonable price
Balanced tone
While it may not stand out that much from other guitars we've mentioned so far, the AXS Dreadnought by Dean is certainly a good acoustic guitar for beginners.
Bristol
Lastly, we have Bristol. Again, another brand that may not be that famous, but they certainly make good acoustic guitars for beginners.
As your question is "What is a good starter acoustic guitar?", we couldn't make this list without mentioning Bristol.
You could easily say that every aspect of this acoustic guitar is on point.
A great build quality coupled with a relatively low price makes the BD-16 a worthy mention. As expected with cheaper guitars, solid tops can be a rarity.
Bristol chose a laminate top for this model, which does affect the sound. However, once you start playing this guitar, you'll soon forget about the specs.
Steel strings
Dreadnought design
Laminated spruce top
Rosewood bridge
Pros
Good bang for the buck ratio
Sounds decent enough
Cons
Not that comfortable to play
For around $130, the Bristol BD-16 is definitely a budget acoustic guitar.
It may not be something you will pick up after you progress and get a more expensive guitar, but it will definitely do its job in the beginning.
Fairly similar to the above-mentioned BD-16, this model has all the right features you would expect from far more expensive instruments.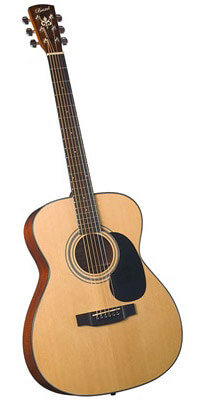 The BM-16 000 sounds fairly good, even better than the BD-16. With more attention to visual details and sound of this guitar, Bristol managed to deliver a crispy yet warm sound.
Steel strings
Dreadnought design
Spruce top
Rosewood bridge
Pros
Nice, balanced sound
Visually pleasing design
Cons
Feels a bit cheaper than most other guitars mentioned
The BM-16 000 is an acoustic guitar that looks good but sounds even better.
Although the overall feel may not be as good as some other brands we mentioned, for around $200 you won't be disappointed.
Conclusions
So, there you have it.
We've managed to cover a total of 10, in our opinion, best acoustic guitar brands, mentioning 2 models coming from each one. A total of 20 different guitars, each having their pros and cons.
We hope that we managed to introduce you to the beautiful world of acoustic guitars, and made the process of choosing one four yourself a little bit easier.
Bottom line
Every musician is different. Whether it's a different genre of music you play or just a different technique of playing, all of us seek different things when it comes to our instruments.
The best way to find out what kind of acoustic guitar suits you best is to talk to as many musicians you can, and to try out different guitars.
I'd have to rate Fender as the overall best acoustic guitar brand. The two models we've covered are at different ends of the spectrum when it comes to price.
Although they make more than decent beginner's instruments, Fender really shines when it comes to high-end guitars.
As an amateur and beginner, you won't be capable of truly appreciating the fine details and the finesse built into their guitars, so it may be smarter to go for other brands.
However, if your budget isn't restricted, go for a Fender and you can turn back to it at any time and appreciate it fully.
For a beginner, in my honest opinion, the best choice would be Yamaha.
It's probably due to the fact that I've had the opportunity to play a couple of different models of their guitars. And all of them had a great feel, as well as a rich and balanced sound.
If you're not restricted by a tight budget, your best bet would be getting a Yamaha guitar, preferably the C40.
Trust me, you won't be disappointed, and very well may find yourself, like me, enjoying the smooth sound while reminiscing about the good old days you played the very first song on your own.
That just about covers all the things you should know about getting an acoustic guitar for yourself, or anyone other that has never played before.
Give it a good thinking, refer to our article, get yourself a guitar and rock on!