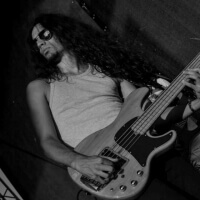 Marko is a professional bassist who has been playing and touring with his band for over a decade now. When he's not playing with his band or recording in the studio, he spends his time teaching others how to play both bass and the guitar. Other hobbies of his include quality music gear, King Crimson, and sifting the web for the latest music updates - and ofcourse writing about them.
Experienced musician and writer
Marko is a professional musician, with a degree in Music Technology and decades of experience in the industry. His musical training began in early childhood when he started playing the guitar. When starting high school he swapped the guitar for a bass, started a band, and knew then already that he's going to make a career out of that. He has spent countless hours in the studio recording both with his band, as well as with other musicians as a freelance bass player, but also as a sound engineering technician.
He got into writing while he was in college. What started out as a student job soon turned out to be another passion of his. Writing about music and music equipment, therefore, came to him quite naturally. Being a very curious person, Marko enjoys experimenting with new technologies and discovering new ways of producing music.
Unbiased and on-point reviews
That's one of the reasons why he is a cherished member of our team, as we know that every time he gets the chance to test out a new product, he will do so in depth. He'll analyze every part of the piece of equipment in front of him and tell you his unbiased opinion in a straightforward manner.
That's also one of the reasons why we love to have him do our video reviews on YouTube, as he is not only thorough but also a very charismatic person whom you could watch for hours talking about the things he loves - and those are all things music.