Uncovering the best banjo brands before you know how to play the instrument can be quite a challenge.
Fortunately, the best beginner banjos are often very reasonably priced, but it takes some research and prioritizing to make sure you're getting what you want from your new instrument.
There a few easy-to-understand factors that will make it much easier to evaluate the various beginner banjos that you will come across in your search.
This comprehensive guide offers the basics of how to buy a banjo, a rundown of some of the best banjo brands for beginners, and specific banjo reviews that will help you find a first banjo that will be a perfect fit.
Best Beginner Banjo 2021 Buying Guide
You might think you're already ready to ask, "Which banjo should I buy?"
But before you delve into specific banjo reviews, good banjo brands, and specific models, you'll want to think about a few bigger picture questions about style and quality that will help you eliminate many options right away.
1. Resonator vs. Open-back
Bluegrass musicians far and away prefer banjos with a resonator, a metal plate attached to the back of the instrument that projects the sound forward.
Resonators give the banjo a much louder and fuller sound, making banjos with a resonator a great fit for ensemble playing when you need to project past the sound of other instruments.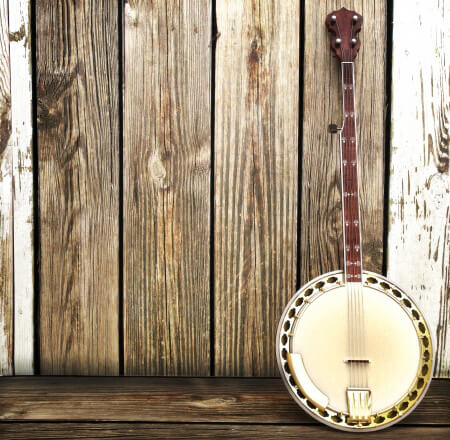 The other main style of banjo is open-back, or banjos that do not have a resonator plate.
Primarily used for folk music, open-back banjos' sound is projected back into the player before it goes forward.
This results in a far darker, mellower tone preferred by singer-songwriters, folk musicians, and anyone interested in playing the old-fashioned clawhammer technique.
What is the best banjo for a beginner: resonator or open-back?
If you know already that you want to play bluegrass, you'll be best off finding a banjo with a resonator, even though they might be a bit more expensive.
On the other hand, if you're not sure what kind of music you want to play, an open-back banjo can be an excellent beginner's instrument, even if you later decide to make the switch.
2. How many strings?
The number of strings on a banjo isn't just about being able to play more note – distinct styles of music are associated with banjos with different numbers of strings.
The most common types are 4 string banjos, 5 string banjos, and 6 string banjos, though 12 string banjos and even fretless banjos are also available.
Most beginning banjo players choose the 5 string banjo, which is by far the most common and is used by the majority of professional banjo players.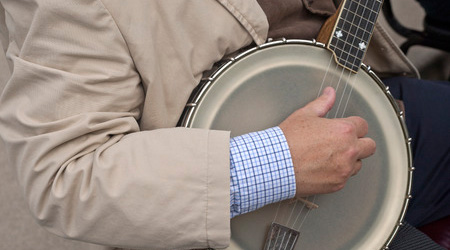 You can find them with either an open back or a resonator, so 5 string banjos are well-suited to an array of traditional styles including bluegrass and folk music.
Unlike guitars and mandolins, the banjo's five strings are not tuned from lowest to highest as you move across the neck.
In fact, the top string on the neck – known as the thumb string or the drone string – is much shorter than others, starting in the middle of the neck instead of at the end.
The most common tuning for bluegrass is G-B-G-B-D, an open G chord, which means you can play a full chord without putting a single finger on the neck!
Another common variety of banjo is the 4 string banjo, which has several different builds depending on the style of music you want to play.
The plectrum banjo is probably the most widely played.
Essentially the same as a 5 string banjo but with no drone string, plectrum banjos are strummed with a guitar pick and are frequently used in Dixieland Jazz music as a result of their bright tone that can cut through a dense ensemble sound.
Similar to the plectrum banjo but smaller in size is the tenor banjo, which is popular especially with Irish folk music players.
Of particular interest to beginners is the banjolele – a modern development that is basically a hybrid between the banjo and the ukulele.
It is roughly the size of a ukulele, but it looks and sounds like a small banjo. This can be a great option for beginner banjo players, because it is very easy to play.
If you are already a guitar player, you might consider starting your banjo-playing career with a 6 string banjo.
Appearing and sounding like a banjo, they are tuned just like a guitar so you won't need to learn any new chords right away.
This makes for a smooth transition, but even the best 6 string banjos are not recommended if your goal is to become a serious banjo player.
Most banjo techniques rely on the banjo's unusual tuning system, which is lost on a six string banjo.
So, while you might find it easy to play songs intended to be played on the guitar, it can be a struggle to learn to play songs that were intended to be played on the banjo.
3. Type of wood
Expert banjo players can identify countless aspects of a banjo's construction that will impact the tone quality of the instrument, but as a beginner you can concentrate on the type of wood used in constructing the banjo as the most important factor in its tone quality.
The banjo's rim, the hoop that goes around its body, is also known as its "pot" and is the most crucial part of the banjo's construction.
When you pluck the strings, their vibrations move through the bridge and the head of the banjo to the rim, which vibrates and creates the audible sound that we hear.
This means that the rim needs to be made out of a firm, resonant material.
Quality banjo brands often use multiple plies of maple, the wood used in building violins, in the rim of their banjos.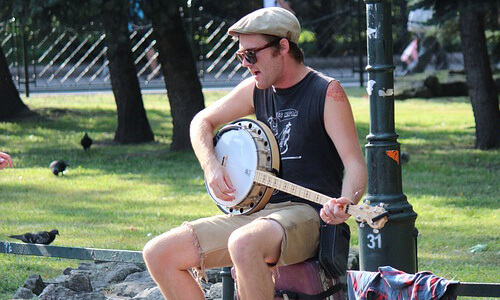 Cheaper rims are made from softer, less resonant woods or aluminum, causing a noticeably inferior sound quality.
Luckily, even mid-level banjo brands have adopted maple or other hard woods, so you can find a fine instrument with a maple body without breaking the bank.
The other primary wood component of the banjo is its neck.
The best banjos also have a neck made from maple or another hard wood, which helps it maintain its stability, brightness, and clarity.
Cheaper instruments often have a laminate neck in which several pieces are glued together, while higher-quality banjos will have a neck made from a single piece of wood.
Well-built necks will also have a truss rod inside, which allows you to make adjustments in intonation and keeps the neck stable.
On top of the neck is the fingerboard, which holds the frets in place with a wood even harder than maple.
Some manufacturers use maple fretboards, but better instruments typically have a fretboard made from ebony or another similar wood.
Some more expensive banjos have inlays carved into the neck for decoration and to make it easy to find the right frets when you're playing, but this does not affect the tone of the instrument.
4. Other parts of the "pot"
The wood components of the banjo are not the only parts that can determine the quality of sound produced by the instrument.
Several other crucial pieces are found in the "pot" or body of the instrument, since the sound emanates from there.
Much like a drum, the banjo has a head stretched across the top that serves as its sounding board.
Traditionally, banjos heads were made from calfskin, and indeed some people still prefer the mellower sound created by calfskin.
But most banjo makers today use mylar for the instrument's head, which has both a brighter tone and the additional benefit of not being affected by weather or humidity.
The intermediary between the strings and the head of the instrument is the bridge.
Unlike guitars, banjos have what's called a floating bridge – it is not affixed to the head but rather is held in place by the tension of the strings.
When you buy your first banjo, don't worry too much about the bridge, because you can always replace it with a better version later if you're not satisfied with the sound.
Heavier, denser bridges lead to a sweeter sound from the instrument.
Finally, above the rim but below the head on many banjos you will find a metal tone ring.
The main thing to know when buying a beginner banjo is that better instruments have a tone ring, and lesser instruments do not.
5. What type of banjo is best for beginners: Acoustic or electric?
Electric banjos are not nearly as common as electric guitars, but some options are available.
They are typically quieter than acoustic banjos, but their sound can be amplified to be much louder.
Electric banjos are typically more expensive, and most beginners choose to stick with acoustic.
You can always amplify your acoustic banjo with a microphone, and it is much easier to find a quality acoustic banjo within your budget.
6. Price
The least expensive banjos start at around $150, and from there the sky's the limit.
Generally, by spending more you are buying for higher-quality materials and more reliable construction, but keep in mind that many banjos that are nearly identical in construction to less expensive instruments cost more primarily due to cosmetic differences.
The Best Banjo Brands for Beginners
What is the best brand of banjo? Well, it's a complicated question.
Depending where you look, there are almost unlimited options when it comes to finding the right banjo brand and model for you.
This guide gives an overview of the most popular brands, plus banjo reviews for the best 5 string banjos offered by each brand so that you will have everything you need to know to pick the perfect banjo for you when you start your search.
Rogue
Rogue has set the bar for building inexpensive instruments, from banjos to mandolins, ukuleles, and guitars.
They use tried-and-true designs from other brands and develop low-cost ways of building the instruments on an industrial scale.
This means that Rogue has some of the lowest prices around, though the quality of the instrument sometimes reflects the price.
That said, for a beginner on a budget Rogue can provide a surprising level of quality without breaking the bank.
Rogue Learn the Banjo Starter Pack
Rogue often pairs their entry-level instruments with a package of extras that will help you find your way as a beginner.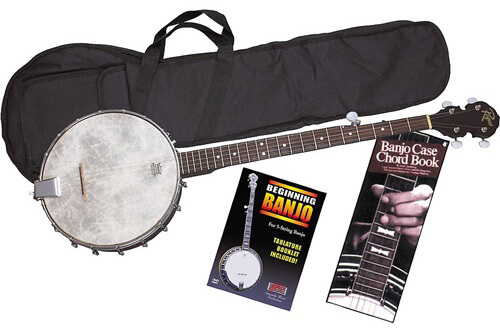 This basic open-back banjo comes with everything you need to get started, including a gig bag, a book of chords, and a how-to guide.
Pros
Offers the opportunity to try out the banjo without paying too much upfront – don't worry, you can always get a better banjo later on
Surprising level of quality control given the price
Great instrument to learn on
It's the best banjo under $200 – though there isn't much competition
Cons
May be harder to play than some banjos due to inconsistent design details such as fret height, which can pose a particularly potent challenge for beginners
Low-quality materials used in constructing the banjo will not lead to great sound quality
Does not project well, though you can practice on this instrument easily enough
It's not the prettiest banjo on the market – this is a utilitarian buy
You can't beat the price, and ultimately this banjo packs a punch for what you'll pay.
You won't impress anyone with its design or its tone quality, but it's a good starter banjo if you can't afford to step up to a more reliable manufacturer.
Rogue B30 Deluxe
For around the same price as Rogue's open-back, you can opt for their basic resonator banjo, the B30 Deluxe.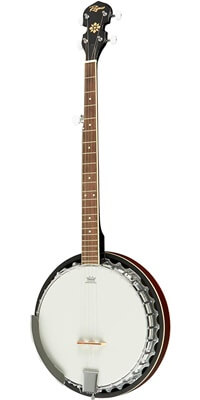 You won't get the gig bag or the books – or for that matter a better-constructed instrument – but you will get a louder banjo, that's for sure.
Pros
Great sound projection considering the price point
Super affordable for a banjo with a resonator
Cons
Sports an aluminum rim, which is very flexible and will not greatly improve the tone quality
Many of the mechanical parts may be poorly constructed, which means the banjo may not stay in tune well
Gearless tuner on the "drone" string means it will go out of tune easily
Like the banjo in the starter pack, the B30 Deluxe is not the most aesthetically pleasing banjo on the market
If you're set on buying a banjo with a resonator and you're on an ultra-tight budget, the B30 Deluxe will work.
But even $100 more will buy you a far more reliable instrument, so you might consider saving an extra month for a banjo that will last you much longer.
Ibanez
Since Japanese manufacturer Ibanez was founded in 1957, it has branched out into all kinds of instrument building in the low- to mid-level market.
Early on they made their own line of banjos, even making a signature model for the legendary Earl Scruggs.
After a 30-year hiatus, they took up banjo-making once more, resulting in several intriguing and well-reviewed instruments.
Ibanez B200 5-String Banjo
Ibanez's beautiful B200, which carries a price tag of around $400, is a banjo with a resonator that can pack a solid punch of sound.

Pros
Thorny inlays in the design of a vine are beautiful, evocative, and will certainly catch peoples' eyes
Powerful, solid sound
Its lustrous finish completes the deal if you're looking for an inexpensive banjo you can show off to your friends
Cons
The vine inlay might make it harder for beginners to learn where the different frets are on the fretboard
Mahogany used in building the wood components leads to a less refined tone than maple
Heavier than many banjos with resonators
The aesthetics of the banjo, while beautiful, mean that it's more expensive than other instruments with comparable sound quality
While the B200 doesn't offer the high-quality materials and construction that more expensive brands might offer, it does present a great value for those seeking a balance of beautiful sound and beautiful appearance.
Ibanez B50 5-String Banjo
At under $300, Ibanez's B50 resonator banjo is a less-expensive entry point for beginners than their B200.

With the lower price comes fewer frills, but Ibanez don't sacrifice much else when it comes to sound.
Pros
Even if it's not as pretty as the B200, it still has a nice finish and a professional look
Sound quality will be noticeably better than ultra-budget instruments, but it doesn't cost much more
Dot position markers will help you keep track of where the frets are while you learn to play
Quite possibly the best banjo under $300
Cons
Similarly to the B200, the mahogany used in constructing the body and the neck mean that the sound quality is not as excellent as it could be
While it's probably better constructed than an ultra-budget instrument, you may still run into quality control issues
This is among the best entry-level banjos for anyone who can't afford to invest in a higher quality instrument but wants to make sure their banjo's sound will be passable in their first band.
Epiphone
Hailing from the heart of bluegrass country in Nashville Tennessee, Epiphone is a long-standing instrument builder with a reputation for balancing quality and price.
Founded in 1873 in Turkey, Epiphone was later acquired by Gibson, and these days they specialize in building Gibson designs in Asia to keep the prices low while benefiting from Gibson's excellent design.
Epiphone MB-100 Open Back Banjo
At the lower end of Epiphone's line of banjos you'll find the open-back MB-100 at around $225.

Epiphone founder Epi Stathopoulo's first patent was for an improved open-back banjo, and this banjo follows on his early example with excellent design and affordability.
Pros
Ultra-lightweight, so you can travel with it
Beautiful natural wood finish on the body and neck
Surprising tone quality and reliability considering the price
Clawhammer enthusiasts will love it
Cons
While the parts are relatively high-quality for this price level, some corners might be cut in the assembly process. You might have to invest some time in setting the instrument up
No tone ring – though this may be a "Pro" depending on the style of music you want to play
For anyone looking for an open-back banjo, the MB-100 at least deserves your consideration.
With its stellar price and Epiphone's solid reputation, you'll be hard pressed to find a better open-back banjo without paying quite a bit more.
Epiphone MB-200 Banjo
Similar to the MB-100 but with a resonator, Epiphone's MB-200 offers a significant step up in both volume and appearance, making it an excellent choice for aspiring bluegrass banjo players at around $300.

Pros
A full-size resonator banjo with the powerful, rich sound that comes with it
Lighter than many other similar banjos at 5 pounds
Lovely floral inlay pattern
Cons
May require some setup to get the tuners working properly
Even as you become an intermediate banjo player, you might find that the MB-200 remains your instrument of choice.
While you're not going to get the refinement of sound that comes with a banjo in the $500+ price level, the MB-200 can't be beat for its level of quality at this price.
Fender
One of the classic American instrument builders, Fender's well-maintained reputation for quality goes back to its founding in 1946 in Fullerton, California.
Even though Fender specializes in guitars, they have also resurrected some of their old designs for banjos and other instruments in recent years.
Having a brand name like Fender comes with an increase in price, but the corresponding increases in quality and reliability may make it worth your money if you're willing to spend a bit more.
Fender Concert Tone 54 Banjo
Modeled after Fender's classic Concert Tone line of banjos from the height of the folk revival in the 1960s, the Concert Tone 54 is a gorgeous resonator banjo that offers a relatively inexpensive entrée into the mid-level banjo market at around $500.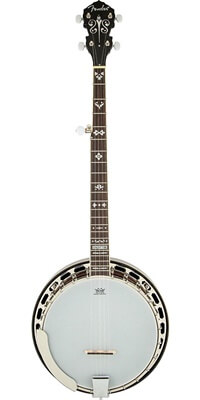 Pros
Beautiful geometric inlays that are both tasteful and unique in design
Brown sunburst finish on the back of the banjo is equally beautiful
Steel tone ring makes a big impact on the tone quality and leads to a crisper sound
Relatively lightweight
Cons
Lightweight construction leads to less fullness of tone quality
Some higher-quality woods like maple are used, but the body is still made from mahogany and the neck is not constructed from a single piece of wood, both of which would lead to an improved tone
With its vintage throwback style, excellent quality, and beautiful sound, the Concert Tone 54 has made a very welcome return to the banjo market.
It costs more than some other beginner models, but if you're confident that you'll be sticking with the banjo the Concert Tone 54 is an excellent investment in your future.
Fender Concert Tone 58 Banjo
Ringing in at nearly $1000, Fender's higher-end Concert Tone 58 applies the same approach as the Concert Tone 54 but with higher-quality materials.

It's fairly similar in appearance, which is a good thing in this case, and it justifies its price tag with a heavy, voluminous tone.
Pros
Brass tone ring is very well built and a step up from the Concert Tone 54's steel ring
Maple resonator leads to a deep and resonant tone quality
Lovely cherry sunburst finish and an equally lovely overall aesthetic similar to the Concert Tone 54
Cons
The sound is very bright, which might be great in some settings but also could be too much for a in others
While you may find that a powerhouse like the Concert Tone 58 is a good fit for you later on in your career, it's probably not the best beginner banjo.
The subtle differences afforded by its higher-quality materials will probably not be as noticeable until you really master banjo technique.
And by then, you may find that an entirely different style of banjo will suit your taste.
Deering
Unique among the companies explored in this guide, Deering specializes in making banjos.
While banjos might be an afterthought for some of the heavy hitters, Deering puts all their energy into maximizing construction methods and materials.
Founded in 1975 by Janet and Greg Deering, they are the largest American manufacturer, and their mid- to high-level banjos are considered by some to be the industry standard.
A note of caution, however: some customers have reported receiving strange promotional materials reflecting the founders' ties to scientology after purchasing a Deering banjo.
Deering Goodtime
Deering's flagship open-back banjo, the Goodtime, is the entry point into playing banjo for many budding enthusiasts – and for good reason.

Pros
Maple rim and neck are made from high-quality wood only found in more expensive banjos from other brands
Lightweight at 4 pounds, making it an excellent travel instrument
Reliable, American construction
Unconventional wooden inlays combine visibility and style
Maple/ebony bridge is much nicer than the bridges that come with budget banjos – you won't need to replace it anytime soon
Cons
No truss rod, so the neck is not adjustable
Besides the wooden inlays, its design doesn't stick out from the pack
While this "entry-level" banjo will cost more than most other open-back banjos in its category, the Goodtime has a proven track record for quality and reliability that may well be worth the extra cost.
With a six-year warranty, you can be assured that this banjo will travel with you for a while.
Deering Goodtime 2
If you like the sound of the Goodtime but you're set on buying a banjo with a resonator, look no further than Deering's Goodtime 2, which costs around $700.
Pros
The Goodtime 2, as the resonator-bearing sibling of the Goodtime, has all its advantages
In addition, the Goodtime 2 offers a remarkably strong and well-defined tone by adding a resonator to the already solid Goodtime sound
Cons
Does not have a tone ring, which would be beneficial to its tone
The design is essentially identical to the Goodtime with the addition of the maple resonator – you're paying for sound, not looks
Like the Goodtime, the Goodtime 2 takes a bit more cash than the equivalent banjos made by other brands.
But with that investment come definitively improved materials and tone quality, plus the reliability offered by a company that focuses exclusively on banjos.
What is the Best Beginner Banjo?
If you are on a tight budget, the Epiphone MB-200 offers the balance of quality and affordability that make it the best banjo for beginners.
It's worth the extra $100 or so to skip the low-quality models made by Rogue – you'll be rewarded by improved sound and playability. It's simply the best affordable banjo.
On the other hand, if you are looking for a banjo that will stick with you for a little while longer, the best banjo for the money is the Deering Goodtime 2.
A middle-of-the-road banjo that will serve you well as a soloist or in a bluegrass ensemble, the Goodtime 2 uses excellent materials and American construction to create a simple, quality product.
There are many great choices when you're trying to find the perfect banjo, and you can't go wrong with a reliable brand like Epiphone or Fender.
But Deering's banjos-only philosophy has led to their well-deserved reputation as the number one banjo maker in the United States.