In this guide, we're reviewing some of the best baritone ukuleles on the market, as well as diving into specifics in our baritone ukulele reviews.
We're also going into plenty of details about this unique variation of the Ukulele.
What is the Best Baritone Ukulele?
In our opinion, the best baritone ukulele on the market is the Kala KA-SA-B.
It features amazing sound, stunning look, as well as feels great to play.
The best option for beginners would arguably be the Kala KA-B as it comes at a great price and can be purchased as a bundle.
The next uke which is definitely worth your attention is the Oscar Schmidt OU52-A-U.
This 4-string baritone ukulele falls under best value for money category.
It has a lovely tone with a beautiful resonant sound and also comes at a very affordable price.
What Is A Baritone Ukulele?
Out of all four main types of ukulele, baritones are the biggest of the lot, and the deepest in terms of tone.
They're also the newest creation out of all of the variations, dating back to roughly the 1940s when they started to become mainstay.
Baritone Ukuleles may not historically be the most popular form of Uke, but they're certainly growing a larger fan base in recent years, for many reasons.
Baritone Ukuleles are popular for a thicker, fuller sound which fills more of the "low end", think more of a bassy tone than the other models.
Though they are certainly not as low as a bass guitar would be, they are similar in tone to the low strings of a classical or "spanish" guitar.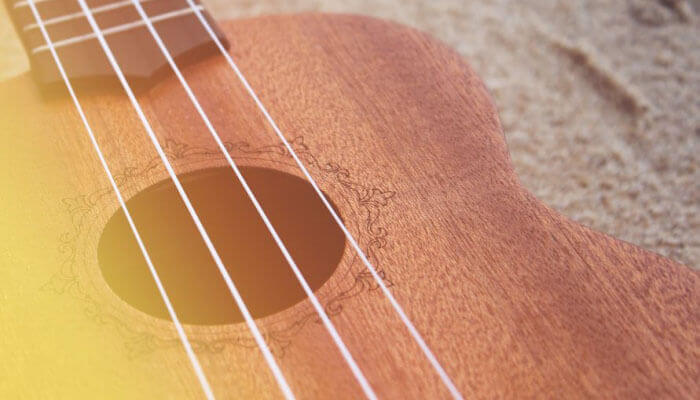 The sound you may first expect when someone says the word "ukulele" is probably not that of a baritone.
For that reason, they are great options for anyone looking for something more specialist.
If you've seen a baritone ukulele used, you may well have noted the size of it.
29 inches is the standard size for these types of instruments.
Some are a little larger or a little smaller, and of course there are slight variations in the shape, too, but generally, they will be around this mark.
Who Are Baritone Ukuleles For?
Baritone ukuleles have more similarities with guitars than other Ukuleles do.
Whereas ukes are often tuned to GCEA, the baritone is usually tuned to DGBE.
Guitarists out there may have already spotted that these are traditionally the first four strings of the guitar.
For this reason, baritones are easier to transition to for those who have played one of these instruments.
The chord shapes are the same, just without the lowest two strings.
If you have played other types of ukuleles and wish to keep to the GCEA tuning, this may involve changing some strings, but it can be done.
In terms of those most likely to play these types of instruments, and where they fit in to band setups, it is a real case of personal preference.
There are some great youtubers out there doing solo performances with baritone ukes.
Whereas a Soprano ukulele, for example, may sound a little "thin" on its own, the baritone options cover more frequencies.
This "thicker" sound enables it to be used in solo performances.
For bands, whether folk or otherwise, this type of ukulele can sit nicely in songs as a rhythm section instrument, playing chords and driving the track along.
The rich tone of a baritone ukulele is also often favored by jazz players.
Is Baritone Ukulele Good For Beginners?
There is no reason you can't learn on a baritone model, but there are some areas to be wary of if you plan to go down this route.
If you are an absolute beginner and plan to learn ukulele on a Baritone, you should definitely be careful with the tuning factor.
If you ever wish to move to a tenor or soprano ukulele, for instance, you will need to revert to the traditional GCEA ukulele tuning.
This will effectively be like learning your instrument all over again.
If you have large hands, you may find the baritone ukulele is easier to maneuver around, there is more room between the frets, which are naturally larger.
It will feel more natural to someone with a bigger build.
Sometimes the smaller models can feel like you are trying to contort your fingers to do something they're not really capable of.
In this respect, baritone ukuleles are a good choice for beginners.
For more information, check out our "big guide" on how to choose the best ukulele for beginners.
How Much Does A Baritone Ukulele Cost?
The answer "how long is a piece of string?" would be a cop out, admittedly, but it is an appropriate sentiment as a response to the question of how much baritone ukuleles cost.
In truth, a good quality baritone ukulele can cost upwards of $500, but this is on the more professional end of the spectrum.
If you are looking for a cheaper ukulele, you can find products for around the $100 to $200 mark.
These aren't always the best quality, hence our reviews, designed to weed out some of the products which may not do the best job for your needs.
We've even got sections for the best baritone ukulele under $100 and the best baritone ukulele under $200 to help you make the right choice for your budget.
Best Baritone Ukulele Brands
Whichever type of ukulele you are looking to buy, there are certain brand names which crop up again and again.
Kala is a name you will very quickly become familiar with, and they offer more baritone ukuleles than any other ukulele brand on the market.
You may well expect them to be the industry leaders, with such a rich, Hawaiian history.
Their product range extends from value-for-money beginner models all the way to top-of-the-line ukuleles suitable for performance and recording.
Other brands seen regularly in the search for baritone ukuleles include Luna, another Hawaiian manufacturer, and Oscar Schmidt, an American company which has been functioning for almost 150 years, making guitars, ukes and even autoharps.
Believe it or not, the company started out selling door-to-door.
They have come a long way, offering some impressive baritone models.
There are fewer baritone ukuleles on the market in comparison to concert, soprano or tenor ukes, due to the slightly more specialist nature of the product.
That said, we were not short of great options when compiling this list.
Top 6 Best Baritone Ukulele Reviews
On to our baritone ukulele reviews.
We have considered every aspect of the buying process and the wide variety of consumers looking for a ukulele in our reviews.
Whether you just want a cheap baritone ukulele which will do a decent job, or want the best sounding baritone ukulele there is, we have recommendations based on your individual needs.
Here are the top 6 best baritone ukuleles 2020:
Cordoba is a brand which manufactures many ukuleles in the other sizes, but the 20BM model is their first foray into baritone.
This is a ukulele with a rich sound, which is deeper than some of the other baritone ukes we've played.
Whether this is a good thing or not is down to personal preference.
The Cordoba is made out of mahogany wood, and has a beautiful natural wooden pattern.
Sitting somewhere in the mid-range, this is one of the best ukuleles under $300.

People who have purchased this uke tend to complement the incredible build quality.
A natural wooden inlay rosette, and a satin finish, combined with a detailed rosewood fingerboard, make it comfortable and beautiful to play.
The mahogany wood is reminiscent of "Martin" branded guitars and ukuleles, a brand renowned for their quality.
This is a ukulele which also holds up well under the pressure of different tunings.
Cordoba know that people have their own preferences for tuning ukes, especially baritone, and the tonal qualities remain the same whether you shift to a traditional ukulele tuning or go for the DGBE tuning most baritones have.
Finding a solid mahogany baritone ukulele at this sort of price range is not an easy thing to do, so the Cordoba 20BM definitely deserves its place on our list.
High quality Aquila strings included, ready to be tuned to DGBE.
Made from good quality mahogany wood.
Comes with pearl fret inlays.
Natural feeling action, great for players with larger hands.
This ukulele certainly fits the bill in terms of the romantic image of ukuleles.
The company, while smaller than many of the others on this list, is based in Hawaii and named after a beach, the perfect setting for playing this gorgeous baritone model.
The Lanikai brand describes their products as "real ukuleles for real musicians" and we'd be hard pressed to argue.
The Lanikai may not be cheap, but it is a good quality product that you could absolutely use as a touring, professional musician.
It has an incredibly rich tone, and can be played as a solo instrument without sounding like something is missing.

The body of this uke is made out of acacia. This wood has been carefully selected in order to give a traditional and classical baritone sound.
One word used again and again to describe this particular ukulele is "mellow" as the tone is sweet and rich whether you are playing chords or melodies.
Lovers of this model have also paid tribute to the bass frequencies it throws out, giving a broader spectrum of sound than some of its competitors.
Though this can often be picked up for under $300, it may seem a little expensive for what it is.
It doesn't use mahogany wood, for instance. However, the build quality and sound are what really matters, and the clever use of acacia gives it a tone which sounds perfect around a Hawaii campfire.
The ACST-B has quite a wide neck, and a wider nut than is normal.
This is great if you have larger hands or feel you need a bit more space when fretting.
The fingerboard is easy to maneuver your way around and feels great to play.
Extremely responsive and sturdy walnut fingerboard.
Holds tune brilliantly due to its chrome die-cast tuning peg system.
Maple binding gives a lovely look to the ukulele, along with its natural finish.
Can be a little on the large side for those used to smaller ukuleles.
Two Oscar Schmidt ukuleles make our list, and this is the more affordable of the two.
The OU52-A-U (catchy title, I know) has a really traditional look, with a mahogany body and even an Aloha engraving on the headstock.
Oscar Schmidt is a brand which stands for quality, and even though this is what you could describe as a cheap baritone ukulele, certainly when compared to the rest of their range, it does have enough features to be a solid option for beginners and maybe even intermediate players.

The sound is certainly a big positive, with great clarity, crisp high end and a lovely resonance on the low end which rings out impressively.
The sound maybe doesn't rival their professional models, but it is more than good enough considering the price range.
This is another top option under the $150 mark.
Perhaps the best way to describe this is a good all-round option.
Especially popular among beginners, it is a great way to enjoy a wonderful brand who offer some impressive craftsmanship without having to spend the earth.
Think of this as the 'basic' version in their line.
It isn't perfect, but it certainly gets the job done with a good tone, and only a few minor bugbears.
For the price tag, it's almost impossible to complain.
Lovely tone with a beautiful resonant sound.
Comfortable action.
Affordable way to enjoy the Oscar Schmidt craftsmanship and sound.
Some users have criticised the tuning pegs, and reported that this ukulele can be prone to a bit of fret buzz.
The binding and woodwork is perhaps not as clean cut as other models in their range.
This is a model which is certainly an upgrade on its 'little brother' model.
Not only is it an upgrade in terms of sound, it is definitely a big jump in price, so it is fair to say the OU57 caters to a more mid-range to professional level player.
It has an interesting construction, being made from both Abalone and Spalted Mango, which certainly create an interesting and compelling look.
It also offers a rosewood fretboard, which is pretty standard for this type of product.
It has a lovely gloss finish which provides a clean cut, professional look.

The tuning pegs of this model are worth mentioning, certainly as its more affordable "sibling" product maybe fall a little short in this area.
The grover machines do a wonderful tuning job, and keep it in tune for a long time.
No tuning up mid-gig or mid-song!
Is this the best baritone ukulele under $500? Perhaps not.
Is it a great option for someone upgrading from a beginner ukulele model? Absolutely.
Rich tones and great Oscar Schmidt workmanship.
A classical guitar style sound when finger picked, opening up a world of possibilities for playing classical style songs.
A great, easy action for beginners and professionals alike.
Because the nut is made from synthetic bone, there are sometimes some sharp edges.
Some users believe you can get more for your money from other brands.
Not only is this a very good baritone ukulele, it is arguably the most popular and most widely reviewed on the market.
It is little wonder why, when you look at its features and reliability.
It was only a matter of time before we featured a Kala product on this list.
It is tough to make any list of top ukuleles without the brand coming up, which is testament to their amazing range of instruments.
Perhaps one of the reasons that the KA-B is one of the most popular baritone ukes is the fact that it can be purchased as a bundle.

For beginners, or people who play other instruments and wish to give the baritone ukulele a shot, this can be a big advantage.
Not many baritones come with a case included, especially due to their unusual shape.
Along with the case, this comes with tuner and even a DVD instructing you on getting started with your new ukulele.
The reason this is perhaps the best baritone ukulele for the money is not just its bundle though.
The ukulele itself is wonderfully constructed.
The whole of the Kala range is made of Satin Mahogany, which gives it an exceptional, clean tone.
It is rugged and can stand up to the rigours of all those hours of playing and practicing.
The satin finish and beautiful walnut fretboard complete a really great design at a price which shouldn't be too scary, even if you're just getting started.
Great for beginners, with instructional DVD and an affordable price tag.
Comes with a gig bag, a rarity for baritone ukuleles.
Solid mahogany construction by Kala.
A few users have reported slight issues with fret buzz, but this seems to be extremely rare.
Not quite the professional sound of some of the more expensive Kala and other brand ukes.
Well, you probably came to this guide in search of the best, and I think that with this ukulele you're probably pretty close to the best you're going to get.
The Kala range's elite model, the KA-SA-B.
This is made from acacia, which is a wood known to create a great baritone ukulele sound.
It looks a lot like koa, which is a wood known to be used widely in Hawaii when making ukes.
This product is actually made in San Francisco.
The detailing on the body is out of this world. If you go in for looks when it comes to your instruments, this is definitely a product which is worth your attention.

The incredible mahogany grain neck and body are look wonderful enough, but the detailing on the walnut fingerboard round off a classy appearance.
The sound is just as classy. The baritone design is rich and sounds very full when playing chords, but it also sounds nice when finger picking or playing melodies and riffs.
Some ukuleles just feel great to play, and we'd put the KA-SA-B in that category too.
You can tell you're holding a well-made piece of kit when it is in your hands.
Acacia body gives an excellent sound.
Fingerboard feels professional and easy to play, as well as having stunning detailing.
The neck and action of this ukulele are great for lots of different hand shapes and sizes.
A bit on the pricey side.
Doesn't come with a case or other accessories.
Bag It Up
Before we wrap up this guide, one vital piece of advice to pass on involves the safety of your ukulele.
With many of the smaller types of uke, there are models sold with bags included.
Unfortunately, perhaps due to the more unorthodox size of the baritone models, there are nowhere near as many which include any form of bag or case.
While you don't have to have a bag, it makes sense for most players.
At some point in time, you're going to want to take your uke out and about with you, and a bag, or preferably a hardshell case, can do the job of protecting your beloved instrument.
It may seem like a basic piece of advice, but you wouldn't be the first musician to spend $500 on an instrument and then carry it around without adequate protection.
A case or bag is an investment, which can ensure nothing happens to your ukulele when on its travels (or at least minimize the chances).
If you're touring, even on a small scale, and your instrument is spending a lot of time in the trunk of a car or truck, then a case is nothing short of essential.
Conclusion
While we've listed the Kala KA-SA-B as our best choice for baritone ukuleles, the truth is that there is a decent amount of choice.
In spite of a relatively small market due to the fact the instrument is not the most popular out there.
However, this isn't restrictive to potential buyers.
There are perfect options for beginners, intermediates and professionals.
As always when purchasing a uke, or any instrument, the key is to evaluate your needs and preferences and buy an option which suits these.
Deciding on the look, feel and tone you need will go a long way to informing your decision.
Spending a little extra time researching, going through baritone ukulele reviews and working out the best suited ukulele can lead to a purchase you are much happier with in the long run.