What better way to get into the world of music than with an electric guitar?
Sure, acoustic guitars may seem as an obvious first step, but let's face it, electric guitars are much more fun!
Different musicians will tell you their thoughts on what the best electric guitar should feel and sound like.
However, the best beginner electric guitar should also be fairly easy and fun to play.
As newbie musician, it's really hard to find an adequate instrument for yourself. In a myriad of unknown words, numbers and specification sheets, it's easy to get lost.
That's where we come in. This is one of those electric guitar reviews where we don't just list our pick of the best ones, but we also cover the basic and most important terminology when it comes to electric guitars.
Best Beginner Electric Guitar 2019 Buying Guide
What is a Good Beginner Electric Guitar?
As electric guitars keep evolving, and new features are added every so often, there is truly a wide range of different types and models you can get.
We'll try to cover the basics, explain the most important specifications, and give advice on what we think would help you when you start playing.
Price Often Dictates Quality
If you're buying an electric guitar for someone who is an absolute beginner, opting for a less expensive one shouldn't be a problem.
Electric guitars, as many other instruments, have a wide price range.
Don't simply go for the cheapest option, but also don't stress yourself about getting a crazy expensive one.
On the other hand, if you or the person you're buying the guitar for already has one, and wants to upgrade, think about the style of music, and the overall skill level, and choose the new guitar accordingly.
There are, of course, cheaper models that prove to be of excellent quality. However, most of the time, the quality depends on the money you're ready to spend.
Body Type
As there are three types of body when it comes to electric guitars, let's see what are the benefits and downsides of each.
Hollow Body – As you may have guessed, these electric guitars have a body similar to acoustic guitars. This means you get quite more resonance, but at the same time feedback can be a problem.
Semi-Hollow Body – A solid center wood block is positioned inside the body in order to provide stability in the structure of the guitar, but you still get great sustain and warm sound.
Solid Body – The most common option. Though it may not offer that much sustain and resonance, it's definitely the most sturdy one.
So, what should you pick as a novice guitarist? It really boils down to personal preference.
If, however, you still don't know what to get, our personal advice would be to go for a solid body guitar, as you won't have to think about it breaking that much if you accidentally hit your chair or the wall while playing.
Pickups
Pickups are the part of the electric guitar that detect the vibrations of the strings and translate them into a signal the amplifier can understand and transform into sound.
There are two important things to have in mind when talking about pickups: The Type, and The Layout.
The most basic pickup type or design is called a Single Coil Pickup. Single coil pickups tend to produce bright and crisp sound.

It's a good choice because the tone can cut through the overall mix when playing as a part of a band.

The downside of this type of pickup is that it often generates hum and unwanted noise in the background.

Your next choice would be Humbucker Pickups. Designed as a solution for the mentioned hum with single coil pickups, they also offer a different sound.

As they offer more power and tend to sound thicker and heavier, they are a good choice for playing hard rock, metal, or even jazz.

Active Pickups aside from needing a battery to operate, offer a preamp, as well as some additional sound shaping controls onboard the guitar.

These are primarily used for higher output needs and offer a more controlled, cleaner sound.
Pickup Layouts are a bit more complicated. Different models offer different solutions.
Now that you know what single coil and humbucker pickups are, you can understand different layouts. S stands for single coil, and H stands for humbucker.
Going from the neck, down to the bridge, there are different combinations of these two types of pickups.
The crucial thing for you to understand is, Bridge Pickups provide a sound with more treble, and by going towards the neck, pickups offer more of the mid and low range of the sound.
As a beginner, you should aim for a guitar that has multiple pickups, so you can tune in the desired sound.
Simply use the dedicated knob or switch, and experiment with different pickup combinations.
Scale Length
This refers to the length of the strings, from nut to bridge.
In order to avoid any kind of confusion, your best bet would be to go for guitars with a scale length of 24- 25 inches.
Neck Shape and Type
Hosting a fretboard (the part where you press the strings) from ebony, maple or rosewood, necks come in different sizes.
If you have smaller hands, go for a narrower, more shallow neck, as it will definitely feel more comfortable.
There are also different types of neck construction options, which is the way that the neck and body are joined together.
Bolt-on
The neck is simply bolted to the body. This is probably the most common and cost- effective type of neck construction.
The downside is that it provides less sustain and resonance as opposed to other options.
Set necks
The neck is glued to the body of the guitar.
Though that means you'll be getting more sustain and resonance, any potential repairs can be difficult and expensive.
Neck-through
As the name suggests, the neck goes through the body of the guitar.
If you're looking for maximum resonance and sustain, this is your best bet.
This also makes the whole construction more stable, minimizing the chances of any cracks.
Tonewood Choice
The type of wood used for the guitar is one of the more important factors when it comes to sound quality and characteristics.
Without getting into too much detail, let's go over some of the most common types of wood used for guitars, and their impact on the sound.
Maple – more trebles
Mahogany – very resonant, great sustain
Ebony – hard, dense wood, balanced sound
Rosewood – most common, balanced sound
Ash – bright tone, nice sustain, punchy midrange
Alder – similar to ash, but not that expensive
Agathis – not quite resonant as Alder
Nato – warm sound
Bridge Types
The bridge is the piece of hardware located on the lower end of the body, over which the strings are routed.
Different options provide you with different possibilities when it comes to doing vibratos, as well as adjusting string height.
Tune-o-Matic – A common design, offers individual string intonation and height adjustment
Fulcrum Vibrato – Every string sits on an individual saddle, which you can adjust in terms of height and intonation
Floyd Rose – Provides the same benefits as a fulcrum vibrato, but with more space for the vibrato motion
Bigsby – Offers a vintage vibe, as it's commonly found on old- school guitars
Six point locking tremolo – All the benefits of a fulcrum vibrato, but also offers better vibration and resonance
String-through – The strings go over the saddles, and through holes in the body, giving a bit more sustain
Top 10 Beginner Electric Guitar Reviews
This would pretty much round up the most important specs and features electric guitars have to offer.
With this knowledge and understanding, reading through the next part of this guide should be easy.
Now that we've cleared things up, let's jump into our pick of the best electric guitars for beginners!
Epiphone Les Paul Standard
As one of the top rated electric guitars amongst novice guitarists, the Les Paul Standard by Epiphone is an awesome alternative to the well known but pricey Gibson Les Paul.
Though it can never offer the same level of quality as the original one, it doesn't disappoint.
Rocking one of the most iconic body shapes, this guitar not only gets points in the aesthetics department but also manages to retain a high level of playability as the one made by Gibson.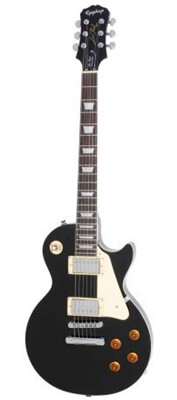 The wood of choice is mahogany, and the top is made of maple. Although it may not be the best choice, it still offers a decent sound and feel in this price range.
The neck is made of maple, boasting abalone inlays. You'll definitely be surprised how comfortable and easy this guitar is to play.
As far as the pickups go, the alnico humbuckers complement the wood choice nicely, as they offer a very clean and hum-free sound.
With the tone and volume control, and the pickup selector switch, dialing in that perfect sound is a piece of cake.
A standard Tune-o-Matic bridge keeps the tuning secure while offering height and intonation adjustments.
If a vintage tone is what you're looking for, the Epiphone Les Paul Standard is a solid option.
As it handles both clean and distortion settings nicely, the versatility it offers makes it a definite choice if you plan on experimenting with different genres of music.
Pros
Great sound and playability
Suitable for different genres
Cons
Could offer better choice of wood
Can be a bit pricey for some people
All things said, if you have a slightly more flexible budget, starting with an Epiphone Les Paul Standard is a great idea.
Offering a clean, and balanced sound, suitable for numerous different genres, while being very comfortable and easy to play, make this guitar one of the best options for a beginner.
Yet another great guitar from Epiphone, but this time a budget-friendly version of the legendary SG.
It certainly looks like the Gibson version, but how does it perform?
For over 50 years has the SG been one of the most popular guitars in the world, however, with a high price point, not everyone could afford it.
That's why Epiphone decided to make the perfect combination of the well-known SG characteristics in a more affordable package.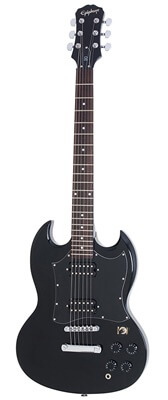 Coming in several different colors, the body is made of alder, and the wood of choice for the neck is mahogany.
The great thing about this model is that the alnico bridge and neck humbuckers complement the overall idea behind this guitar.
Dialing in your desired sound is done easily by the pickup selector switch, as well as the tone and volume knobs.
Though the G-310SG isn't a guitar you would consider as pricey, the sound you can get out of this bad boy is amazing.
As you can imagine by the lineup of musicians using this model, this guitar is primarily focused on rock and classic metal guitarists.
As the humbuckers deliver just the right amount of output for overdrive or distortion, this model truly sounds powerful yet clean.
With crisp trebles and rich mids and lows, you can play just about anything on this guitar.
Pros
Enjoyable to play
Offers versatility
Cons
Neck adjustment can be a bit hard
They can come with bad intonation out of the box
Rounding things up, it's obvious that Epiphone truly knows how to make a high-quality, yet affordable, beginner versions of legendary guitars.
The G-310SG sounds amazing all by itself and really shines when coupled with a good amp or some pedals.
If you're into heavy metal or rock, this guitar offers pretty much everything you need.
Fender Modern Player Telecaster
Staying in the domain of the classic guitar models, we have the Modern Player Telecaster.
As this guitar is a bit on the pricey side, it could be your choice for a slightly more advanced musician.
This guitar is a perfect example of why sometimes getting a more high-quality model even for a beginner, pays out in the long run.

As a guitar with many qualities, not only does it present a friendly environment for beginners, but it's also an instrument that most musicians gladly pick up even after years of playing.
The alder body and maple neck provide a solid sound, with punchy mids and a very nice sustain.
With several different finish options, you will easily find one that looks best for you.
When we were talking about pickup layouts, we mentioned the advantages of different pickup styles in one guitar.
This model is the perfect example for that. The bridge pickup is a potent humbucker, and middle and neck pickups are single- coil.
Though this type of pickup layout is not that common, the sound it provides is interesting, to say the least.
The flexibility and versatility you get with this guitar are unmatched, as you can use it for any style of playing and genre possible.
Unlike most other Telecaster guitars, the sound of this one is surprisingly aggressive, primarily because of the bridge humbucker.
However, for a warmer and less powerful tone, simply switch to any position that includes the single-coils.
Pros
Amazing build quality
A great range of different sound options
Cons
Maybe a bit pricey for some
As we've mentioned, because of the higher price point of this guitar, it's best to get it for someone (or yourself) that isn't going to give up on playing the guitar after a week or two.
Fender is well known for their high-quality instruments, as you can see by this models premium specs.
Although Yamaha isn't one of the top electric guitar brands, with their focus on different instruments, the Pacifica PAC112v is one of the most popular electric guitars for novice players.
The overall design and looks of this model can be a bit deceiving.
Rocking a standard, plain design, with no special and distinguishing features, the Pacifica leaves the impression of yet another low-tier guitar.
However, after you try it out, you'll quickly see why it's special.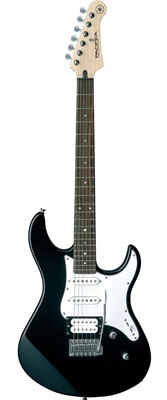 With alder as tonewood of choice and a bolt-on maple neck, this guitar is comfortable to play around with.
Build quality is more than decent, and it can and will take a beating before you start to see any scratches.
By opting for a slightly different pickup layout including a bridge humbucker and not one, but two single-coils at the neck and middle position, the good folks at Yamaha addressed the problem which most beginner-tier guitars have.
With this pickup layout, you are not limited to playing even the more gain-demanding genres, as the humbucker can pull off that chug quite easily.
Packing a nicely balanced sound, this guitar is ready for both precise solos as well as heavy riffs, as it pairs well with distortion pedals.
Pros
Sturdy build
Tone flexibility
Cons
The tuners lack some precision
This is the first electric guitar that I've had the chance to play.
Even after all these years, I gladly pick the Pacifica up and can say that it truly stands out as not only a good beginner electric guitar, but a well-built and versatile instrument as well.
Probably the most commonly recommended electric guitar for beginners is the Squier Bullet Strat.
As the go to guitar for under $200, let's see what it has to offer.
As we all know, Fender guitars tend to be pretty expensive. As a reach to the musicians that either can't or don't want to spend a small fortune on their instruments, Fender decided to come up with a budget line of guitars, now known as Squier.

The Bullet features a standard Stratocaster design, with the crucial difference being the tonewood.
Basswood used for this line of guitars isn't as good as alder, but it does the job quite nicely.
The neck profile is a copy of Fender's more expensive models, and in this case, as a beginner, you won't really be able to tell the difference.
The sensitive tremolo bridge, being made from relatively cheap materials, works, but that's about it.
Don't expect it to keep the tuning if you plan on going hard on it.
The weakest point of this model are definitely the pickups. The 3 single coils sound okay, but also tend to produce buzz which can be annoying.
As the sound goes, it's what makes it clear that this is an entry-level guitar.
The range isn't that impressive, but inside that range, you will get a decent sound.
Pros
Affordable
Does the job for most beginners
Cons
Pickup buzz
Not that versatile
All in all, the Bullet Strat is a good electric guitar. Good for beginners, but not much more than that.
As you won't have to spend a fortune on it, it is a good option for someone that is not sure whether they are really interested in music.
Squier Vintage Modified '51
If old-school and vintage are what you're looking for, look no further than the Squier Vintage Modified '51.
The vintage style coupled with a high level of playability and versatility make for one of the top electric guitars in our review.
The design is influenced by 3 Fender classics. The body of a Stratocaster, the pickguard of the '51 P- Bass, and the slim Telecaster Headstock. It simply screams Fender all over the place!

A basswood body has its limitations as we've seen with the Bullet Strat, but in this case, it's coupled with a maple fretboard neck.
The overall feel can be described as comfortable, with fast playing and bending being a piece of cake, even for the absolute newbies.
Having a hardtail bridge limits your possibilities, as there isn't a whammy bar present.
However, the increased tuning stability and sustain are worth it from a novice guitarist's point of view.
The pickup layout on this puppy is surprisingly well thought out. The open-coil bridge humbucker couples well with the single- coil neck pickup.
A convenient feature is a push/ pull coil- split master volume knob, which can turn the humbucker into a single-coil.
The overall build and the mentioned coil- split knob make this guitar a truly versatile one.
With basic hints of a warm yet treble-rich sound, and aggressive and crunchy humbucker notes, the Vintage '51 can be used for a wide variety of genres.
Pros
A great value for the price
Coil- split function comes in handy
Cons
Nothing a beginner would find important
Without a doubt, the Vintage '51 is one of the best entry-level electric guitars, if not more.
Delivering a variety of different sound options, and a superb build quality, it clearly points out what high-quality electric guitars should be able to offer.
Ibanez has been making good quality electric guitars, for both beginners and professional guitarists for quite some time. The RG450DX is no exception, as you'll soon find out.
Featuring the well known Ibanez design, this model rocks a mahogany body, which is somewhat a rarity in less pricey guitars. Adding to the overall good looks is a Strat-style pickguard.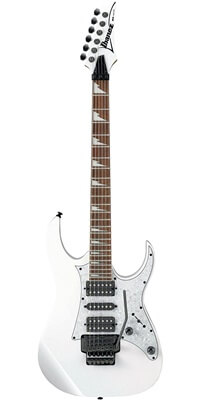 Complementing the mahogany body, the wizard III series maple neck is regarded as very comfortable, an important factor for every novice guitarist.
If style is important to you, the great thing about the RG450DX and most Ibanez guitars is that you can choose from a variety of different colors.
The Std. DL tremolo bridge provides you with nice levels of controls when it comes to playing vibrato.
Famous for their great choice of pickups, the folks at Ibanez opted for an HSS layout.
The bridge and neck pickups are ceramic, and the middle one is alnico, delivering truly a versatile sound with different pickup combinations.
Because this model offers both humbuckers as well as single coil pickups, you can easily switch from a chunky, fat sound, to a more refined, clear sound, perfect for solos.
Pros
Solid and sturdy build
High- quality pickups
Feels great under the hand
Cons
Though it offers a wide variety of sound options, some may not like the overall tone
The RG450DX, with its sleek design, solid build, and powerful performance, makes for one of the, if not the best first electric guitars you can get.
Opting for this model is a good long-term investment, as it will serve you well even after you've mastered the basics of guitar playing.
Squier Affinity Stratocaster Beginner Pack
If you like the overall look and feel of Strats, but don't want to spend a lot of money, this beginner pack is the way to go.
Getting into electric guitars can be quite expensive, as you need more than just a guitar.
By getting a pack like this one, you'll be getting everything you need ready to start playing out of the box.

The Affinity Series Strat included in this pack features a solid hardwood body and a 21-fret rosewood fingerboard.
With an HSS pickup configuration, you can easily tune in your desired sound as we've seen with other models we've reviewed.
As expected, the sound quality of this guitar isn't as good as of one that you would get at this price, however, it's decent enough for beginners.
Apart from getting a guitar, you'll also be getting a 10-watt Fender Frontman amp, perfect for home practice sessions.
A cable, tuner, strap and gig bag are also included, rounding up this pack with all the necessary equipment you need to start exploring the world of electric guitars.
Pros
A decent guitar for beginners
Feels solid, and is easy to play
Cons
Doesn't sound that great
Not much more than an entry-level guitar
As one of the best beginner electric guitar packages, the Squier Affinity Stratocaster Beginner pack offers a great environment for novice guitarists.
Though it's definitely not the best sounding electric guitar you can get, it's a good starter guitar.
We feel that this list simply wouldn't be complete without mentioning at least one electric guitar oriented towards metalheads.
The JS22 Dinky by Jackson is the go to option for all those lovers of metal!
Coming at a price point of less than $200, the Dinky is regarded as one of the best electric guitars for novice guitarists looking for a powerful and sick looking ax.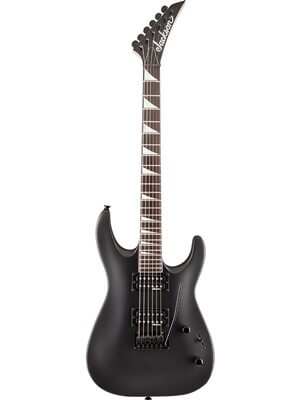 Rocking a modified Super Strat body shape, the choice of tonewood for the Dinky is basswood.
Though not that praised of a wood type, it still delivers solid resonance and sustain.
The basswood body is coupled with a maple neck, going for an overall pleasant and comfortable feel, while still maintaining good levels of sturdiness.
A tremolo bridge gives you the possibility to play around with the whammy bar, something most beginner guitarists like to do.
A double humbucker pickup configuration was a no-brainer as this guitar focuses primarily on shred-loving musicians.
The tone is, as expected, fat and chunky, perfect for both rhythm and solo guitar.
The Dinky truly shines when plugged into a good distortion pedal.
The distorted signal comes out strong but still manages to maintain a decent amount of clarity.
Pros
The dual humbucker setup outputs great sound
Overall build is solid
Cons
Not that versatile when it comes to different genres
As an affordable yet above- average entry level guitar, the JS22 Dinky offers a sturdy build and noise-free shredding sessions.
If you want a guitar capable of spitting out that fat and distorted sound, this is your best bet.
Though ESP is most commonly associated with metal guitarists, the LTD M-100FM is a solid choice for beginners, no matter their music taste.
As a part of ESP's LTD branch, this guitar offers great quality while maintaining a reasonable price.
The M-100FM features not only an attractive design but also very nice specifications.
The basswood body in combination with a 24- fret maple neck may not be the highest-quality choice, but it still delivers an overall enjoyable experience.
The pickup layout is pretty simple, consisting of 2 humbuckers, which you can combine via the pickup selector switch.
As this model features a Floyd Rose bridge, perfect for those divebombs and crazy bends, there is also a locking system at the top of the neck to minimize the possibility of the strings getting out of tune.
The sound can be described as clean, yet packing a nice punch.
Cleans are bright and clear, but you'll feel the real potential of this guitar once you use it with a distortion pedal.
Pushing out loads of gain, while not being muddy is where the M-100FM excels.
Pros
Fun to play
Offers great tone
Cons
The Floyd Rose bridge can be a bit hard to use for some people
If a well-balanced, good looking, and versatile guitar is what you're looking for, the M-100FM offers all that at a relatively affordable price point.
Wrapping things up
So, what is the best electric guitar you can buy? It really depends on your preferences.
There is no such thing as the best electric guitar in the world. An important part of every electric guitar is the way it feels in your hands, and the way it sounds in your opinion.
As a beginner, it's important to start on the right foot and work your way up.
By presenting our pick of the 10 best electric guitars for beginners, and some of the most important tips when buying one, we hope we helped you on your quest of getting the perfect one for yourself.