If you're looking for some of the best beginner electric guitars, you've come to the right place. Picking up the guitar is usually a thrilling experience, but it could also be very discouraging if you come across a model that sounds bad or gets broken in a couple of weeks. That's the reason why we recommend to you the best that market has to offer.
We've taken a gander at the market and have compiled a list of the best 10 models which could serve as your first guitar. So, without any further ado, let's get straight to it.
Here are the best electric guitars for beginners 2020:
1.

Ibanez GRX20Z

Let's start off with Ibanez' GRX20Z. Now, you might hear from some experienced guitar fellows that Ibanez guitars are great in the hands of intermediate level players, not so much for beginners. Even if that was true, the GRX20Z is an exception from such a rule.

First things first, the main features of this guitar include two Powersound humbuckers, a basswood body, a rosewood fingerboard, and a Fat-6 bridge. Basically, this combination of features yields a versatile tone and, what's most important for beginners, excellent playability.

It's true that Ibanez GRX20Z has a bit more of an aggressive, punchy sound, but by starting out with such a defined tone you'll be able to upgrade on it while having a firm foundation to begin with. Furthermore, it comes with a set of complementary features, including a bonus gig bag, a cleaning cloth, and a guitar stand.
Image credit: Ibanez

Check Price on Amazon

Excellent sound quality.
High-quality gratis features.
Very playable.
Built to last.

Quite expensive for a beginner's guitar.
Even though it does cost a bit more than most people would find comfortable, Ibanez' GRX20Z is a phenomenal option for any starting-out guitarist. It sounds great, feels great, and it's very easy to play.
2.

Yamaha PAC112V

Following up on where we started with Ibanez, let's try to top its performance with Yamaha's Pacifica 112V electric guitar. Though it's true that our previous pick was one of the best beginner electric guitars as well as one of the top-rated guitars in its price range, it's safe to say that PAC112V offers an equally great level of performance.

This guitar comes supplied with a body made of solid alder, a neck made of maple, and a rosewood fingerboard. Again we see an interesting choice of tonewoods, although this one is a bit warmer in contrast to GRX20Z being so bright.

On top of that, it looks very elegant and classy, and comes in several color and finish variations, such as the old violin sunburst, tobacco sunburst, red raspberry, vintage white, and more.
Image credit: Yamaha

Check Price on Amazon

Looks absolutely amazing.
Great sonic performance.
Exceptional playability.
Gratis gig bag.
With great sound quality, superb playability and a bonus gig bag, the PAC112V from Yamaha is a no brainer if you're looking for the best beginner electric guitar.
3.

Isin Electric Guitar Bundle

We're moving on with Isin's beginner electric guitar bundle. This is a great option if it should be your first electric guitar, as it comes outfitted with all the necessities you need to start playing straight out of the box.

The guitar features a basswood body, a maple fretboard, a maple neck, and a cool one-way tremolo bridge system. It doesn't sound as great as Yamaha and Ibanez models, but it's certainly close enough – its sound customization potential is pretty high due to the triple-S pickup positions.

Additionally, you'll get a small 20W amp, a cable, and a pick, so all you need to do is simply plug in and play.
Image credit: ISIN

Check Price on Amazon

A complete bundle comprised of a gig bag, an amp, some cables, and a guitar.
Decently good sound.
Quite durable.
Gig ready straight out of the box.
Isin's guitar bundle is a perfect entry-level electric guitar package for people who are on a tight budget. It's one of the easiest electric guitars to play and it's even gig ready since it comes with a strap, an amp, and a gig bag.
As soon as it arrives on your doorstep, you can start thinking about forming a band with a couple of friends.
4.

Zeny Electric Guitar Bundle

Next up is Zeny's 30-inch guitar bundle. Now, before we get on with our beginner electric guitar reviews, it's important to point out that this is a value bundle as opposed to premium-quality standalone guitars.

The guitar itself is relatively basic overall, featuring a full solid wood construction and a rosewood fretboard, but it does the job just fine.

Furthermore, the single coil pickups on this guitar are nowhere near as hot as the ones supplied to the Ibanez and Yamaha models we've reviewed so far. However, with a slightly less aggressive tone comes the benefit of learning how to tame it and master it more easily.

In terms of durability, Zeny's guitar is quite something. The solid wood construction provides it with plenty of robustness and even with minimal maintenance it will serve you well for years.

Now, the real value in this guitar bundle is seen in the complementary features. It packs a guitar strap, a set of replacement strings, a gig bag, a couple of picks, and a guitar cable. Just like the Isin model, this guitar allows you to climb the stage (of a smaller venue) and start rocking off as soon as it gets delivered.
Image credit: ZENY

Check Price on Amazon

Outstanding durability for a beginner's guitar.
A complete beginner's bundle comprised of several picks, a strap, replacement strings, a cable and a gig bag.
Easy to care for and maintain.
Decent playability.

Sounds somewhat weak due to single coil pickups.
The scale is smaller than average.
In most cases, guitars hide a secret or two when you take a first look at them. Some sound better than they look, others are more playable than you thought. On the flip side, some guitars are pretty bad overall, with horrible sound and almost zero sound customization potential.
With Zeny's guitar bundle, what you see is what you get, and that's probably the best thing about this package.
It's true that it doesn't sound as powerful as Ibanez GRX20Z, it's not as durable as Yamaha PAC112V, but it's capable of combining the benefits of some of the best beginner electric guitars and adds just a bit of extra value with bonus features. It's a great guitar to start with, especially due to its attractive price.
5.

Lagrima Electric Guitar Bundle

Next up is Lagrima's beginner bundle. It's made of fairly robust materials and packs an eco-friendly finish, which is certainly a breeze of fresh air in the beginner's section of the industry.

This is yet another guitar bundle which relies on the complementary (accessory) features a bit more than it does on the main ones. Lagrima's guitar is just decently robust and durable, although it doesn't particularly excel in this field of performance. It sounds pretty good considering the price too.

On the flip side, it packs three double-coil pickups, so it fares a bit better when it comes to heavy lifting than our previous couple of picks.

As for the gratis features, you'll get a set of replacement strings, a tremolo bar, three picks, a guitar cable, a strap, and a small 15W amp – everything an aspiring guitarist needs to play right off the bat.
Image credit: Lagrima

Check Price on Amazon

Decent sound quality.
Eco-friendly finish.
Comes with all the necessary accessories.
Complementary 15W amp.
Quite playable for the price.

Not very rewarding in terms of maintenance.
Mediocre durability.
In short, Lagrima's guitar bundle is well worth the money. It was obviously made for young guitar players who intend to hit the stage as soon as possible, considering that it packs all the features you need to play without having to go to the music shop once.
6.

Fender Squier Bullet Stratocaster

Fender is one of the biggest names in the industry, and if you're looking for the best beginner electric guitar, the Bullet Stratocaster might just be what you're looking for. It packs a maple neck, a fretboard made of Indian Laurel, and three single coil pickups complemented with a 5-way switch.

Not only does it sound great, but it also sports a huge sound customization potential, so players who are looking to learn the ropes with it would welcome such a boost in versatility.

On top of that, the Bullet Stratocaster comes outfitted with a vintage style hardtail bridge and a set of beginner features, such as Austin Bazaar's 'Guitar Essentials' guide, a guitar strap, a tuner, a set of picks, and a gig bag.

The Bullet Stratocaster is also incredibly playable due to the fact that it rocks 21 jumbo frets and a remarkably well-built fretboard.
Image credit: Fender

Check Price on Amazon

Remarkable sound quality and sound shaping potential.
Excellent choice of tonewoods and features.
Very durable build.
Comes outfitted with a variety of beginner-based goodies.
Superb level of playability.
You simply can't go wrong with a Fender, regardless of what music you intend to play or what your skill level is. We highly recommend the Bullet Strat as is brings a plethora of benefits to the table and excels in virtually all fields of performance.
7.

Glarry Electric Guitar Bundle

Moving on to Glarry's electric guitar bundle, this is a perfect choice for immediate beginners, although it would suit players with some experience just as much.

This guitar bundle rocks two Plectrums, a tremolo arm (which you don't need to use if it bothers you), a small 20-watt amp, and a shoulder strap.

As for the guitar itself, it features a full basswood construction, so its tone is remarkably warm. There's plenty of bass in its sound, although the higher end frequencies are a bit lacking.

However, there's a silver lining here as well. This guitar sports two single coil pickups, a 2-position switch and three volume control knobs, so you can compensate for the mediocre high end sound with a little practice.

In terms of durability, the basswood is regarded as one of the sturdiest build materials, so you can rest assured that you'll be using this guitar for years even with minimal maintenance.
Image credit: Glarry

Check Price on Amazon

Incredibly durable body.
Comes in a variety of color options.
Plenty of bonus accessories, including a 20 watt amp, a gig bag, and a shoulder strap.
Very functional tremolo bar.
High versatility.
Glarry's guitar bundle is absolutely great for the money. You get everything you need for rehearsals and solo practice, and you get to tweak your sound in the easiest way possible. Overall, it's undoubtedly one of the best beginner electric guitars in the price range.
8.

Ibanez GRGM21

Here we are looking at yet another Ibanez model, the GRGM21 miKro. It features a Poplar body, a GRGM neck, New Zealand Pine fretboard with Sharktooth inlays, medium frets and Infinity R neck and bridge pickups.

There's also a 5-way selector switch, as well as two volume and tone controls, so its sound customization potential is incredible.

Apart from sounding exceptionally great, the GRGM21 has plenty to offer in terms of durability. The Poplar build material is not only great as far as the sound goes, but it's also very, very robust.
Image credit: Ibanez

Check Price on Amazon

Exceptionally sturdy.
Superb sound quality and sound shaping potential.
Great playability and fretboard.
Looks exquisite and stylish.

The only complementary feature is the gig bag.
Ibanez guitars are some of the finest in the industry, and the GRGM21 is perfect example of what the brand's engineers can do. With outstanding features, sound and durability, it's safe to say that you'll grow to love this beginner guitar in no time.
9.

Best Choice Products Starter Kit

We've taken a gander at what the budget price point category has to offer and have stumbled upon the Best Choice Products beginner electric guitar starter kit.

It's exactly what it sounds like – a starter kit made of a 10-watt amp, some replacement strings, a gig bag, a cable, a strap, a pick, and a tremolo bar.

The guitar features an all hardwood construction and excels in durability more than most similarly priced models. As far as the sound goes, it's pretty basic and straightforward. There's a 3-way selector switch and three volume and control knobs, so at least there's plenty of sound shaping potential to go about.

Furthermore, the playability of this guitar is absolutely phenomenal considering that it's a budget model. The frets are decently big and the inlays are clearly visible, so even the immediate beginners will get the hang of the basics in shortest time possible.
Image credit: Best Choice Products

Check Price on Amazon

Decently good sound for the money.
The all-inclusive beginner bundle comes outfitted with all the necessities, including a 10 watt amp, a gig bag, replacement strings, a cable, and a strap.
Excellent playability.
Very robust.

Mediocre overall performance.
Even though there are so many great things about the Best Choice Products guitar bundle, it doesn't really excel in any particular field of performance.
On the brighter note of things, it's a budget bundle which was specifically made for beginner guitarists, so if you're looking for the best beginner electric guitar in the budget price point category, look no further.
10.

SX RST Short-Scale Guitar Package

We're pulling the curtains down with the SX RST short-scale guitar. It's important to note that this is not a kid's guitar per se, although the shorter scale length could really help beginners out while learning the basics of guitar playing.

The guitar's fretboard is made of rosewood while the body is made of high quality alder material. It's quite durable for the money, although it could be regarded as flimsy as per industrial standards.

In terms of sound quality, it features three single coils, so even though there's not much strength between its punches, there's some versatility at the very least.

The package is comprised of an instructional DVD, a cable, a strap, a gig bag, and a small 10W amp, so you can basically just plug and play as soon as you get it.
Image credit: SX

Check Price on Amazon

Decently durable for the cash.
Versatile.
Shorter scale length makes it easier for beginners to play.
Formidable build.
It's true that there are many better-sounding guitars out there, there are many more robust models, but the value of the SX RST guitar is quite great for the money.
What is a good beginner electric guitar?
As electric guitars keep evolving, and new features are added every so often, there is truly a wide range of different types and models you can get. We'll try to cover the basics, explain the most important specifications, and give advice on what we think would help you when you start playing.
Price often dictates quality
If you're buying an electric guitar for someone who is an absolute beginner, opting for a less expensive one shouldn't be a problem. Electric guitars, as many other instruments, have a wide price range. Don't simply go for the cheapest option, but also don't stress yourself about getting a crazy expensive one.
On the other hand, if you or the person you're buying the guitar for already has one, and wants to upgrade, think about the style of music, and the overall skill level, and choose the new guitar accordingly.
There are, of course, cheaper models that prove to be of excellent quality. However, most of the time, the quality depends on the money you're ready to spend.
Body type
As there are three types of body when it comes to electric guitars, let's see what are the benefits and downsides of each.
Hollow Body – As you may have guessed, these electric guitars have a body similar to acoustic guitars. This means you get quite more resonance, but at the same time feedback can be a problem.
Semi-Hollow Body – A solid center wood block is positioned inside the body in order to provide stability in the structure of the guitar, but you still get great sustain and warm sound.
Solid Body – The most common option. Though it may not offer that much sustain and resonance, it's definitely the most sturdy one.
So, what should you pick as a novice guitarist? It really boils down to personal preference. If, however, you still don't know what to get, our personal advice would be to go for a solid body guitar, as you won't have to think about it breaking that much if you accidentally hit your chair or the wall while playing.
Pickups
Pickups are the part of the electric guitar that detect the vibrations of the strings and translate them into a signal the amplifier can understand and transform into sound.
There are two important things to have in mind when talking about pickups: The Type, and The Layout.
The most basic pickup type or design is called a Single Coil Pickup. Single coil pickups tend to produce bright and crisp sound. It's a good choice because the tone can cut through the overall mix when playing as a part of a band. The downside of this type of pickup is that it often generates hum and unwanted noise in the background.
Your next choice would be Humbucker Pickups. Designed as a solution for the mentioned hum with single coil pickups, they also offer a different sound. As they offer more power and tend to sound thicker and heavier, they are a good choice for playing hard rock, metal, or even jazz.
Active Pickups aside from needing a battery to operate, offer a preamp, as well as some additional sound shaping controls onboard the guitar. These are primarily used for higher output needs and offer a more controlled, cleaner sound.
Pickup Layouts are a bit more complicated. Different models offer different solutions. Now that you know what single coil and humbucker pickups are, you can understand different layouts. S stands for single coil, and H stands for humbucker. Going from the neck, down to the bridge, there are different combinations of these two types of pickups.
The crucial thing for you to understand is, Bridge Pickups provide a sound with more treble, and by going towards the neck, pickups offer more of the mid and low range of the sound.
As a beginner, you should aim for a guitar that has multiple pickups, so you can tune in the desired sound. Simply use the dedicated knob or switch, and experiment with different pickup combinations.
Scale length
This refers to the length of the strings, from nut to bridge. In order to avoid any kind of confusion, your best bet would be to go for guitars with a scale length of 24 – 25 inches.
Neck shape and type
Hosting a fretboard (the part where you press the strings) from ebony, maple or rosewood, necks come in different sizes. If you have smaller hands, go for a narrower, more shallow neck, as it will definitely feel more comfortable.
There are also different types of neck construction options, which is the way that the neck and body are joined together.
Bolt-On – The neck is simply bolted to the body. This is probably the most common and cost- effective type of neck construction. The downside is that it provides less sustain and resonance as opposed to other options.
Set Necks – The neck is glued to the body of the guitar. Though that means you'll be getting more sustain and resonance, any potential repairs can be difficult and expensive.
Neck-Through – As the name suggests, the neck goes through the body of the guitar. If you're looking for maximum resonance and sustain, this is your best bet. This also makes the whole construction more stable, minimizing the chances of any cracks.
Tonewood choice
The type of wood used for the guitar is one of the more important factors when it comes to sound quality and characteristics. Without getting into too much detail, let's go over some of the most common types of wood used for guitars, and their impact on the sound.
Maple – more trebles.
Mahogany – very resonant, great sustain.
Ebony – hard, dense wood, balanced sound.
Rosewood – most common, balanced sound.
Ash – bright tone, nice sustain, punchy midrange.
Alder – similar to ash, but not that expensive.
Agathis – not quite resonant as Alder.
Nato – warm sound.
Bridge types
The bridge is the piece of hardware located on the lower end of the body, over which the strings are routed. Different options provide you with different possibilities when it comes to doing vibratos, as well as adjusting string height.
Tune-o-Matic – A common design, offers individual string intonation and height adjustment.
Fulcrum Vibrato – Every string sits on an individual saddle, which you can adjust in terms of height and intonation.
Floyd Rose – Provides the same benefits as a fulcrum vibrato, but with more space for the vibrato motion.
Bigsby – Offers a vintage vibe, as it's commonly found on old- school guitars.
Six point locking tremolo – All the benefits of a fulcrum vibrato, but also offers better vibration and resonance.
String-through – The strings go over the saddles, and through holes in the body, giving a bit more sustain.
This would pretty much round up the most important specs and features electric guitars have to offer. With this knowledge and understanding, reading through the next part of this guide should be easy.
Conclusion
We've seen guitars from Ibanez and Yamaha, which are widely considered to be among the most famous guitar makers in the world, but we've also seen a couple of underdog brands that have put out some exceptional quality axes.
Regardless of what your preferences are, all of the guitars in our review are of great value, so kick back and take your pick. We hope you liked our selection of the best electric guitars for beginners.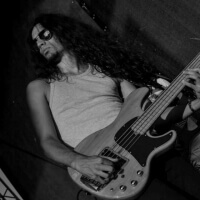 Marko is a writer, bassist, and fan of all things music. His passions include quality music gear, King Crimson, and sifting the web for the latest music updates.