In order to even begin to start working with music production, aside from instruments and other gear, you need a computer. Without a desktop computer or a laptop, you'll have no way to record, mix, and master any music.
Sometimes it's hard to find the best cheap laptop for music production when you're on a tight budget, so we're providing you with a list to help expedite your process.
Setting Expectations
Before I begin getting into things, let me say a few things. First of all, since this is a budget laptop review list, you're not going to find any new MacBooks or gaming computers on here. With a $500 budget, you'll likely be able to find some better quality laptops that run Windows.
Now, Windows may be a bit more finicky when it comes to running DAWs and different plugins as opposed to Apple's computers, but a $500 Asus laptop can be just as powerful as a MacBook if you find the right hardware.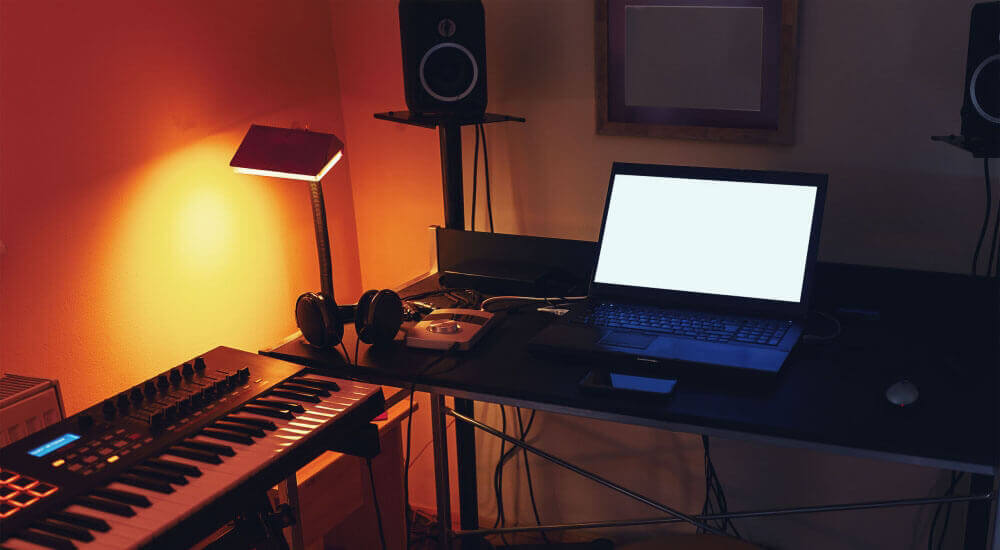 If you want something that's worth more but don't have the budget for it, try to find a used laptop. I strongly suggest looking on eBay or other secondhand seller websites where you'll find a lower price for more expensive computers. Even if you can find an older MacBook, they can still hold their own against a newer Dell or Asus laptop.
Top 7 Best Budget Music Production Laptops Under $500
Here are the best cheap laptops under (or around) $500 for music production:
Lenovo IdeaPad 320 – Music Production Laptop with Multiple USB Ports
The Lenovo IdeaPad 320 is an inexpensive middle of the road laptop that won't break your wallet but also will allow you to make music without any lag during the process.
The IdeaPad 320 features a 15.6-inch HD screen and AMD Radeon R7 graphics, a 2.7GHz AMD A12 Quad-Core processor, 8GB of RAM that can be upgraded to a maximum of 12GB, and a 256GB solid state drive.
The laptop also has many USB ports, an HDMI port, and is Bluetooth compatible for use with all your MIDI devices that connect using Bluetooth. Additionally there is a built in HD webcam with a microphone.
The keyboard of this computer is full size and even has a full size numeric keypad, which is something you don't usually see on smaller laptops.
Solid state drive.
Upgradeable RAM.
Full size keyboard.

Processor doesn't have turbo.
While the processor is a bit slower than others on this list, it should give you enough power to run your DAW with all its plugins without causing any issues. Lenovo has some really great computers and this is one of them.
Asus VivoBook X541UA – Best Windows Music Production Laptop for Money
The Asus VivoBook X541UA is a laptop that's especially designed for those who want portability, and it definitely serves this purpose while being powerful enough to produce music and handle a ton of plugins and whichever DAW of your choice.
The VivoBook X541UA is a touch screen laptop made with multimedia in mind. It has a 15.6-inch screen and an Intel Core i5 processor with a base of 2.5GHz and a turbo up to 3.1GHz.
It is equipped with a 1 TB hard drive and 8GB of RAM, which will leave you with plenty of space and memory and the chance to upgrade it (max memory up to 32GB).
The keyboard is more ergonomic than others made by Asus so anything that you have to do with the keyboard will be much easier on your hands if you have to spend hours working on a project. It's also Bluetooth compatible and has many USB ports including USB-C, so it's compatible with newer hardware that uses USB-C.
The graphics card is an Intel HD Graphics 620 so you'll have no problem rendering videos or using plugins that have a lot of graphics. Since this is an Asus computer, it runs on Windows 10 Home.
Portable.
Uses USB-C.
Upgradeable.

Hard drive instead of solid state drive.
This laptop goes for a little bit more than $500 on Amazon, but because of the processor and touch screen I think you should definitely consider it if looking into buying a laptop for music production. If you're not willing to shell out $550, try to find it on sale.
Acer Aspire E 15 – Best Laptop for Music Production Beginners
Acer is a really great brand with some reliable, fast computers. The Aspire E 15 is equipped with an 8th generation Intel Core i5 3.4GHz processor, an Nvidia GeForce MX150 graphics card with 2GB of GDDR5 VRAM, a 1920 x 1080 widescreen display, 8GB of memory (dual slots), a 256GB solid state drive, a rewritable DVD double layer drive, a webcam, and it runs on Windows 10 Home Edition.
The battery will stay charged for up to 10 hours. The Aspire E 15 also has Bluetooth so you can connect your Bluetooth-compatible MIDI instruments and other devices to the computer.
Having a solid state drive (SSD) greatly increases the speed of the laptop. Solid state drives don't have any moving parts, so accessing files is much faster than if you have a normal hard drive (HDD). A lot of laptops have issues with slowing down once they become full of files and programs, so a solid state drive helps to prevent that.
The Intel Core i5 processor is one of the faster ones out there so navigating and using your DAW and plugins will be a breeze. With dual slot memory, both the solid state drive and the memory of the laptop are upgradeable.
Solid state drive.
Intel Core i5 processor.
Up to 15 hour battery life.
Great value for money.
The Acer Aspire E 15 goes for around $500 and is a great, affordable laptop. I highly recommend it for both seasoned producers and beginners, as it's upgradeable, fast, and has amazing battery life. In my opinion, the Acer Aspire E 15 is the best budget laptop for around $500.
Dell Inspiron i3567 – Best Laptop for Less Money
The Dell Inspiron 15.6-inch laptop is a modest choice that still gets the job done easily when making music.
It boasts a 7th Generation 2.4GHz Intel Core i3 dual core processor for smart and high definition computing, 8GB of RAM so you should have no problem with plugins, a 1 TB hard drive, and an Intel HD Graphics 620 graphics card if you end up wanting to use the laptop for making beat videos or music visualizers.
The Dell Inspiron Business laptop has MaxxAudio from Waves to provide you with a crisp, clean sound if you're using headphones or speakers. It's also Bluetooth compatible and has a webcam, plenty of USB ports, and an HDMI output for connecting to a bigger screen.
Dell has omitted an optical drive in this laptop model to allow for a ton of portability. If you want an optical drive, you should be able to find an external USB one for not a lot of money.
Portable.
Very affordable.
Being one of the cheaper laptops on this list doesn't mean it skimps on quality or performance. It's definitely a decent laptop and would be great for producers that are just starting out and don't need a ton of processing power just yet.
Dell Inspiron i5378 2 in 1 – Laptop-Tablet for Music Production
The Dell Inspiron 2 in 1 laptop is a really nice choice for seasoned producers who often have recording sessions with clients while also being a good option for beginner producers.
The Dell Inspiron 2 in 1 has Waves MaxxAudio Pro technology and Intel HD Graphics 620 so you'll have no problem navigating through your DAW and if you're not using an audio interface to listen to the laptop, it'll sound great whether you're using headphones or speakers.
The processor is a 7th Generation i3 Intel Core processor which means it's powerful enough to run a DAW without getting bogged down by plugins. The laptop comes with 4GB of RAM but is upgradeable up to 16GB of RAM, which is a lot for a 2 in 1 laptop. As for storage, it's got a 1 TB hard drive.
Here's arguably the best feature of this computer: it's a 2 in 1, which means that you can use it like a normal laptop, or you can use it in a stand, tablet, or tent mode since it has a touch screen. This comes in handy especially if you are recording live sessions in a studio and need to be up on your feet.
If you use the Inspiron 2 in 1 as a tablet, that saves you a ton of money because you won't need to buy an iPad to control your DAW during sessions.
2 in 1 (very portable).
Upgradeable RAM.

Starts with only 4GB of RAM.
No optical drive.
I absolutely 100% recommend this laptop, as it'll save you a ton of money in the long run because it's a 2 in 1, and it's also upgradeable if you find that its base specifications aren't enough for what you're using it for.
HP Business 15.6 Touchscreen – Laptop for Music Production with Large Storage Space
The HP Business 15.6 Touchscreen laptop is definitely one of the best budget laptops out there. HP is a brand that has been trusted by many music producers and computer users in general and I personally have found HP's computers to be the most reliable and well built.
The HP Business laptop features a 3.6GHz Quad-Core AMD CPU, 8GB of RAM, a 1 TB hard drive, a webcam, HDMI, and Radeon R7 graphics. It's a lightning fast laptop that will be able to handle a heavy workload filled with tons of plugins in your favorite DAW.
With a 1 TB hard drive, you'll have plenty of storage for project files and music software. 8GB of RAM is plenty to run plugins without slowing your computer down. If you have graphics-heavy plugins, that shouldn't be an issue either due to the Radeon R7 graphics card. The laptop runs on Windows 10.
Of course the most defining feature is the touchscreen, which is one of the reasons why I'm ranking this laptop so high. Having a laptop with a touch screen makes your workflow much more efficient as you get a chance to break away from using a mouse.
The touch screen makes using faders and knobs in your DAWs and plugins so much easier and therefore expedites mixing and mastering.
One of the main gripes people have with this laptop is that it slows down once it has so many programs and files on it. This can be remedied by switching out the hard drive with a solid state drive.
Touch screen.
1 TB hard drive.

HDD rather than SSD.
Lower battery life.
While it's at the very top of the $500 budget (and slightly over, depending on where and when you buy it), it's very worth it. The HP Business Touchscreen laptop goes for a little over $500 on Amazon but depending on where you get it, it might be cheaper.
HP Jaguar 15.6 Touchscreen – Long Lasting Battery Music Production Laptop
As you can see, I'm a fan of the touchscreen laptops. The HP Jaguar is another fantastic choice for a decent laptop for music production that also happens to be inexpensive.
The HP Jaguar has an Intel Core i5 processor that has a base of 2.50GHz and goes up to 3.10GHz. It has 8GB of RAM, which is enough to run many plugins in your DAW. It also has a 1 TB hard drive.
The touchscreen on this laptop supports 10 finger multi touch and has a 15.6-inch screen. It's Bluetooth compatible and if you don't like Bluetooth, there are several USB ports and a full size island style keyboard as well as a touchpad.
10 finger multi touch screen.
Long lasting battery.

Hard drive instead of solid state drive.
Having a hard drive versus a solid state drive isn't really a big issue, but for some people it really does matter. If you care a ton about speed, get a solid state drive for this one. Overall though, this laptop is a great budget choice laptop, and it's also under $500 on Amazon.
Conclusion
There are a lot of great laptops out there that will do well with running music production software. While looking for a budget laptop, make sure to never skimp on RAM, CPU, and a hard drive or solid state drive.
Having a fast, capable processor will enable you to work efficiently and save you from waiting several minutes just to start your computer up and get things running. RAM allows for more plugins to be used in your DAW and works hand in hand with your CPU.
If your processor isn't fast enough, you'll get issues like latency while recording, and if your RAM isn't big enough, you'll get issues like your plugins running slowly or crashing. This is why having a good computer is so important.
That being said, don't forget to look at older computers, especially ones from Apple. They can be just as good as newer computers and you'll be able to save much more money if you buy something that's been refurbished or used.
For more information on the best computers to use for music production to help you choose the best laptops and desktops within your budget, be sure to check out the articles and guides that we have coming up in the near future!