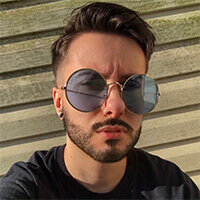 Jordan is not only a professional content creator and writer but also an audio engineer, music producer, and session musician himself. He is an experienced guitarist and enjoys listening to and playing many different genres of music. Apart from that he also (in his own words) loves to educate people in ways that are easy for everyone to understand.
Having a nose for music gear
His past work experience mainly focuses on sound engineering, music, and technology. He has over 4 years of experience as a live sound engineer. While mixing live audio, troubleshooting gear, and working with a team to produce the best possible sound for the given occasion, Jordan has come in contact with a variety of musical instruments and equipment and thus knows what differentiates the good from the bad.
The experience in that field is what got him into content writing. Combining these two great passions of his, he's been writing articles, reviews, tutorials, and guides on music production gear for over 3 years, helping beginners and experts alike to pick the right equipment for their specific needs.
Compelling content
The content Jordan writes is not only well-researched and compelling but also easy to read. He prides himself in providing content that is easy to understand, while still being highly informative and relevant in order to help everyone - even complete beginners - understand the given topic in-depth, thus enabling them to make informed decisions on their purchases.