Headphones: if you like to listen to music or have a career in the music or entertainment industry, you probably use them pretty often, maybe even every day. They come in all sorts of shapes, sizes, colors, styles, and there are countless brands that make them. There are many different types, from a cheap pair of earbuds or a professional set for using in the music studio.
In this article we'll break down the different types of headphones and give you all you need to know about their uses and more. Read on to learn more!
Different types of headphones compared:
1. Closed-back headphones
Closed-back headphones are a well-loved type of headphone that is very common and can be found easily among many different brands and manufacturers around the world. Closed-back headphones are designed in such a way that the ear cups have a closed design that prevents audio from leaking out of the headphones. With this design, audio is greatly isolated so that the sounds of your environment are blocked out.
While it's not completely soundproof from the external noise of your surroundings, for the most part you will find that closed-back headphones offer one of the best levels of audio isolation so that only you can hear your music, even in very busy environments like your workplace or public transit systems. This means that closed-back headphones are ideal for people who want to be able to hear the sonic characteristics, details, and nuances of music and immerse themselves in the listening experience.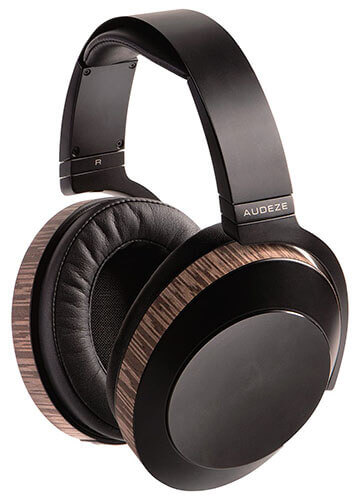 Closed-back headphones / Image credit: Audeze
Closed-back headphones are a top choice for consumers who commute to work on public transit systems, but also are an ideal style of headphone for people in the music industry who record in the studio or even those who perform live. Musicians and producers will find that closed-back headphones are ideal to use in the studio when recording because of the high level of audio isolation.
Because of the closed back design, audio is much less likely to escape from the headphones. You can wear closed-back headphones while recording and still be able to hear the music fine, but you also won't have to worry about the microphone picking up the audio when you sing or record an instrument (as long as you keep the headphones' volume low enough that the audio doesn't leak out).
Aside from musicians and producers, those who prefer to listen to music without disrupting others around them will find that closed-back headphones are the best option for them.
Closed-back headphones are usually a lot bulkier than other types of headphones and can come in over-ear and on-ear styles. If you don't mind the big size and often heavier weight of closed-back headphones, you'll enjoy them quite a bit.
The only downside to using closed-back headphones is that if you're a music producer, the closed nature of the headphones creates more pressure around your ear and can accentuate bass frequencies. The design can even create false bass frequencies that will then in turn give producers a less accurate idea of what their music sounds like. This is why it is not always ideal to mix music on headphones and instead it is recommended to use studio monitors or other speakers.
See also:
2. Open-back headphones
Open-back headphones are another popular type of headphones and are similar to closed-back headphones, but there is one main difference between them: the ear cups are open. What this means is that the material used over the ear cups where the speaker and magnets are in the headphones is porous or mesh-like to allow sound to escape out of the ear cups and into your environment.
The audio is not isolated at all and is free to leak out of the headphones, which is more disruptive to others around you as everyone will be able to hear your music. This style of headphone gives a completely different soundstage than closed-back headphones. The soundstage of open-back headphones tends to be more airy and open, and while they don't exactly mimic the soundstage that speakers would give you, they do give a similar soundstage and don't trap bass frequencies around the ear and accentuate them like what happens with closed-back headphones.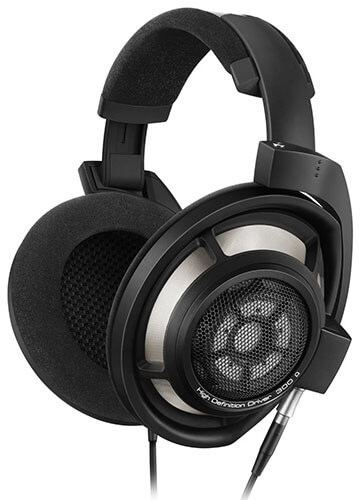 Open-back headphones / Image credit: Sennheiser
Open-back headphones are not typically used for casual listening for consumers, although some music purists and audiophiles especially like the soundstage that this style of headphones provides and do use it for casual listening as opposed to using headphones with a closed-back style.
Instead, open-back headphones are mainly meant to be used for mixing and mastering in the music studio. With open-back headphones, audio engineers and music producers are able to get a much more accurate idea of their mix as opposed to using closed-back headphones. Because the frequencies are free to escape out of the ear cups of open-back headphones, what you would hear is not skewed like it is with closed-back headphones.
An accurate representation and reproduction of audio is extremely important when mixing and mastering, so producers and audio engineers can rest assured that when using open-back headphones, the mix they'll be hearing is much flatter, which can then help them to make the appropriate mixing choices they need in order to make the music sound more polished and well balanced. If you are a music producer that doesn't have the luxury of mixing audio on speakers, open-back headphones are your next best option.
If you prefer that other people can't hear your music while you listen to it, open-back headphones are probably not the type of headphones that you will want to use when listening to music casually. With the audio being able to escape out of the ear cups, it is guaranteed that people will be able to hear the music, which can lead to disruption in the workplace or whatever environment you're using them in.
However, if you do want a much more accurate listening experience and get the full idea of what the artist and audio engineers intended for the music, you should use open-back headphones. As mentioned above, audiophiles find open-back type headphones much more ideal to get this accurate representation of audio, both with the soundstage and the frequencies since they are not building up over time.
Additionally, because the frequencies don't build up in the ear cup over time with open-back headphones, they are much more comfortable to wear for long periods of time and are way less fatiguing on the eardrum.
Open-back headphones come in over-ear and on-ear styles. There is also a type of headphone that has a semi-open back, which gives you the best of both worlds between open and closed-back headphones. Audio is still able to leak out, but not as much as it would be with regular open-back headphones, and low frequencies won't build up so much and cause pressure around the ears. Audio will be more isolated, too.
See also:
3. Over-ear headphones
Over-ear headphones are probably one of the most common styles of headphones and have some of the most comfortable fits of headphones on the market. Also called circumaural headphones, over-ear headphones have ear cups that go completely over and around the ear and don't rest on any part of the ear, instead the weight rests more so on the top of the head where the headband of the headphones lies. The entire ear is cupped by this style of headphones.
Over-ear headphones have way more noise-cancelling abilities than on-ear headphones because of this cupped design that encloses the ear in the headphones, giving you a very close listening environment. This also gives incredible isolation of sound as well, but is not necessarily 'noise-cancelling' like active noise-cancelling headphones are, keeping noise out and audio in quite a good bit. This is especially dependent on the thickness of the ear pads and their material, the material of the ear cups, their design, and how close to your head you can get it (if you have glasses).
For the most part you will find the majority of over-ear headphones are the closed-back headphone type, although there are some models of headphones that have open backs and are the over-ear style. Closed-back over-ear headphones seem to be more popular than open-back over-ear headphones because of the semi noise cancellation and audio isolation abilities.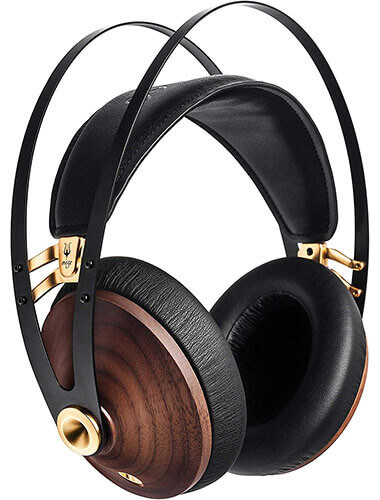 Over-ear, closed-back headphones / Image credit: Meze Audio
Over-ear headphones are characterized by large, often bulky ear cups and large, thick ear pads that line the cups. This ensures maximum comfort when wearing them, but can also lead to a tighter fit and potential skin irritation, especially for people with large ears, bigger heads, or glasses.
The ear pads come in a variety of materials including velvet, velour, and leather, and are often filled with some type of memory foam for extra padding, which contributes to different levels of isolation and noise cancellation.
However, because of the thick ear pads, your ears and head can get pretty hot and sweaty if you wear over-ear headphones for a long time. Some people love the bulk of over-ear headphones and others are just willing to put up with it for the isolated sound and high-quality audio of them.
Over-ear headphones are typically much heavier than other styles and may cause some irritation and pressure on your head with long periods of wearing them, especially if they have a thick, heavy headband. If thick, bulky over-ear headphones aren't something you want, you'll probably be better off with a different style of headphones, like on-ear headphones.
4. On-ear headphones
On-ear headphones, or supra-aural headphones, are a style of headphone that has ear cups that rest on top of the ear. On-ear headphones are usually smaller than over-ear headphones. The ear cups are also usually thinner than those of over-ear headphones, and they don't engulf the ear like over-ear headphones do.
Similarly to open-back headphones, on-ear headphones allow audio to escape from them and let noise from your environment in, opposed to over-ear headphones that block noise out and keep audio in. Sound isolation is not something that you'll get out of this style of headphone, so be sure that you don't care about sound isolation very much if you want to buy on-ear headphones.
On-ear headphones are quite comfortable and they don't typically cause as much sweating or ear irritation as over-ear headphones do. When purchasing on-ear headphones, you should make sure that they rest on your ears, not crush them or press up against them. On-ear headphones are often much lighter in weight than over-ear headphones and therefore they don't apply as much pressure to the top of your head.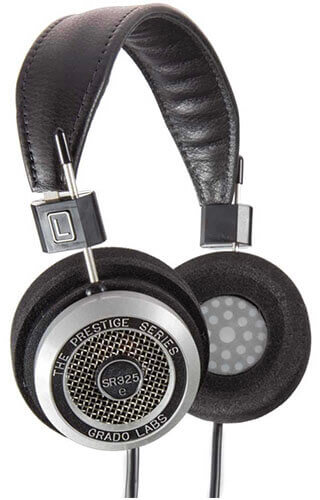 On-ear, open-back headphones / Image credit: Grado Labs
Be careful when looking for an on-ear pair of headphones because they are sometimes hit or miss. If you get a more expensive pair, however, they'll definitely be way more reliable than a cheaper pair. One thing is for sure though: on-ear headphones are easily one of the better styles of headphones for a couple reasons. Firstly, their comfort factor is great, they're easily more comfortable than over ear headphones. Secondly, the sound quality is also really nice.
On-ear headphones have that more open sound that open-back headphones do and don't create extra bass frequencies. This makes them a 'jack of all trades', all-around good type of headphone that many people tend to overlook because of their style.
Other than people who work in the music studio, they are often passed up on by consumers for heavier models that are of the over-ear style. Don't pass up on-ear headphones – they offer a lot of quality and are sometimes even cheaper than over-ear headphones, so if you need headphones in a pinch and don't have the budget to spend on over-ear headphones, these can still be pretty good, especially if you work in a music studio.
On ear headphones aren't always a popular choice, but are fairly commonly used in the music studio for mixing and mastering purposes considering they provide a similar soundstage as open-back headphones and can be a worthy replacement if you need one, or if you want to try something different that feels better on the head and ears during long periods of time of wearing them.
5. In-ear headphones
In-ear headphones, otherwise known as 'canalphones' are a style that is growing increasingly popular these days when portability and convenience are most needed, especially for those who lead busy lives and don't enjoy wearing large headphones that have the over-ear style ear cups.
Contrary to common belief, in-ear headphones are not the same thing as earbuds. If you don't need a professional or semi-professional set of headphones for mixing and mastering music or other professional uses, in-ear headphones are your next best choice if you want something for consumer listening at a high-quality level of audio.
Audio quality of in-ear headphones can easily rival the quality of over-ear and on-ear headphones thanks to today's technology, and the smaller size of in-ear headphones is especially appealing to those who don't like the bulk of other headphone styles.
As for the fit, in-ear headphones actually go into your ear canal, whereas earbuds sit on the outside edge of your ears, allowing the sound to directly be much closer to your eardrum, which makes for a closer, more intimate soundstage and lets you hear the detail in audio much more clearly than earbuds would allow.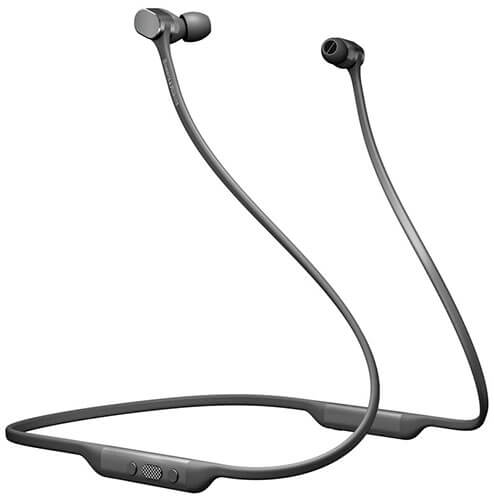 In-ear headphones / Image credit: Bowers & Wilkins
Other advantages to this style include better sound isolation, a fair amount of comfort, and more of an accurate sound. In-ear headphones have a similar effect as closed-back headphones where they offer a higher level of sound isolation, keeping audio in and background noise out. With the speaker being much closer to your eardrum and the headphones actually going into your ear canal, it creates a barrier between the outside world and your ear so that you can hear the music much better. While it's not foolproof, the design of in-ear headphones will definitely keep audio from leaking out of them and into your environment.
As far as comfort goes, in-ear headphones often have rubber tips that both protect your ears (and the headphones) and allow for a comfortable, snug fit. Manufacturers often have a couple different-sized ear tips included in the package of in-ear headphones so that you can find the most secure fit for your ears, with the rubber tip sitting in your ear canal, thus allowing sound to go directly to your eardrum. Because there is no chance for audio to create false or exaggerated frequencies like the design of over-ear headphones leaves room for, audio is much more accurate when using in-ear headphones.
In-ear headphones are especially popular among consumers who like to listen to music while exercising, traveling, or just in their everyday life for fun. Many people like to have a larger style of headphones and have a smaller pair (like in-ear headphones) that they use for different occasions. In-ear headphones are more discreet than the traditional style that has a headband that goes over the top of the head and ear cups that come down to the ears.
In-ear headphones can also be used for listening to music in the workplace or when you're on the go. Because of their more secure fit, they'll stay in the ear better and won't bounce around or fall out while you're running or walking, which is what may occur with larger, bulkier headphones or even earbuds.
While there are so many advantages to using in-ear headphones, there is also one pretty big disadvantage: the design allows for hearing loss. It can't be said that this style of headphone leads to more hearing loss than other styles, but because the speaker is directly in the ear canal and is in much closer proximity to the eardrum, it does leave some concern.
As long as you don't crank the volume on your phone when listening to music, your ears should be pretty safe. Hearing damage is more caused by the volume of music rather than the proximity of the speakers to your ears so as long as you are mindful of this, you shouldn't run into many problems with hearing loss when using in-ear headphones.
If you're someone who likes to have the volume up really loud when listening to music with personal headphones, you may want to opt for earbuds that rest on the outside ridge of the ear or a model that has a protective covering over the speaker.
6. Earbuds
Earbuds are a bit different than in-ear headphones because the design is a bit different and they sit differently in the ear. Earbuds typically rest on the outer ridge of the ear and don't sit inside the ear canal, whereas in-ear headphones are much closer to the eardrum. Because of this, they don't have as much of a sound isolation effect and audio is more free to leak out of them and noise from your environment can get to your ears much easier.
However, because they are farther away from the eardrum, this can result in less hearing loss than the hearing loss that may be caused by greater exposure to louder music that the design of in-ear headphone models may lend a hand in causing. You also may get a bit of a more open sound with earbuds because of the sound leakage and decreased noise isolating abilities.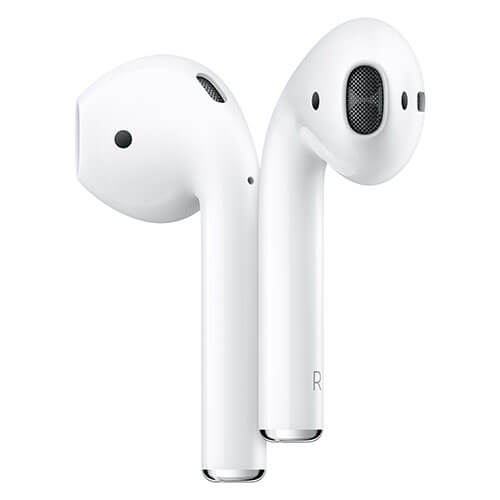 Wireless earbuds / Image credit: Apple
Earbuds are in general very portable and a very popular choice among teens and other consumers who like to listen to music casually, especially because they're usually much more affordable than the other styles of headphones featured in this article. You're going to struggle to find a pair of earbuds that will offer high-quality audio, so as long as you don't mind listening to music with a lower-quality speaker like earbuds have, you'll enjoy using earbuds.
Earbuds aren't used to mix or master music in professional settings, and instead are used for listening to music on a leisurely basis. They're not especially suited for those with a very active lifestyle; if you are an avid jogger or do a lot of activities where you're moving around a lot, earbuds are very likely to fall out of your ears because they don't fit as securely in the ears as in-ear headphones do.
All the same, there are some people whose ears do fit earbuds quite well and some people don't mind the looser fit for exercising with. If you're familiar with popular earbuds from Apple and other popular technology companies, many earbuds have a remote control and microphone built into them to answer calls, change volume, and skip songs so you don't have to use your phone to do this.
Earbuds are typically one size and they don't often come with rubber ear tips, so you may struggle a bit more to find earbuds that fit your ears properly. Some do come with rubber ear tips though, which provides plenty of comfort and can make them fit a bit more securely in your ears or cause them to be even looser depending on the size and shape of your ears.
If you want something more portable, these are your best bet if you are comfortable with sacrificing sound quality for something that you can easily take with you wherever you go.
7. Wireless or Bluetooth headphones
Wireless or Bluetooth headphones are an increasingly popular type of headphone in today's market and some are extremely innovative. Wireless headphones use Bluetooth technology to connect wirelessly to electronic devices like phones, televisions, car stereos, and even vinyl record players. Some can even connect to multiple devices at one time.
Bluetooth technology uses radio waves to connect to these devices on a unique channel rather than using many different radio frequency channels to connect. A special computer chip is used to pair your devices to wireless headphones and allows for quick and seamless pairing in more modern wireless headphone models.
Thanks to Bluetooth, you aren't limited when it comes to movement like you are with wired headphones. Instead you are free to exercise and go about your day without being tethered to your phone. This makes wireless and Bluetooth headphones especially popular for listening to music while exercising and participating in leisure activities where you don't want to use a pair of headphones with a wired connection to your electronic devices.
Because of the improvements in technology as the years go by, the audio quality of Bluetooth headphones easily rivals the audio quality of wired headphones, although in some busy environments Bluetooth connections can become interrupted by other electronic devices or obstructions in the area. This is not super common but it can definitely happen, especially with cheaper models of these headphones.
Along with this, Bluetooth transmission of audio can be a bit laggy at times or fall behind the actual playback of the audio from your electronic devices. Again, not something super common; it's usually something that fixes itself or you can reconnect the headphones to your device to solve this issue. It's not something that is especially problematic unless you're in a situation where you need to hear the music without lag, for example if you use Bluetooth headphones to listen to music while performing a song or mixing and mastering audio. If you don't want any lag, you'll be better off with wired headphones.
Because Bluetooth headphones are a fairly newer development in the electronic entertainment world (within the last several years), they're often much more expensive than wired headphones, but this also is partially due to the technology that is put into the designs and the higher cost of making them. Wireless headphones come in a variety of shapes and sizes and there are over-ear, on-ear, in-ear, and earbud-style models aplenty.
While the wireless feature of this style of headphones is very convenient, this also means that they need to be charged. Battery life of wireless headphones can vary depending on their style, the technological features they have, battery size, and what you typically use them for. Charging time can potentially be pretty lengthy with wireless headphones that have bigger batteries, but you can easily charge them overnight and have them ready to use for the day by the time you wake up in the morning. Some feature fast charging which can give you several hours of audio playback and Bluetooth connectivity with a 5- or 10-minute charge.
Since Bluetooth headphones are wireless, they are mainly used by those that listen to music when they exercise or play video games. Some wireless headphones also have a microphone in them for answering calls, so they can also fit well in a workplace environment and be worn throughout the day.
8. Noise-cancelling headphones
Noise cancelling headphones are a very special type of headphone that have a lot of technology under the hood to bring you greater sound isolation than what is offered by closed-back headphones or in-ear headphones.
Noise-cancelling headphones actively reduce background noise from your environment to provide you with a cleaner listening experience that is much more free from disruptions than the experience you will get from other headphone types.
To get an idea of what goes on under the hood, noise-cancelling headphones have a tiny microphone built into the ear cups. When this microphone picks up the sound of your environment, it measures the lower bass frequencies in the noise and puts out both equal and opposite frequencies that then cancel out the sound that this microphone detects and picks up. This keeps the sound of your environment from ever reaching your ears so it doesn't have any effect on your audio other than making it free of this background noise.
Unfortunately, noise-cancelling headphones don't eliminate high-frequency sounds. Instead, sound proofing methods are employed here to keep out high frequency sounds from your environment. Sound proofing methods include using very thick ear pads, which is the most common method used. This sound proofing is also known as 'passive noise cancellation' and the noise cancellation using a built-in microphone on the ear cups is called 'active noise cancellation'.
Noise-cancelling headphones are a popular choice among those who like to travel on airplanes frequently because it blocks out such a large amount of noise from your surroundings. Crying babies, unhappy flyers, and the sounds of the plane engines won't be a problem with noise-cancelling headphones.
Noise-cancelling headphones in general are a good choice for those who want to listen to music completely free of auditory disruptions. Unfortunately, they should not be used for mixing and mastering music in the studio, but there are plenty of other headphone types for that purpose.
Many earbuds and in-ear headphones have noise-cancelling technology to combat the sound leakage and lesser sound isolation, but closed-back headphones, especially over-ear styles, will give the best listening experience if they have active noise cancelling technology to create an extremely isolated sound experience to really immerse you in your music.
9. Bone conduction headphones
Bone conduction headphones are a less well-known type of headphone that is slowly gaining in popularity, especially among those who play sports and have an active lifestyle. Bone conduction headphones work with your bones as opposed to other types of headphones that work with your eardrums to help you hear audio.
To understand this a bit better, let's get into some detail here. Your bones are a big conductor of vibrations, especially from low frequencies. If you put your ear or head against a wall, you may be able to hear the lower frequencies of the people talking in the next room, even if the wall is quite thick. This concept is what happens with bone conduction headphones, essentially connecting to your skull, then sending the vibrations from the music to your eardrums to allow you to hear the music.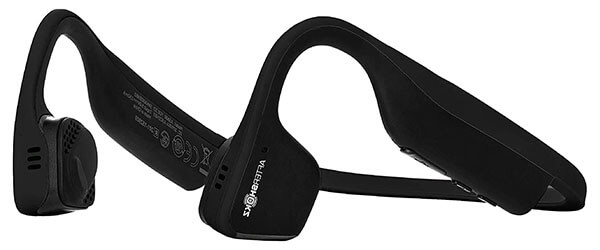 Bone conduction headphones / Image credit: AfterShokz
With bone conduction headphones, sound quality is typically lower (but still pretty good), and it may be harder to hear higher frequencies in audio with them because bones are a better conductor of low frequencies.
Because of their design, they are worn around the back of the head rather than over the top of the head, and the part that emits audio goes in front of your ears and rests against the bones in that area.
Bone conduction headphones also usually have some type of clip to hold them securely around the ear, and they are often made out of sweat resistant material. This makes them ideal for using when playing sports or exercising.
See also:
Conclusion
With the many types of headphones available for purchase in the consumer market, it can be overwhelming to find a pair that fits your daily life and meets your needs. Now that the confusion regarding the different types of headphones has been cleared up, you will be able to go to the store or shop online for the ideal headphones for you and find something that is pleasurable in terms of audio quality, sound isolation, noise cancellation, and design. Be sure to check back soon with Consordini to learn more about the top audio gear available on the market!