In this article we're looking at the best turntables available on the market in 2023. The format has had something of a rebirth in recent years and this means that sales have grown as more people buy records.
There are many new and exciting features such as Bluetooth connectivity and the ability to play music from other sources, too.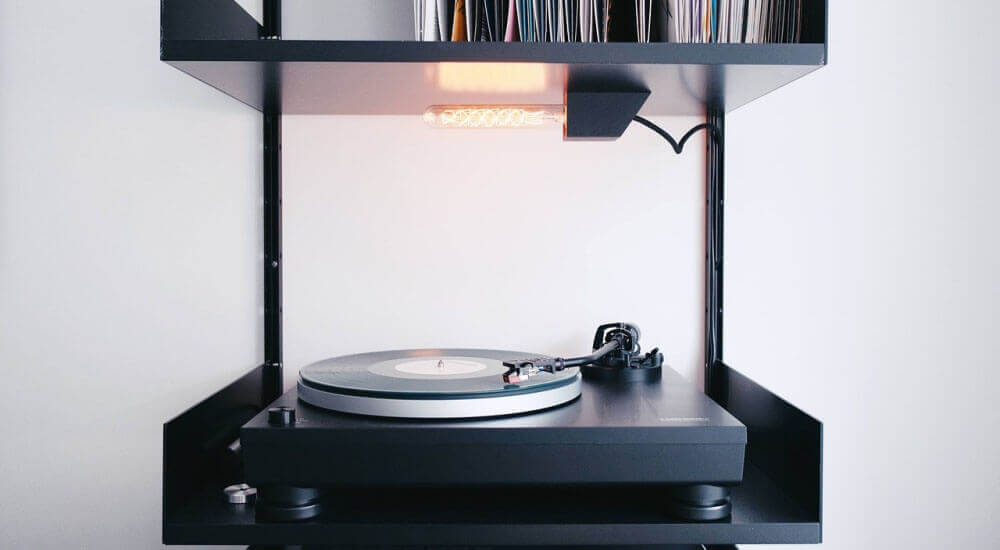 In this post we look at our top 8 models of turntables, as well as providing a buying guide to help you choose which is the best for your own needs and your own budget.
Some of the most important questions answered:
Top 8 Best Turntable Reviews for 2023
Here are the best turntables 2023:
Best Overall: Yamaha TT-S303
Yamaha is a huge name in the world of audio equipment and historically have made a lot of different models of turntable, but after a break of decades they finally re-entered the market with this, the TT-S303.
The beautiful look of this deck with its piano style finish, combined with the audio clarity we've come to expect from Yamaha, mean that we are nominating this the best overall turntable currently available.
Excellent inbuilt phono preamp which means you can output straight to speakers.
Tone arm designed for accurate tracking and stylus pressure.
Well made cabinet which provides stable rotation and minimizes vibration which can affect the audio.
Immense audio clarity and no added turntable noise.

No USB or Bluetooth capabilities to use this with other devices or connect with a phone, for instance.
This model is hard to fault when it comes to the spacious and clear sound it creates. While it is definitely not the most expensive option on the market, it does compete with many of the turntables which cost a thousand dollars more! Connect to some excellent turntable speakers and you will have a crisp and exceptional sound from a brand you can trust for audio equipment.
Runner-Up: Audio-Technica AT-LP7
The Audio-Technica AT-LP7 is our runner-up model and it has some amazing features which made it a very close call when put up against the Yamaha TT-S303.
The brand have been making excellent audio products since 1962 and many audiophiles swear by the Audio-Technica brand when it comes to record players and turntables for their audio clarity. They have also been popular among DJs, too. This model, the AT-LP7 is great for home listening.
Motor with a sensor which is designed to keep the rotation speed accurate.
Moving magnet cartridge system means the frequency range is higher, and the channel separation is more reliable.
Comes with adapters for 45 RPM records, RCA cables and a dust cover.
Made from damping material to combat any sort of vibration which can compromise sound.

No automatic setting for removing the needle after play, so your expensive needle could get damaged if you aren't paying attention.
No USB capabilities.
This brand has a wonderful range of turntables, but for value-for-money and amazing audio features we'd have to say this turntable is their best, especially for casual listeners who want to upgrade to a more professional level of audio.
Best USB: Audio-Technica AT-LP120XUSB
The two models above have been designed for their audio clarity, but they are definitely made for those who just want to play their records and aren't too worried about compatibility or USB facilities.
USB makes a turntable great for sampling, ripping audio and often compatibility with other software. The AT-LP120XUSB is our highest-rated product for those who are looking for a USB turntable.
Anti-skate control and a felt pad on the bottom to stop any movement affecting the audio.
Speed indicator and a speed lock system.
Dampened base to stop feedback in the low-end and bass frequencies.
Loads of compatible stylus' if you need to replace this in the future.
External AC adapter which reduces noise within the model.
USB connectivity and free software for converting vinyl to digital files.

The high-end sound is not totally perfect and some have described this model as being tinny in the higher frequencies.
The audio isn't as perfect as its more expensive sibling products, but for those looking to rip audio, this could be a great option for both listening to and converting your old record collection.
Best Bluetooth: Audio-Technica AT-LP60-BT
There are many models out there which offer Bluetooth, but a lot of these are all-in-one models which offer lots of different features but not a huge amount of clarity and audio fidelity. The AT-LP60-BT turntable certainly has plenty of clarity and feels like a professionally made turntable!
The Audio-Technica range does have a big impact on our list of the best turntables, but it is little surprise due to the quality they offer, and the AT-LP60-BT is similar to the AT-LP120XUSB. The main difference is that this model has Bluetooth, but no USB functionality.
Has a fully automatic belt-drive for easy operation.
Can connect to bluetooth devices and up to eight different devices can be stored in the memory of this record player for easy connection.
Anti-resonance platter to stop vibrations and keep audio clear.
Easy to attach to speaker systems and comes with output cables (RCA).

Not as much clarity and anti-vibration functionality as other products in the Audio-Technica range.
No option to connect via USB and rip audio from vinyl.
This is a more affordable Audio-Technica product and if you wish to connect to your phone, Bluetooth speakers or other devices then this could be great for you. Just keep in mind that it cannot connect via USB.
Best Portable: Numark PT01 USB
Time for something a little different! The Numark PT01 USB is advertised as being a "vinyl-archiving" model. It is marketed as a tool for musicians, and Numark is a brand that many musicians will be familiar with. This is perfect for taking out and about with you and ripping vinyl samples from your friends' records, for example.
The portable nature of this turntable also makes this great for private listening. Say you are going to a hotel or spending time traveling, being able to put this on and listen via a headphone output is a big bonus. The audio clarity isn't as amazing as many other products, but for something you can take out in your bag this could be a good budget option.
Comes with a dustcover and carry handle.
Can be battery powered by D cell batteries.
Has a built-in speaker, though this is not amazing quality.
Great for converting audio from vinyl.

No bluetooth compatibility.
Not great for anti-vibration capabilities.
Speaker is not high-fidelity and sounds cheap.
From a cheap and portable model it is important to have managed expectations. This is a good choice on-the-go, but can't quite compete with the very best record players, which is to be expected.
Best with Speakers: Crosley K200
A lot of the very best turntables on the market are sold without speakers, it is then up to you to find speakers which will sound good and connect your record player. Our top turntable which comes with speakers is the Crosley K200.
While you can buy this turntable on its own, the turntable stereo system includes some wonderful Crosley speakers which gives it the stereo sound we love. The speakers are Bluetooth and can connect directly to the K200 turntable.
Works with two speeds, 33 ⅓ and 45 RPM.
Tone arm has lift control and a lockable rest as well as anti skate function.
The inbuilt phono preamp is switchable and there are also RCA output cables included for connecting via RCA (though the speakers are bluetooth).
Comes with a felt slip mat to reduce vibrations and jolting.

No USB capabilities.
Cartridge and stylus aren't the best, so it might make sense to replace these with higher quality options.
Crosley is not a brand which has the best high-end turntables, a lot of their products are designed for casual listeners rather than audiophiles, and this is a great way to get a full stereo system including speakers without spending a huge amount of money.
Best with Inbuilt Cooling: Rega Planar 2
One of the most brilliant things about the Rega Planar 2 is the fact that it has inbuilt cooling for the motor, this cleverly stops the turntable from overheating and still manages to provide clear audio with no interference.
Though Rega is not one of the biggest brands in the world of turntables, this product is one of the very best record players if you look at the reviews, as a lot of people find the clarity and design to be extremely high-quality.
This brand has definitely thought of some features which others haven't in order to give them a chance when it comes to standing out in the market for turntables.
Excellent foot assembly which is designed to decrease any vibration and also make the turntable more stable.
Integrated cooling built in to the motor cover.
Easy to set up and automatically accounts for bias without any manual adjustment.
Great design and comes in black and white.

No USB or Bluetooth capabilities.
Cover doesn't lock in place as perfectly as some might like.
This is a very smartly designed turntable, it looks and sounds great and gives some genuine competition to some of the Audio-Technica models. Plus, it has the added bonus of the cooling function.
Best High-End: Marantz TT-15S1
If you are a proper audiophile and you're looking for an amazingly clear and stylish product then the Marantz TT-15S1 may be the best turntable for you.
It has unbelievably high ratings and this is largely due to the fact that the audio fidelity is unbelievably good, even from a brand which some people may not have heard of as they are not as mainstream as Sony, Yamaha or Audio-Technica, for instance.
The Marantz brand's philosophy is "it's all in the details". So what makes this so high-end? Why have we picked it out as our top high-end, audiophile turntable?
Advanced system to prevent any vibration including a floating motor mount.
Incredibly high quality platter and an anodized aluminum tonearm.
Incredibly precise AC motor.
Comes with a brilliant cartridge, the Virtuoso MM from Clearaudio.
Comes with a wooden body made of ebony and an incredible stylus made with diamond.
Adjustable base for even position and stability even on slightly angled and uneven surfaces.

Cost. All of these features are great, but they come at a price.
No USB or Bluetooth compatibility, it is just a standalone record player.
This model is luxurious and high-quality, and it is worth considering if you are a stickler for detail and you are happy to spend extra for the audio clarity.
How to Choose the Right Record Player for You?
As you can see if you've read through our list of the top turntables, there are so many different features on offer. This decision isn't just a case of working out what is good or bad, it is about finding which turntable will best suit your needs, your budget and the features you find most valuable.
Some of the best, high-end options for record players don't have any ability to rip to vinyl, for instance. This might be something you really value, meaning that even a $2,000 record player doesn't do the job you want it to.
Best Turntable Brands
The brand is actually a very big factor when it comes to audio products. Some audio brands are very highly thought of and have built a reputation around making hundreds of brilliant products. Others might be sneered at by some audiophiles! Even certain countries have a better reputation for audio products.
Here the best record player brands:
Audio-Technica
This brand has more products on our list than any other. They have long been synonymous with DJs and vinyl listeners alike. There are lots of different products in their range, from the more budget end for casual listeners to high-end, professional options.
Sony
Where there are electronics, there is Sony! They manufacture a huge amount of different electronics and while they don't make that many turntables anymore, the ones they do are of good quality for home listeners, and are compatible with many other Sony products.
Yamaha
It would have been possible to leave Yamaha off this list. They quietened down their production of turntables when many other companies did, as they were perceived as being old-fashioned and dying technology.
The company makes a huge amount of audio products including instruments, and their newest offering in 30 years to the world of record players is our top choice on this list.
Rega
This brand isn't hugely well-known in America. It is a UK based brand and their Planar products are causing quite a stir. The craftsmanship which goes into these products is brilliant, and they're an upgrade from most of the best beginner turntables to something that feels a bit more pro and has a lot more clarity.
Crosley
The Crosley brand specializes in audio equipment and make quite a few models of record player. They have a big range and tend to stick to the more affordable range in the market.
Some of their products are downright cheap, and not made with the best components, but some of their turntables are affordable gems, which is why they have been included on our list.
Features
What are the most valuable features on turntables? What should we be looking out for when we come to buy a turntable?
Density and Vibration Absorption
A sturdy design with a system in place for preventing vibration, which can be annoying and get in the way of the audio clarity, is essential. Many offer felt absorption pads. The better quality material the body is made of, the better resonance it is likely to have.
USB and Bluetooth
The compatibility with other devices is very important for people in the modern era. USB capabilities mean that you can rip the audio from vinyl and turn it into digital files, perfect for old collections of records. Bluetooth means you can connect things like phones to play music from, and also speakers and headphones to send the audio to.
Speakers
Not all of the products on our list have speakers included. Speakers can be quite a specialist thing, and their design isn't easy. If you have small inbuilt speakers they may be tinny and poor quality.
Other products may be sold as a full record player system with external speakers, which are likely to be louder and better quality. For more information, make sure to check out our list of the best speakers for vinyl.
Playback Speeds
Different records need to be played back at different speeds. Most turntables will offer the two standard speeds of 33 ⅓ and also 45 rpm, but some people have records which require 78 rpm. Keep an eye out if you are the latter.
Flutter and Speed Variation
This is to do with the accuracy of the spin and how reliably it can spin in the right speed. If the record player varies and flutters then it can be very frustrating and change the pitch of what you are listening to. There can be a flutter number assigned, and you're looking for as low a percentage as possible.
Stylus and Cartridge
The stylus is the tiny needle that reads all of the grooves of the record itself, and the phono cartridge works with this to create a voltage and signal that can be sent elsewhere as the stylus moves. This is how the audio is recreated.
Though not a feature as such, as these need to be included so that your record player works, it is worth paying attention to their quality.
Price Points and What to Expect
It is always difficult to establish a market like this. With most audio products there is a huge range in the prices of the low end of the market and the high end. There are always people willing to pay for the quality and fidelity which can be offered by some of the biggest brands.
What can you expect at each of the price points? What should be the minimum expectation when you part with your hard-earned cash?
Under $50
There are a few products under this price, and these tend to be very basic and made of cheap components, with poor-quality speakers and connectors. They may be fine for basic listening but the audio quality is likely to be frustrating.
Under $100
This is more of a price point where you can start to find better features on offer. $100 can buy you products with USB capabilities and even Bluetooth, and some products at this price point have a decent enough sound for beginners. For more details, check out our article discussing some of the best turntables under $100.
$100-300
This is quite a big price range, but the turntables within this tend to be more of an upgrade on the home listening products and have plenty to offer. They aren't ultra high-end, but usually you can get a product which is clear and gives you a very enjoyable listening experience. Check out our reviews of the best 200-dollar turntables for more information.
$300-500
We're getting towards the high end now. At this price you should be expecting a product with a lot of clarity and features and which is sturdily designed. Just check out our list of the best turntables under $500 and see for yourself.
$500+
Anything at this price point should be high-quality and made with excellent features as well as brilliant components. The clarity should be fantastic and for this price things like vibration should have been very carefully considered. Don't forget to check out our list of the best turntables under $1000.
Conclusion
There is a vast amount of choice on the market when you are looking for a turntable. It can be easy to be overwhelmed. You should take some time to fully understand the anatomy of a record player, how they work, and think about which features you want.
Do you need to rip audio? Do you want to connect your phone? Only by doing this can you find the best for you specifically.
In general, there is a huge wealth of exceptional turntables out there and they are far better than some of the record players available 20 or 30 years ago.
The full Audio-Technica range, and products like our top choice, the Yamaha TT-S303 turntable, show just how far the market has come, and the amazing benefits of having a great turntable for both listening on your own and entertaining guests with music old and new!