You can spend a lot of money in your search for audio perfection, but the truth is that you have to draw the line somewhere. $500 is enough money to buy a good-quality record player and some of the best options on the market are included on our list.
We've included a variety of options including vintage turntables, with some including speakers, and others not. Our list of the best turntables under 500 dollars has something for everyone.
Top 8 Best Turntables Under $500
Here are the best turntables under $500:
Yamaha TT-S303 – Best Audiophile Turntable Under $500
Yamaha is undoubtedly a name you will have heard of when it comes to audio equipment. As well as a lot of musical instruments, they make multiple turntables, and though they didn't produce any for over 20 years, they are back with the TT-S303.
As well as looking great with its sleek modern finish, it has excellent clarity and all the features you'd expect from a high-end turntable, but under $500.
Cabinet is very well made and sturdy, and designed specifically to reduce vibrating, which can be very annoying.
Accurate tone-arm with great tracking, this doesn't waver in pitch or speed at all.
Comes with a preamp of very high quality, so you can send the audio straight to speakers.

This doesn't have any Bluetooth or other connectivity.
No USB option to rip audio from vinyl.
If you're looking for the best audiophile turntable under $500 then this could be an option. Though it doesn't have any of the connections that some people like from modern turntables, for the simple task of playing records it is hard to argue with.
The clarity of the Yamaha TT-S303 is up there with turntables which are far more pricey. Be sure to twin it with great speakers for the best possible sound.
Audio-Technica AT-LP1240-USB – Best USB Turntable Under $500
It wouldn't be right to leave Audio-Technica products off our list of the top turntables under $500 out there. This is one of the best in their range, and though this is marketed as a DJ turntable, and is brilliant to connect to a mixer, it can be used as a standalone turntable. You don't have to be an aspiring DJ to make the most of the Audio-Technica AT-LP1240-USB.
Designed to be used by musical professionals, with very stable rotation and multiple speeds.
Switchable pre-amp lets you connect directly to speakers.
Comes with USB functionality that allows you to rip audio to computer with ease, great for archiving or converting old records to MP3.
Sturdy build with an anti-resonant platter and damping mat which means no buzzing.

Doesn't come with a cartridge. As it is designed for audio pros, the brand expects you to find and install your own cartridge.
This is something a little different from a lot of the other products on the list which have been designed exclusively for the consumer side of the market, as this has more of a pro audio feel to it.
This comes at the expense of having to use your own cartridge. However, if this is something you're happy to do, the professional audio and anti-resonance means that you can enjoy amazing clarity and even USB compatibility.
Fluance RT81 – Best Vintage Record Player Under $500
The decor isn't one of the top priorities for a record player, but some people prefer a vintage look, and the Fluance RT81 fits the bill.
We wouldn't be happy recommending a record player just because it looked the part, though, and fortunately this is a product which has the audio capabilities we're looking for.
It also comes in well below the $500 budget. It does forego some of the more modern features, but that's why we've named it the best vintage record player on the list!
Totally analog and designed as a homage to record players of yesteryear.
Comes with a brilliant Audio-Technica cartridge for precision and long-lasting durability.
S-Type tonearm with immense accuracy.
Great looking walnut finish with a plinth designed to keep it still, with no vibration or distortion.

No digital features and connectivity.
Audio fidelity not quite as high as some of the other models.
MDF wood underneath the walnut cabinet could be better quality.
Though it doesn't have any USB capabilities or connectivity, this is a very sturdily built turntable. It doesn't suffer with any of the vibration issues that some of the other cheaper turntables can sometimes experience.
If you are looking for a record player that looks great, and is a nod to old-fashioned, analog audio equipment, this is a good choice.
Pro-Ject Debut Carbon (DC) – Best Minimalist Turntable Under $500
Modern, sleek and minimal. This design is impressive and suits many modern homes, plus the audio quality will blow you away.
Pro-Ject may not be as big a brand as some of the other products on this list, but it certainly has created a brilliant competitor for them with the Debut Carbon (DC).
The turntable looks great, but it comes in a number of different finishes so you can choose, from white, to black, to walnut. It can go with pretty much any home decor.
Comes with an impressive, sturdy and accurate carbon tonearm.
The weighty platter and padded bottom means that this record player stays very sturdy with no buzz.
The precision belt drive and synchronous motor mean that the Debut Carbon is accurate and doesn't speed up, slow down or change pitch.
It comes with an Ortofon 2M red cartridge already installed for excellent sound reproduction.

No USB capabilities or connectivity.
The cartridge is not removable so you can't change it if you wish to in the future.
As well as looking good, the accuracy and clever design make this a decent choice. Though the brand is not as well known as some of the others, Pro-Ject are starting to make a name for themselves with such impressive and well-reviewed turntables.
Crosley K200 – Best Turntable with Speakers Under $500
Most of the products on this list come without speakers. They are, of course, compatible with a variety of different speakers, but there is then an extra expense to find speakers and make sure they are worthy of your turntable. There's no point having a $500 turntable with $20 speakers.
The Crosley K200 is a good option for those who don't want to worry about this. While Crosley is known more for being a mid-range home audio brand, and they don't make any elite turntables, the K200 is one of their best offerings. It comes in well below $500 and is one of the top-rated turntables under $500 which has speakers as part of the package.
No need to buy speakers separately.
Connect to the speakers via Bluetooth but there are also RCA outputs for connecting to different speakers.
Includes a slip mat which stops any vibration or jolts that can affect the sound.
Tone-arm has an anti-skate function and does a good job of staying relatively accurate.

No USB option for ripping audio.
The cartridge and stylus could both be better quality, in an ideal world. You can replace these if needed.
Though it isn't an elite, audiophile-friendly product, an all-in-one solution at such a good price, as well as a ton of brilliant reviews, makes the Crosley K200 a good option for home listeners needing a mid-range product without the hassle of finding speakers.
U-Turn Audio Orbit Plus – Best Simple Turntable Under $500
If simplicity is the name of the game, you could look into the Orbit Plus Turntable by U-Turn Audio.
U-Turn Audio is based in the USA, and its products are assembled there. The brand was actually funded by a Kickstarter campaign as they sought to move away from the mass-produced plastic options some brands offer.
The Orbit Plus is a great turntable for those who just want to enjoy the simple pleasure of playing records and not worrying about changing components or complicated settings.
High audio fidelity, made in the USA to a very high standard of design and manufacture.
Precise tonearm combined with an Ortofon OM5E cartridge make for accurate sound reproduction.
Excellent Pluto preamp included, simply plug straight into speakers via RCA for excellent sound.
Comes with a dust cover.
Adjustable counterweight for use on uneven surfaces.
2-year warranty from the manufacturer.

No extra compatibility features such as USB or Bluetooth.
The belt could be better quality.
No speakers included.
If you're looking for something that is very simple to get started with and super easy to set up, the Orbit Plus turntable with built-in preamp could be a good option for you. It may not be able to rip vinyl or have a lot of settings, but it is built to very high spec.
Pro-Ject VT-E – Best Vertical Turntable Under $500
Who would have thought that after all those years of the same sort of technology, turntables could have a new and exciting innovation? Well, the Pro-Ject VT-E is one such innovation.
A vertical turntable may have sounded like a silly idea a few years back, but now there are a few companies offering this type of record player.
The Pro-Ject VT-E has a very clever space-saving design. If you want to put it somewhere that has more vertical space, then this could be smart.
Let's face it, though, many people are buying this because it looks cool and provides a real talking point. This is fair enough, the VT-E is bound to get your guests asking about it, but this is no novelty product and it has some great features.
Comes with a wall-mount option for even more space-saving capability.
Comes with a record clamp and power supply as well as RCA cables for connecting to speakers.
Comes in left or right-handed options.
Excellent quality OM5e cartridge made by Ortofon.

Not the best quality tone-arm.
The drive belt can get knocked off due to the vertical design.
When choosing whether to buy this product it is worth considering whether you have space for a horizontal model. If you don't, or if you just want an exciting new product to get people who visit your home talking, the Pro-Ject VT-E can be a good choice for you.
Audio-Technica AT-LP5 – Best with J-Shaped Tonearm Under $500
The Audio-Technica AT-LP5 comes in just below the $500 budget we've set. It is one of the Audio-Technica turntables which is aimed at the consumer audio market rather than DJ's, and it has a lot of exceptional features to help it become one of the best options for use within your home.
The AT-LP5 has some very high reviews and is popular among audiophiles and home audio enthusiasts. It has all the features of many of the top options on this list, but also one added extra, USB capabilities.
A lot of the products which have been designed to look good and play records at a consistent speed haven't taken into account the fact that a lot of people want to rip the audio from old vinyl collections or even sample audio for use in producing music.
High-torque motor offering two different speeds, 33 ⅓ and 45 RPM.
The switchable pre-amp means you can easily add components and speakers.
USB output and the option to digitize via Audacity software to turn LPs and records into digital files.
Platter has been designed to improve the low frequency sounds and give a balanced rotation. It is also anti-resonance.
Comes with an adjustable counterweight system.

Could perhaps be improved with a cartridge which fits more of an 'elite' design and sound reproduction.
No option to upgrade the preamp in the future.
Overall, the Audio-Technica AT-LP5 is a great product, it definitely deserves to be in our list of the best turntables under $500.
Conclusion
Though there are some extremely high-end products on the list which can cost many thousands of dollars, the turntables which can be bought for under $500 are still some exceptional options.
The upgrades and extra features you get for your money when compared with spending $100 (see our best turntables under $100) turn these record players into far more viable options for those who want to listen with clarity. Reliable belts and high-quality tone-arms, combined with some brilliant cartridges, come included with many of these products.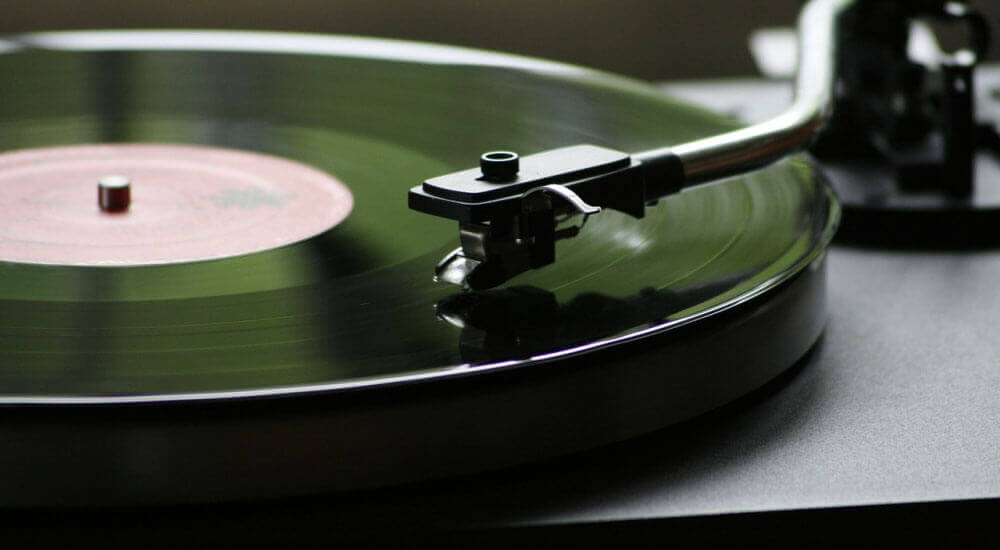 Whether you are looking for a USB option, something with speakers or simply just a turntable to build around, there are plenty to choose from on this list.
For accuracy and audio clarity, we named the Yamaha TT-S303 our best turntable under $500. It's also our pick for the best record player this year. It is a triumphant return for Yamaha who went some time without making turntables, but they're back with this exceptionally made model.
Which turntable you purchase will depend on your specific needs, but following the brilliant options collated in this guide will help you make the right choice.