To get the full clarity and audio quality intended by the producers, many opt for turntables to play their music. We're looking at some of the best record players under $100 in this post.
Even a cheap record player can be an upgrade from other formats, they don't have to cost a fortune in order to provide an amazing listening experience.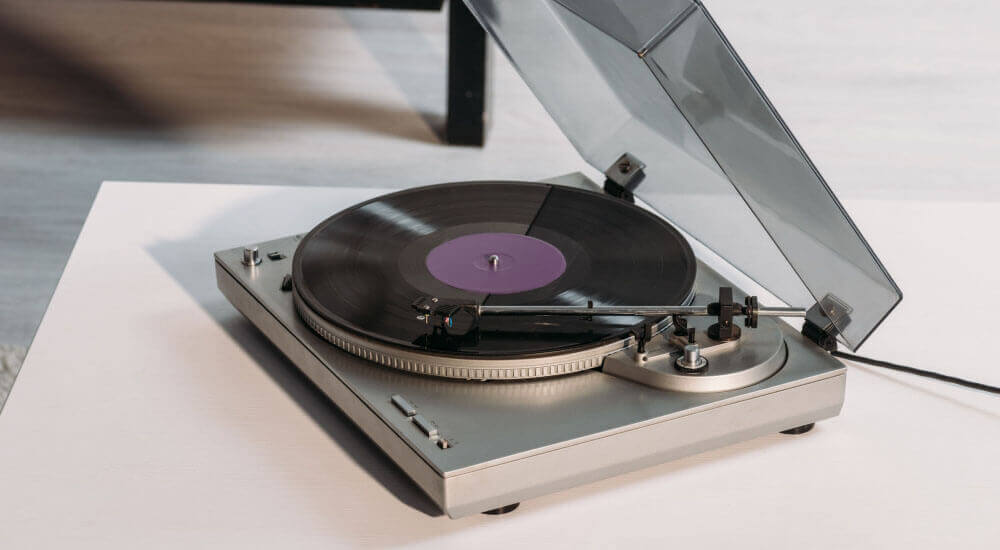 In this article, we're looking at how to choose a good budget turntable and providing full reviews of some selected models.
The Best Record Players Under $100: Budget Turntable Reviews for 2023
We've selected our top options for turntables under $100. There are a number of turntables which are quite similar in design and features on this list, but there's nothing wrong with choosing one based on your gut feeling or even what you think looks the best.
Here are the best cheap turntables under $100:
Victrola V50-200 – Vintage Design Turntables
The Victrola V50-200 is a turntable with a quirky design and a lot of functionality. Victrola offers multiple cheap turntables under $100 in price and their products tend to be very well reviewed.
This record player is another to offer some brilliant high tech features such as USB digital encoding. The design is a big selling point and looks great in your home (or business) but actually, this turntable has the features to back up the looks, too.
Allows you to record your vinyl and turn it into MP3 files on your computer.
Works in 3 speeds.
Has a built-in AM/FM radio.
Also has a CD player and speakers inbuilt.
Bluetooth and aux-in options as well as a headphone output.

Speakers may be quieter than the others on this list.
The radio tuning can be a little difficult at times.
Generally speaking, if the design is important to you (but you also don't want a unit which lets you down on features) then the Victrola V50-200 model could be for you. The incredible 1950s throwback design makes it a good gift, too.
Lauson CL502 – Best Turntable for Money
Most of these product designs are in some way retro, but the Lauson CL502 Turntable looks like it is straight out of the 80s! This also has the benefit of being one of the cheapest products on our list, and it still has a lot of the features that some of the more expensive options offer.
Chargeable, and therefore totally portable. This has a power indicator to show you when it is running low. This is good for taking on campouts or just listening in your backyard.
Has an auto stop switch for when the record has finished.
Comes with USB compatibility and the software to record your vinyl and turn it into digital file formats.
Has RCA outputs to allow you to use this with other speakers.
Comes with a dust cover and also has an extra stylus just in case yours breaks.

Speakers are not hugely powerful.
Doesn't have a lever to control the tonearm.
There isn't a lot to fault with this and it has some very good reviews, especially if we consider the price. For value-for-money, this can be a good choice, especially if you just need to play your records at moderate volumes. The look and feel of this turntable is great for a record player under $50.
Popsky Vintage – Turntable with Bluetooth Connection
Another very popular turntable is the Popsky Vintage. This has modern features, but also a compact design with a lot of features which are very good for casually listening at home.
Though the speakers are not as impressive as some of the other options, this turntable is very compact and is good for hooking up to existing speaker setups. The design is understated, and the great wooden finish can work with either modern or retro decor in your home.
Able to record vinyl as MP3s and convert to audio files.
Belt driven and works at 3 different speeds, with 7", 10" and 12" styles of record.
Built-in stereo speakers.
Bluetooth connectivity to hook up to any Bluetooth device.
Comes with a dust cover to protect vinyl.
Automatically stops when the record finishes playing.

Speakers aren't very loud.
Struggles with bass frequencies due to the small design of the speakers.
The automatic stop feature is very positive, and something more of the best affordable record players should offer. Realistically, for the best possible sound, you probably will want to link this to some slightly higher-quality speakers. In terms of design and functionality, though, we couldn't expect much more from this turntable.
Audio-Technica AT-LP60 – Semi-Professional Turntable
Audio-Technica is a brand which will be recognized by audiophiles all over the world. They manufacture a wide range of audio equipment including microphones and speakers and for audio fidelity, the AT-LP60 is a great choice.
It is fair to say that this is one of the most professional products on the list, but it may not be great for beginners as it is not an all-in-one and doesn't have speakers included.
Allows conversion of vinyl into MP3 files.
Excellent quality platter made of aluminum and also has an anti-resonance.
Built-in preamp and cables to allow you to connect this to a variety of speakers.
A professional brand with a strong reputation.
Comes with a dust cover.
If you're concerned about the brand, and you don't want to opt for one of the choices which doesn't have such a high-quality reputation in the world of audio products, then this is perhaps the cheapest way to get a professional choice. You should only buy this if you are happy to provide the speakers or buy some separately.
Victrola ITUT-420 – Turntable with Speakers
The Victrola ITUT-420 is one of the only choices on the list which has gone for an elegant yet contemporary design. Most of the best inexpensive turntables seem to play on a retro theme, they're designed to be for home use and hark back to the days when a record player might have been in every home.
The ITUT-420 instead looks like one of the more expensive modern options. It is powerful and offers good clarity, and also has two detached speakers, allowing it to provide a better, clearer sound than many of the limiting inbuilt speakers.
One of the most powerful turntables on the list with an incredible set of 50-watt speakers.
Futuristic and simple design.
Three different speeds.
Bluetooth enabled so you can stream to the speakers via any Bluetooth device such as phone or tablet.

Doesn't have an inbuilt dust cover.
At lower volumes, the sound can be a little bass-heavy.
For a contemporary look and a lot of power from the speakers then this can be worth exploring as an option. The Victrola ITUT-420 modern design turntable is one of the multiple Victrola options we've featured, but it has a different look and design to the others.
ClearClick TT54 – Best Cheap Turntable
The ClearClick TT54 All-in-One Turntable is one of the more all-encompassing sound system designs of turntable which can be purchased under $100.
It is another option to have more of an 80s look, but for compatibility and playing from just about any audio source possible then this is hard to beat. The manufacturers also protect this purchase with one of the longest warranties out of any of the turntables on the list.
Comes with CD player, inbuilt FM radio and the option to connect devices via Bluetooth or aux cord.
Combines modern and retro designs with a 70s/80s feel to it.
Inbuilt dust cover to protect your records.
Has the ability to convert all of the sound sources (radio, CD and records) into MP3s.
Comes with a five-year warranty.

Sometimes has a slight 'tinny' sound.
Buttons and knobs feel cheap and low quality.
As with many of the models on this list, the clarity and power from the speakers doesn't quite have the quality we hope for. This is the slight tradeoff you make when buying one of the cheaper turntables on the market. For the very best audio you will need to spend a little extra or provide your own speakers.
If you want a model which is compatible with pretty much every device we might use to play audio or every format for released music, this turntable could be great for you.
1byone Briefcase Turntable – Turntable with Built-In Speakers
The 1byone Briefcase-Styled Turntable is a good option providing multiple color choices (including a very bright turquoise). This is a briefcase design, and it is totally portable. Charge it up, lock up your briefcase and take it wherever you need to.
It has built-in speakers and plenty of impressive features and compatibility to listen not only to records but also via Aux input or Bluetooth.
Works at three different speeds.
Integrated speakers face the front for better projection of sound.
Totally portable with a carry handle, so it really feels like carrying a briefcase.
Good value-for-money.
RCA and aux inputs allow you to plug in other devices and listen through the speakers.

Not the highest audio clarity, can sound a little 'tinny' and struggles with bass.
Slightly warped records will not play and will scrape on the device itself.
If you're looking for a product which is affordable as well as being very portable and simple and easy to use then this could be a good option. For the casual listener, the audio clarity is fine, just don't expect to impress your audiophile friends with the 1byone!
9 Features to Look Out for In the Best Budget Turntable
When it comes to choosing the best cheap turntable for you it is very important that you work out for yourself exactly what features are most important for your needs. Different people prioritize different things.
Our guide will show which features are important and what they all mean for your choice.
1. Speaker Power
The power of the speakers in the models of budget turntables can vary quite a lot. There are models on this list which have very little power, which are only really suitable for listening in the home.
The Victrola ITUT-420 model with 50-watt speakers is our recommended turntable if you are looking for the utmost in power. The separate speakers which aren't built into the turntable itself mean extra volume.
2. Audio Clarity
This is something which is very hard to measure. Audio clarity is subjective, and obviously, you can always use separate speakers to listen to your turntable so it doesn't always have to be a make-or-break choice.
To be brutally honest, if you're buying an inexpensive turntable under $100 or even under $50 then the audio clarity is not going to compete with the products costing three or four times this.
If you're a casual listener, however, a cheaper turntable will give enough clarity for you to enjoy your music.
3. Speeds and Sizes
Those who remember vinyl being the single most popular way of listening to music will remember that different vinyl comes in different sizes and also needs to be played at different speeds.
The best cheap record players can handle all of the popular sizes (7", 10" and 12") and also play at the different speeds (RPM) required to listen to your favorite music.
4. Vinyl "Ripping"
Most of the products on our list are capable of "ripping" vinyl. They can be plugged into your computer via USB and in turn, you can record the audio and convert any vinyl collection into MP3 or other audio files.
This is a good way to get old vinyl onto a mobile device. The turntables which can do this come with their own software to allow you to handle the ripping of the audio.
5. Bluetooth/Other Connectivity
In the modern age, you probably want to play music from more than one source, whether it's an MP3 player, your phone or a tablet. Many of the top turntables are able to take Aux inputs, meaning you can connect other devices via a cable.
Alternatively, they may have Bluetooth connectivity. This will enable you to connect via Bluetooth to your phone or other device and stream audio straight to the speakers on your record player.
6. Portable or Not?
Do you want to take your record player out and about? Many of the options have batteries which can be charged up, and you can then take your record player into the backyard or for campouts, or even further afield.
A lot of the designs, such as the 1byone model on our list, have a suitcase design which can be totally closed up, allowing you to carry it around like a briefcase and play vinyl wherever you are.
7. Inbuilt CD/Radio
Just like people enjoy playing music from other audio sources such as phones and tablets, people still have other formats like CDs, and enjoy listening to certain radio stations!
A nice bonus can be beneficial, and even eliminate the need to have another device such as a standalone radio or CD player. For some people, this won't be an important feature, for others it won't be a priority at all.
8. Connect to External Speakers
All of the products on our list connect in some way to external speakers. This is usually done via RCA cables, but there are other methods. The important thing is the option to be able to hook your turntable up to speakers you may already own.
If you've paid for some high-end speakers, not being able to use them in conjunction with your record player can be nothing short of infuriating. Fortunately, you can send audio signal from most vinyl players under $100 to some speakers.
9. Design
This isn't the most important thing for everyone, either. However much you love clear audio, it shouldn't mean you have to neglect looks! The design of a turntable is important, too. There is a wide variety on this list.
Some of the products have a 50s look, some have an 80s look and others even look modern and futuristic! There's something for everyone, no matter what the decor and color scheme of your home.
Why Have Record Players Grown in Popularity?
The sales of record players have grown a huge amount in recent years as people opt to revive their record collections (or even start fresh). The audio fidelity provided by vinyl is often preferable to audiophiles. The pressing of vinyl is done in a different way to the compressed quality found on CDs and many MP3s and streaming services.
What Should I Keep in Mind When Buying a Cheap Record Player?
Cheap record players are never going to provide the full audio fidelity and features of products which are more expensive.
Keep in mind the fact that you shouldn't expect a full-blown hi-fi system to wow and impress audiophiles whilst only spending $100. It is far more likely that a decent entry-level system can be bought at this range.
Do Record Players Include Speakers?
The vast majority of cheap turntables at this price range include some sort of speakers. These speakers may or may not be good quality, and often it is the speakers that can be an issue on the less well reviewed cheap record players. Most also have a way you can plug into your own speakers if you have higher-quality ones at your disposal.
Is It Worth Buying a Turntable Under $100?
Though some of the more snobbish audiophiles out there might tell you that you need to spend a fortune to get a good quality turntable, we don't think this is true. Also, it is totally subjective. If you have an old record collection you want to listen to again then there is no reason why a cheap player can't do the job for you.
What Is a "Suitcase" Design of Record Player?
Suitcase designs are just popular all-in-one styles of turntables which can be closed and stored easily when not in use. Many of the options you will find at the budget end of the market follow some sort of suitcase design. If you want to go to the very cheapest end of the market, the best record players under $50 are almost exclusively suitcase designs.
Conclusion
Though you might not get too many award-winning audio products under $100, there are some great home turntables for beginners on offer at this price.
You don't have to spend the earth for a turntable for your home or to take out and about with you. Take some time to research your needs and find the best turntable for you.