If you're a true music lover, you won't mind investing a bit of cash in order to find the best turntable. The audio quality and fidelity you can get if you invest a fair bit of money is extremely high and professional.
It can be tough to know which models to buy, and different turntables and record players vary a lot in terms of the features they offer. In this article, we've collected the best turntables under $1000 for you to check out.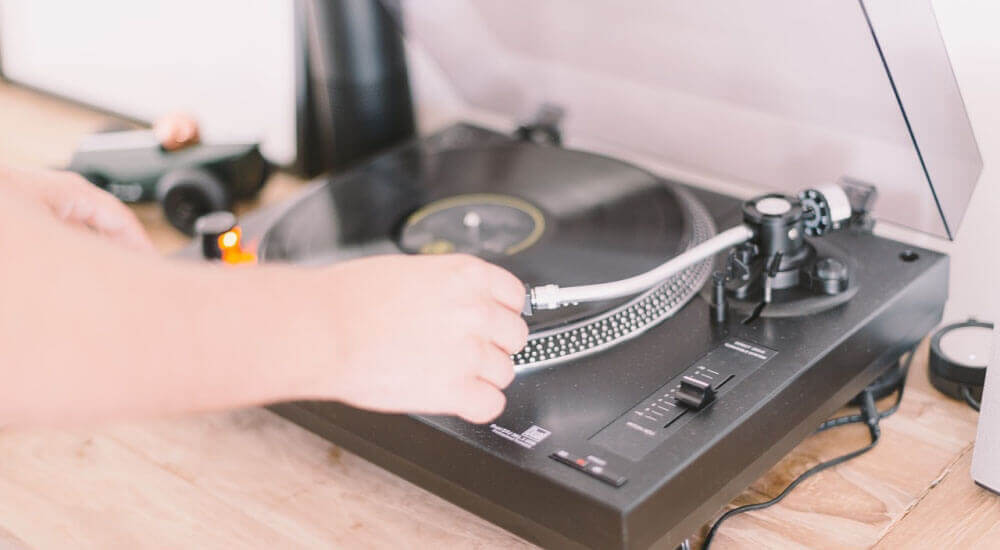 We've also given the products nominations based on what specifically they are best for, and which type of listener they've been aimed at. No matter what your preferences, you should be able to get a high-end turntable under $1000.
Top 9 Best Turntables Under $1000
Here are the best turntables under $1000:
1. Audio-Technica AT-LP7
Audio-Technica is a brand featured a lot on pretty much any list of high-quality turntables. The Audio-Technica AT-LP7 is our top-rated record player under $1000 due to its high focus on sound and exceptional build quality.
An exceptional VM520EB cartridge which reproduces sound to a very high standard.
Comes with RCA cables, 45 RPM adapter and even a dust cover.
Speed sensor which further assists with the quality of sound reproduction by keeping the rotation speed steady.
The platter has been designed to be anti-resonance, meaning it shouldn't produce any buzz or other resonant sounds.

It's fully manual, so you will need to be aware when the albums are about to finish.
Dust cover is not hinged or attached so you need to remove it completely.
It's very hard to argue with the audio quality of this turntable. The Audio-Technica AT-LP7 is exceptionally reviewed. The platter is incredibly well made, and the fact that it stays perfectly stable with no flutter makes this a reliable option.
There aren't any extras like USB connectivity, but this isn't always an issue. Most audiophiles are buying their turntables purely to listen back to their music.
2. Rega Planar 2
If you are looking for a turntable with exceptional build quality, perfect for spinning records at home, the Rega Planar 2 could be for you.
The Rega brand is not as well-established as some of the others making turntables, but we're very impressed with what they offer. These have been made with audio clarity and longevity in mind.
Carbon MM Cartridge installed and ready to use. This offers excellent sound quality and reproduction.
Stabilizing feet are installed to reduce buzz and resonance and keep this turntable level.
A 24-volt low-noise motor also has automatic cooling functionality.
Glossy acrylic laminated plinth to keep sturdy. There is no resonance from the plinth and the sturdiness and durability is a signature of the Rega brand.
Feet are designed to soak up any vibration so that this doesn't impact the plinth at all. These feet also keep the turntable level.

The one area where the build quality could be criticized is arguably the dust cover. The cover feels a little cheap and plastic.
Rega products are made with care and this has a lot of potential. If you are looking for the best turntable under 1000 dollars which has the option to pair up with phono preamps or even upgrade the cartridge for true audiophile listening, this could be worth checking out.
This is built to last. It should serve you well for many years if you take care of it, and it is well under the $1000 budget we outlined at the start of this guide.
3. Pro-Ject Debut Carbon Esprit SB (DC)
There are a lot of products on the list which don't play records which are designed to be played at 78RPM. Most play at 33 and 45RPM (the Pro-Ject Debut Carbon Esprit SB is capable of this too) but don't have the option to switch to 78.
On top of this, the Debut Carbon Esprit SB (DC) is a very well-built product for audiophiles and casual listeners to enjoy.
Comes with a Pro-Ject speed box. This is designed to keep the record at a steady speed so you don't have to worry about flutter.
Comes with a quality carbon tone-arm.
The acrylic platter is high quality, very heavy and well-made, and designed to be anti-resonance so that the platter doesn't impact the sound.
The cartridge is an Ortofon 2M which is quite a highly regarded option for reproducing sound.
Can play 33, 45 and 78RPM records, though 78s will require a belt change.

The anti-skate weight which is included has been connected at an odd angle. It is fiddly and not as smooth as some other options.
Overall, Pro-Ject has done a good job with the Debut Carbon Esprit SB (DC). It's one of the best 3-speed turntables in this category.
4. U-Turn Audio Orbit Special
Though sound quality is always our top priority when reviewing record players, there's nothing wrong with wanting something that looks good.
The U-Turn Audio Orbit Special is certainly a product which looks the part, but it has the audio quality to match, making it a good choice of turntable under $1000.
Exceptional plinth which is made of either maple or walnut, you can choose.
Like some of the other options at this price, it comes with the Ortofon 2M Red cartridge installed. This does a great job of reproducing the sound.
On top of the plinth, an acrylic platter is installed to improve the consistency.
It has an adjustable counterweight so you can keep your turntable perfectly level, and a gimbal tonearm which tracks accurately.

Some users have reported having to replace the belt due to the fact that they have been shipped with one which is too big. This seems to be rare.
This is not only one of the best turntables under $1000 but it is only just over $500. The company is nowhere near as big as some of the others, but this isn't always a bad thing. The turntables are clearly made with care and there are examples of excellent customer service among consumer reviews.
The choice of two wood finishes is a real bonus, and the U-Turn Audio Orbit Special looks great in all sort of homes!
5. Denon DP-450USB
We live in an age of technology. While some users want to buy a turntable to use for listening to old records, some are looking to modernize. Having USB capabilities lets you rip audio straight onto your computer or other devices.
You can get cheap turntables with USB options for under $100, let alone under $1000, but this, the Denon DP-450USB has brilliant audio capabilities and is one of the best record players under $1000 in its own right.
Supports 33 ⅓, 45 or 78 RPM with no need for changing the belt.
USB capabilities and easy setup for ripping audio. This is perfect for converting old records and also great for music producers who may want to sample vinyl.
Easy to set up with no complex parts to add and a cartridge already installed.
Semi-automatic design protects your records. It is designed to automatically lift when the record has finished.
Tracking tonearm is designed to provide clear audio.

The cartridge which is installed is arguably not quite as high-quality as some of the other options on this list.
The main complaint about the DP-450USB turntable is the cartridge. The same cartridge is included in some cheaper record players by Denon and other brands which some people are disappointed by. However, it can be replaced if needed.
6. Audio-Technica AT-LP120XUSB
The Audio-Technica AT-LP120XUSB is one of the best-selling turntables under $1000. It is well under the $1000 mark. In fact, it can be picked up for under $300. However, this doesn't mean it isn't up to the job.
Though it doesn't quite have the same audiophile-standard sound that some of the other options on this list can boast, it is high in quality and functionality, making it the perfect choice for many home setups.
Also, the money you can save on this product means you can always get the cartridge replaced for an upgrade on the audio.
Comes with an adjustable anti-skate controller.
Easy to convert your records with a simple USB output and free software.
The aluminum platter is good quality and anti-resonance, it also comes with a felt mat to stop vibrations.
Decent AT-VM95E cartridge, but the option to upgrade this.
Can play records at 33, 45 or 78 RPM depending on what you require.

Not as high quality out of the box as some of the other options on this list. Needs upgrading for the full potential.
We would be lying if we called this the very best product you can buy for the price, but a lot of people are looking to save money. For a little bit less, you can buy a record player which isn't a significant downgrade on some of the options closer to $1000 in price.
For simple USB functionality and a good-quality way to listen to your records without breaking the bank, this is a great option. We do recommend increasing the quality by adding a higher quality cartridge if you have the know-how.
7. Pro-Ject RPM 3 Carbon
A few of the Pro-Ject models are extremely good and highly-rated while staying under the $1000 mark. The second to make our list is the RPM 3 Carbon.
The brand has managed to create a record player which is extremely small, but it also has some add-ons which can be used to further the capabilities of your turntable if you choose to go with a Pro-Ject.
At first glance, you'd be forgiven for not even realizing this is a turntable. It looks way too compact. This makes it very stylish and you can just imagine this record player sitting in a small but stylish apartment.
A fairly sturdy plinth and platter are made out of MDF material.
Comes with a 2M Red cartridge, the same used in many of the quality turntables on this list. Excellent, clear sound reproduction.
Precision belt drive which makes use of a synchronous motor to avoid flutter or timing issues.
Small and compact, fits in even tiny spaces.
Lots of opportunities to upgrade, with accessories that can be fitted quickly and easily.

Some people don't like the MDF plinth, though it is vinyl coated. You can replace this with an acrylic model for a decent price.
The product doesn't have any sort of dust cover which can be awkward.
If you need something which saves space, this could be a turntable to consider. Also, many audiophiles love to tinker around and add to their turntable over time. You can replace the plinth and things like the cartridge to improve the audio quality over time.
8. Stanton ST.150 M2
While a lot of people coming to this guide will be looking for record players and turntables for home-based listening, there may be some budding DJ's out there.
The Stanton ST.150 M2 turntable is the makings of a brilliant DJ rig, and an alternative to some of the Technics or Audio-Technica options on the market. It comes in at well under $1000 and is very highly rated.
It can be used for listening to records casually as well as being connected to a DJ mixer, so this isn't specific to those who want to learn to spin live. However, being a DJ turntable means it has to have certain features which can prove extremely beneficial.
Extremely high torque and tracking which leads to very little flutter and wow. It is reliable in the extreme.
Direct drive turntable design makes it suitable for scratching and spinning records in a live environment.
Can play records at all three of the speeds, but if you plan to use 78RPM records you will need to use a specific cartridge and stylus.
As this is designed for use in a live environment, it is made to be heavy-duty. It has a lot of durabilities and is able to do a job for many years to come.
Anti-vibration feet are also installed. This is probably due to the fact these are designed to sit on surfaces for DJs but it is great for stability while listening casually, too.

The plinth and body are designed to be durable but not necessarily with any anti-resonance capabilities.
There's not much to fault with this product, but it is aimed more at people who are aiming to use it in a live environment as DJs. There's nothing wrong with that, but some casual listeners may be put off by this fact. The truth is, the setup is just as easy as the rest of the options on this list.
9. Yamaha MusicCast Vinyl 500
Yamaha took a long time out of the record player game. They didn't produce any new models for around 20 years. Some of their new products are pretty impressive, though, and this is one example of a turntable which sounds great and has some modern and high tech features.
Using the MusicCast wireless speakers you can create a wireless system for listening wherever you want, you can even set up speakers in multiple rooms.
As well as being able to play 33.3 and 45 RPM vinyl, this can stream via WiFi from services such as Spotify. You can also connect to other devices via BlueTooth.
Has a built-in phono preamp. You can also plug into other speakers without using the wireless technology if you like.

This is another manual record player which many people don't mind, but it does mean you need to be present when the record ends to avoid damage.
Audio fidelity is not quite as high as some of the other options on the list when playing from vinyl.
This turntable is good if you want to play music in a wireless way. It is no gimmick, the Yamaha MusicCast Vinyl 500 is well thought out, and it looks great, too. However, for true audiophiles, the fidelity might just be lacking a little.
Conclusion
There are many top products in this price range. If you're looking for the best turntables under $1000, you have plenty of choice.
We've named the Audio-Technica AT-LP7 as our very top-rated product. It will impress audiophiles and casual listeners alike. The plinth is designed in a way that doesn't taint your sound and the speed is reliable, so as to avoid wow and flutter.
Taking a little time to consider which features are most important to you, and matching up the turntable from this list, can make sure you end up with a product you're delighted with.