In this article we will look at some of the best studio headphones out there for both listening recreationally and professionally in the studio. There are a number of elements that make up a good set of headphones and in this article we have compiled a list of the 10 best sets in our opinion.
It's worth mentioning that headphones differ from 'earphones' in that they usually fit over the head and cover the ears. This is opposed to earphones (in-ear monitors), which instead usually sit in the ears and are way smaller in comparison.
Headphones also have additional benefits such as increased noise isolation. This is due to the large ear-cups which seal in the sound and keep out the outside noise. On top of this, many people find headphones to be a more comfortable listening experience and if it's cold outside they have the added benefit of keeping your ears warm!
Top 10 Best Studio Headphones Reviews for 2020
When it comes to this list, budget, comfort, sound quality and a host of other factors have been taken into account in order to establish the best headphones for your money. Read on and find the set that suits you best.
Here are the best studio headphones 2020:
1.

Sony MDR-7506

If you're looking for high-quality studio headphones for sound monitoring, reproduction and recording, then these dynamic stereo headphones by Sony are a perfect choice.

The MDR-7506 professional headphones feature a large diaphragm with a foldable design that makes them highly portable and compact for storage in the included carrying bag provided.

These studio-quality headphones also have a safe and extremely efficient closed-ear design which offers comfort when wearing for long hours at a time. Comfort is also enhanced by the addition of generous padding within the headband.

The durable construction and a 40mm driver type provide high-quality sound while minimizing the interference of external noise. MDR-7506 headphones have been specifically engineered to be suitable for live broadcast and professional studio usage.

Impressive power handling of 1,000mw is supplied by the neodymium magnet. With great monitoring and crystal clear sound, these stereo headphones feature a wide frequency response of 10 Hz – 20 kHz with 106 dB/W/m sensitivity and 63 Ohms Impedance.

Flexibility is accessible with the 9.8ft coiled OFD cord and 3.5mm gold plug which offers a stable and reliable transmission of audio signals.
Lightweight.
High-quality sound reproduction.
Portable with a foldable design.
Comfortable to wear for long durations.
No detachable cable.
No inline microphone.
The Sony MDR7506 top-rated studio headphones take the top rank on our list mainly due to the excellent sound performance during mixing, editing and recording. Also, you can get these professional level headphones for under $100 with the added benefits of their lightweight and foldable design.
2.

AKG K240 Studio

The classic design of the AKG K240 Studio headphones makes them a suitable choice for both mixing and mastering. You can now experience supreme sound quality with an accurate response at all listening levels, thanks to the large onboard XXL transducer.

The 'varimotion' diaphragm is more elastic and offers detailed sound with powerful bass. You can easily listen comfortably for hours thanks to the comfortable circumaural pads and the gimbal-style suspension which ensures a perfect fit for pretty much all head and ear sizes.

The flexible steel structure and self-adjusting leather headband allows adjusting for single ear mixing. The semi-open air design of these stereo headphones is accompanied with a 15 Hz to 25,000 Hz frequency range and 55 Ohms of low impedance.

These headphones use a removable input cable which makes for easy replacement. Also, for a secure connection, mini XLR connectors are used.

The power cord is made of oxygen-free copper and features 2 gold-plated plugs with 3.5mm and 6.3mm stereo adapters. These high-quality components make sure that high-resolution signals are transmitted and reproduced without any loss whatsoever.
High-definition sound on lower output levels.
Portable with a 9-10ft detachable cable.
Semi-open design.
Comfortable to wear and flexible.
Durable construction.
May make for a sweaty listening experience after hours.
The K240's are professional studio headphones that offer high sensitivity, a wide dynamic range and low impedance with a solid bass.
These headphones have been widely used by notable audio engineers and musicians responsible for producing famous hit singles. If budget is an issue then you would do well to invest in these portable and high-quality headphones.
3.

Shure SRH1540

Shure SRH1540 headphones have a closed-back design that offers a wide soundstage with clear audio. They're designed for high-fidelity sound reproduction and feature 40 mm neodymium magnet drivers.

For maximum comfort and the reduction of background noise, these headphones have a circumaural design with Alcantara ear pads. In addition, SRH1540 are lightweight; constructed from carbon fiber and aircraft-grade aluminum alloy yoke which also enhances their durability.

To ensure hours of listening comfort the headband is fully adjustable and well-padded. The steel driver frame offers coherent performance at every level by reducing internal resonance and enhancing linearity.

These headphones have 99dB sensitivity, 46 Ohms of low impedance and a frequency range of 5 Hz – 25 kHz. Moreover, SRH1540 have a detachable dual-exit cable made of oxygen-free copper which is approximately 6ft in length. Likewise, a secure connection is provided by the gold-plated MMCX connectors.

The whole package also includes an additional pair of Alcantara ear pads made from slow-recovery and low-density foam.
Lightweight.
Ergonomic closed-back design.
Comfortable to wear with a padded headband.
Detachable cable.
Additional ear pads provided.
Bulky carrying case.
Expensive.
The SRH1540 are certainly one of the best closed-back headphones for recording with. They offer excellent acoustic reproduction with a warm and rich bass. Durability and comfort make these high-quality studio headphones highly popular among musicians, engineers and even gaming enthusiasts.
Enjoy uninterrupted listening for years with Shure's durable and lightweight design – that's if your pocket allows it!
4.

AKG Q701

The AKG Q701 Quincy Jones signature headphones are all about a unique and comfortable design which provides high-fidelity sound at a competitive mid-range price.

These headphones feature a slim black leather headband and big ear-cups made of black velour for a snug and comfortable fit. These headphones have been designed and created with expert consultation from music producing legend, Quincy Jones. They are very light and weigh just 8.25 ounces in total.

These are one of the best open-back studio headphones and contain a large two-layer varimotion diaphragm which delivers accurate highs in particular. To provide better acoustic fidelity and minimize distortion, the Q701's have strong neodymium magnet drivers.

Engineered and designed in Austria, these studio headphones feature a flat-wire voice-coil technology which provides true sound with low resonance and a wider, more spacious soundstage. Q701 headphones come with single-sided 9.8ft lime-colored cable made from 99.99% oxygen-free copper and a 19.6ft cord with a 6.3mm stereo plug.
Affordable to mid-range consumers.
Comfortable to wear.
Great sound quality.
Broad soundstage.
Great amplification response.
No storage case included.
Not for fans of super-strong bass.
Overall, the Q701 Quincy Jones signature headphones have a unique design offering a nice and comfortable fit. Audiophiles will love the natural audio that they produce with their extensive soundstage thanks to AKG's technology. They have a healthy but flat response without overloading on the low-end.
For those looking for comfortable reference headphones for hours of a pleasurable listening experience, Q701 will definitely serve the purpose.
5.

Sennheiser HD 280 PRO

Sennheiser HD 280 PRO headphones have been designed for low-budget audio mixing, mastering and monitoring thanks to their closed-end dynamic over-ear design.

When it comes to comfort, these headphones have circumaural ear coupling, leather-padded headband, and snug fitting ear-cups. For extra flexibility, the headband and ear-cups come connected with a swivel and hinge design.

Each fully padded ear-cup offers a natural fit and great seal for up to 32 dB of noise isolation with minimal ambient noise. Moreover, the weight of these headphones without the cable is a mere 285g and they produce a frequency response of a whopping 8 – 25,000 Hz.

The thing most professionals like about the HD 280 PRO's is the foldable design of these headphones. The coiled cable measures just over 3 feet in length when fully coiled and almost 10 feet when fully extended. For convenience, a ¼ inch stereo adapter and 3.5mm screw plug are provided.

Build-wise, the plastic body adds durability and ensures the HD 280's will survive the odd accidental drop in the studio. For the money you won't be disappointed by their sound reproduction which has an impressive and balanced bass response. 64 Ohms of nominal impedance and sound pressure of 100dB SPL make these headphones versatile for all music genres too.
Comfortable.
Durable construction.
Great for sound monitoring.
Impressive noise isolation.
Replaceable cord, headband and ear-cups.
No detachable cable.
Padded headband and fit might not be suitable for larger head sizes.
No additional controls.
The HD 280 PRO closed studio headphones offer professional features like ambient noise isolation, attenuation, great sound quality and precise, linear reproduction of sound that is essential for all studio purposes.
They're universally compatible, durable, comfortable and come at a very budget-friendly price point too.
6.

beyerdynamic DT 990 PRO

The DT 990 PRO headphones by beyerdynamic are aimed at beginner to mid-level home consumers. They're priced usually around or under $150 and so are within most home studio budgets. They have an open, over-ear design and feature dynamic transducers.

The DT 990's are very comfortable which is a combination of their circumaural ear coupling, adjustable headband and soft velour ear pads which ensure maximum listening comfort. A wide and immersive sound is delivered thanks to the open-back design of these headphones.

On top of all this, the DT 990 Pro's are extremely lightweight, weighing only 270g (without the cable). The highly sensitive transducers enable experienced, ear-trained audio producers and engineers to hear the finest changes in EQ, panning and dynamics.

Having 250 Ohms of impedance, 96dB of nominal sound pressure, 100 mW of power handling capacity and 5 – 35,000 Hz of frequency response, these studio-quality headphones offer transparent sound along with balanced treble and bass. These headphones also come with a single-sided 3m coiled cable.
Affordable.
Lightweight.
Durable construction.
Comfortable and flexible.
Detailed sound.
High-quality audio reproduction.
Parts are replaceable.
The DT 990 PRO 250 Ohm headphones are definitely one of the best budget studio headphones out there. They're perfectly suitable for home studio mastering, mixing and editing.
They're very comfortable, even when wearing for long hours, and reasonably priced when compared to other stereo headphone brands. They offer impressively balanced high-resolution sound along with a spacious soundstage.
7.

beyerdynamic DT 770 PRO

Having an advanced bass reflex system, along with a low mass diaphragm, beyerdynamic DT 770 PRO studio headphones offer a very balanced sound. beyerdynamic offer this model of headphones in three different Ohm size – 32, 80 and 250. This review is on their 250 Ohm model.

First up, the noise isolation is very good indeed. DT 770 PRO headphones are said to have a noise cancellation of 18dB and 100mW of power handling capacity.

With 250 Ohms of impedance, these DT 770 PRO headphones are perfect for professional-end audio devices and mixing audio interfaces. They are also suitable for studio monitoring and music production. In live situations, ultra-low bass audio is reproduced in full and high frequencies are crisp and clear.

Furthermore, their comfort is remarkable. These closed-back studio headphones have circumaural soft ear coupling and covered with a soft grey-colored velvet material that makes them easy on the skin and super comfy to be worn during long studio sessions. The adjustable headband is made of durable spring steel and features soft inner padding for additional comfort.

Engineered and designed in Germany, these robust headphones have a single-side coiled cable of 3m with a 6.3mm stereo jack adapter.
Light in weight.
High resolution sound.
Durable construction.
Comfortable fit.
Replaceable accessories.
2-year warranty.
A non-detachable cord.
Snug-fit might not be suitable for large head size.
The DT 770 PRO headphones are highly recommended for recording, mixing and mastering purposes, as well as in live performance situations. They provide high-end sound quality with detailed resolution at a very reasonable price. Moreover, these headphones are comfortable to wear for long hours without any sweat because of the velour ear pads.
beyerdynamic DT 770 PRO headphones use dynamic transducers with a closed over-ear design to provide exceptionally high-quality sound which makes them a pleasure to work with.
8.

Audio-Technica ATH-M50x

For around the same price as the beyerdynamic DT 770 PRO's you can purchase the Audio-Technica ATH-M50x's. These are closed-back headphones which are also available in a wide color range.

A deep punchy bass, balanced treble, great mid-range, and less distortion make them extremely versatile for all music genres. The acoustic performance of ATH-M50x has been highly acclaimed by top sound engineers, professionals and reviewers alike.

These studio headphones have a frequency response of 15-28,000 Hz, a sensitivity of 98dB and their 38 Ohms impedance provides for a great bass sound. Plus their comfortable and snug fit won't irritate you if worn for longer periods.

The headband and ear pads on the ATH-M50x's are made from professional-grade material which offers quality comfort and durability.

For maximum noise isolation, these headphones feature a circumaural design which contours over the ears. Another amazing feature is the 90° (in both directions) swiveling ear-cups that make them easily collapsible for storage and allows for simple one-ear monitoring.

Crystal clear sound is delivered to you thanks to the aluminum copper-clad wire coils used within and the rare earth magnets which make up the large-aperture 45mm drivers.
Balanced and detailed sound.
Tight bass.
Comfortable ear-cup cushioning.
Detachable cord.
Well built.
Collapsible.
No built-in microphone.
No control options.
The Audio-Technica ATH-M50x are an excellent set of closed-end studio headphones which are great for mixing, DJ-ing, recording and just simply every-day listening too. They have outstanding bass reproduction along with nicely shaped mids and crisp highs.
On top of all that, these headphones are strong and long-lasting. Great value for money.
9.

Sennheiser HD 800 S

Sennheiser HD 800 S headphones are crafted to provide perfect sound at an affordable price. These reference headphones feature an open-back and dynamic design. The circumaural ear coupling creates a tight seal that doesn't let much ambient noise enter to the ears.

To offer the best acoustic performance and extreme comfort, each of the ear-cups has an ergonomic design made from a light-weight, strong and non-resonating Leona material. Moreover, the transducers are protected by transparent chassis with a hi-tech stainless steel mesh.

To remove any undesirable vibrations during playback, the HD 800 headband has many layers of polymers. There is little chance of fatigue, thanks mainly to the luxurious microfiber ear pads that are both durable and provide great comfort for hours on end.

These headphones have insulated cables, 300 Ohm impedance and a frequency response of 4 Hz to 51,000 Hz. The thing which makes these headphones unique is the large dynamic driver contained within. 56mm ring radiator transducers, along with precision magnets, offer maximum sound fidelity which is low on spurious oscillation.
Removable cord.
Excellent build quality.
Great sound reproduction.
Wide soundstage.
Extremely wide frequency response.
Larger than normal transducers.
Expensive.
No microphone.
No wireless option.
If you are looking for studio headphones that can give you hours of comfortable listening experience without any fatigue, then Sennheiser HD 800 S reference headphones are a great option. It offers amazingly accurate sound with clean tight and punchy bass, smooth midrange, sharp treble, and clear audio.
10.

Sennheiser HD 650

Sennheiser HD 650 open-back headphones are specially engineered for music-listening audiophiles. For highly effective transient response and accuracy, these headphones feature very lightweight aluminum voice coils.

Also, to reduce harmonic distortions, the HD 650's have computer-optimized powerful magnet system drivers giving only 0.05 % of THD.

Advanced acoustic silk produces uniform damping and eliminates harmonic distortions and IM throughout the frequency range. These professional studio headphones have 300 Ohms impedance and offer a really spatial and natural sound image. Having a healthy frequency response of 10 – 39,500 Hz, the HD650's deliver crisp, balanced bass with strong sub bass reproduction.

High efficiency is also provided by the strong neodymium ferrous magnets within. Each transducer is protected with a high-quality metal mesh and makes for transparent sound and accurate audio reproduction.

HD 650 headphones have a sound pressure level of 103dB and circumaural ear coupling for comfortable wear. The silver-titanium finish of the headphone gives them an elegant and sleek look too. The HD 650 headphones feature a detachable OFC copper, Kevlar-reinforced connecting cable that is insensitive to handling noise.
2-years warranty.
Circumaural ear coupling.
Comfortable and durable built.
Transparent and balanced sound.
Great frequency response.
Light-weight frame.
Sleek modern design.
Replaceable ear pads.
Perhaps a bit tight-fitting.
Sennheiser HD 650 are one of the best-rated studio headphones for sound engineers, producers and audiophiles due to their amazing sound quality, excellent frequency response, sleek design and high-class build.
Conclusion
When looking for the perfect set of studio headphones you should consider how you plan on using them. As this list of the top 10 studio headphones shows us, there are sets which accommodate all types of consumer from audiophiles to professional audio engineers to casual listeners.
If you find that the majority of your listening happens when you're plugged into a laptop or smartphone then the chances are that you do not require a studio-standard set of headphones.
Studio headphones are often shaped differently from other types of headphones. They usually offer a more flat response which means that the drivers are not shaped or enhanced in any way so as to boost frequency ranges.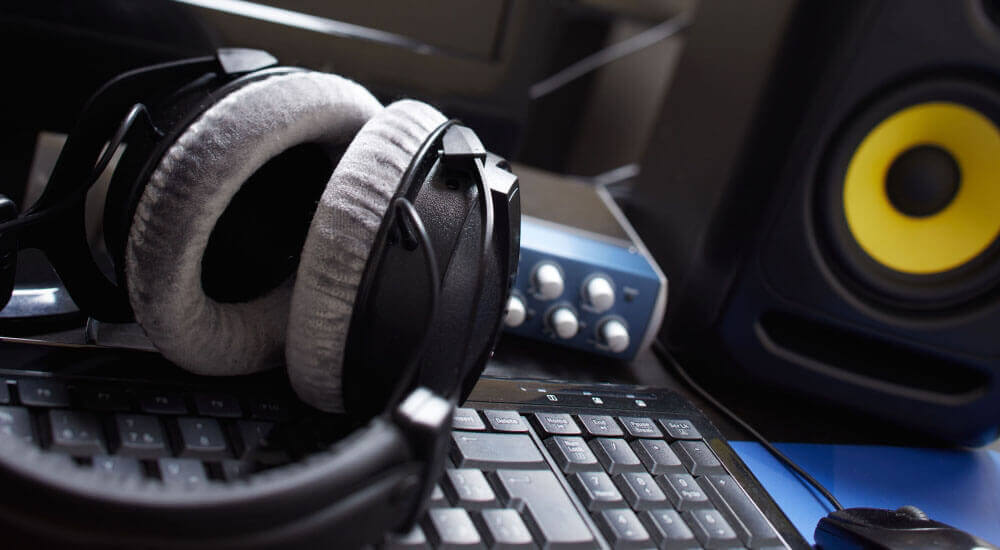 Often with consumer headphones like Beats by Dre, for example, these headphones will offer enhanced low-end response. This means that your default sound will be very bass-heavy. This is great, especially if you like the feel of low sub bass on your ears. This is not so great, however, if you are trying to mix a song in your studio.
The problem with mixing on shaped headphones is that you cannot tell accurately how your mix will sound on a regular home stereo system. For this reason studio headphones, while not as much 'fun', are designed in such a way.
When it comes to value for money in the entry-level it is hard to look past our number one spot. The Sony MDR7506's are staggeringly good value.
They usually retail in or around $90-$100 in stores and online and if you're looking for a reliable and cheap set of studio headphones with which to listen while doing house chores, then these are the pick of the bunch.
They're not great when it comes to sound isolation, which you would expect with such a low budget set of headphones, but when it comes to sound they do the job, and some more too!
In the mid-range price section there are three sets which spring to mind in particular. Numbers 7 and 8 on our list are all great sets of headphones and each at the around $150 price point. Each set has its selling points.
The beyerdynamic DT 770 PRO's come with replaceable parts and a 2-year warranty. Meanwhile, the Audio-Technica ATH-M50x's are collapsible and come with a detachable cord which makes them ideal for when you're on the move.
Then there's the Sennheiser HD 800 S's which are both comfortable and offer a highly impressive frequency range of 4 to 51kHz which is surely more than any set of ears could ask for.
For consumers looking to equip a studio with a suitable pair of headphones you should definitely take a look and listen to the Shure SRH1540's.
Shure are already established as one of the best brands in the world when it comes to creating quality and competitively priced microphones. It's no surprise that they've come up trumps in the headphone department too.
The SRH1540's are a pleasure to listen with and are suitable for all activities in the studio from vocal tracking to drum takes. They're robust but not too heavy and feel great on the ears even after extensive listening sessions. If you can stretch to their hefty price tag (which in most stores is around the $500 mark), then by all means treat yourself to a pair.
They're built to last and offer a very enjoyable mixing experience with a true and flat response. You'll find EQing and mastering to be a real ear-opener with the SRH1540's.
Whatever your experience level, we hope that you've found this list beneficial when it comes to making a decision on which set to purchase. We're sure that with a little time and research, you'll find your ideal pair.