It may seem like a huge challenge to catalog all the best studio monitors, considering all the options out there, but fear not – we've done it!
It goes without saying that all top studios should have a top set of studio monitors for listening and mixing through. Indeed any studio would be incomplete without the purchase of a great set of studio monitors.
Studio monitor speakers actually have a great impact on the overall sound of a mix. It's no surprise that world renowned music producers stay loyal to their studio monitors. In the studio the monitors are the bridge between the performance and the final mix.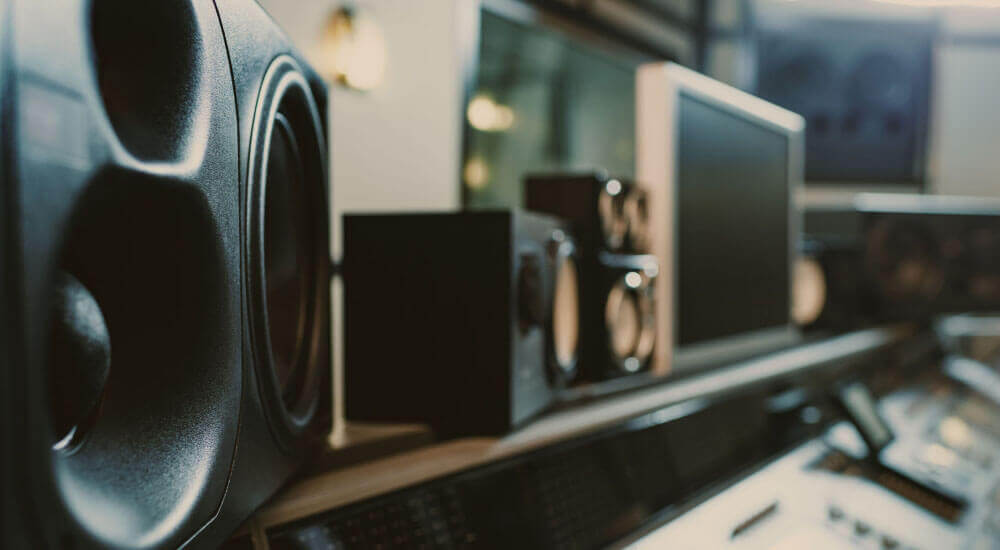 When it comes to terminology contained in this article, here are some small pointers: 'Woofers' refer to the drivers that control the bass frequencies while 'tweeters' are smaller drivers which control the high frequencies. With that out of the way, read on and find out which studio monitors are made just for you.
Top 10 Best Studio Monitor Reviews for 2019
Here are the best studio monitors 2019:
1.

M-Audio AV42

If you want to hear premium-quality sound, then these M-Audio AV42 speakers are a great starting place. They are high-quality standalone speakers with a 4-inch woofer which offers you an immersive gaming sound. AV42 are easily one of the best desktop speakers for professional media creation.

The premium built quality of the AV42's can't be ignored either. Not only does this mean they are more durable but it also means the sound is top notch.

The speakers feature 1-inch ferrofluid-cooled silk cone tweeters combined with 4-inch polypropylene-coated woofers which generate punchy rhythm along with clear, defined and pristine highs.

The advanced components contained within the M-Audio AV42's are robust and solid as well as pet and childproof to ensure maximum longevity.

These top studio monitors also feature the OptImage IV waveguide that builds on the already elevated efficiency of the OptImage III to guarantee optimum and uniform sound coverage.

As well as this, these studio monitors offer flexible and versatile connectivity. The rear-panel easily located RCA input provides a seamless connection which will attach to pretty much all HIFI systems, mixers, gaming systems and DJ equipment.

The AV42's also come with a front panel which has a 1/8-inch stereo auxiliary input with which you can easily connect MP3 players, phones and laptops. Also included is a 1/8-inch output for individual listening.
Setup is easy and effortless.
Attractive and compact design.
High-grade components.
Excellent waveguide design.
Great performance.
Durable.
Slightly expensive in contrast to other brands.
Whether it's listening to your favorite songs, watching movies, gaming or audio engineering, the M-Audio AV42's are designed with high-quality parts and come with an appealing and stylish design.
These studio speakers provide pro-grade sound and are used by countless consumers across the world, including professional musicians and engineers.
Perhaps it's time to upgrade your standard desktop speakers and treat yourself to well-defined and crystal clear audio that makes the listening experience a pleasure.
2.

PreSonus Eris E4.5

If you're looking to upgrade your home studio to a professional level, then these 2-way studio monitors will give you pretty much everything that you need. Say goodbye to muffled bass and treble – the Eris E4.5 speakers provide impressive high-definition and a balanced sound.

These monitors have a very neutral and simple design which makes them quite easy on the eye. PreSonus E4.5 studio monitors are both compact and light while superior sound quality is guaranteed with the solid construction and high-grade components used.

These active 2-way studio speakers feature well-designed 4.5-inch Kevlar low-frequency transducers. These are combined with a 25mm ultra-low mass silk dome under the grille which also serves as a high-frequency transducer.

The good sound quality delivered by the E4.5's is also down to the Class AB amplification with 25 watts of power per speaker, delivering 50 watts in total.

Other useful features include shielding against RF interference which guards against unwanted noise from nearby devices. Also E4.5 studio monitors come with acoustic tuning controls and space settings to control mid and high-range frequencies.
Affordable.
Good build quality.
Accurate bass & treble mixing.
Acoustic Space controls.
4.5-inch Kevlar low-frequency transducers.
Compact and lightweight.
3 input options (XLR, RCA, and TRS).
No auto standby.
Power switch on the back.
E4.5 speakers include a host of technological features that professional audio engineers often look for. You'll find them used for radio, TV, online music streaming and gaming soundtracks too.
PreSonus Eris E4.5 studio monitors provide high-fidelity audio and are one of the best value studio speakers due to their low price point; in short: tremendous value for money. These are one of the best budget studio monitors you will find.
3.

Yamaha HS8

The Yamaha HS8 studio monitors offer a great sound mixing experience with quality bass, mid and treble sound. Black in color, these monitors measure 14 x 16 x 21 inches and weigh just 23.6 pounds.

Talking about the product design for a second, these HS8 speaker cabinets help eliminate undesirable resonance and boost sound reproduction accuracy to the max. The speaker enclosures are built with a dampened acoustic response and resiliently dense MDF. The three-way mitred-joint enhances the durability of these monitors.

HS8 studio speakers come with newly developed advanced transducers too. There is an 8-inch cone woofer combined with 1-inch dome tweeter (guarded by a metal grill). This helps the HS8's to produce low-distortion and accurate sound reproduction over a broad frequency range.

For an increased high-resolution sound experience the frequency response has been extended from 38Hz-30 kHz, with a 60-watt power consumption.
Classy and attractive design.
Subwoofer with frequency attenuation of 80-120Hz.
Solid design with low resonance.
Noise reduction to 6dB with cutting-edge technology.
Affordable.
The HS8's incredibly flat sound response occurs due to the bi-amp system. These have been separated for both tweeter and woofer (75W LF plus 45W HF). This offers a power amplification of 120 watts in total.
These active studio monitors also feature room control 3-way switch (0,-2 and -4dB under 500Hz) that combats any overload of bass. There is also an equalizing trim control for a flexible high-frequency control. All unbalanced and balanced audio sources like keyboards, mixers, etc. are accommodated by phone jack inputs of XLR and TRS. The 8-inch woofer, frequency response and equalizer offer more defined and rich sound.
Yamaha HS8 studio monitors are a handy all-in-one solution for budding audio engineers and producers who want to set up a professional level studio on a modest budget.
4.

KRK Rokit 5 G3

KRK Rokit 5 G3 has acquired the title of one of the most attractive sets of studio monitors that you can purchase under $300. Recording technicians, audio engineers, and musicians use these studio speakers worldwide for mastering and mixing. You get superior sound quality with low distortion and a balanced neutral response.

The active audio system features a 1-inch soft dome tweeter combined with a 5-inch glass-Aramid composite woofer to offer pristine clarity. The combination of superior high and low-frequency drivers means a sound response ranging from 45Hz to 35 kHz.

Rokit 5 G3 are low resonance speakers built from MDF cabinets and come with a front-firing port that provides full clarity and accuracy. Acoustic Iso-foam high-density pads detach the studio monitors from the surface to minimize the transmission of vibrations.

A bi-amped, class A/B amplifier drives these studio speakers at a lower operating temperature uniformly and increases audio fidelity with SPL of 160 dB. The low and high-frequency power output amounts to 30 watts and 20 watts respectively, offering a total of 50 watts amplification power.

KRK uses a proprietary waveguide design for superior detailed sound imaging. Practically all audio devices can be accommodated thanks to the assortment of unbalanced RCA, balanced 1/4″ TRS and XLR input options. These home studio monitors also features low-frequency (-2dB, -1dB, 0, +2dB) and high-frequency (-2dB, -1dB, 0, +1dB) trim controls.
Flexible room-positioning with front-firing port.
Low resonance enclosure design.
Versatile studio monitors.
Acoustic space controls.
3 input options (balanced/unbalanced).
Highly affordable.
Power-saving and auto standby shut off speaker while playing.
KPK Rokit 5 G3 studio monitors are engineered and built in the USA. These professional-grade speakers are one of the best-rated studio monitors and are a pleasure to mix with. They provide a perfect audio solution for music production, mixing, mastering and just everyday listening.
5.

Neumann KH 120 A

Looking for compact small size studio monitors? Then the Neumann KH 120A's are really worth considering. These speakers are designed to be used as near-field loudspeakers or you can use them perfectly well as rear speakers too.

The KH 120 A's provide the most precise and accurate reproduction of sound possible with the latest electronic simulation and acoustic technology. Each cabinet has a compact, durable painted aluminum surface finish, along with an anthracite interior design that reduces the standing waves, resonance and provides great heat dissipation.

An amazing feature of the KH 120 A's is the use of latest elliptical Mathematically Modeled Dispersion (MMD) waveguide design which provides smooth off-axis reaction.

KH 120 A's feature a 5.25-inch long-throw bass woofer that is complemented with a 1-inch titanium fabric dome tweeter. Both are magnetically shielded with a robust grille of metal-mesh. Moreover, the LF and HF woofers are powered by a bi-amp Class-A/B amplifier which offers a total of 100 watts of amplification power. The SPL ranges from 94 to 114 dB.

The Neumann KKH 120 A's are active analog speakers and have a crossover frequency of 2.0 kHz with a 24 dB/octave slope. The rear panel has acoustic controls and each cabinet is manufactured precisely to ensure a perfect match pair for great sound staging.
Durable aluminium cabinets.
Flat response.
Low-resonance and distortion.
Many input formats.
Compact size.
Pricey for entry-level users.
This small yet powerful speaker system with a small footprint allows you to place it practically anywhere, even in an OB van. KH 120 A near-field speakers deliver fine-tuned, best stereo imaging and linear frequency response. If you can afford them, they are a joy to work with.
6.

Pioneer DM-40

Sold as a set, these active Pioneer monitor speakers make a good choice for most home studios or live DJ setups. They offer a tight, punchy and rich bass due to their front-loaded two-way bass reflex system. DM-40 studio monitors feature 4-inch fiberglass woofers with DECO technology.

This 3D stereo sound system has ¾-inch soft dome tweeters equipped with convex DECO diffusers for high-frequency transmissions in all direction which makes for immersive 3D sound.

Also, the speakers are powered by Class A/B amplifier with a total of 42 watts of amplification power giving a high-fidelity and crisp sound. Both the woofer and tweeter are perfectly aligned and ensure a well-balanced sound.

DM-40 speakers have low resonance design thanks largely to the curved front of their (MDF) cabinets. This offers maximum rigidity, clean sound and low-resonance even at all volume levels.

Also, you can easily control the volume from the front panel with a control knob and 3.5mm mini-jack headphones output. On the rear panel you will find both a 1/8″ TRS and RCA input. These speakers also come in an updated version (DM-40BT) which offers Bluetooth connectivity.
Easy control volume knob.
Portable and compact size.
No crossover.
3D stereo sound.
DECO technology.
Ease of use and setup.
RCA and AUX inputs.
Sound response is not so flat.
Pioneer DM-40 are amazing studio speakers for music production and mixing. When you take into account the appearance, cost, construct quality and performance, these studio monitors offer a great value package. These compact DM-40 studio monitors are small in size and highly portable which will appeal to home studio owners who are low on real estate!
7.

Adam Audio A7X

The Adam Audio A7X powered studio monitor is one of the most popular near-field studio speakers out there on the market. The A7X's offer balanced sound with a high transparency range.

First up you'll find a superior transient response is provided by the highly impressive 7-inch woofer. It's made from carbon, Rohacell and glass fiber and offers a frequency response of 42Hz-50 kHz.

The Adam Audio A7X's feature a rare and unique Berlin-handmade 2-inch tweeters that feature a high-strength pleated diaphragm which has been designed for high tolerance.

These audio monitors are run by Class A/B type bi-amps with 100 watts for low frequencies and 50 watts for high frequencies, providing a total amplification power of 150 watts. SPL is set a maximum of 106 dB which is an ideal value for studio and home use. All these features go into creating the Adam Audio sound experience.
Responsive tweeter.
Great durable design.
5-years warranty.
RCA and XLR inputs.
High-definition sound.
No Acoustic space control.
No headphones mini-jack output.
A7X's front panel has a power switch and volume control knob for ease of use. The rear panel features many standard acoustic controls like ±4dB gain. These monitors offer connectivity with balanced XLR and unbalanced RCA inputs.
All in all, these A7X powered studio monitors give a nicely flat response with refined sound quality at an affordable price (for the mid to professional-level consumer).
8.

Avantone MixCube

The first thing you may notice is that these high-performance and stylish powered studio speakers come in a very classic design, having a retro, cream-color finish. The MixCube speakers are available as solo monitors with dimensions of 10 x 12 x 15 inches and weighing just 13.2 pounds.

These full-range mini-monitors are housed in cabinets made of 18mm durable MDF panels with radiused edges, high-gloss polyurethane cream finish and a neoprene pad of 7mm. Protected by magnetic shielding, the Avantone's MixCube have a stuffing of Dacron acoustical.

They are also compatible with a microphone mount should you need to. All audio sources are integrated, thanks to the Neutrik combo connector which accepts balanced XLR, TRS, ¼ inch TR and unbalanced RCA inputs.

Avatone's system gain control corrects the signal sensitivity appearing at the input. These mini reference monitors feature a 5¼ inch paper design frequency driver that is constructed with mica and New Zealand pulp. This design is shielded well with a die-cast frame of aluminum and 43 ounce magnets.

MixCube monitors are powered by Class A/B amp offering 60 watts of power in total. In order to save space with the MixCubes' design, you'll find all the switches and controls on the rear panel. The listed frequency response is 90 Hz – 17 kHz which is quite good but a tad limiting for most professional projects.
Compact and portable.
Attractive design.
Solid construction.
Mid-range speakers.
Low-distortion and smooth sound.
5-year warranty.
One frequency driver only.
Limited frequency range.
The MixCube speakers are a very useful tool for audio mixing and balancing combined with professional solid construction and reasonable price, although their selling point is their size and portability. Size here means they lose out on frequency response a little and this may not be to everyone's taste.
9.

Mackie HR824mk2

The Mackie HR824mk2 active studio monitors are built with heavy-duty wooden (MDF) cabinets and finished with a shiny black gloss. On the inside, internal bracing increases the cabinet's rigidity and strength of structure.

Standing waves and internal reflections are absorbed by the addition of open-cell adiabatic foam. Another feature of these studio speakers is the zero-edge aluminum inert baffle which, with its specially curved design, does a great job in reducing diffraction and surface vibrations.

Makie's new Optimized Waveguide design regulates sound dispersion characteristics which also provides a wider than usual sweet spot when listening.

The drivers in the HR824's may also surprise you with their performance. They produce a very easy on the ear frequency response with crisp highs. These speakers feature a low-frequency 8¾-inch high-precision woofer combined with a ferrofluid-cooled titanium 1-inch dome tweeter.

HR824mk2's are powered by twin FR series class A/B amps which provide 150 watts of low frequency and 100 watts of high frequency. These professional yet modern looking active monitors cover 35Hz-20Hz frequency range and come with user-friendly acoustic space controls.
Inert metal baffle.
Optimized Waveguide offers a broad sweet spot.
3 input options: RCA, TRS, and XLR.
Acoustic Space controls.
High-Definition sound.
Frequency response is very linear.
No diffraction, distortion and midrange artifacts.
Expensive.
Connectors are a bit difficult to reach with placed speaker.
The Mackie HR824mk2's are a very user-friendly and cost-effective set of studio monitors that deliver crystal clear dynamic 3D sound with deep bass. The sound image is incredibly precise and delivers one of the widest sweet spots that no other studio monitor in this range can match.
10.

Yamaha HS5

The HS5 powered monitor speakers by Yamaha are widely used in professional and home studios, cinemas, clubs, and among gaming enthusiasts. They feature a 1-inch dome tweeter alongside a 5-inch cone woofer which provides HD sound and an extended frequency response as high as 30 kHz.

These 2-way bass-reflex speakers run on bi-amp that has 45 watts dedicated to handling the lower frequency output and 25 watts for high frequencies (70 watts in total).

The HS5 cabinets are durable and made from dense MDF which reduces resonance with a clever three-way mitered-joint design. These speakers also feature high trim and room controls.
Light-weight and portable.
High-quality sound.
Great responsive tweeter.
High Trim and room control feature .
Noise reduction cutting edge design (up to 6dB).
Low resonance.
Cool looking (in white).
Bass suffers in tightly acoustic spaces.
Yamaha HS5 studio monitors deliver a very flat response, a clear high-resolution sound image and an immersive audio listening experience. This set of professional studio monitors are a joy to mix and master on.
If you want a decent set of speakers for home recording, music production, mixing, and mastering, Yamaha HS5's are highly worth considering.
Conclusion
We hope that this article has taken some of the mystery out of buying studio monitors and that you now have a much better idea as to which setup will suit you best. Take into account size, budget and connectivity when you are deciding which product to buy.
If you're not going to be doing professional-level studio mixing it would be wise to go for a more entry-level pair of monitors. The good thing about learning your craft on a cheaper set of studio monitors is that your ears will learn as to what makes a really good set. You cannot rush this process. Unfortunately there is no way to learn 20 years of mixing experience in 1 year. It takes time. Do your research, buy wisely and enjoy the ride!