Are you a musician, singer, or do you have dreams of being able to make your own music through music production?
Not sure where to start?
This guide is your one-stop place for learning how to set up your own home recording studio and get started making music.
Here's what you will learn in this guide:
Starting out as a beginner, you may have various questions about home studio essentials, how to make a home studio, or even just how to record music at home.
Obviously the biggest concern for a lot people who want to make a DIY recording studio is the price.
How Much Does It Cost to Build a Recording Studio?
A good home studio can be built for around $3000 or $4000.
However, there's no exact number.
This is something that heavily depends on your budget and the equipment you purchase.
If you're looking to build a small recording studio, obviously the price will be lower.
What Do You Need for a Home Studio Setup?
Regardless of whether you want something more professional but still a simple home recording studio, or you just want to build a basic bedroom recording studio, the equipment you need remains the same.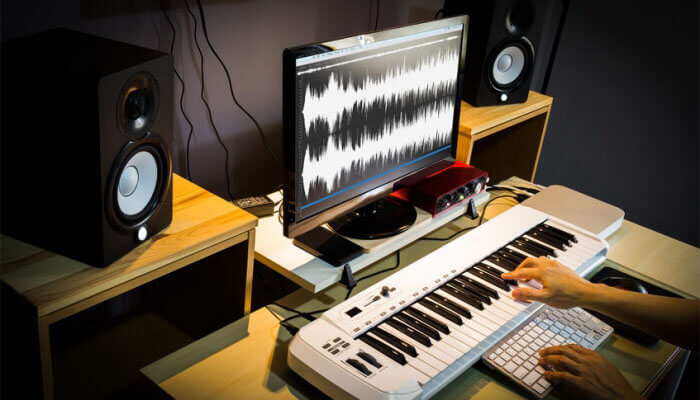 I highly recommend you make a recording studio equipment list for things you plan to buy, and check items off of that list as you purchase them.
Below is a comprehensive list of ideal music production equipment for beginners.
1. A Computer
Any Mac or Windows computer with a powerful processor and at least 8GB of RAM is necessary.
2. An External Hard Drive or Solid State Drive
Most computers will run out of space quickly with music project files and plugins.
An external hard drive is a good place to store your projects and stay organized.
3. A Digital Audio Workstation, or DAW
This is recording studio software that you will use to make your music with.
Great options include Ableton Live (Mac and Windows), Logic Pro X (Mac), and FL Studio (Mac and Windows).
4. An Audio Interface
5. Headphones
A high quality pair of headphones, like the Audio Technica M20x, are necessary.
These are by far the best cheap studio headphones (under $50) on the market.
6. Studio Monitors
These can get expensive, but they're even more necessary than headphones.
A decently cheap pair that works well for beginners is the KRK ROKIT.
We also have a special article on our website that covers best budget studio monitors under $200.
6.1. Studio Monitor Stands
You set your studio monitors on these to put them at the appropriate height so they're at ear level with you.
7. A MIDI Keyboard
This is a keyboard that plugs into your computer and enables you to play virtual instruments in your DAW.
A very popular beginner model is the Akai MPK Mini MKII.
If you're a serious piano player, however, you might want something with more keys or weighted keys, like the M-Audio Keystation 88 or the Novation Impulse 49.
8. A Microphone
If you plan on recording vocals or instruments like guitar or bass, you'll need a microphone.
One of my favorites is the Rode NT2-A.
8.1. A Pop Filter
This is a screen that goes between your mouth and the microphone to prevent popping noises from when you say your "p" or "t" sounds.
8.2. A Reflection Filter
A reflection filter goes behind the microphone and works to prevent sound from going out farther into your recording studio room and bouncing off of walls.
8.3. A Microphone Stand
This is self explanatory, it holds the microphone.
8.4. A Shock Mount
A shock mount stabilizes the microphone in the stand.
9. XLR Cables
These cables are what you'll use to connect the microphone to the audio interface. Check out our special guide to learn why getting a high-quality XLR cable is important.
10. Instrument Cables
You'll use these to plug a guitar or guitar amp into the audio interface.
11. A Desk
Make sure you choose one that's big enough to hold the computer, monitors, MIDI keyboard, and audio interface.
12. A Chair
Find one that you're comfortable sitting in for long periods of time in front of your computer.
13. Acoustic Panels, Diffuser Panels, and Bass Traps
These are one of the most important things you'll need for a studio, as they directly affect the sound that you hear.
They can get pretty expensive but there are a few different companies that sell acoustic treatment packages with these items in them, which is usually cheaper than buying each piece separately.
Choosing a Room for Your Home Recording Studio
An ideal room for a recording studio is one that is big. The bigger the better.
This allows for more room for gear and musicians, but a bigger room also provides you with better sound.
Not only should you choose a big room, but you should also choose one that is quiet.
Things like cars, chirping birds, and other outside noises will pose a problem when you record if your room is not one of the quieter ones in your home.
How to Make a Recording Studio in Your Room?
Take everything out of the room that you can. Clear up as much floor space as possible, and take down any paintings, posters, or anything else that is on the wall, and get rid of anything that vibrates.
Set up your acoustic panels and bass traps.
Arrange your desk/work area to your liking.
Arrange the rest of your room as you see fit.
Acoustic Treatment for Home Studio
What are Room Acoustics?
Room acoustics are the way sound behaves in an enclosed space.
Acoustic treatment for a home studio, or any studio, is extremely important.
When sound comes out of a speaker, it bounces off of walls or any other objects in its path.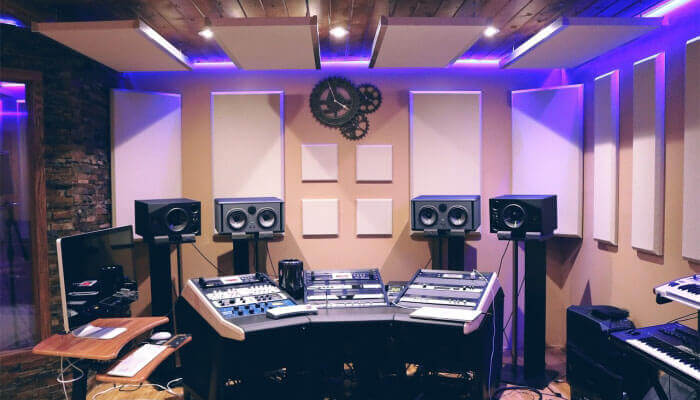 This results in an inaccurate representation of the sound you hear coming out of your monitors, which will directly affect your final mix.
There are three items that you will need for acoustic treatment:
1. Acoustic Panels
– these absorb the mid and high frequencies.
Make sure you get acoustic panels that are 3-4 inches thick, or more.
Panels that are 1-2 inches thick won't have enough substance to really make an impact on your room.
2. Bass Traps
– these absorb the bass frequencies, but most are porous enough to also absorb mid and high frequencies.
3. Diffusers
– these reflect sound and cause it to spread to different areas of the room.
How to Acoustically Treat a Room?
Analyze your bare room for how much absorption and diffusion you already have.
Mount absorption panels, diffuser panels, and bass traps based on your analysis.
Once you've removed everything that you can from your room, it's time to figure out what you'll need to do as far as acoustic treatment goes.
Walk around your room, stand in as many areas as you can. Yell, clap, talk, sing, make noise.
Listen carefully to how to sound travels and what it sounds like to you.
You could get one of two outcomes (worst case and best case, respectively), but you'll probably have a mix of both:
A metallic ringing sound that is harsh and unpleasant to listen to (usually occurs if your room is small and square-shaped).
A mid to large reverb that is pleasant to the ear (usually in large rooms with diffusive objects).
Depending on your harsh-to-pleasant reverb ratio, you'll need to add the correct amount of acoustic panels and diffusers.
If you have more of outcome #1: you need more absorption (more acoustic panels).
If you have more of outcome #2: you need less absorption.
Most medium to large sized recording studio rooms don't need diffusion panels, so you likely will need acoustic panels and bass traps, but you can always experiment with diffusion panels and see if they improve your sound.
Exception 1: A Bedroom Studio
If you're making a budget recording studio in a small bedroom, it'll probably already have a fair amount of absorption with all of the items in it.
To manage any extra potential sound issues, a few bass traps should be okay to absorb bass frequencies, which are usually more problematic in small recording studios.
A bedroom studio isn't ideal because of the low ceilings and small room size, but if that's all you have to work with, you can still make do.
Exception 2: A Studio Where You Need a Flat Sound for Recording Vocals
If you're on a small budget, you probably won't have the money to make a whole vocal recording booth.
If you also plan to use reverb plugins, natural room reverb can cause problems.
In this case, you will need your room to sound drier (less natural reverb).
Having an extra dead/flat/dry room will affect the sound accuracy that comes out of your monitors.
With this trade-off, you'll probably have to mix mainly with headphones.
The drier you need your room to be, the more absorption panels you'll need.
Where to Place Acoustic Panels, Diffusers, and Bass Traps?
Acoustic panels: on the walls; make sure they're staggered (panel, skip one, panel, skip one, etc).
Diffusers: on the walls, also staggered.
Bass traps: in the corners of the walls and where the walls meet.
How to Hang Acoustic Panels, Diffusers, and Bass Traps?
You can purchase specific mounting/hanging hardware for acoustic panels, diffusers, and bass traps.
Audimute has some really reliable acoustic treatment mounting hardware.
Home Recording Studio Design: How to Arrange Your Desk and Room?
The Desk
The general idea of how a desk should be arranged is that the computer is in the center and the studio monitors are on either side of it at ear level.
Everything else should just be laid out in a way that is easiest for you to access each piece of equipment.
Some people use multiple desks, some use just one. Whatever works best for you should be fine.
The Room
Your desk will obviously be the most important part of the room.
Ideally, setting your desk up fairly close to a wall is best, so that the sound from your monitors has a good distance to travel before reflecting off of the opposite wall (or being absorbed by acoustic panels).
As for microphone placement, make sure your microphone is a good distance away from the desk in order to avoid picking up the sound of the computer fan.
If you have a guitar amp in the room, make sure it's also away from the microphone to prevent any interference from the electromagnetic waves that the amp gives off.
Keep in mind whether you'll be recording and making music by yourself or if you'll be doing it with other people as well, as this will affect your decision on where to place things in your studio.
Keep watch for some future blog posts on further recording studio ideas and design.
Recording Studio Software: DAWs, Effects Plugins, and Virtual Instruments
DAWs
As far as recording studio software goes, digital audio workstations, or DAWs, are where all the magic happens.
It's where you record your tracks, mix, and master.
Some DAWs are better for certain genres, some are good for pretty much anything.
Since you'll be spending pretty much all of your time in a DAW, make sure you find one that suits your needs.
Keep in mind that all of these DAWs have a learning curve.
Some popular DAWs include:
If you're on a really tight budget, there's a decent DAW called Reaper, which has a free trial.
Once the free trial ends, a notification box pops up every time Reaper is started up, asking you to buy the full version.
However, it only stays up for 5 seconds and then you can continue using Reaper and all of its features.
So if you don't mind the pop up window at the start, Reaper will do.
Effects Plugins
What are plugins?
Plugins are software devices that manipulate how an audio signal sounds.
What are plugins for?
Plugins are for composing, recording, and manipulating how audio sounds.
Types of effects plugins include:
Time-based effects (Reverb, delay, echo)
Spectral effects (EQ, panning)
Modulation effects (Flanger, phaser, tremolo, chorus)
Dynamic effects (Compression, distortion)
Filters
To use an effect plugin, add it to the track of your choice in your DAW, and tailor the settings to your liking.
The order you put your effects in will change up the sound.
Some of the industry standard plugins are sold by Waves, Universal Audio, and FabFilter, although there are also plenty of less expensive (and free) plugins out there.
Most DAWs come with stock effects as well.
Virtual Instruments
Virtual instruments are exactly what they sound like: instruments that you can play on your computer, in your DAW (or sometimes without a DAW if the instrument has a standalone version).
There are virtual guitars, pianos, synthesizers, brass instruments, percussive instruments, strings… pretty much anything you can imagine.
Virtual instruments are a lot like plugins in the sense that you add them into the effects chain of individual tracks in your DAW.
You can purchase virtual instruments online; there are plenty of websites that have extremely realistic instruments including 8DIO, Native Instruments, and Spectrasonics.
Some popular virtual instruments include:
Recording Methods
Microphone to audio interface
Amp or instrument plugged directly into audio interface
Mic'd amp or instrument to audio interface
MIDI keyboard directly to DAW
Important Concepts and Terms to Remember
Mixing: combining different instruments into channels and using audio effects to process them.
Stereo: a two-channel audio signal.
Mono: a one-channel audio signal.
Clipping: a form of waveform distortion caused when a digital system or amplifier is pushed past its maximum limits.
Gain staging: making sure the level of each instrument going into the signal chain is relatively the same as when it comes out of the signal chain.
Signal/effects chain: the path an audio source goes through to reach the master output track on your computer.
Headroom: how much volume you have before the master track starts to clip.
Leveling: balancing the volumes of each track.
EQ: a hardware or software effect that allows specific frequencies to be increased or decreased.
High pass filter: an EQ curve allowing all the high frequencies to pass through.
Low pass filter: an EQ curve allowing all the low frequencies to pass through.
Panning: the distribution of a sound in a stereo sound field.
Compression: a hardware or software effect that reduces the volume of a waveform when it reaches a certain level in volume.
Reverb: the effect produced after sounds bounce off of different objects.
Delay: a hardware or software plugin that delays when audio is played through it.
Saturation: a subtle form of distortion that is pleasing to the ears.
Distortion: an audio effect that creates a (potentially unwanted) fuzzy sound.
Stereo imaging: refers to space in a mix.
Sidechaining/sidechain compression: compression that is triggered by another source of audio.
Automation: input information that can be used to control specific parameters of different effects.
The Whole Production Process
If you're looking to be hands on in the complete production of a song, from its very start to the very end of it, this is basically how a generic production process would go if you were to break it down in an organized fashion:
Composing
Recording
Editing
Arranging
Mixing
Mastering
Composing
In the composition stage, you would write your lyrics, music, etc, and basically come up with all the melodies and riffs.
For a lot of people, composing happens throughout the creation of a track, not just a pre-recording thing.
Recording
Obviously in this stage, you would record your instruments, vocals, and anything else you might want to put in the track that would need to be recorded.
This also includes writing in MIDI with virtual instruments if you choose to use them.
Editing
Editing your tracks is basically cutting out unnecessary areas of silence, correcting pitch, crossfading audio clips, moving clips to the correct start times, etc.
Arranging
Arranging a song is a structural thing. If you've already figured out what parts you want in your verse, chorus, etc, it shouldn't be too much of a lengthy process.
Arranging is simply dragging each instrument recording into its proper place in the song.
Mixing
Mixing is quite possibly the lengthiest part of making a song, especially for a beginner.
Here you would add effects, level your tracks, add automation, and things of that nature.
Mastering
I don't recommend that you master your own songs, but if you really want to, mastering is where you would finish up the track by setting its volume to the industry standard volume level, and if needed, add some very slight EQ, compression, or stereo imaging.
How to Record Music?
Each DAW is a little different, but if you need a quick rundown of the basic concept of recording, here's how it's done:
Once you've got your microphone, MIDI keyboard, guitar amplifier, or other instrument set up and ready to record, create a new track in your DAW. Make sure the input is set to whatever input you're using, whether it be a MIDI input or an input on your audio interface.
Arm the track for recording. There is a button, either in the mixer or on the track settings, that enables the audio signal to go to it. Click this button and play or sing a little to make sure the audio signal is going to the track. If it's not, check your input settings again and make sure your equipment is properly connected.
Set your recording volume. Make sure the audio isn't going above 0db on the track meter. Personally, I would make sure the audio signal is peaking at -10db.
Hit the "record" button in the DAW, and begin playing.
Hit the "stop" or "record" button again to stop recording.
How Exactly Do You Mix a Song?
So many people ask this, especially beginners. The correct answer is something that you might not want to hear: there is no hard and fast way to mix a song.
EQ and compression settings that might work for a guitar in a rock song won't work for a piano in a jazz song, what might work for a Fender guitar might not work for a Gibson guitar.
Every instrument is different, so mixing really relies on your ear.
Developing an ear for mixing can take a while, but don't fret! Everyone has been a beginner.
A Basic Effects Chain Example
Since mixing primarily has to do with effects, here is a very basic example of how you might set up an effects chain.
With a virtual instrument:
Virtual instrument > EQ > compressor > reverb/other effects
Without a virtual instrument:
EQ > compressor > reverb/other effects
Now, all this being said, there are some general guidelines that may help you along the way. Here are a few tips.
Look out for future articles on more in-depth mixing.
1. Get Rid of Any Unnecessary Frequencies When EQing
For example, if you're using a bass sound that has virtually no high frequencies, you can EQ the rest of the high frequencies out of the instrument, as they'll just take up space in the frequency spectrum and make it harder for genuine high frequency instruments to be heard in the mix.
2. Use an Effect Only If You Feel Like the Track Would Benefit From It
If you feel that a guitar recording is even enough in volume, don't slap a compressor on the effects chain unless you think the guitar would sound better with a compressor.
3. Experiment
Take risks and experiment with your plugins to see what sort of sounds you can get.
Do crazy things with them. Eventually you'll find something that works.
4. Mix At a Low Volume
Mixing at low volumes helps your ears to not get fatigued, and if you mix low, you'll have plenty of headroom for when you master your track.
5. Don't Spend Hours At a Time Mixing
This goes hand in hand with the previous tip.
The longer you spend mixing, playing your song over and over again, the more fatigued your ears will become, and it'll be harder and harder for you to point out issues in your mix.
Mix for shorter amounts of time, like 30 minutes to an hour, and then take a rest and come back to it a few hours later or even the next day.
How to Get That "Professional" Sound?
I hate to break it to you, but the only way you'll get to the point where you're making music at a professional sounding level is by practicing, practicing, and more practicing.
These things take time.
As you develop your ear and become more educated, you'll be able to pick out things in your songs that don't sound good a lot easier.
Resources and Different Ways You Can Improve
Resources
YouTube
When I was first starting out, I watched a ton of videos on home recording studios, how to acoustically treat a room, the best gear to buy, how to mix and master… everything.
This helped me get a good base to start with and helped me get familiar with the basics. Some great channels are Pensado's Place and In The Mix. If you're a hip hop artist or producer, Internet Money has some good videos.
Reddit and Other Forums
Reddit was another helpful place for me once I started actually making songs.
There are several subreddits related to hip hop production, audio engineer, mixing, mastering, etc, where you can post your songs and get feedback from other people who may very well have a more developed ear and more experience than you.
This might've been the most helpful for me once I started making music.
It was very direct and people were able to point out things that could use improvement in regards to how things were mixed.
Aside from Reddit, just any music production forum was helpful to me.
Articles and Guides
Guides similar to this one, and plenty of articles written by more experienced producers gave me more knowledge and tips that people on forums didn't or couldn't give to me.
Most guides that I've come across cost money if you really want to learn a lot.
Internet Money has a good one for hip hop producers.
Articles usually address more specific problems that one might have in a mix, and some people write articles where they analyze someone's mix and explain where the issues are and how to fix those issues.
It can give you a lot of insight if you don't have a very well-developed ear yet.
Books
Sure, books are a little old school, but there are so many great books on acoustic treatment for different rooms, setting up a home studio, recording, mixing, and mastering.
Most of the books I've found are a lot cheaper than the guides that are being sold online by producers, and they've got a plethora of information.
Amazon has a really nice selection of these books, and most of them can be digitally downloaded.
Ways You Can Improve
Keep Learning
Knowledge is key here. The more you know about EQ, compression, how audio travels through a room, what your plugins do, the quicker you'll be able to make music that you're satisfied with because you'll know how to achieve the sound you're trying to get.
Whether you learn by reading articles or guides, watching videos, or by experimenting, don't stop learning.
There is always room for more information.
Make Music Every Day
Even if it's just an 8 bar tune, the more familiar you get with your DAW, plugins, virtual instruments, recording, mixing, etc, the quicker you will improve.
Ask for Feedback
Get feedback from as many other musicians, singers, producers, engineers, etc, as you can.
People with a more developed ear for recording, mixing, and composing will all be able to point out areas where your songs could sound better or where you could do things differently to help your process go even smoother.
Get a Mentor
Find someone who could give you a steady amount of feedback and maybe even go over your recording and mixing sessions with you in person or over Skype, either for free or paid.
Having more direct information at your disposal can save you a lot of time, and you're more likely to learn a bunch of different tips and tricks that others might be hesitant to give out.
Having someone showing you what's wrong can really be helpful when you're stuck and not sure what the issue is, but don't get too reliant on others to fix your problems.