One of the most important aspects of home recording is finding the right audio interface for your setup. Audio interfaces range in price from under $50 to over $1000. In this article we will discuss some of the best budget audio interfaces which provide value and quality for beginners and those already familiar with home studio recording.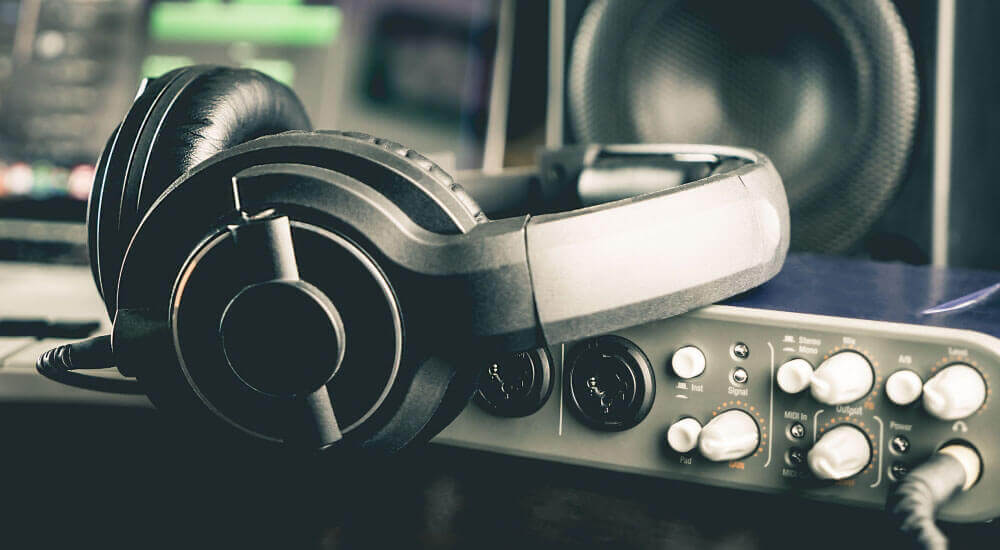 As you will see, there is a vast range of options and features that come with some of the best audio interfaces under $100. Depending on your own needs and setup you will want to consider them all. We have chosen ten in total which are worth considering when you go to make your purchase also giving our own opinion on what represents the best audio interface under $100 currently in today's market.
Top 9 Best Cheap Audio Interfaces for Beginners on a Budget
Here are the best budget (under $100) audio interfaces 2023:
1. Tascam US-1X2 – Audio Interface with Phantom Capabilites
The US-1X2 is an affordable audio interface from the American audio hardware company Tascam. The design of the US-1X2 is quite striking in that it is slightly angled upwards, which Tascam claim allows for easier use.
It comes with 48V phantom capabilities along with a switchable line to the instrument input. Like the Onyx Artist, this budget audio interface has one XLR input and one ¼ inch input.
Free pop filter and mic cable.
Ultra HDDA mic preamp.
This is not a bad outing from Tascam and the US-1X2 retails on average around ten dollars less than some of the other contenders, such as the PreSonus AudioBox USB 96 and the M-Audio M-Track 2X2. You don't get the same software perks with the Tascam but they have included a mic pop filter and a good XLR mic cable to help you on your way.
2. Peavey USB-P – Plug-and-Play Cheap Audio Interface
Peavey are known for their extensive range of audio hardware equipment such as guitar amps and P.A. systems. With the Peavey USB-P they have created an inexpensive audio interface with quality and value in mind.
This is one no-frills piece of kit. To look at, the USB-P looks like a basic D.I. box. There are three connections in total on the interface; two XLR connectors and one USB connector. Soundwise the Peavey USB-P performs admirably, offering low noise and an easy stereo to mono switch.
Competitively priced.
Comes with two XLR connectors.

Very basic design.
No level controls.
No USB cable included.
The Peavey USB-P will appeal to anybody who wants a simple but reliable audio interface for their home studio or even live performance. The interface is ideal for live bands that need to send stereo or mono feeds to band members on stage. It's well built and is plug-and-play for most systems.
3. Behringer U-Phoria UM2 – Audio Interface with Full Accessory Bundle
The U-Phoria UM2 is one of many Behringer audio interface products. It's keenly priced at around $50 and so appeals to every budding home studio beginner. The UM2 is capable of recording at up to 48 kHz and comes with a 20 Hz to 20 kHz frequency response.
Comes with headphones and audio cables (see accessory bundle).
Clip monitoring LEDs.
Tracktion 4 available on registration.

No DAW included.
Max of 48 kHz resolution.
Overall, the U-Phoria UM2 is a great audio interface. You can also check out this accessory bundle that includes the UM2 interface, headphones as well as XLR, TRS and RCA cables.
The inclusion of extras by Behringer is sure to appeal to many out there. While the addition of a pair of Samson SR360 is a nice touch, most audiophiles will have their own preferred set anyway. You can also check out our recent article discussing some of the best budget studio headphones under $50.
Again, the Behringer U-Phoria UM2 is a good budget audio interface and this package will take some beating for the money.
4. Behringer U-Phoria UMC22 – Most Reliable Audio Interface for Money
If you want a step up from the UM2 and don't need any of the extras that it bundles with, then you might be interested in the Behringer UMC22. This low latency audio interface offers high-quality recording at entry-level prices.
The unit itself is extremely well made and feels durable. On the back of the UMC22 there are additional stereo outputs which can be connected to home studio monitors. The preamps in the UMC22 are a step up from the UM2 too. They are made by Midas and come with a +48V phantom power switch.
Solid.
Has stereo outputs plus a headphone out.
Low latency.

Some hiss when the mic gain is up full.
No DAW included.
The sound from the UMC22 is superior to the UM2 above. Ultimately if you value a better preamp, then go for this unit over the UM2. It's rock solid, offers low latency and sounds great.
5. Mackie Onyx Artist – Most Powerful Audio Interface
Mackie is a well-known brand which is largely associated with high-end professional standard audio hardware such as mixing desks. Consoles such as these quite often retail for thousands of dollars. Happily the Onyx Artist resides in the other end of the price range.
This interface comes with two inputs and two outputs. The inputs consist of one ¼ inch TRS and one XLR input. There are control knobs for each input as well as a volume control for the stereo headphones output.
Low latency.
Robust build.
The Onyx Artist is a workhorse and offers 192 kHz resolution. Mackie also offer a more expensive version of this interface – the Onyx Producer which comes with both MIDI in/out and another XLR in place of the existing TRS. A very good sound card for the money and offers some of the best low latency out there.
6. M-Audio M-Track 2X2 – Modern Designed Audio Interface
The M-Track 2X2 by M-Audio is another low budget audio interface for either Mac or PC. With Mac installation there is no driver installation necessary which means an extra-quick setup.
Out of the box the M-Track 2X2 is impressive looking with its shiny surface and large central control knob. There's no doubt that it's one of the best looking inexpensive audio interfaces out there.
This interface offers much of what the PreSonus USB 96 has to bring to the table yet lacks a few things like MIDI in/out. This is not such a major stumbling block nowadays as USB MIDI has become the go-to standard in most cases. It does outperform the PreSonus with its ability to capture at 192 kHz.
Portable and looks cool.
Nice software bundle included.
24 bit / 192 kHz resolution.
M-Audio have a good track record with audio hardware for computer users. Their products are usually well designed with a sleek look and maximum usability.
The M-Track 2X2 is a joy to work with and the bundled software will keep you creative for a long time. Included is a copy of ProTools First which is the entry-level equivalent of the infamous DAW.
Also there is a copy of Eleven Lite and a selection of decent VST instruments such as Midi Grand, Xpand!2 and Strike. The M-Audio M-Track 2X2 takes an impressive second place. The M-Track 2X2 is also featured in our list of the overall best audio interfaces.
7. PreSonus AudioBox USB 96 – Best Cheap Audio Interface
The AudioBox USB 96 is the flagship budget audio interface from PreSonus. It retails at just under the $100 price point and offers competitive value for money.
The AudioBox USB 96 comes with two inputs, two main outs and a stereo headphones output for monitoring. There is also full MIDI in/out on the rear of the unit. The two inputs are compatible with either XLR or ¼ inch TRS connectors. This means you can easily plug mics or guitars into the unit for fast and easy recording.
The USB 96 is compatible with PC and Mac and in most cases is easy to plug and play. There is also a 48V switch on the front panel for fans of phantom power. The sound from the USB 96 is impressive with the frequency ranging from 20 Hz – 20 kHz. You can also record in 44.1, 48, 88.2 or even 96k Hz.
Included in the package is a copy of Studio One Artist with the Studio Magic Plug-in Suite. Studio One is a handy piece of recording software built in the style of most modern DAW's. You can record and build your multi-track mix and use some of the plugins to refine the sound too.
Comes with Studio One Artists DAW.
24 bit resolution.
Phantom power.

May conflict with certain OS's.
This a solid piece of kit for the money and works like a charm. The interface is user-friendly and built to last. The PreSonus AudioBox USB 96 takes the top spot in our list of the 10 best cheap audio interfaces under $100.
8. Lexicon Alpha – Chep Audio Interface with Multiple Inputs
This is one of the cheapest audio interfaces out there with multiple inputs. The Lexicon Alpha is a lightweight unit with lots of connectivity.
There are two separate stereo outs on the back of the unit as well as an XLR mic input and also a TRS instrument input on the front. Also on the front panel are control knobs for input, output and monitoring levels.
Keenly priced.
Includes Cubase LE 5 & Lexicon Pantheon Reverb VST.
Two sets of stereo line outs.

No phantom power.
No 5 pin DIN MIDI in/out.
Not great build quality.
While this unit boasts a lot of connectivity, many people have had compatibility issues connecting the Lexicon Alpha on different operating systems. It seems that drivers may be an issue still with the device on certain setups. If possible certainly try before you buy so as you know that you won't be running into any unwanted complications down the line.
9. BandLab Link Analog – Minimal Setup Audio Interface
And finally we come to the last of our top 10 cheap audio interfaces to look out for. The BandLab Link Analog is a low budget unit with portability in mind.
This little USB device works with computers or smartphones. There is a built-in rechargeable battery which is highly convenient.
You can connect the Link Analog to your phone using the mini-jack output. This means you can use mobile recording apps to record practically anywhere. The Link Analog also connects to PC or Mac by way of USB.
Small and portable.
XLR combo input.
One of the cheapest of its kind.

Mini-jack outputs.
No software included.
Not ideal for most home studio setups.
While this is certainly one of the cheapest audio interfaces out there, it does have a niche appeal. The Link Analog is aimed at the musician in transit. And not just musicians – the input is a combo input so it can take both ¼ inch TRS or XLR. This means plugging a standard mic in is no problem.
The whole unit is cleverly built, all the way down to the convenient rechargeable battery. This really cuts down on cables and makes for a really swift workflow. One for fans of minimal setup definitely.
Beginner's Guide to Audio Interfaces
If you're looking to buy an audio interface there are certain important factors which should be considered first. We have already looked at some of the best audio interfaces under $100 and highlighted their features. Some of these features will matter to you and some will not. Let's get into the nitty-gritty.
Compatibility
Compatibility is paramount. There's no point in buying an audio interface that will not work with your current computer. Nowadays the vast majority of computer hardware is compatible with both PC or Mac, and sometimes Linux too. Be sure to check this out. On the rare occasion brands will only cater to either PC or Mac so you don't want to make this mistake.
Compatibility also applies to your existing hardware. Will the unit work with your current setup? Are you using ¼ inch, XLR or mini-jack connections? All these factors must be considered.
Software
With most audio interfaces over $50, manufacturers like to bundle in a selection of software to make the product more saleable. This can be anything from a trial version of a DAW to a full authorized version. Be sure to read the small print to see what exactly is on offer.
If you are not in the position of needing a change of DAW, or alternatively, you just prefer your current one, then perhaps you may be interested in the free VST's on offer. VST instruments or effects are often bundled in with audio interfaces these days. Most VST's will work across platforms and OS's.
Most modern audio interfaces are user-friendly enough to work with all the top-end DAW's but in some cases, older interfaces can give issues, so check out the product reviews and feedback if you are in any doubt.
Inputs and Outputs
Most of the audio interfaces we have covered offer a basic two inputs and two outputs kind of operation. This is fine for the majority of home recording. Most home recording revolves around recording one source at a time. This may be either vocals, or guitar, or piano etc.
When it comes to more complex instruments, such as drums, you may need more inputs to capture it in full detail. It's not unusual to place over 8 microphones on an average drum kit for recording in a studio. In most cases it's actually more than that.
Naturally to record 8 different microphones at once you need an audio interface with just as many inputs. It goes without saying that the more inputs on a device the higher the price, so sadly you won't find any in the sub $100 price category.
With the basic 2 in 2 out interface, make sure you purchase to suit your recording aims. Do you need XLR inputs or will one XLR and one ¼ inch TRS do instead?
Sample Rate
Sample rate gets bandied about on many products as a huge selling point but the fact is, for most beginners, it will not be a major issue.
There is a similarity with visual media such a televisions. Each few years the manufacturers come up with more advanced resolutions such as 4K, 8K and 16K. Where will it end? This matters little to many viewers, much like sample rate.
If you're working on a low budget and just getting into home recording, there are many other things to worry about other than sample rate. Sample rate is the icing on the cake of a professional mix. In most cases the average person cannot tell the difference between audio at 44.1 kHz and 96 kHz.
Usability
There are a few things which make home recording a little easier. Ultimately it depends on your own personal tastes.
Lots of low budget audio interfaces come with small red LED lights on the front panel. Sometimes these lights represent when the unit is powered on or not. In other cases they represent audio clipping. Clipping is when the input level is too high coming into the unit.
If you have plugged a keyboard into the interface, for example, and you find that the clipping light is triggering, then this is a sign to lower the input volume – or simply turn down the keyboard volume. Clipping will lead to a distorted signal and an unusable take. It can also damage the internal components of the device so make sure to avoid it.
Some units come with a monitoring button which allows you to listen directly to the input channel. This can be useful when trying to establish a good starting point at which to begin recording. Switching between monitoring and main out lets you hear the difference between the two feeds.
Will you be requiring phantom power? Phantom power is basically where the interface will send a small amount of power through the cable to power a microphone or something similar.
This is often required with more expensive super-sensitive microphones, or condenser microphones. The majority of microphones are not condenser and will not need phantom power.
In fact, some condenser microphones come with their own power supply, such as internal batteries, so not all condensers need phantom power. Phantom power is usually symbolized by "+48V" on most units.
MIDI
MIDI is a convenient technology which converts triggered signals into data information. This basically means that you can play a MIDI instrument and send your performance to the computer.
This is not standard audio, rather it is data which contains the information of the performance, such as the notes played, the dynamics of the notes, the length of the notes and how they relate to a metronome pulse.
Typical old-style MIDI connections are 5-pin DIN. They were made up of both a MIDI in and MIDI out. This means that you need two cables to connect up your device.
Thankfully, with the advent of USB, these MIDI connections are no longer always necessary. You will sometimes still encounter 5-pin DIN MIDI connections (look at the back of most keyboard synthesizers) but most products nowadays have moved towards USB.
Limitations
Naturally there will be limitations to most low-budget affordable audio interfaces. This may come in the form of the amount of inputs and outputs. If you need four inputs and four outputs, you will need to spend a little more unfortunately.
Latency can be a factor too. Latency is the delay in how audio is processed on your computer. You may recognize latency when you run a basic mic check while monitoring on your computer through headphones. If you hear a short delay between when you speak and when you hear, then this is the latency.
Latency can be combated by refining the way in which the data is processed on your computer. Often audio interfaces differ in their latency capabilities but you can usually aid the process by taking notice of your audio driver settings.
You can adjust buffer settings in the likes of ASIO to achieve an optimum setting for better latency. ASIO4ALL is a universal audio driver which works on most systems to reduce latency.
Conclusion
When buying an audio interface make sure to bear in mind how you plan on using it. If you are planning on recording one track at a time then you have many options.
Alternatively if you will be recording multiple tracks at once, such as guitar and vocals, then you will need a good audio interface which can handle the load easily.
Good preamps are important in the device too. Preamps add a warmth and quality to the audio signal which makes for a better starting point. They also reduce unwanted hiss and hum.
For maximum performance, make sure your computer is running efficiently. In a lot of cases you can increase interface performance by tweaking your computer's settings.
You can make adjustments to the likes of Windows operating systems by adjusting them for better performance over fancier visuals. There are many tutorials on speeding up your system in this way.
Check out the products online and see how the spec fares with what you need and you'll be mixing like the pros in no time.