When setting up a studio and gathering all the items you'll need to record, something you might not think to consider the quality of is XLR cables. Everything you use in a studio, even the XLR cable you use to hook up microphones, affects the final sound of your mix.
It's extremely important to get high-quality cables because you'll not only have a better signal to your audio interface from the microphone, but you'll also not have to worry about dealing with finicky cables that short easily.
Here are the best XLR cables 2023:
1. AmazonBasics XLR Cable – Best Cheap XLR Cable
The AmazonBasics XLR cable is a great microphone cable that I highly recommend for both studio and stage uses. It's definitely the best mic cable if you're on a budget.
It features all copper conductors and copper shielding to reduce noise, and the PVC jacket is 6mm, which makes it flexible enough to use easily but makes it durable enough to protect it from hard use. The connector body is made from zinc alloy and nickel plating.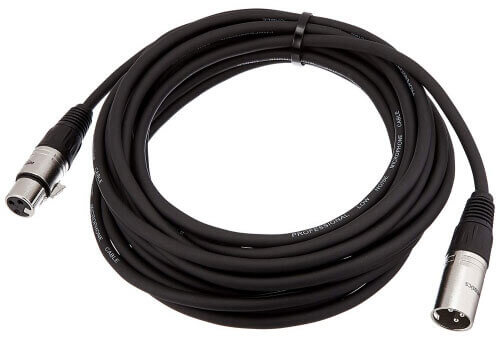 There have been some complaints that because this cable isn't a professional grade cable, the assembly is a bit shoddy and the solder joints are a bit sloppy if you take the connector apart and take a look at it.
Although the brass contacts on the cable aren't gold plated and there are a few complaints, it's still a solid choice, and at the price you're getting it for, it's a fantastic option because it's so cheap.
As long as you keep it well maintained, this cable should give you a long life. If it doesn't, it's backed by AmazonBasics' 1-year warranty. The cable comes in 6 ft, 10 ft, 25 ft, and 50 ft options.
2. Mogami Gold Studio XLR Cable – Best Microphone Cable
Mogami's Gold Studio XLR cables are easily the most expensive cables on here, but they're well worth the price tag. Because they're high-quality XLR cables, the audio signal that passes through them becomes much cleaner and clearer. Some people say that Mogami's cables even make the audio signal sound brighter.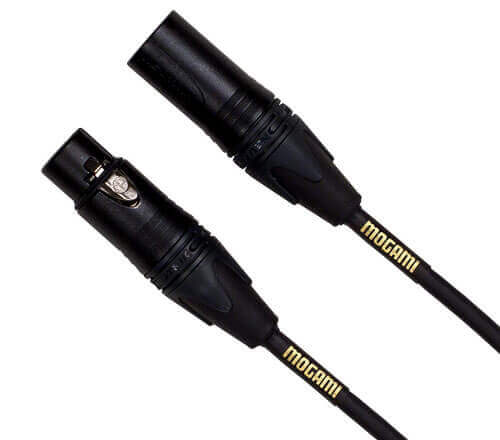 The Gold Studio XLR cable has a 4-conductor cable rather than the standard 2. This means that you get the highest amount of noise cancellation and RF interference cancellation. Having 4 conductors improves the noise cancellation so much that it's 95% quieter than the best 2-conductor XLR cable out there.
Mogami ensures that these cables can cure a ton of issues in your home studio if you're having problems with the microphone signal. They're definitely the best microphone cables for recording on this list.
Because they're so thick due to the cables having 4 conductors, this makes them extremely durable for the toughest handling. Mogami goes as far as to provide a lifetime warranty to back this up.
These cables come in 2 ft, 3 ft, 6 ft, 10 ft, 15 ft, 25 ft, 50 ft, 75 ft, and 100 ft lengths. I mainly recommend these XLRs for studio use, but they're strong enough to use for the stage too, however they might be a bit too thick for easy storage purposes.
3. LyxPro Balanced XLR Cable – Various Colors XLR Cable
The LyxPro Balanced XLR cables are more decent, middle of the road cables that are affordable and also have an option that not many other XLR cables have: angled connectors.
If you need XLRs that you can use at a 90 degree angle, this brand will provide you with some good-quality yet cheap cables, both 90 degree angles and straight.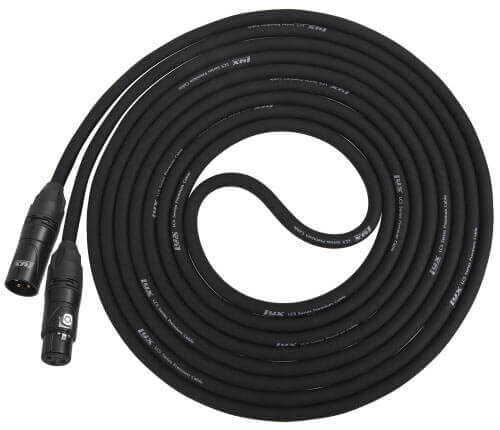 The cable is made out of two copper conductor wires, a PE conductor insulator, PVC for more conducting power, cotton yarn fillers to reduce noise, and a braided copper shield. It also has gold plated contacts to help with preventing corrosion.
Another feature of these cables that also comes in handy is that they come in different colors. This isn't something you usually see with XLRs. Having different colored XLR cables makes for better organizing in your studio and enables you to color code everything if that's your type of thing.
The cables are durable, have a crisp and clear high frequency response, and come with a 5-year warranty. The cable options that LyxPro offers include 1.5 ft, 1.5 ft angled female, 1.5 ft angled male, 3 ft angled male, 6 ft, 10 ft, 10 ft angled female, 15 ft, 20 ft, 25 ft, 25 ft angled female, 30 ft, 50 ft, and 100 ft.
4. Monoprice Premier Series XLR Cable –
I've used the Monoprice Premier XLR cables myself and I'm impressed by their quality. The Premier Series cables have gold plated connectors, heavy gauge wires, and durable connector housings. They are balanced lines, which reduces electromagnetic and radio frequency noise.
The two balanced cables also have a separate shield that prevents ground loop issues without modulating the interference into the signal and causing phasing issues.
When I used these cables to record my own music, I never had any issues with them. I put them through the ringer and had them around all types of equipment that could've caused electromagnetic field issues and interferences, but throughout using these XLR cables, I didn't have a single issue with interference or noise. The cables are quite heavy and sturdy, but they are flexible so it's easy to store them.
The only real problem I ever had with them was that one of the cables had slightly pulled away from the connector, but that was my fault because I had stored it at a weird angle where the wire had bent at the place where the cable met the connector piece. Even then, though, it still worked great and it didn't cause me any problems being bent.
Monoprice has a lifetime warranty on their cables and the Premier Series XLRs really shows that quality can be present even with cheaper cables. These XLRs come in length options of 1.5 ft, 3 ft, 6 ft, 10 ft, 15 ft, 25 ft, 35 ft, 50 ft, 75 ft, 100 ft, and 150 ft.
5. Silverback Roar XLR Patch Cable – Most Expensive CLR Cable
The Silverback Roar XLR cable has a different type of outer jacket than what's been displayed so far on this list, which influenced my decision to put it on here.
The Roar features metal spring equipped XLR connectors with gold contacts, tightly braided spiral copper shielding, and copper conductors.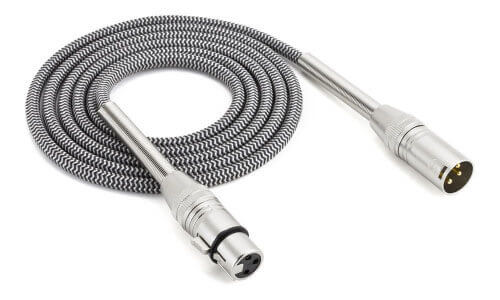 Unlike the other options on this list, the Roar has a nylon braided exterior as opposed to PVC and rubber. Nylon braiding has a ton more flexibility than PVC, but also may not be as resistant against the elements, so I recommend that you stick to using this type of outer jacket in the music studio or another indoor setting that warrants the use of flexible XLR cables.
Another great feature about the Silverback Roar XLR cable is that the connectors have springs in them to keep the connector from breaking away from the jacket. This adds another bit of reliability and durability to ensure that your cables won't break even under a lot of stress and rough use.
The Roar comes in lengths of 6 ft, 15 ft, and 50 ft. I definitely recommend this cable for indoor use and especially for situations where you need a lot of flexibility in an XLR cable.
6. Cable Matters XLR Cable – Good Cable for Studio and Stage
The Cable Matters XLR cable is what I'd call the best overall microphone cable. It features a soft jacket made from PVC to ensure easy storage and oxygen free copper conductors with high-quality copper shielding, which ensure that the sound traveling from your mic to your audio interface is free of any noise. The connectors are gold plated which reduces oxidation and corrosion over time due to humidity.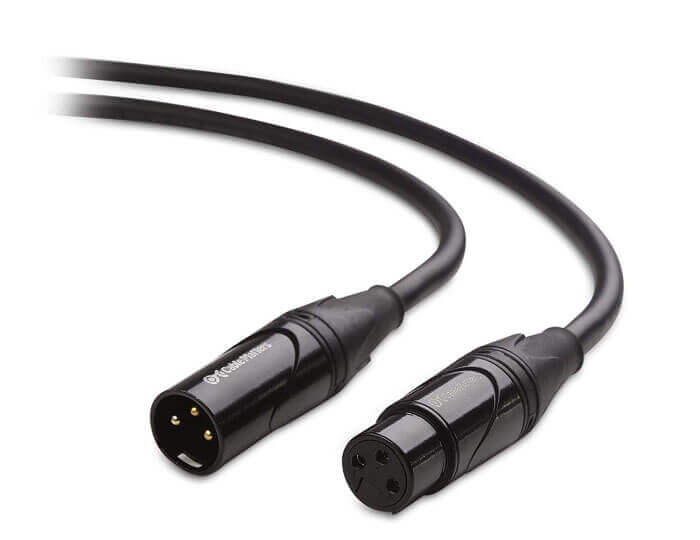 This cable is great; it's not too expensive, yet still maintains a good quality and is sturdy enough for rougher use, and I believe it's great for both studio and stage use. The cable comes in a 2-pack which makes it extremely affordable, and the lengths you can choose include 3 ft, 6 ft, 10 ft, 15 ft, 20 ft, 25 ft, 35 ft, and 50 ft.
I definitely recommend these cables, especially if you're on a low budget and need something good quality.
7. Vitrius Cables XLR Cable – Best XLR Cable for The Money
Vitrius Cables offer some XLR cables that are extremely reliable and stand up to constant use no matter where they're being used. These are some premium-quality microphone cables without the premium-quality price tag.
The Vitrius Cables XLRs have a chuck type strain relief which prevents the cable from pulling out of the connector. They also feature copper conductors that allow for a crisp, clean signal with no noise.
The connector design looks like it might be a bit big and may not allow for you to push the connector into the other XLR plug all the way depending on where it's located and how much room is around the plug.
Other than that, it definitely seems like the best XLR cable for home studios if you want premium cables for a price that won't break your wallet. The cables come in options of 3 ft, 6 ft, 10 ft, 15 ft, 20 ft, 25 ft, and 50 ft.
How to Choose an XLR Cable?
When buying XLR cables, you might not think that the ones you choose will have an effect on the sound of your microphone, but it definitely does, and the components that make up the cables are what directly contribute to that.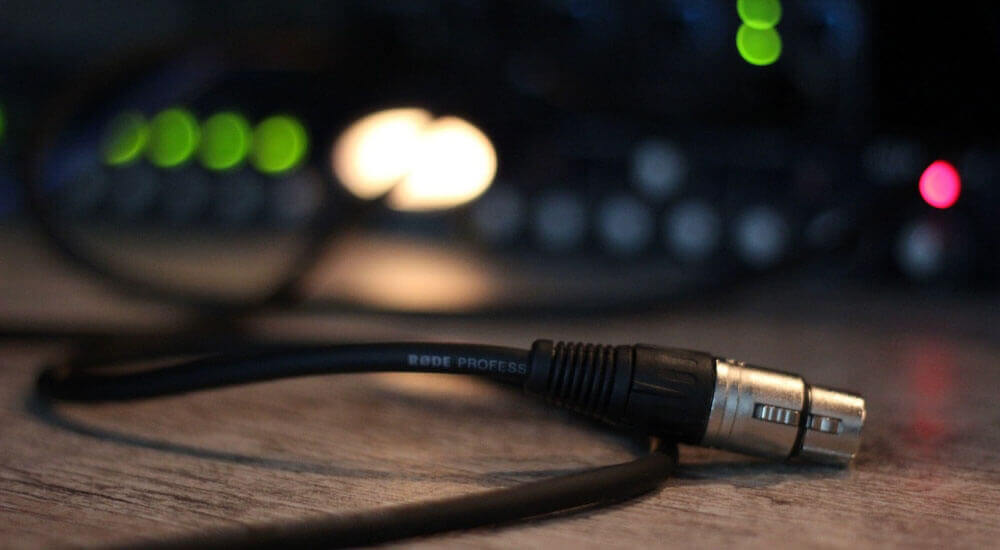 While it may not always be easy to distinguish whether a low-quality microphone cable was used by listening to an audio signal or final song, the quality of an XLR cable will make recording and performing easier and ultimately better if it's a higher quality cable.
There are 4 different components to an XLR cable:
Conductors.
Fillers.
Shielding.
Outer jacket.
Conductors are copper wires that make up the cable. They are usually twisted together and wrapped in their own insulation. The conductors are made up of many single strands of copper wiring to ultimately make two (or four, depending on the cable) bigger wires.
Fillers maintain the roundness of the cable and smooth out any warping that might occur. Shielding prevents any interference (noise, humming, etc) from reaching the signal. The outer jacket protects the cable from damage.
The XLR cables that are higher priced really do make a difference. Would you pair a $1000 microphone and audio interface with a cheap $15 cable? If you're going to have a studio with great sound quality, don't skimp on your microphone and instrument cables.
When looking to buy XLR cables, look for ones that have copper shielding and cotton yarn. These materials greatly reduce noise and prevent other interferences that could potentially cause problems in your recordings.
If you can find XLRs with gold plated connectors, get those. Gold plated connectors will prevent oxidation from happening as fast if you have to use the cables in rain or in a humid area.
If you care about sound quality, look for cables that have four wire conductors as opposed to two. Four conductors will decrease noise even more.
If you don't care about sound quality as much and are willing to compromise some of the sound, a two conductor cable with nickel plating will work fine for you.
You may have some issues here and there with humming and buzzing due to electromagnetic interferences, but for the most part it won't be too bad.
Conclusion
In conclusion, my personal opinion is that you should definitely invest in some high-quality XLR cables. However, if you don't have a big budget or don't really care too much about quality, getting some cheaper microphone cables is okay. If you care about getting the most accurate sound quality, premium expensive XLR cables are the way to go.
Many people think to just buy the first XLR cables they see off the shelf or on shopping websites. Don't do this. Instead, take a look at the specifications of each microphone and don't forget to read reviews that other customers have left if you're shopping online. You might find what you need at a cheaper price point. Do your research and you're sure to find something that's right for you.