Thanks to the technological advancement in the music industry, musicians just need a computer, DAW and a MIDI keyboard to make great music.
With the best MIDI keyboard, you can get virtually endless choices to make serious music sounds even when you don't have some instruments in your studio.
The problem comes when you are looking for a MIDI keyboard that fits your needs.
There are thousands of models out there with different features and specifications and just spotting the right one can be hectic.
To help you on this, we came up with a guide for choosing the best MIDI keyboard as well as give some of the best MIDI controllers reviews to make your choosing even easier.
Before we get to that, however, let us first understand what the MIDI keyboards are.
What is a MIDI keyboard?
Back in 1980s MIDI specification was made to allow the performer to control multiple sounds of multiple synthesizers from a single keyboard.
This concept became a success and today it has revolutionized the music industry.
Technically, MIDI keyboard is a device that simply hooks up to your computer to give thousands of features to make authentic, beautiful, and original music.
The device has extra buttons that allow you to fully customize the device and keys to a sound or any other feature on the keyboard.
Most of the keyboard controllers have no capability of sound generation by their own, but almost any keyboard can act to control the parameters and sounds of other devices.
Versatility and portability are among some of the key advantages of the keyboard controllers.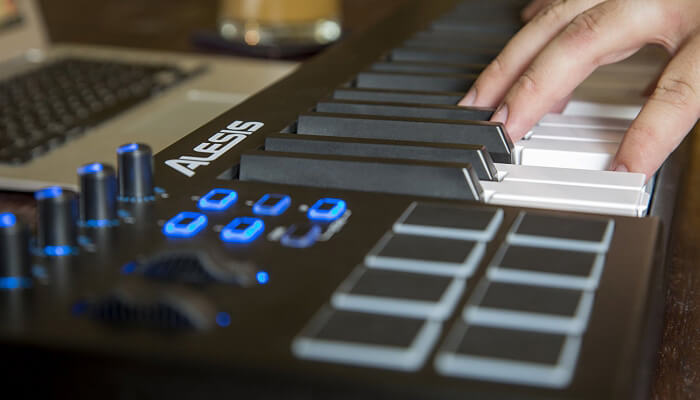 They enable you to have control over the entire range of modern music software and hardware while being compact enough to move easily.
You can connect the controller to your computer and use preset to combine or split devices using button pushes.
If you are a DJ, for example, you can use the knobs to modulate the filter of loop sequence.
Our Top Picks For The Best Midi Keyboard Controllers
Common Features To Consider
1.

Buttons, Faders, and Knobs
On top of the piano key style on the MIDI keyboard controller, you can also find sliders, knobs, and buttons on the top panel.
These are used to transmit MIDI data and can adjust the hand on control over the software in your computer.
The controller's knobs, buttons, and faders give you a real-time control over the resonance, amp envelope, etc. this gives you a more authentic feeling compared to using a mouse.
You can also find controllers that have auto mapping technology to set up the faders and knobs.
2.

Keyboard Action
One of the vital quality of the MIDI keyboard is the keyboard action.
You need to be comfortable when using the controller that is why you need to have an ideal keyboard for your productivity and creativity.
Most people prefer the key actions they are accustomed to and that which fits the type of music they are playing.
With MIDI keyboard, you can choose from three basic key actions:
Synth Key Action
Synth key action feels more like an electronic organ. It has lighter spring-loaded keys and can be moved quickly.
They tend to move back to their resting position faster making them ideal for fast parts like fast arpeggios or lead lines.
It is a perfect fit even for those who are not pianists by nature those who want to add the MIDI control functionality to their music setup.
Semi-Weighted Key Actions
This is similar to weighted hammer actions but has less resistance.
The keyboard is popular in the market and it is preferred by many players especially those who don't need the realistic piano response and don't mind the spring loaded spring action.
Weighted Hammer Key Action
Pianists prefer the MIDI keyboard controllers with the 88-note keyboard that mimics that of an acoustic piano.
With the keyboards there is no string and harmer, instead, manufacturers use different methods to attain the weighted action, for instance, they can use springs or add a hammer to mimic the piano action.
This keyboard is ideal for anyone who is in need of composing piano oriented music.
3.

Aftertouch
When pro keyboardists lay down a synth lead line that creates a bit of tasty vibrato at the end, their fingers lean deeper into the keys providing the extra key pleasure hence you trigger an aftertouch event.
This gives you an ergonomic and convenient way to add expressiveness to the performance.
You can also achieve it by moving gently your pitch wheel or joystick but the feature is commonly found in high-end controllers.
Things To Look For In The Best MIDI Keyboard
There are various factors that can affect your decision for a buying a MIDI keyboard controller. This includes:
1.

Budget
Most of the times our budget dictates what we buy and what brand.
For instance, if you are on a tight budget you will go for the best MIDI keyboard that will fit your budget.
The price of a keyboard is dictated by brand, number of keys and other additional features.
When you buy a MIDI keyboard of about $100, you will probably get a keyboard with fewer keys, features and you might be forced to buy from a brand that is not of your choice.
2.

Portability
If you have a small space studio, you travel a lot and produces the music on the go, or you just love playing the music with one hand, you will probably go for a small MIDI keyboard that is easily portable.
Mostly, portable keyboard controllers come with 25-30 keys, but this does not limit those with even higher keys.
3.

The Number of Keys
Most producers go for controllers with 49 keys because it does not take too much space and it is big enough to play melodies across 4 octaves.
You can choose higher or lower but the choice will always go hand in hand with the price.
4.

Keyboard Feel
To many pianists, a measure of the authenticity of a keyboard is compared with that of an acoustic.
Most pianists prefer a keyboard that is heavy-weighted to get the experience of a real piano.
This, however, is not crucial for your studio unless you are making songs that require a lot of pianos.
The most common MIDI keyboard on the market are semi-weighted and they can be a good fit for your studio because they provide a great response as you play.
5.

DAW Compatibility
Most of the MIDI keyboards can work for any DAW although you can find some that are specifically made for DAW.
If you want a controller that can map all the knobs and sliders to the DAW automatically, you should go for the specific ones.
Now, before you worry about the DAW, our MIDI controller reviews will mention any specific consideration of the compatibility.
6.

Extra Controls
Now just by looking at a MIDI keyboard, you will get an idea of how many extra controls you can get from it.
Some MIDI controllers look like a spaceship command center while others have just a handful of them.
You should consider going with the controllers with certain features depending on whether you are planning to use them.
If you are one of those people who prefer to use a computer mouse to manipulate the VSTs and DAW, you can go for those with a few extra controls.
Top 18 Best MIDI Keyboard Reviews
Now that we have an idea of what to look for in a keyboard, we are still left with the biggest question, what is the best midi keyboard?
To help you get the best MIDI controller keyboard, we filtered our list according to their specifications popularity and users experience.
We understand that different people have different requirements, therefore, we try to present a balanced selection of MIDI keyboard reviews regardless of things like price.
With that being said, let's jump right in and see what we have on the table.
Akai MPK Mini MKII 25-key
This is one of the best-rated MIDI keyboard controllers and has consistently received the highest number of recommendations from the users.
The keyboard controller is an improved version of its predecessor, the original Akai MPK Mini.
It is one of the best Akai MIDI keyboards and it comes with quite an offers for different musicians where it gives friendly price tag and variety of options.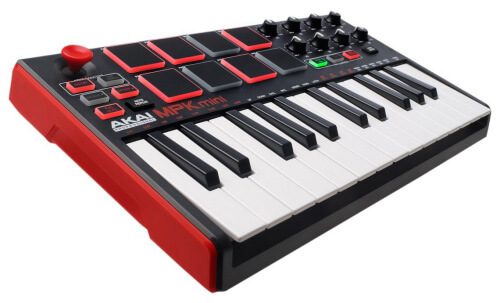 The Akai MPK Mini MKII keyboard runs on a USB power but you can easily get an adapter to power it on at an outlet with less hustle.
Although the 25 keyboard is tiny, you can easily modulate and download sound packages to make it produce any sound you want at any octave.
The keyboard comes with eight programmable drum pads that respond accordingly based on the struck force; the lighter you struck the pads the softer the sound produced and the harder the strike the louder the sound.
Another unique feature of this controller is its portability and size making it perfect for those with small studios.
It can be easily carried in your backpack without having the worry of breaking your back.
The keyboard controller is probably the best for a skilled player and definitely the best 25 key MIDI keyboard.
Simple but effective design
Easy to install
Excellent battery life
Portable
Limited software included
The keyboard can be small for users
This is the best choice you can invest in if you are looking for quality and price.
With that being said, we can say that MPK Mini MKII is the best travel MIDI keyboard.
The Masterkey 49 is one of the friendly looking MIDI keyboard controllers with simple control buttons.
Its keys are velocity responsive, meaning the harder you press the louder the sound produced.
It also has a volume control that is very easy to slide up and down to set the right volume.

The keyboard controller has pitch bender, which helps in adjusting the notes; when you bend the wheel the note will go higher or lower depending on the direction.
It also has a modulation wheel which can change the sound tone to align with the sound you are playing on your computer.
One of its great features is its digital audio workstation that comes with sound and plugins that you use right away with your MIDI Controller.
It also comes with a set of four knobs that helps in controlling the effect you select in the software.
Easy to control
Comes with PreSonus Studio One Artist
Comes with sound plugins so you don't have to buy extra
Has light key action
Can sometimes have trouble handling the right velocity
In the end, the keyboard proves to be one of the best MIDI keyboards for beginners and definitely the best 49 key MIDI keyboard at the price range.
Alesis V49 offers a great deal to musicians when it comes to options especially in handling virtual samples and plugins.
The neatly organized piano features make it easy to use; you can use your right hand to use the mouse while the left-hand tickers the controls on the device.

The keyboard is available in 25, 49, and 61 key model that you can easily adjust their sensitivity to tweak according to your desirable dynamics.
The V49 comes with eight LED backlit drum pads that are responsive to pressure and velocity.
It also has four assignable knobs, pitch, buttons and modulation wheels.
User-friendly
Portable
Good battery life
Must be kept dust free for effective functionality
With the features, we can conclude that the V49 is a good MIDI keyboard controller for both experienced and beginners.
If you are looking for the best MIDI keyboard with drum pads, this model can be a good start.
This is a keyboard with 32 velocities medium-sized key, modulation wheel, pitch wheel, sustain pedal, volume slider, octaves and translation buttons and USB port for power input.
The keyboard has a good construct and a compact design.
It can easily be used as the main keyboard controller but most people use it as second MIDI keyboard that you can carry along when you want to take the music elsewhere.

With its limited number of keys, the Midiplus AKM320 has octaves buttons, which you can use to cover to higher or lower octave more range.
You can also change the keys as you play using transpose buttons.
With the top MIDI keyboards like this one, you can automatically map to with any DAW whereby, when you plug it in, it automatically downloads and installs drivers in about five minutes.
One of its biggest disadvantage of the AKM320 is the volume slider where it is not that precise.
Good built-in quality
Supports sustain pedal
Easy to use
Powered by a single USB cable
The volume slider is not that precise
Limited range of keys
Despite it not being perfect, you can get a lot for a low budget.
For those who are not willing to spend a lot for the best beginner MIDI keyboard or just need for a second keyboard to take out with your laptop, this is a perfect choice.
The Keystation 49 II works well with both Mac, Windows and can work as well with any digital audio workstation.
It has 49 semi-weighted keys that are springy, light and easy to play making it ideal for beginners.

It weighs less than five pounds and has a smaller design, therefore, it can be moved around easily.
It comes with a modulation wheel, pitch bender, and octave buttons that allows you to scroll to 88 keys of a real piano.
It has sustain pedal that you can plug to assist you in your playing and hooks up to your computer using a USB.
Simple player control
The keys are velocity sensitive
It USB powered
It offers fewer control features
The downside of this piano is that it doesn't have too many features.
If you don't care about the drum pads, knobs, and pads and prefer the sleekness and simplicity of a MIDI keyboard, the M-Audio keystation is a good choice.
This is an advance of the M-Audio Keystation controller with knobs, pads, and faders for a more DAW control.
The M-Audio Oxygen is not made for a specific DAW compatibility but users can easily map with the best free MIDI keyboard software.
The controller has pretty standard features compared to its competitor where it gives you synth-action, velocity sensitive pads, faders, transport controls, knobs, and sustain pedal.
The keyboard has a sleek black curvy body with solid building quality.
Its price is surprisingly low and comes in hand with a beginner lite version of Ableton.
Easy to install and use
Compatible with both Mac and windows
Excellent inbuilt features for sound control
Long life battery
Must be dust free to function effectively
This is a good fit for anyone especially beginners with little or no experience of the additional features.
This is a simple MIDI keyboard similar to the Midiplus AKM320 but with the quality of a Roland product and a lot more keys.
The MIDI keyboard has 49 keys that cover 4 octaves giving you a good range when playing.

It also gives you a set of buttons that are dedicated to switching up and down the octaves to give you a full range.
The keyboard is not complex despite the octave features and beginners can easily work with them.
It only has two programmable keys and comes with foot pedals that are normally found in a piano.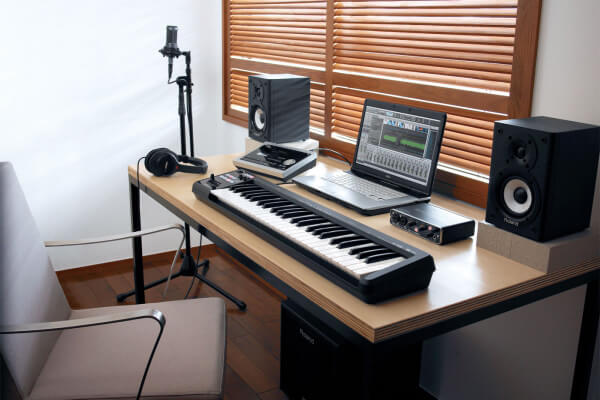 It is USB powered but can also be powered using an adapter that runs from the wall outlet.
The A-49 is easy to move because of its immense length and thickness that you can easily accommodate in your studio.
Light and easy to move
Simple design, great for entry level
Gives you four octaves range to play in
Has only two programmable keys
If you are looking for the best MIDI keyboard under $200, that offers professional music-making features, the A-49 will not disappoint.
Carbon 61 has a clean and yet functional design that offers real value to musicians who want the best MIDI keyboard for iPad.
Despite its size, the keyboard is lightweight and you can easily carry it around.

It offers to sustain pedal input MIDI output and USB port for tablet connectivity.
It is completely powered by a USB port, therefore, you don't require an adapter for power.
It comes with weighted keys that are velocity sensitive and solid enough to justify the price.
Its controls are few where it just features pitch wheels, octave, and transpose buttons, edit button and volume slider.
The controls feel solids and are quite precise when used.
The keyboard works well when coupled with a tablet where it is designed to offer a neat pocket that you can rest your tablet.
Portable
Comfortable to play
Tablet friendly
Less additional features
Do not have tablet charging features
For anyone looking for the best MIDI keyboard controller with weighted keys and at the same time a digital piano, Carbon 61 is a good match for you.
Behringer U-Control UMX610
When looking for the best affordable MIDI keyboard, it can be wrong if we leave out this high-quality music gear.
The MIDI keyboard offers over 100 musical instruments meaning that you don't need to preload sound preset for more classical sounds n your keyboard.

UMX610 has 61 semi-weighted keys that give a good feedback when struck.
Its controls go from the sound change buttons to the common pitch wheels where there are 8 rotary knobs and 10 assignable switches that you can use in almost any DAW.
What makes this keyboard stand out is its long-lasting battery life.
The keyboard can last up to 6 hours without the need to charge the batteries.
Great battery life
Portable
Easy to maintain
Produces strange sounds when you wrongly us the pitch wheels
We can easily say that the UMX610 is a good fit for piano playing and light mixing and with its interface, you will have an easy time even if you are a beginner.
This one looks like a toy but its way better than that.
It comes with synth-key action and polyphonic aftertouch effect that adds a range of expression after applying the different amount of pressure or by sliding up and down the keys.
You can easily apply sound effects using its octave, pitch and modulation switches.

The buttons are pressure sensitive but you have to get used to the buttons to turn them to a desired amount of the effect.
Even though the Xkey does not have so much to talk about, it's quite simple, minimalistic and cheap making it the best choice if you are looking for a keyboard that you can put in your backpack and have with you anytime.
Portable
Has a neat and minimalistic design
It is very playable
Supports polyphonic aftertouch
The keys are not weighted
The modulation buttons are not precise
It is the best mini MIDI keyboard for people in need of a quick and simple way to input tunes at a considerable price.
The M-Audio Keystation 88 II offers you a great playing experience whether you are a beginner or experienced.
As the brand is known to make quality products, the Keystation 88 II is no different.
It comes with a minimalistic design that only includes the most important parameters.

Its slim footprint makes the model perfect for a drawer style keyboard.
It comes with semi-weighted keys that give players an experience close to that of a real piano.
Its pitch wheels are on the left side, there are also play, pause and record buttons and the navigation buttons.
These features come in handy when you are navigating your way through various DAW software.
The keyboard comes with the Ableton live lite software that you can use to edit a record or remix your work.
The keyboard brings a balance of simplicity and a feel and sound that is perfect for the expert pianist.
Easy to use
Simple but precise
Solid design
The sliders and wheels are a bit wobbly
If you are looking for the best USB MIDI keyboard, then this is a perfect choice for you.
The A-800PRO controller has many whistles and bells that you can ever need from a keyboard.
It comes with 61 keys, therefore, it gives you good actives for easy access.
You can also reach other octaves with the help of the buttons present on the keyboard if the 5 octaves are not enough.

The MIDI keyboard comes with 45 assignable controls this including the 8 programmable drum pads.
This means that you can turn the keyboard to any instrument to make any sound that you would like. It can be powered using USB or through an adapter to run it to a wall outlet.

The A-800PRO a great tool for your studio especially when you consider its sound quality and variety of choices to playing different instruments.
Professional quality
61 keys
45 assignable controls
It's a bit expensive (professional pricing)
Not easily portable
This MIDI keyboard gives you an absolute professionalism on your studio or when gigging.
It is probably the best MIDI keyboard under $300.
This keyboard controller comes with two unique functions: chord scale that triggers chords according to the scale and key you chose, and touch scale that helps you to generate the melodies using the touchpad.
This function makes songwriters be more quick and intuitive.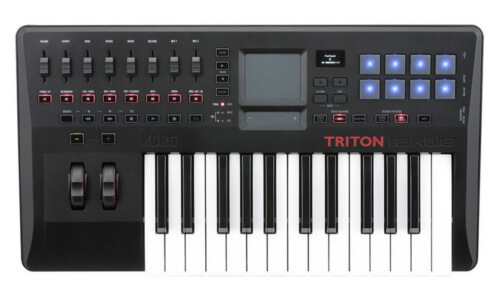 It also comes with extra features like 8 faders, 8 pads, 2 wheels (modulation, pitch bend), 1 ribbon and 1 XY pad.
It has 25 keys that are semi-weighted, input pedals and DAW (Korg legacy collection and Korg Control Editor).
The keyboard controller is compatible with all major DAW, therefore, it is ideal even for those with less or no knowledge about the Korg DAWs.
Smooth DAW integrations
X/Y touchpad has kaossilator – like playing mode
Very portable
Upholds well classic triton sounds
Only powered via USB
No aftertouch
The tactile 25 is easily portable making it one of the best MIDI keyboards for live performance and it also fits well as a second MIDI keyboard.
Novation Launchkey 61 MK2
This is one of the best MIDI keyboards for Ableton Live 9 compatibilities.
The controller comes with great features like 8 knobs, 9 sliders, pitch bend and mod wheels, 16 velocity drum pads, transport controls for DAW, a ¼ jack for sustain pedal, etc. considering its features, the controller is pretty comparable to MIDI keyboards like M-audio and Akai.
Although different people have a different opinion of the building quality of the controller, we don't think that this can be a deal breaker especially if you are buying it to stay put in your studio.

In terms of its playability and the synth-key action, the Launchkey 61 has quite a good velocity sensitivity and provides good feedback.
If you are a pianist, the keys give a good feel although they are not as good as the weighted and semi-weighted ones.
The controller automatically maps with the Ableton and it is easy to map other Major DAWs.
The knobs and sliders help in mapping the VTS instrument control giving the software synth more hardware feel.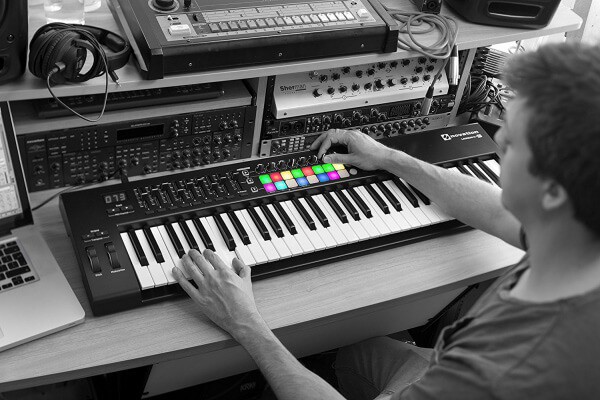 The launch keys have full-color RGB backlit that light up the same color as your track in the Ableton.
The MIDI controller comes with an amazing price tag and even though the feel, finish, and the fit is not the best, it quite a necessary sacrifice to keep the price low.
Great visual feedback from the velocity pads
Works great in Ableton live 9 DAW
Keys are not weighted and are narrow than the standard keyboard
If you are looking for the best MIDI keyboard for beat making, then the Novation Launchkey 61 MK2 is a good place to start.
Just by looking at this keyboard, you notice the neatly organize button layout as well as sturdy design.
The MPK249 MIDI keyboard is a 49 key model with a larger dimension but still, it can easily fit your desk.
The 49 keys are semi-weighted and also features aftertouch for optimal control.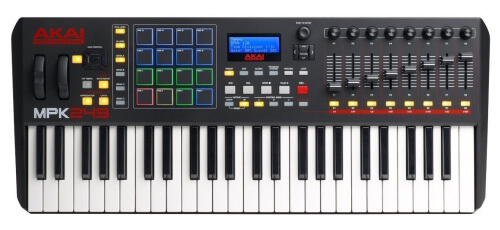 It has 16 RGB backlit trigger pads that correspond to different persecution presets.
With the Controller, you can cycle through 4 different pad bank for a 64 different sounds that fit even the most drum hungry musicians.
The keyboard is a perfect fit for people with assignable buttons where it has 24 assignable controls which includes 8 knobs, faders, and switches.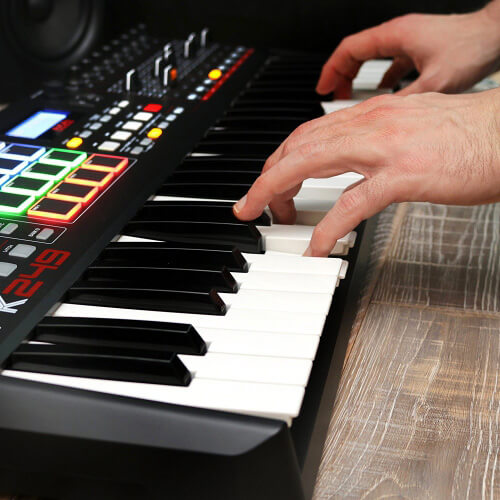 The MPK49 stands out because of its two sequence generating modules, the note repeat that is controlled through the pads and arpeggiator, which clocks from a MIDI or internal source.
The MPK49 is quite a durable device and can stand out to its performance even after a few years of use.
A large number of controls
Ergonomic and easy to use design
Compatible with Windows and Mac OS devices
Can be difficult to comprehend to figure out if it's your first time
The Akai MPK249 is the best MIDI keyboard for pro tools.
Its price tag, however, is not that pleasing and you can get a MIDI keyboard controller with similar features for less money.
One thing that has never cease to amaze me is the quality and the price of Yamaha products.
On the MIDI keyboards, the MX49 comes with the full package offer from Yamaha.
This music synthesizer with 49 keys brings the key range of a regular piano so you won't need to hit an octave switch regularly when playing.
It is the best keyboard for music production whereby it offers additional digital audio waveform interface that allows you to use it to mimic a variety of instrument.

It comes with many buttons that you can easily customize and also have pitch modulation device that you can use for code bending sounds.
The MIDI keyboard can be powered using an adapter and it is connected to a computer using a USB or to a PA system.
The keyboard is ideal for keeping in the studio and it's not that friendly if you are planning to move very often.
Waveform interface
49 keys giving you a greater range
Comes with additional bag
Complex and not for beginners
If you are looking for the best value MIDI keyboard controller, then the MX49 is a perfect fit for you.
We all know that Roland is one of the biggest names out there known in providing quality musical instruments.
JUNO-DS61 is not an exception in this, and it easily makes its way to be the best MIDI keyboard for Mac.
It has digital audio waveform system that makes it sound like other instruments when played over a PA system.
This is a great tool especially if you want it to imitate a grand piano, organ or any other instrument.

It is commonly found in a recording studio because of its diversity in instrument sounds.
The controller can be powered by a battery or use an adapter to power it to an outlet source.
It has 8 phase pad buttons that you can easily be programmed to make the required sound.
Its 61 keys give you a more realistic range of keys like those of an actual piano.
The JUNO-DS61 is not easily portable, but for a professional who is willing to spend enough money to buy a professional grade MIDI keyboard, it wouldn't be a big problem moving it.
Great battery life
Great digital waveform controls
Has 61 keys, therefore, you don't need to switch octaves to mimic real piano
It's pricey especially if you are looking for an entry-level MIDI keyboard
The DS61, however, is a bit pricey but if you consider its quality and its ability to make beautiful music, you should definitely consider it.
This is yet another great offering from Yamaha and almost the same with the MX49 but with 61 keys instead of 49.
It covers five octaves, therefore, you can play a good range of music without the need to hit buttons to switch the octaves.
It comes with full wavefront controls and 18 programmable buttons and the normal modulation controls.

The MIDI keyboard needs quite a lot of power to run all this functionality, therefore, it uses an adapter that is run to an outlet to power it.
The keyboard is great for professional music production and despite it's not easily portable, you can use it for your studio.
Its 61 keys cover 5 octaves
It is of great quality
Has wavefront audio interface
Not easily portable
It is complex to learn
Expensive
It is the best 61 key MIDI keyboard and great for a high-end recording gig or just general gigging.
Final thought
Always gauge your need when selecting the best MIDI keyboard; whether your creative methods require the extra features and how much you need these features.
If you get the correct one, you will get control over major elements of your software and hardware.
Normally, people usually use the keys to measure the quality of the MIDI keyboard but it is better to consider other elements too.
In the above MIDI controller reviews, for example, we have different keyboards for users; hopefully, yours is there too.
With that in mind, you will find yourself going for that MIDI that fits your needs perfectly.
Remember that the key reason for having the right MIDI keyboard is to control the notes on the computer, therefore, make sure you use this to measure what is your best choice.
Additionally, more features than you require are always a bonus especially if you are interested in learning more extensive ways to use the MIDI keyboard it's better to go with the extra featured one.
One final note is that if you are going to purchase a controller, make sure that your computer can handle the minimum requirement of the controller because the MIDI takes up some processing power.
If your computer is too slow and hangs often, you might find out that you are having trouble to play your music more accurately.