A good keyboard is important to any studio setup but you don't have to break the bank. In this review, we look at what makes a good cheap MIDI keyboard.
Some of the questions answered in this guide:
Top 10 Best Cheap MIDI Keyboard Controllers Under $100
We have put together our top 10 list of MIDI keyboard controllers to get you started. These are what we consider to be the best budget MIDI keyboards.
They all offer great value so we have put them in no particular order. Our aim is to help you find the best cheap MIDI keyboard for you.
Here are the 10 best cheap MIDI keyboard controllers:
M-Audio Keystation Mini
The Keystation Mini from M-Audio is a real contender for anyone who wants a low-cost MIDI keyboard. It has 32 velocity sensitive keys and no drum pads, it's a simple but effective controller.
It comes with a copy of Pro Tools First M-Audio Edition and 2gb of Touch Loops content. You also get Xpand! 2 from Air Music Tech which is a VST with some truly great sounds.
M-Audio went for pitch bend and modulation buttons rather than wheels or sticks. The buttons are freely assignable as is the master volume dial.
M-Audio has a history of making some of the best inexpensive MIDI keyboards.
32 keys so you can play more complex voicings/patterns.
High-quality software included.
Assignable buttons.

No drum pads.
Pitch bend and modulation buttons are not as intuitive as a wheel or stick.
Keys feel slightly small.
Don't be put off by the list of cons, it very much depends on what you want to use it for. If you are more interested in keys than pads and other features then this is a good choice for you.
The inclusion of Xpand! 2 opens up a world of creativity. It's packed with high-quality sounds from electric pianos to soaring synth leads. The quality of these sounds makes up for the lack of pads/features, a solid choice.
Midiplus AKM320
The second 32 key controller in our top 10 and one of the most compact. Midiplus have managed to add pitch bend and modulation wheels despite the compact size of the keyboard.
There are transpose, octave up/down buttons and a master volume slider. The AKM320 does not come with any included software.
32 keys.
Simple clean design.
Very compact, great for travel.
Pitch bend and modulation wheels.
Sustain pedal input.

The keys feel slightly small.
Doesn't have drum pads.
No software bundle.
No assignable buttons.
Overall I think Midiplus achieved what they set out to do with the AKM320. It has 32 keys and it's very clean & compact. However, I do feel that the dedication to limited features/functions should have provided higher quality.
There isn't a huge amount to say about this keyboard, you get exactly what you see, no more, no less. It's not one of my top picks but still makes it into our best MIDI keyboard under $100 top 10.
Nektar Impact LX25+
The Impact LX25+ is one of the most function packed keyboards in our top 10. It has 25 full-size keys, 8 velocity sensitive drum pads, assignable knobs, and a variety of transport buttons.
Nektar has made it possible to save 5 different user profiles due to the amount of customization available. The LX25+ also features very nice pitch bend and modulation wheels. Bitwig 8-track is included which has 50 VST's and effects along with a collection of loops/samples.
Full-size keys.
8 velocity-sensitive drum pads.
Highly customizable.
Packed with functions.
Seamlessly integrates with most popular DAWs.
Decent software bundle.
Assignable knobs.
Transport controls.

Key action could be improved.
Drum pads could be more expressive.
This keyboard has more functionality than you'd ever expect in a controller this size. Nektar really has done a good job in not only including lots of functions but making sure they work well.
The layout is still nice and not too cluttered or messy. Slight improvements could be made with the keys and drum pads but I'm nitpicking. It's simply one of the best budget MIDI keyboards you can buy.
Samson Graphite M25
This has to be one of the best-looking keyboards in our top 10. It's a 25 key controller with 4 velocity-sensitive drum pads. One of the major selling points is that the keys are semi-weighted.
Another unusual feature is that the drum pads have aftertouch, usually found in more expensive units. There are 8 assignable knobs, transport buttons, and touch-sensitive ribbons rather than wheels for pitch/modulation.
It looks great.
Semi-weighted keys.
Transport buttons.
Assignable knobs.
Pitch bend and modulation ribbons.
Drum pads.
Sustain button.

Limited software included.
Key action could be better.
You will notice that I listed semi-weighted keys as a positive while also stating the key action could be better. The reason for doing this is that I think the weight could feel better, even on small keys. However, the fact that it's such a rare feature on controllers like this means it's worthy of a positive mention.
The touch-sensitive ribbons rather than wheels/sticks aren't my preference but you may love it. My personal take on the Graphite M25 is that it's more style over substance. Personal preference is key though and I know many of you will love it.
AKAI MPK Mini mkII
Last but not least we have the MPK Mini Mk2, one of the most popular MIDI controllers. The MPK Mini Mk2 has 25 velocity-sensitive keys and 8 velocity-sensitive drum pads.
The drums pads have two banks, A and B, essentially turning 8 pads into 16. It has 8 assignable knobs and a very intuitive pitch bend & modulation thumbstick.
The arpeggiator featured in the LPK25 is also present here along with a note repeat function. This keyboard potentially has the best software bundle of the lot with its VIP 3.1 platform.
VIP 3.1 brings all of your plugins/VST's together in a seamless fashion where creativity is a priority. The bundle also includes MPC Essentials, Sonivox Wobble, and Hybrid from Air Music Tech.
Best drum pads in our top 10 by far.
Intuitive thumbstick.
Arpeggiator.
Note repeat.
Fantastic software bundle.
8 assignable knobs.
Sustain pedal input.

Keys feel slightly small.
This is absolutely in my top 3 picks for an affordable MIDI keyboard. For a small controller, it's a powerhouse of creativity.
The drum pads are MPC quality and the included software bundle gives amazing value for money. If you are a beatmaker this is the one for you.
Novation Launchkey Mini
The Novation Launchkey Mini is a 25 key USB MIDI controller with 16 velocity-sensitive drum pads. If you aren't yet familiar with Novation controllers, their Launchpad & Launchkey range are very popular.
The Launchkey Mini has 8 assignable knobs and dedicated navigation buttons. Novation provides a pretty decent software bundle too. Included software: Ableton Live Lite, XLN Audio Addictive Keys, Novation Bass Station, and V Station virtual instruments and over 4GB of Loopmasters samples.
Integrates very well with Ableton Live Lite.
Has 16 pads – rare for a keyboard this size.
Extremely portable.
Great good software bundle included.
Assignable knobs.

Pads could be more expressive.
Keys feel slightly small.
This is a great affordable MIDI keyboard with plenty of features. The Launchkey Mini feels well made for such a light controller. I love that it has 16 pads but they could be more responsive at times.
Definite value for money here and difficult to find serious fault. It does everything it's supposed to and then some.
Alesis V25
The V25 from Alesis is one of my favorite cheap MIDI keyboards. It has 25 full-size keys and 8 velocity-sensitive drum pads. Alesis have bundled the V25 with Ableton Live Lite 9 and Xpand!2 so you are ready to go straight away.
It has 4 assignable buttons, 4 knobs, and pitch bend/ modulation wheels. All of the buttons/knobs/pads illuminate to provide nice visual feedback.
Full-size keys.
Better sized pads than some other controllers.
Xpand!2 is great with the full-size keys.
Assignable buttons.
Sustain pedal input.

Pads could be more responsive.
Pitch bend and modulation wheels are slightly small.
The V25 is one of my favorites because it has full-size keys. This is something you don't tend to see in 25 key controllers.
The drum pads are to the left of the keys rather than above which can be awkward but this is done to make space for the full-size keys and it's an acceptable compromise. Alesis has created one of the best all-rounders in the V25.
CME XKey
This 25 key low profile controller is just 16mm deep but it's surprisingly playable. The CME XKey has velocity sensitive keys with polyphonic aftertouch. It also has pressure sensitive pitch bend and modulation buttons plus octave up/down and sustain buttons.
The XKey is one of the most stylish instruments you will find on any cheap MIDI keyboard list. It looks fantastic but it is limited in function and offers no software bundle.
It looks great.
Extremely compact.
Polyphonic aftertouch.
Pressure sensitive buttons.
Sustain button.

Pitch bend and modulation buttons could be more accurate.
Limited functionality.
The verdict is pretty straightforward with this one, it has limited functionality but the aftertouch gets it onto our top 10 list.
The CME XKey really does look great, it's very stylish and sleek. The pressure sensitive buttons are a nice idea but they are difficult to use accurately. The aftertouch is polyphonic so it's one note at a time which isn't perfect but it's still a welcome addition.
Ultimately, I'd be happy to own this keyboard, however, there are more practical options on our list.
Acorn Masterkey 49
The Masterkey 49 will be one of the lesser-known controllers in our top 10 but it's worthy of its place. It has 49 velocity-sensitive full-size keys with pitch bend and modulation wheels.
The modulation wheel, 1 fader, and 4 knobs are freely assignable. The Masterkey 49 comes with Presonus Studio One Artist Edition to get you started straight away.
49 keys – dramatically increase what you can play.
Plenty of customization via the assignable wheel, slider, and knobs.
Pitch bend and modulation wheels.
Full-size keys.
Presonus software included.
Sustain pedal input.

Build quality not as high as some other controllers.
Key action could be improved.
The big advantage this keyboard has over others in our top 10 is that it has 49 keys. The average controller in this price range has only 25 keys, the difference is huge.
The Presonus software included is a good starting point. It's a simple controller with more than enough customization for most. The build quality could be higher but it's a straightforward choice if you want 49 keys under $100.
Akai Professional LPK25
The LPK25 made it into our top 10 list for a couple of reasons. Firstly, Akai Professional have been leaders in this sector for decades. Secondly, it's extremely compact as well as has wireless version (will cost you more), so you can make music anywhere.
It has 25 velocity sensitive mini keys and a pretty cool arpeggiator. There are octave up/down buttons and a tap tempo function and it comes with Ignite editing software.
Akai is known for great controllers.
Extremely compact.
Wireless.
Arpeggiator.
Tap tempo function.
Ignite editing software.

Keys feel slightly small.
No pitch bend or modulation.
No assignable buttons or knobs.
The wireless LPK25 will cost you more than $100.
The LPK25 does have limited functionality but the arpeggiator, tap tempo, and wireless functions make it worth consideration.
It's not the only wireless affordable MIDI keyboard but it's the best wireless one in my opinion. The keys are mini but surprisingly responsive. If you make music on the go then this is a contender for you.
How to Buy a MIDI Controller On a Very Tight Budget?
As you can see from our reviews, we aren't taking an in-depth look at each controller. We are giving you enough information to decide which ones you want to check out further.
The good thing is that there are lots of options. Set your budget, in our case, it's under $100 and stick to it. Before you look at specific keyboards try to decide if there are any features you can't live without. This will help you eliminate some options and focus on the ones that suit your needs best.
It's important that you do this because it's easy to get distracted by things you don't really need. When you are on a tight budget the last thing you need is an impulse buy.
What Are the Most Important Things to Look for?
When it comes to the best budget MIDI keyboard, the keyword is budget. You know from the start that you aren't buying a top of the line controller but don't accept poor quality.
Build Quality
This is really just common sense, it might be cheap but avoid any controller that feels cheap. What I mean by this is that the best cheap MIDI keyboards take value for money as far as they can. So, you end up with something that looks and feels more expensive.
If you do sacrifice build quality to some extent in your choice make sure it's a good trade-off, for example, more keys or better functions.
Integration
Whatever keyboard you choose you must remember it will be used with 3rd part software/plugins etc. While all of the suggestions we have offered are plug and play, some integrate with certain DAWs better than others.
So, if you already have a DAW that you are comfortable with, consider that into your decision. Think about how easy/difficult the setup is, do you get full use of all assignable buttons/knobs?
Functions
First of all you should find out what functions are offered by each keyboard. Once you know what's on offer start to take a deeper look. A keyboard that does one or two things very well is better than a keyboard that does 20 things badly.
How to Decide Which MIDI Controller Suits You Best?
As I mentioned already, you have to decide what features you can't live without. The best way to do this is to think about features that will improve your workflow. Whatever keyboard you buy should make you a more productive musician/producer.
Consider what style of music you will be making most. If you are a beatmaker who makes multiple tracks per day then you will want drum pads. Having drum pads significantly increases workflow when beats are the backbone of your work.
Having pads to hit for percussion will always be more naturally intuitive. If you fall into this category then go further and start to focus on the quality of the pads and so on.
EDM artists/producers will likely use a lot of synth lead sounds and this means the pitch bend and modulation functions are important.
When you use something like pitch bend often you need it to be intuitive and accurate. What you don't want is to have to record a simple lead line multiple times just to get it right.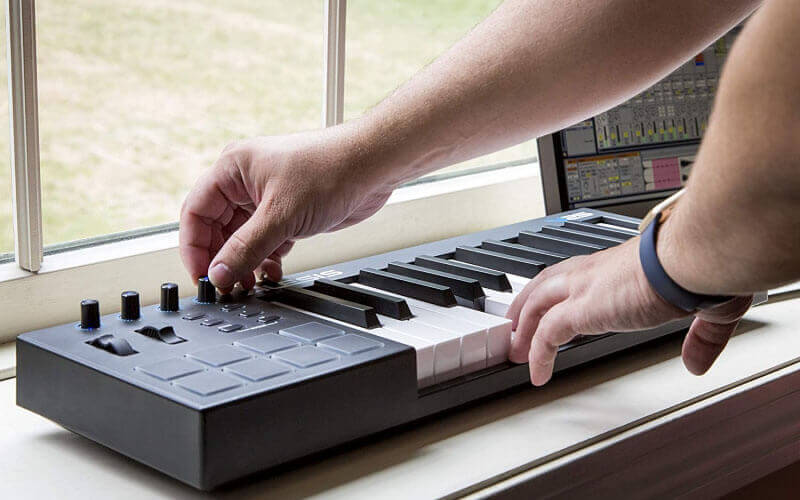 Some keyboards have wheels for these functions, some have ribbons, thumbsticks, or buttons. Personally, I haven't experienced the same accuracy with buttons that you get with wheels or sticks but it's personal preference.
Pianists/composers might want to focus more on keys than anything else. If you are a serious keyboardist then you might want more than 25 keys. You also might want full-size keys rather than mini keys. Then you have to consider the touch, weight, and responsiveness.
That's just a few examples but the point is whatever you choose you will compromise somewhere. The key is to compromise in the right areas. Find the MIDI keyboard that most closely fits your specific needs.
Conclusion
We have given you our thoughts on how to find the very best cheap MIDI keyboard for you. Our top 10 reviews cover some awesome affordable MIDI keyboards. The trouble is you might want them all!
In conclusion, I would just recap what I mentioned earlier. The best cheap MIDI keyboard very much depends on the buyer. It's not about being the best, it's about being the best for you.
Make sure you consider your style, current setup, and what you want to get out of a keyboard. If a MIDI controller doesn't make it easier to do what you do then it's not the one for you.
Remember to think about:
Your style of music
Current setup – Daw preference
Workflow
Build quality
Integration
Functions
If you consider all of those things you will be on the right path. Remember, compromise only in areas that are secondary to your needs. Choose the one that puts your primary requirements to the forefront. Do this and you will find the best cheap MIDI keyboard for you.