If you're on a tight budget and own a small music studio, or are just starting out making music as a hobby or looking to make a career out of it, you will definitely want to know what the best budget studio monitors are.
This article will provide a good starting point to help you get an idea of what the best studio monitors under $200 will be.
Some questions this article will answer include the following:
Top 10 Best Cheap Budget Studio Monitors Under $200
Here are the 10 best budget studio monitors under $200:
PreSonus Eris E4.5
The Eris E4.5 studio monitors by PreSonus are one of the best budget home studio monitors you will find. They're the best rated studio monitors on Amazon and many other music gear websites which only confirms how great they are.
The Eris E4.5 studio monitors feature a 4.5 inch woofer and a 1 inch tweeter that are both active. The woofer is a little smaller than most, but the acoustic tuning controls on the back assist in giving you the flexibility to tailor the sound to fit your room.
Because you get these extra controls, this means that these studio monitors will work a bit better than others in poorly treated rooms. The frequency response range of these monitors is 80 Hz to 20k Hz, you'll need a subwoofer for the low frequencies.
Acoustic tuning controls.
Small enough to fit with any workspace.
Active amplification.

May need a subwoofer to accompany it.
I'd say that the Eris E4.5 is a great choice for smaller home studios and beginners, as well as seasoned professionals, due to their acoustic tuning controls and more compact size. It's not often that you find such high quality, inexpensive studio monitors that pack a punch like these ones. That's why it's not surprising to see the Eris E4.5 featured on our list of the best studio monitors.
Rockville APM5B
The Rockville APM5Bs are surprisingly amazing for being so cheap. If you're looking for some decent, affordable studio monitors, these are a great option.
They feature a bi-amped 5.25 inch woofer and 1 inch tweeter, active power, a thick wooden enclosure, and a frequency response range of 50 Hz to 20k Hz.
The USB port on the monitors means that you can plug them directly into your computer without needing an audio interface.
Powered with two amps per monitor.
Wooden enclosure.
USB port.

Fewer acoustic tuning controls.
The Rockville APM5Bs are incredible. If you're wanting good, low cost studio monitors that don't let you down in terms of audio quality and flexibility, these are for you. They're definitely the top best studio monitors under $150.
Rockville APM8W
If you're looking for something with a bit bigger of a frequency response range and don't want to buy a subwoofer, the Rockville APM8Ws are another stellar choice.
They're quite similar to the Rockville APM5Bs but are bigger and have a wider frequency response range. They have an active bi-amped woofer and tweeter; the woofer is 8 inches and the tweeter is 1 inch.
Because of the bigger size of the woofer, it handles low frequencies much better. The full frequency response range of these guys is 30 Hz to 20k Hz, which means that you'll catch a good amount of sub bass frequencies with these monitors without having a subwoofer.
The only trade off is that the bigger woofer cone makes it much heavier, coming in at 33 lbs. Like the APM5Bs, the APM8Ws also have a USB port for connecting to your computer as well as a headphone jack.
Bigger woofer for better bass handling.
Two amps per monitor.
These are the best cheap active studio monitors if you're looking for ones that are heavy duty but also high quality. If you don't have it in your budget to buy a subwoofer, this pair will work well for you.
Mackie CR3
While I normally don't recommend going this cheap when it comes to buying monitors, the Mackie CR3s are the top rated, best studio monitors under $100.
These are pretty cheap, but that doesn't mean they're low quality or bad. They have a more professional build quality that you might see on more expensive monitors, and along with that, they have volume controls on the front panel which makes it much more convenient for mixing, especially if you don't have an audio interface.
Like most standard studio monitors, the Mackie CR3s have a headphone jack and an AUX input for quick headphone referencing and computer connectivity. They also have a speaker placement switch so you can switch which side the monitor with the volume knob is on.
These monitors are passive, so you'll need amplifiers for them, but because they're already cheap, it shouldn't set you back too much. The frequency response range is 80 Hz to 20k Hz due to the woofer being only 3 inches, so you'll definitely want a subwoofer for these.
Front panel controls.
Speaker placement switch.

Smaller frequency range.
Passive amplification.
Will need a subwoofer.
If you're okay with buying monitors that have passive amplification and you don't have too big of a budget, these will be fine for you. They're a decent set of studio monitors, nothing too fancy, they'll definitely get the job done, but because of their smaller frequency range I would definitely suggest something more expensive first.
M-Audio AV42
The M-Audio AV42s are a decent middle of the road passive studio monitor set for their price. They've got a 4 inch woofer and 1 inch tweeter so the bass handling will be more stable than a smaller 3 inch woofer, but definitely not as good as an 8 inch woofer.
The frequency response range for the AV42s is 75 Hz to 20k Hz, which personally leaves me wanting more, but it'll still do the job well. You'll benefit from a subwoofer paired with these monitors.
The AV42s are pretty lightweight, which means they may be good to travel with, but because of how lightweight they are, with the size of their woofers, you may deal with more rumbling or buzzing from the MDF enclosures when playing bass-heavy music at louder volumes.
Portable.
Uncovered cones.

Passive.
Extremely lightweight.
If you don't care too much about bass response or if you plan to get a subwoofer, these affordable studio monitors will be fine for you. Keep in mind that you'll also need amplifiers for these monitors.
Pioneer DM-40
The DM-40s from Pioneer are another surprisingly good active budget studio monitors. I was fairly impressed with these, mainly because of their especially wide frequency range.
What I'm most impressed over is the fact that the tweeter is only ¾ of an inch, yet it can accurately produce up to 30k Hz of frequencies. The 4 inch woofer bottoms out at 70 Hz, which isn't too bad, but leaves a lot of room for a subwoofer.
One feature that isn't on any of the other monitors is that the ports are on the front of these ones. This can create an exaggerated sense of bass frequencies since all of the low end is coming out of the front, rather than some of it being dispersed out the back. Overall, these monitors are a simple but quality pair.
Extra wide high frequency range.
Active amplification.

Ports are on the front of the monitors.
If you need monitors that will be able to detect the airiness of vocals in the extra high end of the frequency spectrum, these are a good choice. Definitely consider these as a purchase.
Behringer Studio 50USB
Behringer's Studio 50USB studio monitors are quite a popular option. This active amplified pair of monitors also boasts separate amplification for maximum power and quality sound reproduction. The 5 inch woofer and 1 inch tweeter have a frequency response range of 55 Hz to 20k Hz, which isn't too bad.
There are some complaints of these monitors being a bit nasally in the midrange, but other than that they're very punchy and clear. You're able to plug the monitors into your computer and skip using an audio interface if you choose, hence the name 50USB.
These monitors are another pair that have a high frequency level switch so you can customize it to fit your studio or other workspace that you're in, and this could very well also solve the issue of the audio sometimes sounding nasally.
Active amplification.
Two amps per monitor.
High frequency level switch.
Overall, the Behringer Studio 50USB is another fairly good set of monitors with enough flexibility for someone who knows what they're doing to tailor the sound to their needs, but they're also simple enough for a beginner to set up and use.
Samson MediaOne M30
For being so small, the active amplified MediaOne M30s by Samson have a surprisingly big frequency response range of 50 Hz to 20k Hz.
The woofer on these monitors is 3 inches, and the monitor enclosures themselves aren't much bigger. This makes them good for the traveling music producer or musician, but the small woofer size can also pose a problem when processing a lot of bass frequencies.
The M30s also have a bass boost switch on the back, which, while it's nice for audiophiles, makes the frequency response less flat to have it switched on.
The bass boost switch seems to be unnecessary in my opinion considering these are studio monitors, and the whole point of studio monitors are to give a flat frequency response.
| | |
| --- | --- |
| | |
The Samson MediaOne M30s might be a good set of studio monitors if you travel a lot or have a very limited workspace, but I would recommend a different brand first due to these monitors having a bass boost switch. Being the cheapest studio monitors on this list, however, you'd be saving a lot of money by getting them.
Monoprice Stage Right
The Stage Right studio monitors from Monoprice aren't a well known pair, but they definitely should be. These are not only affordable, but have a very clean, crisp sound to them. The woofers are 5 inches and the tweeters are 1 inch, and both are powered by separate amps.
On the back of the monitors is a four way switch that allows you to adjust the high frequency bias to fit the room that you're working in. This is something that only a few of the monitor pairs on this list provide.
The switch on these monitors is very simple, compared to some of the other ones, so if you're a beginner, these monitors may be a good choice for you as they allow customizability but not so much that it gets confusing.
The frequency response range on these go a bit higher than most of the models on this list, from 56 Hz to 22k Hz, which definitely makes them worth checking out.
Active amplification.
Two amps per monitor.
Switchable high frequency level bias.
Like most of the monitors on this list, a subwoofer is ideal to really be able to work with the bass frequencies of your mix, but overall, the quality of these monitors is really great, and they provide a very flat response.
JBL 305P MkII
The JBL 305P MkII studio monitors are the most expensive monitors on this list. I say that because usually one single monitor costs $149. However, if you're able to find a pair on sale like I was, I definitely suggest getting them.
JBL is an industry standard, and you can tell why when using their products. The active amplified 305Ps boast a 5 inch woofer, a frequency response rate of 49 Hz to 20k Hz (so you could benefit from a subwoofer).
These monitors have EQ controls on the back so you can adjust your low and high frequencies to get the most out of the monitors with the acoustic treatment of your room.
The port on the back of each monitor is tailored specifically for low end frequencies with something called Slip Stream technology to ensure that low frequencies won't overload the woofers.
Better quality.
Boundary EQ.
Extremely powerful.
These JBLs are fantastic, and getting a pair of them at this price is quite a steal. You can't go wrong with JBL and any of their top rated studio monitors; I highly recommend these monitors if you can find them somewhere on sale.
Studio Monitors Buying Guide
Here are some guidelines you should follow and things to consider when buying studio monitors. Obviously, at a higher price range, you will get a better, flatter and wider frequency response out of studio monitors, but that doesn't mean that cheaper monitors are bad or useless.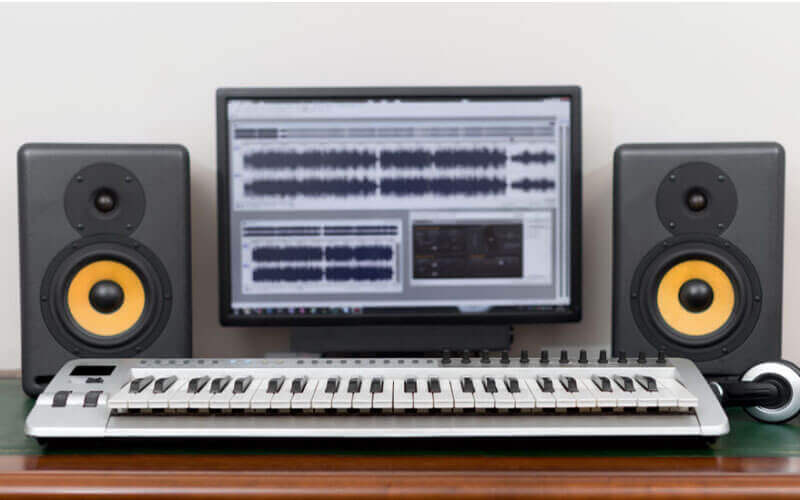 If you keep the following factors in mind when looking to buy studio monitors, you can greatly improve the sound that you get out of your monitors.
Monitors vs. Speakers
When looking to buy a set of studio monitors, be sure to remember that you need monitors, not stereo speakers.
Studio monitors give you a flat frequency response which means that what you hear will be exactly what your mix sounds like.
Speakers, however, are made in such a way that whatever you hear will be pleasing to the ear. They usually have boosted bass and/or treble as opposed to a flat frequency response. This means that speakers will give you an inaccurate depiction of what your mix will sound like.
Stay away from stereo speakers and make sure you're getting studio monitors.
Room Size
Keep in mind that you'll need to buy studio monitors based on your room size. There are two different types of monitors in terms of size:
Near field monitors
Far field/soffit monitors
Near Field Monitors
Near field monitors are good for exactly what their name suggests: listening from a close distance.
Usually they're designed to be 4-5 feet away from where you sit at your desk in your studio. This makes them ideal for home studios or bedroom studios that may not have proper acoustic treatment, as a shorter distance will reduce the reflections of the audio before it reaches your ears.
Whether you're a seasoned professional or a beginner, near field monitors are extremely important to use.
Far Field Monitors
Far field monitors are monitors that are set up for listening at a farther distance from your studio chair. Usually they're mounted on high stands or built into the music studio's back wall.
They're big and usually extremely expensive, so you definitely won't be finding them for $200 a pair or less. They're ideal for large studios that are treated with acoustic panels.
The main purpose of far field monitors are for checking the low end of the mix. 95% of the mix will be created on near field monitors, rather than far field monitors.
If you're on a budget or your studio isn't well treated with acoustic panels and bass traps, you won't need far field monitors.
Active vs. Passive Monitors
In order for studio monitors to produce sound, they need an amplifier.
Active Monitors
Active monitors are monitors that have a built in amplifier. The amplifier in active monitors are matched specifically to the power needs of the monitors, which saves a lot of time and research into buying the right amplifier.
Passive Monitors
Passive monitors are monitors that will need to be plugged into an external amplifier. You can buy an external amp, but this will add to your expenses and it could take a little bit to find the right amplifier for your monitors.
I wouldn't suggest getting passive monitors unless you're a seasoned professional and have a bigger budget.
Tweeters and Woofers
Most studio monitors will have two speakers: a tweeter and a woofer.
A tweeter is a speaker that handles all the higher frequencies, from 2k Hz to 20k Hz.
A woofer is a speaker that handles the lower frequencies, from 40 Hz to 5k Hz. The larger the size of your woofer, the better it will handle the lower frequencies. However, the ports will affect how the woofer handles the low frequencies as well.
Ports are holes in the monitor (usually in the sides or back of the monitor) that allow the sound to exit through somewhere else aside from the tweeter and woofer.
If you choose a pair of monitors that have smaller woofers, the ports will contribute a big deal to how it sounds and help the woofers to handle the bass better.
You may be familiar with the term subwoofer. A subwoofer is just a woofer that handles frequencies even lower than a normal woofer, usually down to 30 Hz or lower.
Subwoofers are usually quite expensive. If you're on a budget, it won't be detrimental to the sound of your mixes if you don't have subwoofers, especially because it's imperative that you have a well treated room if you're going to use a subwoofer.
How To Buy Studio Monitors on a Budget
If you have a budget of $200 or less, I definitely recommend checking out used studio monitors first. There's a greater chance that you will be able to find something higher quality for a lower price if it is used.
That being said, don't shy away from the lower priced new studio monitors. You may be surprised by how great some of these cheaper studio monitors sound.
Conclusion
The market is so big and can be really overwhelming to navigate, but in order to find the best budget monitor speakers, it will take some research and experimentation.
I'd say that the best cheap studio monitors under $200 that are out there right now are definitely the PreSonus Eris E4.5s. If you can find JBL 305P MkII monitors on sale though, definitely go with those. Either way, with both, you will definitely be satisfied no matter what you choose.