In this article, we're looking at the best cheap Bluetooth speakers under $50 that are actually worth buying in 2023. As Bluetooth technology has become more common, and more brands offer portable speakers, the prices are dropping. A lot of brands offer a budget range of portable Bluetooth speakers and there's a decent level of quality available at this price point.
There are some cheap and low-quality products on the market, too, so it is important to be careful. We've reviewed many of the best $50 option here, so you can decide which inexpensive Bluetooth speaker is best for your needs.
Here are the best Bluetooth speakers under $50:
1. Anker Soundcore Flare Mini
The best waterproof Bluetooth speaker under $50
The Soundcore Flare Mini has a lot of great features for the price. It comes in just under the $50 budget and has a long battery life as well as great sound.
Anker actually started as a portable charger manufacturer. However, they have branched out into many other products such as these Bluetooth speakers. The unique selling point of the Soundcore Flare Mini is the 360-degree sound!
Image credit: Anker Check Soundcore

360-degree sound experience.
10 watts of sound in total in spite of a mini size.
LED lighting which moves and pulses to the beat of the music.
IPX7 waterproof so can be used outdoors or even briefly submerged in water. Water resistance makes this the best waterproof Bluetooth speaker under $50.
12 hours of battery life so you can use for long periods of time.
BassUp technology enhances the bass frequencies.

Could do with a bit more audio power, not great for big gatherings.
This has a very cool design and a few unusual features such as the LED lighting and 360-degree design. It's great for small gatherings and outdoor use is fine due to the IPX7 protection.
2. JBL GO 2
The best cheap Bluetooth speaker for portability
The JBL GO 2 is a very popular little speaker made by a brand with a big reputation in the world of audio. The speaker is tiny, which is one of the reasons people love it so much. It can sit perfectly on the palm of your hand or even fit in a big pocket so you could take it pretty much anywhere.
There are downsides to a product that is so small, but generally the positives far outweigh them with the JBL GO 2.
Image credit: JBL Check Price on Amazon

Tiny, very easy to carry around or put in a backpack.
Sound quality is acceptable considering the fact that it is so tiny.
Has a microphone so you can use this as a speakerphone.
Connect via Bluetooth or via an Aux cable.

Not a great deal of power due to the small size.
Only five hours of battery life, this is a fraction of some of the other models on this list.
Though we recommend going for something different if you are looking for long battery life, for a decent sound and a tiny model of Bluetooth speaker then the JBL GO 2 could be the perfect option.
3. Amazon Echo Dot
The best smart home speaker under $50
You may not think of the Echo Dot as a speaker first and foremost, but when you think about it, it does everything you could need from a Bluetooth speaker to keep around the home, plus it has the bonus of being able to control your home.
The Echo Dot is available directly from Amazon and they often have special deals if you sign up to their services via subscriptions.
The Echo Dot may be best for home use, so you probably wouldn't take it out on trips with you, but if home use is all you are looking for then you can play your music, make calls and much more by using an Echo Dot.
Image credit: Amazon Check Price on Amazon

Easy to connect to lots of devices.
Make and receive phone calls.
Access to Amazon Alexa and all of the amazing smart home capabilities that can bring.
Decent quality speakers, while not ultra high fidelity.

Not great for taking out and about. No waterproof capabilities.
Not hugely powerful speakers.
So, you probably won't want to buy one of these to take on trips with you, but if most of your listening is at home, and you were thinking of getting a smart device such as this anyway, the Echo Dot could be an option.
4. Philips EverPlay BT3900
The best portable USB speaker
This is a wireless model, but it also has a USB connection for easy charging. You can charge it anywhere you can find a USB slot, which could mean your car or from a simple portable charger.
Philips is obviously an absolutely huge brand in the world of electronics and their wireless speakers are reliable, as you would expect. The Philips EverPlay BT3900 has an interesting design, and though it isn't exactly pocket-sized, it is flat, so it's a good option for putting in a backpack as it doesn't take up too much space.
Image credit: Philips Check Price on Amazon

Available in multiple designs, choose the one you like best!
Comes with a USB cable that doubles up as a strap, fits around your neck on a lanyard or can be clipped elsewhere.
Dustproof and waterproof with IP57 rating.
Has a microphone so you can take hands-free calls via your speaker.
Battery indicator included to show the level of power remaining.

Could do with having a longer battery. Some users report it dying after just a few hours of use.
Sound quality is not the best.
There's a level of reliability that we've come to expect from this huge electronic brand, but their speakers are sometimes a little bit hit and miss. This option is somewhere in the mid range in terms of the best inexpensive Bluetooth speakers. The USB connectivity and the fact it is easy to carry around make it an attractive proposition.
5. Philips ShoqBox Mini BT2200
The best portable Bluetooth speaker under $20
It's a bit of a surprise to see a Philips option as one of the best cheap portable Bluetooth speakers. The brand reputation they have is huge, but they're able to make affordable consumer electronics such as the ShoqBox Mini.
The ShoqBox Mini is not just the same as any other portable Bluetooth speaker, though, it has the unique selling point of being exceptionally durable in spite of its handheld size. It truly is very small, but built in a rugged way, which you can tell just by looking at and holding the Philips ShoqBox.
The price tag is a huge bonus. Don't expect ultra high fidelity but for the price there is a lot to like about this model.
Image credit: Philips Check Price on Amazon

Exceptionally rugged even though it has a small size. It is water resistant and can even be used in the shower.
Anti-clipping design, this means it resists distortion that can happen at high volumes.
Great for outdoor use as it is waterproof as well as dustproof. You can drop this and it will usually be fine.
Great value for money.

Could do with better clarity and a little more volume.
Bluetooth connection can be patchy when over 10 feet away from the source.
If you are looking to get the best bang for your buck and need a portable speaker under $20 then this could be the best choice for you, especially if you are the sort of person who is always breaking stuff.
This rugged design should last a long time and is drop proof as well as waterproof. Plus, if you're looking for the best cheap portable Bluetooth speaker for the shower, consider the ShoqBox.
6. OontZ Angle 3
One of the best Bluetooth speakers under $30
The OontZ Angle 3 is definitely one of the funkier designs on this list, but it also offers good audio in a low-priced package. It is manufactured by Cambridge SoundWorks, who also make other speakers and headphones among other audio products. They have a good reputation and the fact they've made such a great mini Bluetooth speaker under $50 is a bonus.
Image credit: OontZ Check Price on Amazon

Great quality sound for the price. We were impressed that cheap speakers could create such clear audio.
10 W amp means that the speakers are quite loud for the size and don't distort at high volumes.
Excellent Bluetooth range at up to 100 feet.
Battery life of up to 14 hours so you can listen most of the day.
IPX5 water resistance that means this is rainproof and can be used in the shower. Just don't submerge it totally.

Not the loudest Bluetooth speaker under $50.
No stereo pairing feature, these could really benefit from this feature.
The design is great, they're available in multiple color sand the audio is really respectable for such cheap speakers. We recommend them in a variety of different circumstances, as long as you don't need to listen with loads of people at once, as the 10 W amp is not suitable for filling large spaces with audio.
7. Anker SoundCore 3
The best cheap Bluetooth speaker for battery life
Anker's SoundCore range has already been mentioned on the list with the Flare Mini 360-degree speaker, but the SoundCore 3 is another great option made by the brand. It has an amazing battery life of up to 24 hours so if you need to take it on a trip, it might be your best option.
It's not super powerful or loud, but this is what we have come to expect from cheap portable speakers. You can pair up more than one, though, for stereo sound.
Image credit: Anker Check Soundcore

12 W of audio comes from dual drivers for more detail.
IPX7 means you can use this speaker outdoors with no issues, you could even use it in the shower.
Bass is boosted with Anker's BassUp technology. This makes booming bassy tracks sound much better.
Easy to pair with other Anker Soundcore speakers.
Excellent battery life, it can last up to 24 hours.

The volume does dip to a lower level when you have low battery.
Pairing is really needed to get the most out of these speakers as it doubles the power and gives stereo sound.
Can compress audio to remove the dynamics of your favorite songs.
All-in-all, this affordable option has plenty to like, but you can probably get the same features for just a tiny bit cheaper. However, if battery life is your main priority, you will struggle to beat the Anker SoundCore 3.
Conclusion
Assuming you don't need too much power, the best cheap Bluetooth speakers under $50 will probably be perfect for listening at home or taking on trips. Plenty of these speakers have respectable audio, and though they're not ultra high-fidelity models, they're great for casual listening.
If you need more volume or super crisp audio you might have to delve into the expensive areas of the market, but for top-rated cheap options, the 8 Bluetooth speakers reviewed above should do an excellent job.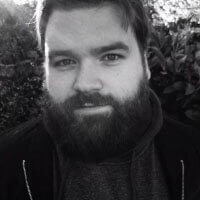 Ben is a writer, musician, and former studio engineer from the UK. His two major passions in life are music and writing, so naturally, he chose a combination of both as his career. Besides writing about instruments, music, and music equipment, he also used to work in recording studios in the East of England. He produced music that has been played on BBC radio and even ran a record label where some of the music he produced was played on MTV.
The self-proclaimed audiophile
As a self-proclaimed audiophile, Ben emerged himself in the world of music from quite an early age. He got a National Diploma in Music Technology and plays several instruments himself. He started working in a photography studio after graduating, but eventually found his way back to the music industry when he started tutoring for a music and mental health organization – Noise Solution.
At around that time he also started to write more professionally. He had been writing for publications in some form or another since he was a teenager, and was always obsessed with telling stories, but at this time he decided to make a career out of it.
Becoming a writer
For the past 5 years, he has been writing full time, covering a lot of topics in two major industries – music and technology. Combining all his experience, skills, and knowledge with his unquestionable writing skills, he produces content that is engaging, informative, and also easy to understand.
Ben still produces some music, but his main focus now is on writing and educating about the topics he is passionate about. He delivers well-researched and on-point reviews and guides on instruments and equipment that he worked with for years – so his readers always get information that is true, unbiased, and usually also gathered from his own first-hand experience.