If you have been interested in getting a new electric violin or upgrade your current one, here are some useful information. In this article, we will look at the best electric violins on the market as well as electric violin reviews to help you in deciding which electric violin suits you best.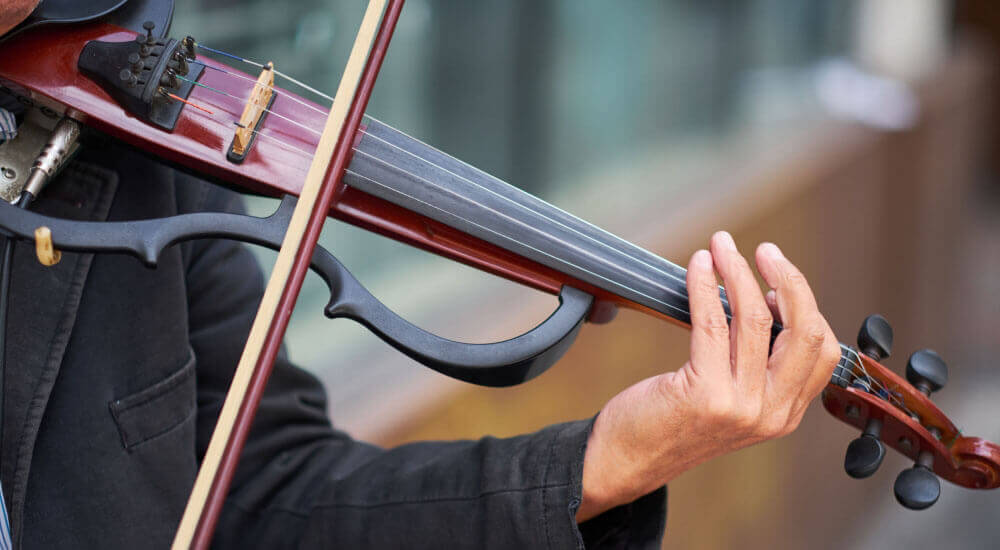 You will also find some answers to the questions that most people ask while looking for a new electric violin. Here is a quick look at the article contents:
Top 10 Best Electric Violin Reviews for 2023
Here you will find our pick of the best electric violins for 2023 as well as individual silent violin reviews, acoustic electric violin reviews and "pure" electric violin reviews.
Here are the best electric violins 2023:
Yamaha YEV-105: Runner-Up
As a maker of all sorts of musical instruments and one of the best contemporary violin makers, Yamaha has become a household name for a good reason. Yamaha's corporate philosophy states that they are committed to creating worldwide excitement and cultural inspiration for making music.
Visually appealing.
Produces simple and clean sound.
Made from 6 different high-quality wood.
No preamps, no headphones, no batteries necessary.
Easy and fun to play.

Can be quite expensive for some.
If you are looking for a violin that can be used for modern, new wave music, you might check our choice from the list. Although it might be dubbed as one of the most expensive electric violins, many violinists love this model because it can rock out for decades!
Barcus Berry Vibrato-AE: Best Acoustic-Electric
Barcus Berry instruments are known for their positive reputation in providing quality, reliable instruments. Their stylish acoustic-electric violins are handmade in Romania.
Top-quality acoustic electric violin.
Hand-made.
Several color choices available to choose from.
Complete set.
Comes with a fiberglass bow.

Can be a bit pricey for some people.
If you want an instrument that can be used either as an electric or acoustic violin, or you want a flashy, radical looking, acoustic-electric for gigs, the Barcus Berry Vibrato-AE is worth your investment and will look very suitable on stage. No doubt, this electric violin is a great choice for a budding electric violinist.
Stagg EVN: Best for Silent Practice
If we are talking about silent violins, Stagg is sure to be on the list. They are often suggested by electric violinists and violin instructors as one of the top-rated electric violin brands names you can trust.
Has 4 fine tuners.
With 2 band EQ and volume.
Several color choices available to choose from.
Comes with a complete set.
Good-quality electric violin.

Headphones are not of high quality.
If you want to increase your practice hours with a silent violin, you should check this model out! The Stagg EVN is one of the best silent electric violins on the market!
Cecilio CEVN-2: Best Under $200
The Cecilio CEVN-2 series electric violin is designed with a solid body for long-lasting use. Furthermore, it is made of good-quality materials for better sound as compared to other entry-level violins on the market.
Hand Carved Solid Maple Construction.
Ebony fittings.
Has 4 fine tuners.
Comes with top electric violin kit.

Can come with bad intonation out of the box.
If you are looking for a good budget electric violin, this violin is a good choice for you. This set comes with everything that you will need for your musical journey with an affordable chance to get your hands on a serious bit of kit.
Cecilio CEVN-1: Best for Beginners
Cecilio made it in our list of best beginner electric violin brands, as they are one of the best violin manufacturers for both traditional and electric violins at the moment.
Hand-carved solid maple body.
Has a sturdy, strong feel.
With ebony fittings.
Includes complete set.
Several color choices available to choose from.
1-year warranty against manufacturer's defects.

Might not sound the same as an acoustic.
The Cecilio CEVN-1 is a very good electric violin for beginners on a budget. It is an awesome pick especially for those who are new to electric violin playing.
AW Electric Violin: Best Cheap
The AW electric violin is one of the most affordable and cheapest electric violins on the market. It comes with aluminum alloy strings which are considered more robust than nylon.
Features a 1/8″ output jack.
Has volume control.
With carrying case and violin kit.
Several color choices available to choose from.

Requires tuning time to time.
If you want to try playing the electric violin on a whim, then this AW model is the cheapest electric violin that you can find. This is the perfect option especially when you never get the chance to play. Because you will not lose sleep over the money you have invested in it.
Cremona SV-180E: Our Choice
Cremona is an award-winning company that was founded in 1989 and is renowned for making different types of high-quality violins. We have chosen this model for its remarkable playability at a price that will certainly not break the bank.
Elegantly-shaped.
Great build quality.
Hardwood body.
Blends traditional and modern violin design.
With ebony fittings.
Has 4 built-in fine tuners.

Only available in red (orange) or black finish.
This electric violin is simply elegant. It's a violin with the perfection and quality for all violinists of all skill levels. Also, this outfit is a very affordable option for novices or those who want to attempt learning how to play electric violin.
Bunnel Next: Best Under $500
This Bunnel Next electronic violin outfit offers everything you need to get started in violin playing.
Handcrafted with solid maple body.
Backed by a lifetime warranty.
With 100% ebony fittings.
Final setup performed by professional luthiers.
Includes everything you need, even a mini-amp.

Questionable mini-amp sound quality.
Considering all of the accessories and freebies that you get with the Bunnel Next electric violin outfit, the price tag attached to it is just worth it.
Stingray SVX4: Coolest Looking
The Stingray SV series is one of the high-end electric violins that were made famous by the Emmy-winning violinist and composer Mark Wood.
Constructed with ebony fittings.
Customizable.
Available in 4 or 5 strings.
Coolest looking professional electric violin.
High-quality instrument.

Only available in galaxy black and candy apple red.
Doesn't come in a complete set.
Whether you are looking for a beginner or a professional electric violin, the Stingray SV is one of the coolest electric violins on the market. It can take you to the next level of rocking out your audience' world without breaking the bank.
Crescent EV: Best Under $100
The Crescent EV is another good violin for students who are just starting out and need an affordable electric violin under $100. These violins are also suitable for kids. Indeed, the EV is a great starter electric violin for those who are showing an interest in learning to play an electric violin.
Has 4 fine tuners.
With 2 band EQ and volume.
Several color choices available to choose from.
Comes with a complete set.
Good-quality electric violin for starters.

Headphones are not of a high quality.
If you are someone who just wants to try an electric violin, or you need something to muck around on, the Crescent EV is a great option. Well, it's one of the best inexpensive electric violins under $100 you can find!
What Is an Electric Violin?
An electric violin is an instrument that can produce sound electronically. The electronic or digital signals generated by electric violins can generally produce brighter, louder sounds than its acoustic counterparts.
Aside from that, the sound of an electric violin can be tweaked and enhanced. With their plug-and-play capability, this kind of violin is a good choice for a violinist who wants to play with amplified bands.
How to Choose an Electric Violin?
Design and Your Playing Style
Electric violins come in different shapes and forms. Before heading out to the nearest music store, try browsing online and familiarize yourself with common electric violin styles.
Are you after cool shiny models that looking radical and will make people ask, "What is that instrument?" Or are you someone who wants a simpler package? Our tip is to go with what best suits your taste!
Tone and Price
There are different violin tones: darker, brighter, or somewhat neutral. Although the tone is believed to be very much subjective, there are some electric violins that are more "natural/ acoustic sounding" than others. Also, equalization and effects are an option, which may help you get the tone that you want.
For the greatest satisfaction, we suggest that you have a baseline tone that pleases you as the player. Usually, as the electric violin's price goes higher, its tone becomes more advanced and more natural sounding.
Model and Purpose
Traditional violins are sold with different names. This is not just a way to have a nice nomenclature set for violins but rather a grouping technique. Electric violins, on the other hand, have different 'groups' too. Now, let's examine each group one by one.
Electric Violin vs. Silent Violin vs. Acoustic-Electric Violin
"Pure" Electric Violins
Without the traditional/classic violin look, electric violins have a body shape that is modified. Their shapes vary from an S-form or moon-shape to a narrow trapezoid with tuning that is done from the tailpiece.
Nevertheless, since they are outfitted with a standard length, adjustable violin fittings, this type of violins can still be played like a traditional violin.
Silent Practice Violins
Silent violins are violins that have headphone jacks that can be used for silent practice. If you are starting on this fun adventure of electric violin playing and feel that you are making noise, silent violins are a perfect choice. However, there may be various accessories.
Acoustic-Electric Violins
Acoustic-electric violins have the capability to make sound acoustically, and at the same time, can be electronically amplified. This is made possible with the use of 'pick-ups' or small devices that essentially 'converts' physical vibrations into electric signals.
If you think that you need a violin that features good acoustics and amplification, you probably want to get an acoustic-electric violin. After all, most acoustic electric violin reviews tell that story quite well.
Who Makes the Best Electric and Silent Violins?
Many violinists, violin enthusiasts, and instructors can be pretty much opinionated about which specific electric violin brands are best among other brands. These can lead to a culture that may cause apprehension for some.
What is important to know is that people's opinions differ. One type of electric violin may be best for an individual, but might not be the the perfect option for others because an individual sound as a violinist is not defined by brands.
For more information on brands, please check out our "Best Violin Brands for Beginner and Intermediate Students" article.
Final Thoughts
By presenting our choice, as well as 10 top electric violin review, we hope we helped you on your quest on getting the perfect electric violin.