No matter how amazing acoustic violins are, electric violins might be of interest to some violinists.
There are several advantages to electric violins as well as some circumstances where an electric violin may be the optimal tool for a musician.
Today we are going to focus on this particular type of violin and show you some candidates for the best electric violin out there.
Lets get started with a brief overview of the subject and then we'll get into electric violin reviews and silent violin reviews.
What is an Electric Violin?
An electric violin is a violin that can produce sound electronically.
The electronic or digital signals generated by electric violins can generally produce brighter, louder sounds than its acoustic counterparts.
Aside from that, the sound of an electric violin can be tweaked and enhanced.
With their plug-and-play capability, this kind of violin is a good choice for a violinist who wants to play with amplified bands.
Our Top 3 Recommended Electric Violins
Best Electric Violin 2019 Buying Guide
Whether you are a student looking for a new electric violin, or a musician searching for a good quality electric fiddle for gigs, it is important to recognize that the selection of an electric violin can be quite as challenging as choosing an acoustic/traditional violin.
We are all wondering what is the best electric violin to buy? How much does an electric violin cost? What is the best electric violin for beginners?
There are lots of factors to consider when looking for the best electric violin. Here's a buyer's guide to finding a suitable electric violin to match your needs.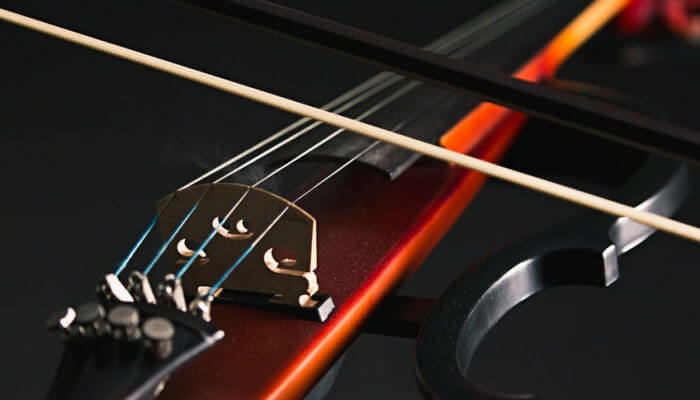 Some aspects of an electric violin are permanent – what it is made of, its shape, and its specific style. These characteristics give it its quality.
However, there are other considerations that should be kept in mind, such as violin's playability, sound, and overall quality.
Once you know all of these parameters, you should do a electric violin comparison in order to narrow down your search.
With that in mind, lets start with the basics.
Design and Your Playing Style
Electric violins come in different shapes and form. Before heading out to the nearest music store, try browsing online and familiarize yourself with common electric violin styles.
Are you after cool shiny models that looking radical and will make people ask, "What is that instrument?" Or are you someone who wants a simpler package? Our tip is to go with what best suits your taste!
Tone and Price
There are different violin tones: darker, brighter, or somewhat neutral.
Although tone is believed to be very much subjective, there are some electric violins that are more "natural/ acoustic sounding" than others.
Also, equalization and effects are an option, which may help you get the tone that you want. For greatest satisfaction, we suggest that you have a baseline tone that pleases you as the player.
Usually, as the electric violin's price goes higher, its tone becomes more advanced, and more natural sounding.
Model and Purpose
Traditional violins are sold with different names. This is not just a way to have a nice nomenclature set for violins but rather a grouping technique.
Electric violins, on the other hand, have different 'groups' too. Now, let's examine each group one by one.
Silent Practice Violins
Electric violins can be really loud. If you are starting on this fun adventure of electric violin playing and still feel that you are making noise, don't worry, you will master the technique with due practice and diligence.
However, be prepared to hear from a complaining neighbour or a distracted family member in your house.
Likewise, you can get the best silent violin for practice. Don't worry, it's not actually silent. Silent violins are violins that have headphone jacks that can be used for silent practice.
When you find the best silent violin and put it in your hand, you will never have to worry about disturbing anyone while practising day in and day out!
Acoustic Electric Violins
An acoustic-electric violin, as the name implies, is a violin that makes sound acoustically, and at the same time, can be electronically amplified. This is made possible with the use of 'pick-ups'.
Pick-Ups are small devices that essentially 'converter' a physical vibrations into an electric signal.
Acoustic-electric violins look acoustic but work like an electric violin.
If you think that you might perform in a venue that features good acoustics and doesn't take kindly to tricked out modern electric violins, you will probably want to get an acoustic-electric violin.
After all, most acoustic electric violin reviews tell that story quite well.
Fretted Electric Violins
Frets – these are the strips that are found on the fingerboard. Just like guitars, some awesome electric violins have frets. Why? One of its purposes is to enable the violinist to incorporate guitar techniques and simplify chord shapes.
Aside from that, frets can provide a visual guide, which can be very useful to those who are playing in a loud environment.
So, if you are playing with a loud band and you find it difficult to monitor your pitch, it might be best for you to get a fretted violin in order for you to be able to play perfectly in tune.
Performance/"Pure" Electric Violins
If you are looking for the best electric violins intended for professional level of performance or serious recording projects, and you want to have a sophisticated high-tech looking violin, pure electric models might be best for you.
Without the traditional-classic violin body look, these violins have a body shape that is a slightly modified.
Their shapes vary from an S-form to a narrow trapezoid with tuning that is done from the tailpiece.
Nevertheless, since they are outfitted with a standard length, adjustable violin fittings, this type of violins can still be played like a traditional violin.
Top 20 Electric Violin Reviews
Looking at the cost, durability, and sound quality, we've gathered and listed some of the best electric violin brands.
You have probably heard about a Kinglos electric violin or a Merano electric violin, but what do these names mean exactly?
Our goal was to to help you out in your search for the best electric violin for beginners as well as the best rated electric violin overall.
Here are the top 20 electric violin reviews for 2019.
Best Electric Violin Under $100
Crescent is another good electric violin brand for students who are just starting out and need an affordable solution.
They probably make the best budget electric violin you can find. These violins are suitable for kids and beginners.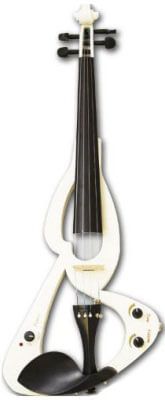 Indeed, this brand is a great starter violin for those who are showing an interest in learning to play an electric violin.
Truly, Crescent is one of the best beginner electric violins!
This cool electric violin comes with a bow, padded case, cables, headphones and rosin
It is also available in a number of colors, including pink, red, white, and a cool electric blue
Package includes a Crescent Digital E-Tuner
The bow is made from brazil wood and moderately high quality, unbleached horsehair, making it strong and durable
One of the best starter electric violin models also the best electric violin for student
It is not a professional violin, however. You may want to make some basic upgrades to this model to make it more playable
The bridge that comes standard with the violin is very flat. You can purchase a new bridge and have it fitted for the instrument for a relatively low cost
It's a best value electric violin in its category. If you are someone who just wants to try an electric violin, or you need something to muck around on, the Crescent EV is a great option.
If you buy this electric violin on a whim and never get the chance to play, you will not lose sleep over the money you have invested in it.
Well, it's the best cheap electric violin available!
ViolinSmart Electric violins offer a reasonable quality instrument for those on a budget, and are primarily aimed at the beginners and students alike.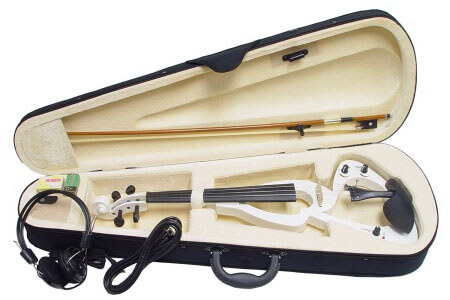 ViolinSmart electric violins come in a range of colours, adding a splash of brightness to your practise sessions and showing that violin playing is not dull or boring. They are available in colors like white, red, and blue. It is undoubtedly a very cool electric that will impress all of your children's friends
This violin kit also features pegs, a black chin rest, and a tailpiece. It also comes with quality horsehair bow and a padded violin bag to protect, store and carry your violin
The ViolinSmart EV20 can easily be attached to headphones to be used as a silent violin
ViolinSmart offers a complete package for a low cost. With this affordable electronic violin set you can be up and playing within minutes
Most likely the best inexpensive electric violin
ViolinSmart electric violin set does not come with a shoulder rest, which means that it can only be purchased separately. Also, you will have to make bridge notches for the strings in order to enhance the sound
The 9-volt battery amplifier that comes with this set is not the best in its class, but it will certainly do the trick for beginner violinists
ViolinSmart electric violins may not be as durable as some other electric violins, but it will certainly suit the needs of a beginner violinist and is a solid choice for those wanting to get to grips with an electric violin before splashing out on a expensive ones.
High-grade 8 Pattern Electroacoustic Violin
The High-grade 8 Pattern Electroacoustic Violin is a good pick for those who are new to the violin world.

As its name indicates, the design features an 8-figure pattern made of good quality woods.
Package includes a good quality violin case, a bow with unbleached hair, a rosin cake, headphones, and connector lines
It is neither too heavy nor too light
It is well constructed with sturdy back
It has input ports for microphones as well as headphone ports
Good electric violin for beginner
Some find the sound too low even if it is played with an amp or speakers
Another downside is that before use, the violin should be setup by the one who will use it
This outfit is budget friendly and is perfect for those who don't want to spend much.
It is also great for beginners who are not too sure about their commitment to playing the violin.
Best Electric Violin Under $200
Merano Ebony Fitted Electric Silent Violin
If you are willing to shell out a bit more money you can get a good electric violin by Merano.
Though they have models of all colors that look more like toys than serious classical instruments, their upper range products are great for beginner as well as intermediate electric violin models.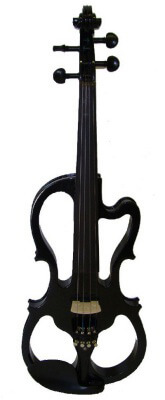 Established in the year 2000, Merano has made a splash on the instrument market by making best rated electric violins.
Hand carved mainframe of solid maple
Built with quality ebony fittings (pegs, and chinrest)
Also comes with an alloy tailpiece with 4 built-in fine tuners
Outfit comes with a genuine horsehair bow, made from brazilwood and a parisian pearl eye and slide
Comes with 9V amplifier, cables and stereo headphones
Kit includes an extra set of strings
Available in several minimalist and futuristic shapes and sizes
It comes in a variety of colours.
One of the best beginner electric violin choices
This Merano silent violin is a good electric violin for beginners. Those who need a pro level instrument, might as well look elsewhere. Although, this type of violin offers high enough quality that it is equally suitable for those wanting something capable of keeping up with intermediate users
If you buy Merano, you can be confident that you are getting an instrument worth the amount you pay.
Their company policy is that they would never sell something under their brand that they would not play themselves.
Indeed, their violins are one of the best inexpensive electric violins on the market!
Cecilio CEVN-2 Solid Wood Metallic Silent Violin
Cecilio made it in our list of best beginner electric violin brands, as they are one of the best violin manufacturers for both traditional and electric violins at the moment.
Cecilio electric violin tends to win affection from violinist of all levels, with their high quality instruments.
Mother of pearl inlaid on impressive hand carved solid maple body (premium wood aged to perfection with a minimum of 7 years)
Ebony fittings (fingerboard, chin rest, pegs, and tailpiece with 4 fine tuners)
Comes with a lightweight high quality case, and brazilwood bow (with Mongolian horsehair)
With free headphones, cables, rosin, and a 9-volt battery
Comes in 4 distinct styles and is available in 5 different colours per style
The instrument also comes with a 1-year warranty against defects
Probably the best electric violin for adults
Cecilio is named after the patron saint of music and musicians, St. Cecillia. This awesome electric violin is cherished. Because with Cecilio instruments, experienced violinists can certainly make heavenly music with their violins.
This set comes with everything that you will need for your musical journey with an affordable chance to get your hands on serious bit of kit.
All Days Music Full Size Electric/Silent Violin
All Days Music, otherwise known as ADM, is a professional musical instrument supplier with overseas factories that deliver beginner quality instruments for a low price.
Although relatively new brand for electric violins on the market, they offer electric and acoustic violins of all sizes, shapes, and colors to suit all budgets and tastes.
Their violins bring lots of features which you can have without destroying your bank account.
Aesthetically, this silent violin looks really nice with a modern-futuristic design and a striking blue or black shade
Built with 4 integrated fine tuners, it allows greater flexibility and offers excellent sound
It also features an authentic ebony fingerboard and high gloss spray finish body
Commonly sold with accessories and everything to start to learn violin playing such as: 9-volt battery, and a good quality bow
Probably the best electric violin for practice
This type of beginner violin is not likely to be sufficient enough for those who are heading towards higher violin grades. However it will certainly be sufficient for those who are showing an interest in learning
May last through the early stages of learning with enhancements along the way
Unfortunately, you get what you pay for with this instrument. It does not come with a body made from a high quality solid wood. They are instead made out of a plywood. This means that it is not as tough as other non-plywood electric violins.
Kinglos Full Size Colored Solid Wood Silent Violin
Kinglos, who also manufacture beautiful classic violins and acoustic guitars, were founded in 2009 in Shanghai.
The makers are skilled designers and developers of musical instruments that combine traditional instrument construction with visual arts.
Made with patented coloring technology that created traditional violins not only more beautiful and individualized, but best in tone quality
Perfect for the beginners who love boutique designed instruments, student violinists and advanced players
Solid spruce body; Ebony fittings (fingerboard, pegs, and chin rest),
Violin tailpiece with 4 detachable fine tuners
Comes with an impressive pick-up system that consists of a DV-9 active pick-up, with volume and tone controls.
Larger price tag than other electric violins on the list but certainly the best electric violin for making a statement while you show offyour original piece!
If you are looking for a fun, pretty violin or party violin, the Kinglos electric violins are certainly great.
With its unique design, everyone will know that you are really into music and arts! Don't expect that you'll be welcome at orchestra with such a flashy instrument though!
Best Electric Violin Under $300
Stagg EVN 4/4 Silent Violin
If we are talking about violins, Stagg is sure to be on the list. They are often suggested by electric violinists and violin instructors as one of the best electric violin brand names you can trust.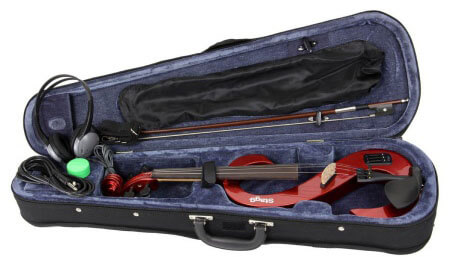 Highly lacquered violin that is ideal for intermediate skill level with a body that is made of solid maple
Has a two band equalizer
Package comes with a hard body case that is not as heavy as it looks
The kit also comes with a bow
Best electric violin package
The bow that comes with the set is not really on par with other bows available on the market
If you want to transition from a beginner to an advanced violinist, you should check this model out! Stagg EVN 4/4 Silent Violin is one of the best intermediate silent electric violins.
Cremona SV-180E Premier Student Electric Violin
This is one of the violin brands that we would not leave off the list for its remarkable playability at a price that will certainly not break the bank.
Cremona is an award-winning company that was founded in 1989, and is renowned for making high quality violins.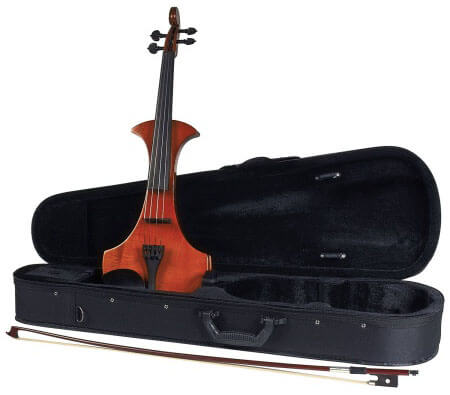 It is suitable for practising at home without upsetting the neighbours or your loved ones
The body of this violin features basswood in a translucent red/orange finish
It sports a hardwood body that deeply incorporates traditional and modern violin characteristics as well as style
Maple bridge paired with a rosewood neck
Features a preamp which allows you to use amplification
The bridge of this electric violin needs to be checked periodically to maintain proper action tuning
This electric violin is simply elegant. It's a violin with the perfection and quality for all violinists of all skill levels.
Also, this outfit is a very affordable option for novices or those who want to attempt learning how to play electric violin.
Fender FV-1 Electric Violin
The Fender FV-1 electric violin is one of the most sought after electric violins. It is also among the best intermediate electric violin models out there.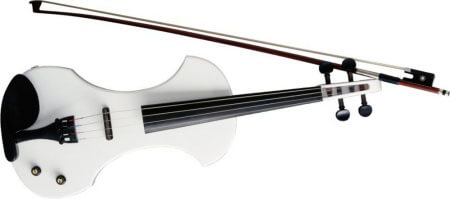 It is made with spruce top and maple back, neck, and sides
Ebony fingerboard and fittings (bridge and tuning pegs)
It caries a similar look to an acoustic violin
The pick-up is located right under the violin's bridge making it more stylish without obvious holes on the body
An option of purchasing one with a horsetail hair bow
Books, rosin cake, shoulder rest, and a cordura-covered hard shell case are included in the package
Among the best student electric violin options out there
Some violinists who previously bought this set complained that the shoulder rest is difficult to keep in place
This model is made like an acoustic violin with spruce top that has long been held to resonate best.
This is an excellent choice for the advanced to intermediate musicians who is looking for an instrument that makes a statement.
It is the best acoustic electric violin at this price.
Best Electric Violin Under $500
Bunnel Edge Electric Violin
This Bunnel Edge electronic violin outfit offers everything you need to get started in violin playing
It comes with a good quality carrying case, Giuliani Bow, rosin, cables, polishing cloth, a 9V battery, and a portable amp
The violin is strung with D'Addario prelude strings and it's built with a Piezo ceramic pickup
If you have a tight budget, you'll have to think twice about putting this violin in your shopping cart
Considering all of the accessories and freebies that you get with this outfit, the price tag attached to it is just worth it.
Plug 'n Play 4-string Electric Violin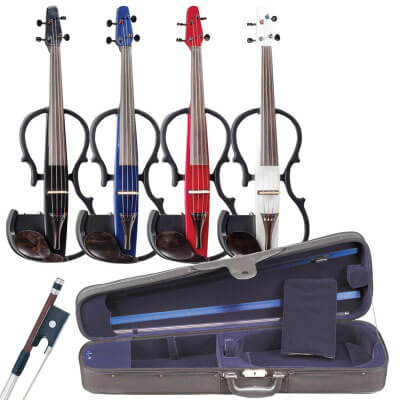 Available in different colors. You can choose from black, blue, red, and white
With the unique design of this electric violin, would be able to use your favorite shoulder rest
Package includes a padded Toshira Case, a good quality Brazil wood bow, 9-volt battery, a rosin, earbuds, and cables
The makers of this violin have eliminated the need for fine tuners with new and improved pegs, making the strings resonate more and the instrument sound louder.
Sold exclusively through Shar Music, this electric violin is indeed one of the best acoustic electric violins, which can be bought for a reasonable price.
With a Plug 'n Play electric violin, you will certainly be able to express yourself in its futuristic yet good quality design.
Best Electric Violin Under $1000
Barcus Berry Vibrato-AE Series Acoustic-Electric Violin
Barcus Berry instruments are known for their positive reputation in providing quality reliable instruments. Their stylish acoustic-electric violins are handmade in Romania.

This electric violin can be played like an acoustic violin, and it comes with a Barcus Berry 1320 piezo violin pick up. This enables the instrument to be easily amplified and paired with effects pedals
This model comes in different finishes like natural, pink, blue, red, forest green, and black
Even with all of the available colours, it is hand-made using traditional materials
The body is made out of a hand carved spruce top with maple back and sides
The outfit includes a dark resin and an embroidered soft-shape violin case with removable shoulder strap
The kit also comes with full ebony fittings as well as a high quality fibreglass bow. The fibreglass can deliver a warm sound
The Barcus Berry Vibrato-AE comes with a hefty price tag for beginner violins. However, it can deliver a superb acoustic performance so you do get what you pay for in the end
If you are serious about electric violin playing, or you want a flashy, radical looking, acoustic-electric for gigs, the Barcus Berry Vibrato-AE is worth your investment and will look very suitable on stage.
No doubt, this electric violin is a great choice for a budding electric violinist.
Phoenix Performer Electric Violin
Another top rated electric violin is the Phoenix Performer, which produces a quality sound that is worthy of its higher price tag.
Amateurs and experts vouch for the quality whenever they play the Phoenix Performer Electric Violin.
This violin comes in different colors, including black and pink
Its slim and elegant design will make anyone playing this violin stand out from the crowd
Built with an ebony fingerboard, and either hardwood or ebony
The violin's tailpiece is made out of carbon fiber
Has inputs for headphones, microphones or mp3 input, and a line out
Crafted with a custom-made pick up
Package includes a carbon fiber bow and a fibreglass case that will protect your prized instrument
Made with professionals in mind to deliver top-notch performances
Does not come extremely cheap but for superior sound quality and something a little bit special, serious violinists cannot go wrong with this brand
This electric violin is a reliable instrument with an enhanced capability combined with additional features.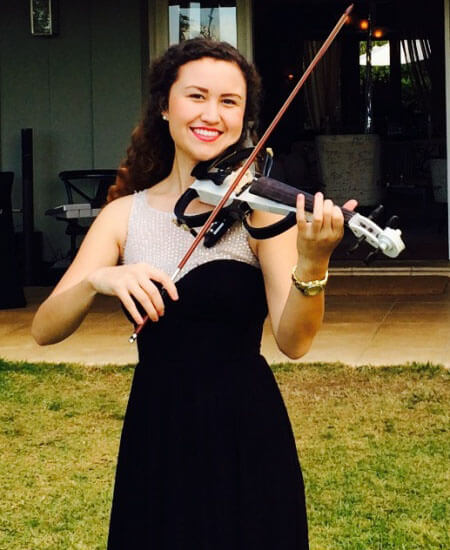 If you look after your instrument well enough, this durable violin will last for years.
There is no doubt that this is the best electric violin for the money at the moment.
D Z Strad Electric Violin Outfit E203
DZ Strad is a well-known name in the violin world. They have a strong reputation for providing well-made instruments and they do not disappoint with this model.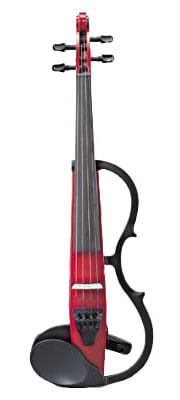 It has solid ebony fittings and a carbon fiber tailpiece
It comes with a Brazilwood bow, a violin case, ¼ inch cable, and earbuds
This is a little more expensive than the last few on the list but for some people, it will be well worth the extra costs
This is an intermediate electric violin to professional grade instrument that can help you go through your musical journey.
So, if you have extra money in your pocket, this may be the best option for you. Although it's not too expensive, it is sure more expensive than other entry level models.
Stingray SV Series Electric Violin
The Stingray SV electric violins are top notch violin brands that were made famous by the Emmy-winning violinist and composer Mark Wood.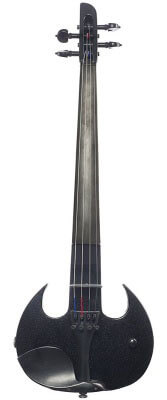 Stingray SV's body is constructed out of poplar wood with ebony fittings
It is customizable and is available in either 4 or 5 strings
It also has an axe design like the Gibson SG, which makes it a real throwback instrument
It's perfect for those who want to venture into the world of rock music
The Stingray SV is only available in candy apple red or galaxy black colors
Unfortunately, this violin is sold individually, which means that you'll have to buy your own bow, rosin, and case separately
The Stingray SV electric violin is one of the best electric violin on the market.
It can take you to the next level of rocking out your audience's world without breaking the bank.
Best Electric Violin Under $2000
Yamaha SV-130 Series Silent Violin
As a maker of all sorts of musical instruments and one of the best contemporary violin makers, Yamaha Corporation has become a household name for a good reason.
Yamaha's corporate philosophy states that they are committed to creating worldwide excitement and cultural inspiration for making music.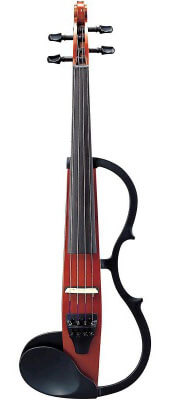 This is a type of violin also known as "silent violin" which allows you to practice for long sessions without disturbing anyone around you
This violin's tone is solid; it produces an unbeatable, warm acoustic sound which is very similar to a "traditional" violin
The fingerboard and pegs are ebony
The neck is from maple and the body of the violin is from spruce
The reverb as well as the "hall" settings allow the violins to produce a mellow tone even further
With built-in controls for master volume, reverb type select, and the line-in volume
With AUX IN port that allows you to listen to accompaniment using an mp3 player
Comes with Kessler steel core strings
Available in 4 colors: blue, red, black, and brown – making it easy for you to express your music
This electric violin is a pricey investment, and purchasing one is not a decision that can be made in haste
Lacking some of the acoustic violin's complexity of tone, because of the solid body design
Usually sold without its own bow, but use of any standard bow is okay. Even carbon composite bows work
Sold as instrument only, accessories must be bought separately
Requires power to operate but can run with AC adapter or two AA batteries
If you are looking for a beginner violin that can be used for modern, new wave music, this might be the coolest option from the list.
This violin is a solid performer for any novice to pretty advanced students.
While it may not be the best Yamaha electric violin on the market, it is one of the leaders in its segment.
With this Yamaha Electric Violin, you can rock out for decades!
Aurora Electric Violin with LED
Aurora Electric Violin is one of the few brands that give you the chance to customize your violin.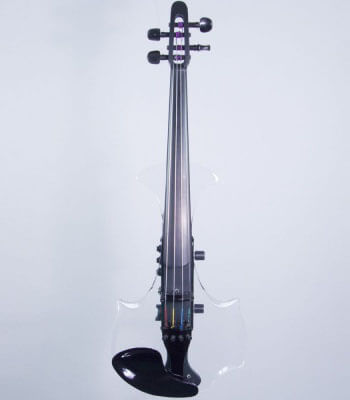 Has a built-in LED light, which allows the Aurora to literally blast any color you want; without the lights on, the Aurora looks like ice
Hand made in Brazil by the famous luthier Mauricio Brazolin
Features include thee ability to boost the bass or treble with the use of the tone knob.
Comes with a free dart shaped case
Available in 4 or 5 strings set-up
Might look too flashy for some, but it also boasts its impressive warm sound
The Aurora Electric Violin is an excellent value for money and will not leave you feeling that you have wasted your money.
Ted Brewer Vivo Air Electric Violin
Ted Brewer Vivo Air is the next level futuristic violin that has been created. Why? Because it is one of a kind.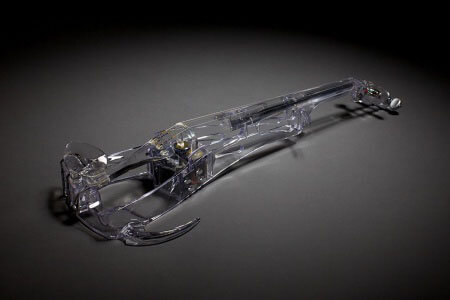 Take a good look and realize that it is a very nice looking transparent violin.
High tech violin with high processor technology
Features a monocoque frame constructure
Made from advanced polymer metal
With ebony fingerboard
Best electric violin for silent practice
It might not be a good fit if you want an electric violin that produces a natural sound
Ted Brewer VivoAir is also made completely out of acrylic, so it is not suitable for those who want a wooden instrument
Some musicians find it lacking in depth, even though some of its features (like the charge pick up, and custom amplifier) make strides to improve the tone quality
It is also sold separately, so you have to spend more money out of your pocket for the bow, the violin case, and other accessories
The Vivo Air is an interesting novelty violin, but if you have that much money in your pocket to buy an electric violin, you'd be better off checking out other pricey electric violin models on this list.
NS Design NXT Electric Violin
The NS Design is for serious electric violinists, given the fact that it comes with a heavy price tag.
Yes, we included this violin on this list. After all, we are talking about the best electric violin choices, and here we are giving you a chance to take a peek at what top tier electric violins look like.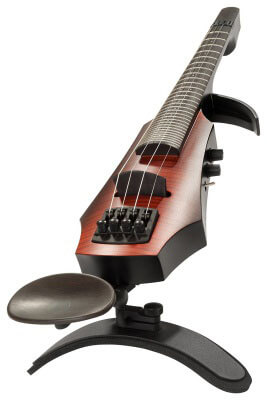 It may not be the most expensive electric violin, but it is sure up there in price.
You can choose a 4-string or 5- string electric violin model from NS Design
Because it is extremely customizable, you have an option to get a standard fingerboard or a fretted one
It has an incredible clarity, and dynamic range, making it extraordinary compared to other electric violins available on the market
The NS Design NXT Electric Violin is compact, lightweight, and durable
Easily among the best professional electric violin models out there
Available only in sunburst or black color
Certainly priced a bit higher than other violin brands, but worth the investment
NS Design NXT comes with a custom chin and shoulder rests, NS Electric Strings, and a durable hard shell case
If you are thinking of being serious about playing an electric violin, and you aren't scared off by the hefty price tag, we highly recommend the NS Design NXT Electric violin to you! It is a professional electric violin by all means.
Final Thoughts
It is indeed challenging to choose an electric violin, but to solve this issue, one thing should be kept in mind:
Choose the right electric violin that you are comfortable with. That stands true even if you are limited to a good cheap electric violin.
The secret is that you must be willing to carefully find an instrument that compliments your playing style.
The majority of the electric violins featured on this article are reasonably priced and come from some of the best brands available in the market.
Playing an electric violin is fun. It allows you to practice in peace without disturbing anyone in your vicinity.
Taking your time and being patient to select the right electric violin will pay off in the long run.
So, be sure to keep these tips and list in mind while choosing and rock on afterwards!